Are you looking for cute Discord server names?
Perhaps you're in the process of creating a Discord server for you and your friends from school where you can all hang out and share study notes?
Discord doesn't have to be all about gaming and believe it or not, millions of people like you are using it as a space where they can collaborate and connect with other like-minded people.
In this guide, we'll show you 50 super-cute Discord server names that'll make your heart throb.
Let's check out the list.
Key Points (tl;dr)
Life is already serious enough, so why give your Discord server a name that's overly serious or maybe even pretentious? You're here to have some fun and that's why you should pick something that's cute or funny.
Cute names for Discord servers can be inspired by all sorts of things. Some people like to name them after Anime characters or things inspired by Kawaii. Others are perfectly content with something that just sounds silly. Either way, cute name ideas are all about having fun.
And that's why we've curated a list of the 50 cutest Discord server names we could find on the web. We hope this list will serve as a good source of inspiration when you decide to create your very own Discord community.
For a comprehensive list of 50 cute Discord server name ideas for your next study group, PLEASE READ THE FULL ARTICLE.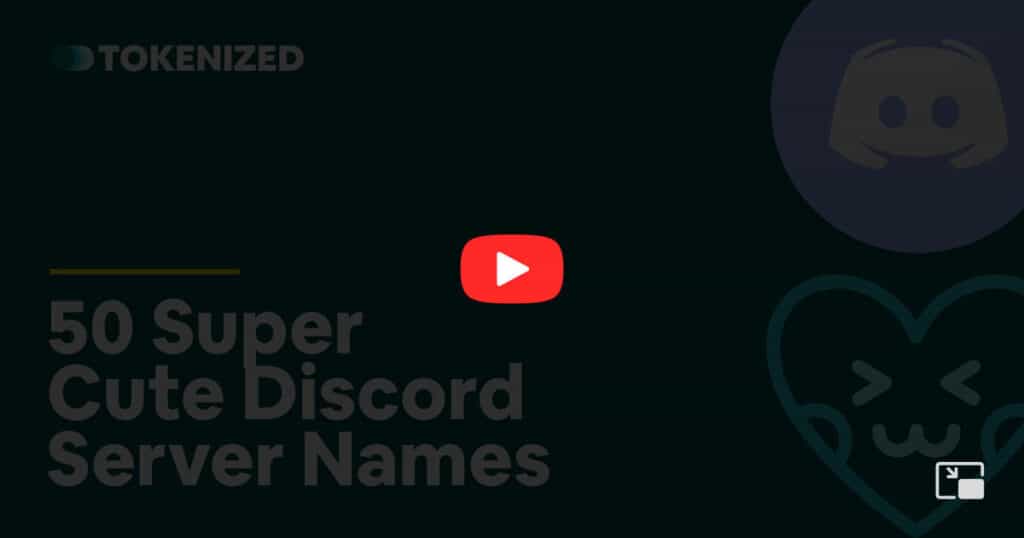 Like this content? Then share it!
50+ Super-Cute Discord Server Names [+ Free PDF]
Here's the answer. Great article by @ChrisHeidorn right here: https://tokenizedhq.com/cute-discord-server-names/

www.tokenizedhq.com
How to Pick a Cute Discord Server Name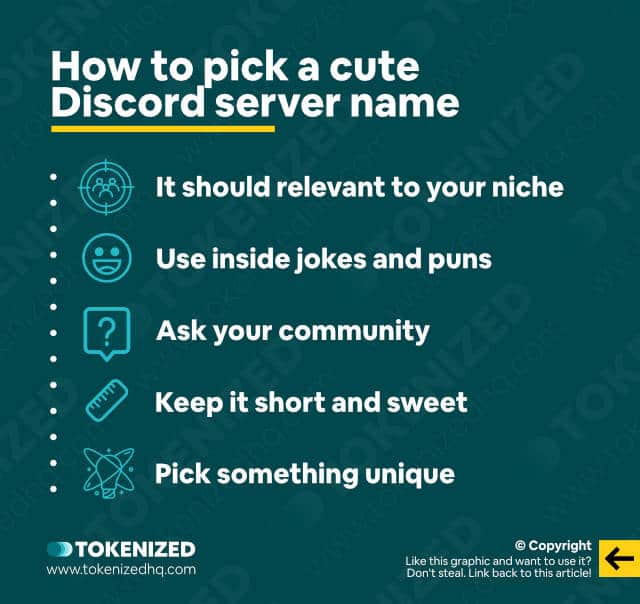 So you want to start a Discord server with your friends, but you can't think of a cute name.
Don't worry, we've got you covered. Here are a few tips to help you pick the perfect name for your server:
Keep it short and sweet. A long, complicated name will be hard for people to remember – and even harder to spell. Stick with something simple and easy to remember.
Make it unique. With so many servers out there, you'll want yours to stand out from the crowd. Think of a name that's both eye-catching and distinctive.
Be creative! Be playful! A little bit of whimsy goes a long way – so don't be afraid to have some fun with it.
With these tips in mind, you should have no trouble coming up with a super-cute name for your new Discord server.
So get creative and have fun – after all, that's what Discord is all about!
However, if you're still having trouble coming up with ideas for cute Discord server names, check out our list below or check out our list of the top tools to generate server name ideas for Discord.
The 50 Cutest Discord Server Names Ever!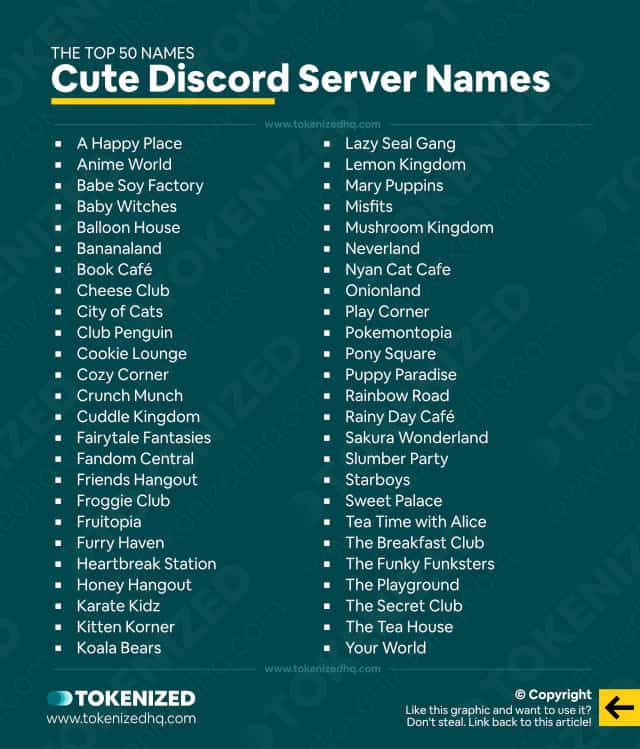 Although our personal taste is a bit different, we still know a cute name when we see one.
We've spent countless hours scouring the web for some of the cutest server name ideas we could find.
And we were finally able to distill it down from more than 500 really good Discord server names to the 50 cutest Discord server names you've ever seen.
If you're into cute stuff, then you'll absolutely love some of these ideas.
And just in case you want even more ideas, make sure you download our free PDF with the full list of over 500 creative Discord server names.
A Happy Place
Anime World
Babe Soy Factory
Baby Witches
Balloon House
Bananaland
Book Café
Cheese Club
City of Cats
Club Penguin
Cookie Lounge
Cozy Corner
Crunch Munch
Cuddle Kingdom
Fairytale Fantasies
Fandom Central
Friends Hangout
Froggie Club
Fruitopia
Furry Haven
Heartbreak Station
Honey Hangout
Karate Kidz
Kitten Korner
Koala Bears
Lazy Seal Gang
Lemon Kingdom
Mary Puppins
Misfits
Mushroom Kingdom
Neverland
Nyan Cat Cafe
Onionland
Play Corner
Pokemontopia
Pony Square
Puppy Paradise
Rainbow Road
Rainy Day Café
Sakura Wonderland
Slumber Party
Starboys
Sweet Palace
Tea Time with Alice
The Breakfast Club
The Funky Funksters
The Playground
The Secret Club
The Tea House
Your World
Frequently Asked Questions (FAQ)
Before we close off this guide, let's quickly address some of the most common questions related to cute Discord server names.
Where can I find Kawaii Discord server names?

Although we weren't able to find any lists of server name ideas that were dedicated specifically to Kawaii themes, try searching Google for "kawaii discord server names" and you're bound to find something that you'll like

What are some good Anime Discord server names?

If you're into Anime, then you can pick your favorite Anime series and name your Discord server after it. Alternatively, think of a recurring location in the series and then name your Discord server after that particular location. Others who enjoy the same series will immediately recognize the name.
Conclusion
Cute Discord server names cater to a very different audience than most of the Discord servers that are dominated by gamers.
But the days where Discord was mainly used by gamers are long gone and today it's a popular solution for people of all ages and it is used for all sorts of different purposes.
Some of the friendliest Discords out there have super cute Discord server names and are extremely welcoming.
Here at Tokenized, we want to help you learn as much as possible about social media. We help you navigate the world of tech and the digitalization of our society at large, including the tokenization of assets and services.