Are you looking for aesthetic Discord server names?
So you're planning on creating your very own Discord server but you don't want it to sound like just any other online community.
You want to give your Discord server a name that's so aesthetic that people will want to join it out of pure curiosity.
Well, in this guide, we'll show you 50 of the most aesthetic Discord server names you've ever seen.
Let's check out the list.
Key Points (tl;dr)
The term "aesthetic" is something that keeps popping up in relation to Discord. For some reason, there seems to be quite a bit of interest in creating beautiful "spaces" on Discord.
Although opinions may differ on what exactly constitutes an aesthetic server name, I think we can all agree that most of them tend to sound very "artsy".
If you're looking for such a name for your Discord server, then you'll be glad to hear that we've put together a list of 50 absolutely beautiful Discord server names to choose from.
For a comprehensive list of 50 aesthetic Discord server name ideas, PLEASE READ THE FULL ARTICLE.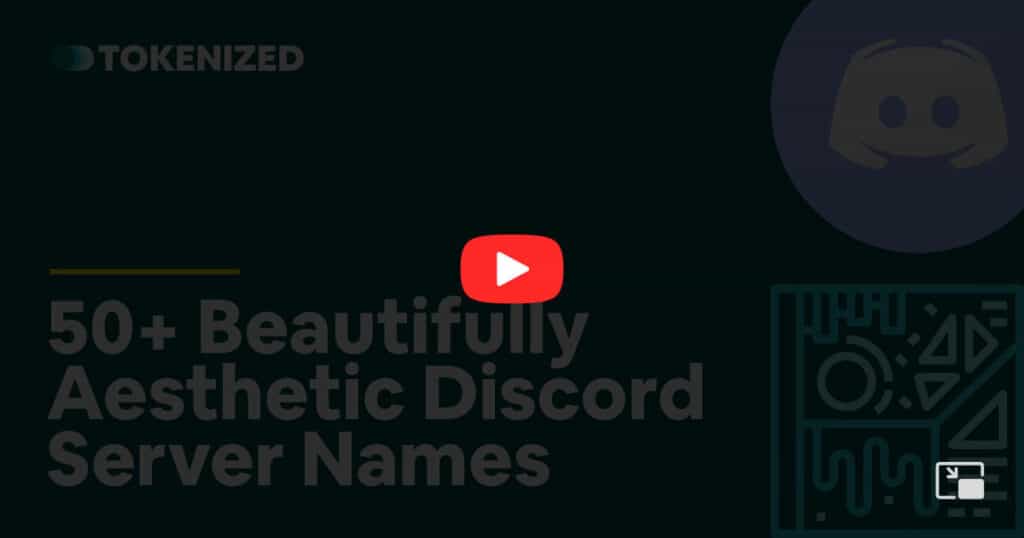 Like this content? Then share it!
50+ Beautifully Aesthetic Discord Server Names [+ Free PDF]
Here's the answer. Great article by @ChrisHeidorn right here: https://tokenizedhq.com/aesthetic-discord-server-names/

www.tokenizedhq.com
What is an Aesthetic Discord Server Name?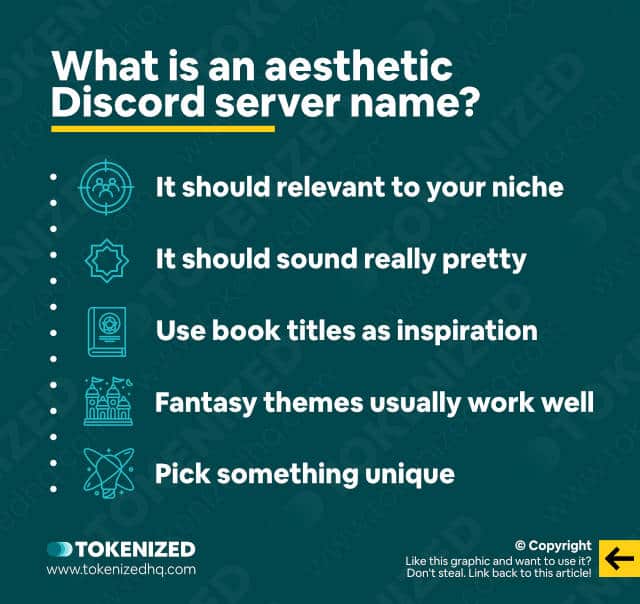 Aesthetic Discord servers are all about looks.
Whether it's high-quality art or just a pretty picture, these servers pour their time and effort into making sure that their members have a visually stimulating experience.
But with so many aesthetic servers out there, how can you make yours stand out from the rest?
The answer is simple: by having an aesthetic Discord server name!
A well-chosen name will instantly set your server apart and give potential members a glimpse of the level of detail and care that you put into everything you do.
So if you're looking to start an aesthetic Discord server, make sure to choose a name that will leave a lasting impression.
From our experience, some of the best ideas for aesthetic Discord server names come from the art world.
Have you ever taken the time to look at some of the titles given to beautiful pieces of art?
Or how about the book titles of some of the most successful bestsellers out there?
Beautiful titles are fairly common in the world of creatives and they are an excellent source of inspiration.
If don't have time to scour the world of art and literature, you'll probably find our list of some of the best aesthetic Discord server names quite useful.
50 Beautifully Aesthetic Discord Server Names!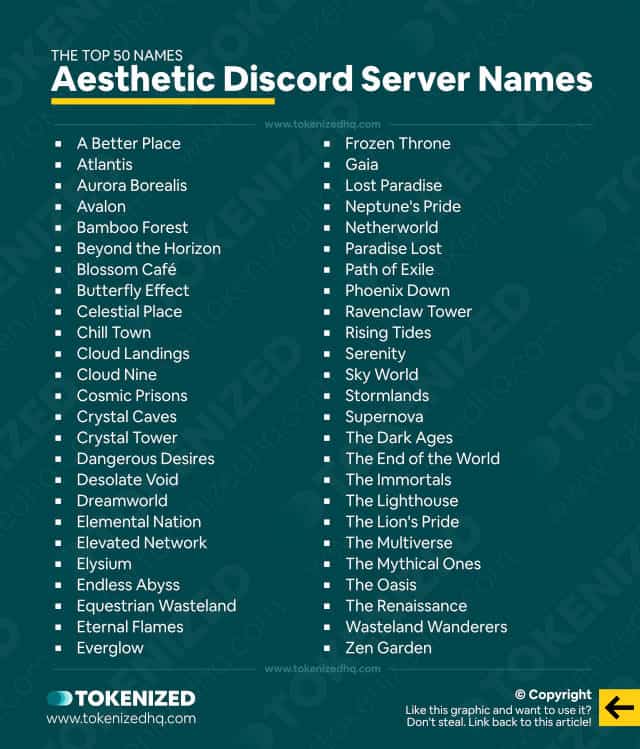 There's always something slightly mystical about aesthetic server name ideas.
In many cases, they sound like places that you would find in the stories of your favorite fantasy book or movie.
We've spent many hours digging through a massive list of more than 500 great Discord server names in order to distill it down to this curated list of 50.
These are by far the most eye-catching aesthetic Discord server names we could find.
However, if this selection still isn't enough for you, feel free to download our free PDF with the full list of over 500 creative Discord server names.
A Better Place
Atlantis
Aurora Borealis
Avalon
Bamboo Forest
Beyond the Horizon
Blossom Café
Butterfly Effect
Celestial Place
Chill Town
Cloud Landings
Cloud Nine
Cosmic Prisons
Crystal Caves
Crystal Tower
Dangerous Desires
Desolate Void
Dreamworld
Elemental Nation
Elevated Network
Elysium
Endless Abyss
Equestrian Wasteland
Eternal Flames
Everglow
Frozen Throne
Gaia
Lost Paradise
Neptune's Pride
Netherworld
Paradise Lost
Path of Exile
Phoenix Down
Ravenclaw Tower
Rising Tides
Serenity
Sky World
Stormlands
Supernova
The Dark Ages
The End of the World
The Immortals
The Lighthouse
The Lion's Pride
The Multiverse
The Mythical Ones
The Oasis
The Renaissance
Wasteland Wanderers
Zen Garden
Frequently Asked Questions (FAQ)
Before we close off this guide, let's quickly address some of the most common questions related to aesthetic Discord server names.
What makes a Discord server name aesthetic?

The term "aesthetic" is obviously somewhat subjective because everyone has slightly different tastes. However, an aesthetic Discord server name will usually put all its emphasis on beauty and style. So, even though something may not be to your taste, you should still be able to tell whether it is aesthetic or not. Another word for this might be "artsy".

How do I get an aesthetic Discord?

An aesthetic Discord starts with an aesthetic Discord server name. That is the very first step you need to take because it will dictate much of the remaining style choices you must make. Once you've decided on a cool name, you can pick one of the many beautiful Discord server templates that are available on the web for free. Not only do templates already give your server a certain style, but they also provide you with a useful channel structure so you don't need to worry about coming up with the right Discord channel ideas either.
Conclusion
The internet is riddled with lists of Discord server names, but very few of them actually make the effort of trying to actually categorize them properly.
In this guide, we've provided you with a curated list of aesthetic Discord server names that should all fit the criteria of what you're looking for.
And if that's still not enough, you can always check out our massive list of over 500 server names for various categories.
Here at Tokenized, we want to help you learn as much as possible about social media. We help you navigate the world of tech and the digitalization of our society at large, including the tokenization of assets and services.