Need Discord server templates for your next community?
Perhaps you don't feel like setting up an entire server manually and need a decent Discord server layout to use a foundation?
Well, we've scoured the web for some of the very best and most aesthetic Discord server templates that we could find and have compiled them into a neat list for you to use.
In this guide, you are almost guaranteed to find the perfect Discord template for your next online community.
Let's dive right in.
Like this content? Then share it!
25+ Beautiful Discord Server Templates in 2023
Here's the answer. Great article by @ChrisHeidorn right here: https://tokenizedhq.com/discord-server-templates/

www.tokenizedhq.com
What is a Discord Server Template?
Discord server templates allow users to create entirely new servers based on an existing Discord server. Templates help retain the core structure of the server by copying all channels and roles, thus eliminating a significant amount of work that goes into a server's setup.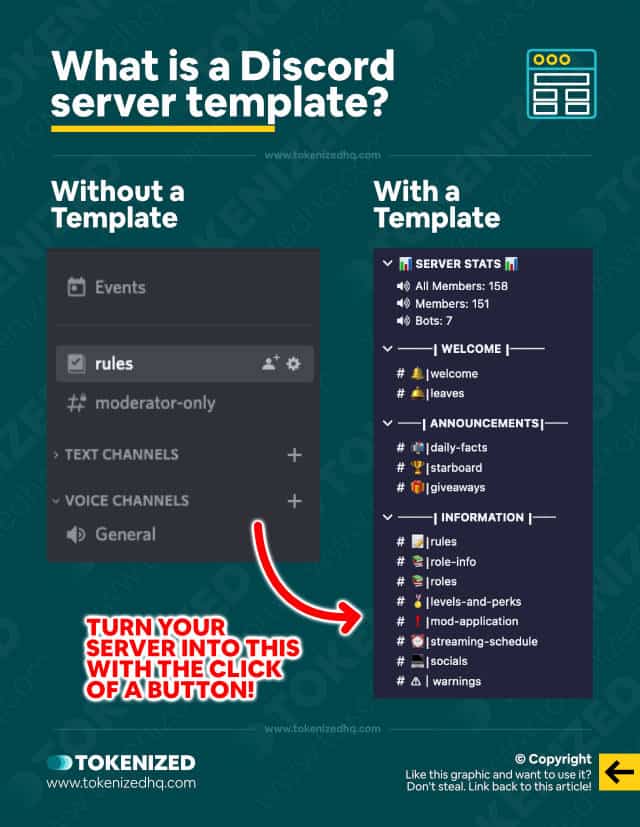 Creating your very own Discord server is extremely easy to do and will usually take you less than a minute.
However, simply creating the server isn't enough and a lot of work tends to go into the setup of a fully-fledged community.
Some of the things that every decent Discord should have include channels for various different topics as well as roles with varying levels of permission.
Not only is it a ton of work but depending on the type of community you are building, users will expect different types of server layouts.
Don't get me wrong, it's not like they're looking for a specific template Discord users love.
But every scene tends to have similar types of channel setups for Discord communities (e.g. gaming servers, support servers, etc).
Anyway, the good news is that Discord introduced an extremely powerful tool to help bolster the growth of new servers: Discord server templates!
With the click of a button, you can effectively copy the entire channel and role structure of an existing Discord server.
Unfortunately, they do not come with ready-to-use server names yet, but you can solve that by simply using an original server name for Discord from our massive list.
Anyway, no more need to come up with original Discord channel ideas for your new community.
This helps eliminate the majority of the workload and allows you to focus on the stuff that you want to do differently.
In the next section, we'll quickly show you how to use them.
Key Points (tl;dr)
One of the most powerful features of Discord is the ability to set up new community servers that are based on existing templates.
These templates are usually created by the community itself and therefore cover a nearly infinite number of topics and categories.
This allows Discord to cater effectively cater to every single niche there is and new communities can spin up their own Discord server, including full channel structures and roles, within a matter of minutes.
We've created a curated list of some of the very best and visually appealing Discord server templates in the world. The 25+ templates cover a range of 5 different categories:

General Community
Gaming & Clans
Dev & Tech Support
School & Studying
Aesthetic Templates
How to Use Discord Server Templates
Server templates for Discord are hosted via unique links that trigger the creation of a new Discord server with that template. In other words, you simply visit a specific URL and Discord will then guide you through the setup process.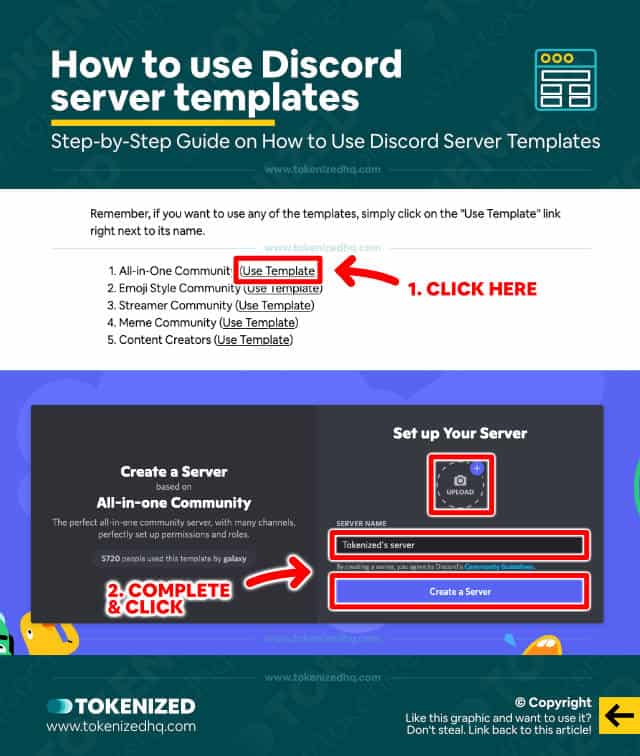 Using an existing Discord template is as easy as clicking a button or visiting a specific URL.
You see, Discord has made so many aspects of its platform extremely easy to use.
Nearly everything, from inviting bots to using Discord introduction templates, is a piece of cake and the brunt of the work is borne by Discord's infrastructure.
So, all you really need to do is pick one of the Discord server templates from our list and click the "Use Template" button to initiate the setup process.
During the setup process, you'll be asked to give your new server a name and potentially upload a server icon as well.
And once you're happy with your choices you can simply click on "Create" and Discord will take care of the rest.
You'll have a fully-fledged Discord server with various channels and roles, and all you need to do is add or remove stuff as you please.
25+ Excellent Discord Templates Grouped by Category
There are various websites that showcase hundreds and thousands of Discord templates created by other people.
Unfortunately, the majority of these database websites are not very pleasing to the eye and make it relatively difficult to find the right template that you need.
That's why we've decided to put together a curated list that meets the criteria of Discord server template aesthetics.
Our list is split into 5 different categories:
General Community
Gaming & Clans
Dev & Tech Support
School & Studying
Aesthetic Templates
General Community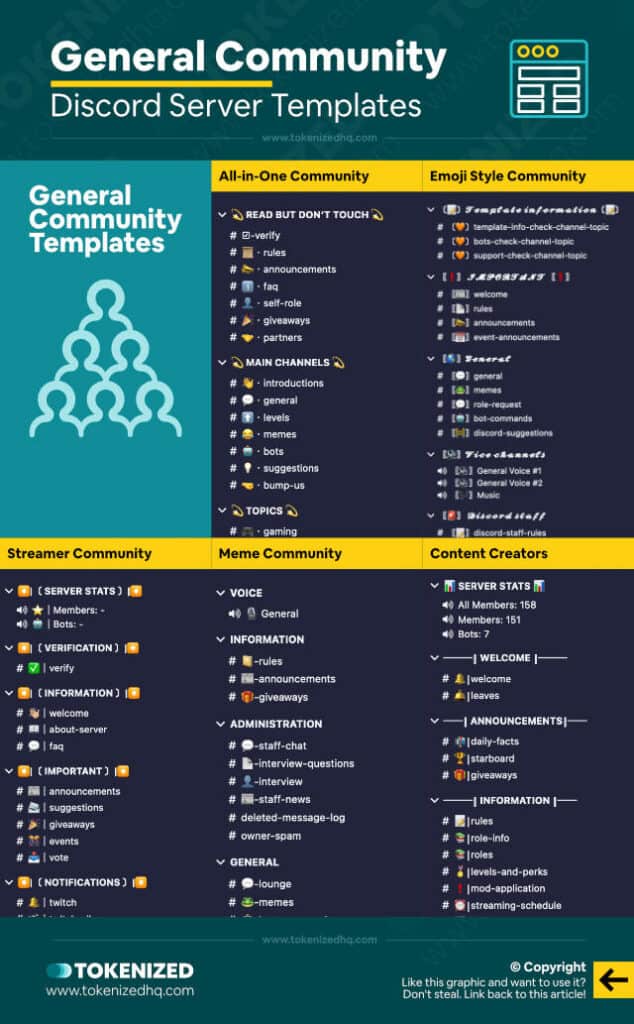 We're going to start off our list with some fairly generic Discord server templates for communities of all shapes and sizes.
These can be used by people who just want to chill with friends but also by content creators who like to hang out with their followers.
I know there's never really a one-size-fits-all with these types of things, but these Discord server layouts come really close!
Remember, if you want to use any of the templates, simply click on the "Use Template" link right next to its name.
Gaming & Clans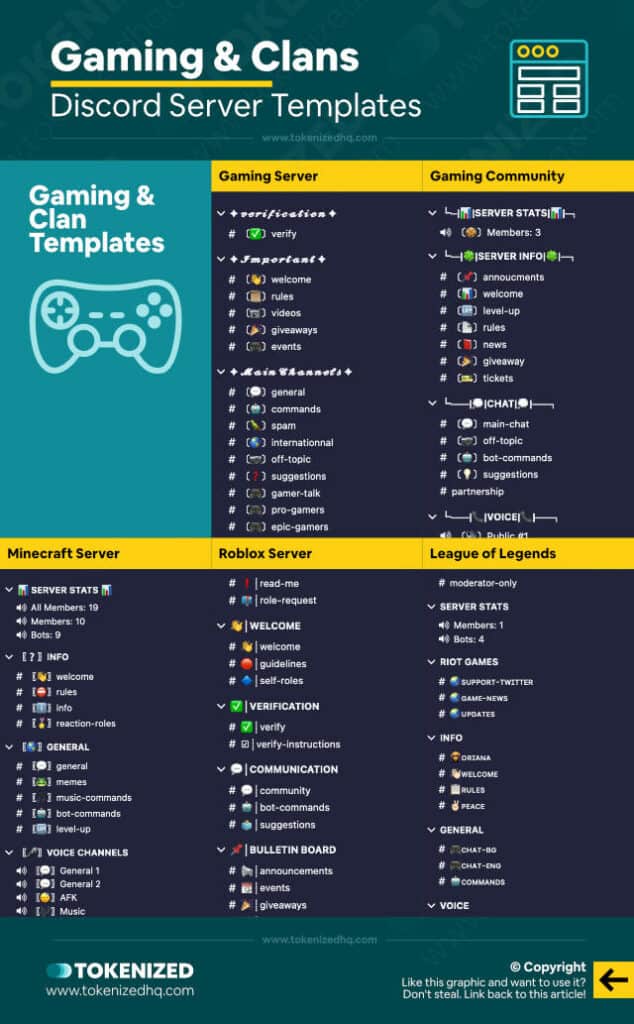 Next up is the gaming category and this is probably what the vast majority of people are looking for.
Discord was originally created for gamers and has only recently grown to become a much bigger and more diverse platform for all sorts of communities.
Some of the server templates Discord has in store for gamers are more generic and cater to multiple different games.
Other templates are specifically tailored to games such as Roblox, Minecraft, or Fortnite.
Here are some of the best Discord server templates for gaming that we could find.
Dev & Tech Support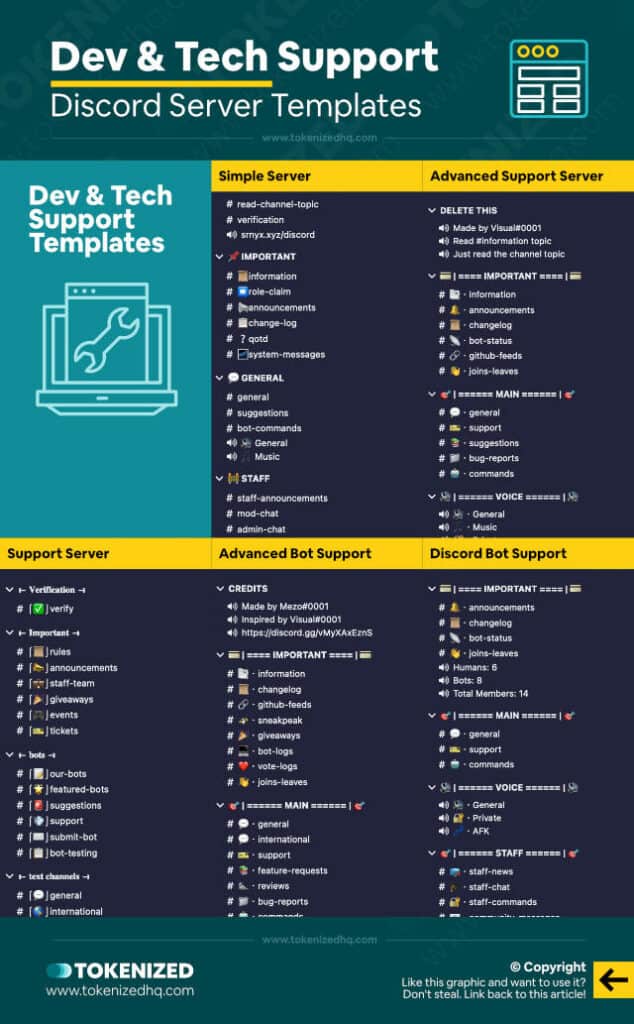 One of the most popular recent use cases for Discord has been tech support servers.
As users become increasingly used to being able to contact support services directly via chat, small businesses have been scrambling to find efficient ways to do so.
Depending on the demographic of your customer base, using Discord as a support center can be very effective.
If you're planning on creating such a server, we recommend using one of the following up Discord server templates.
School & Studying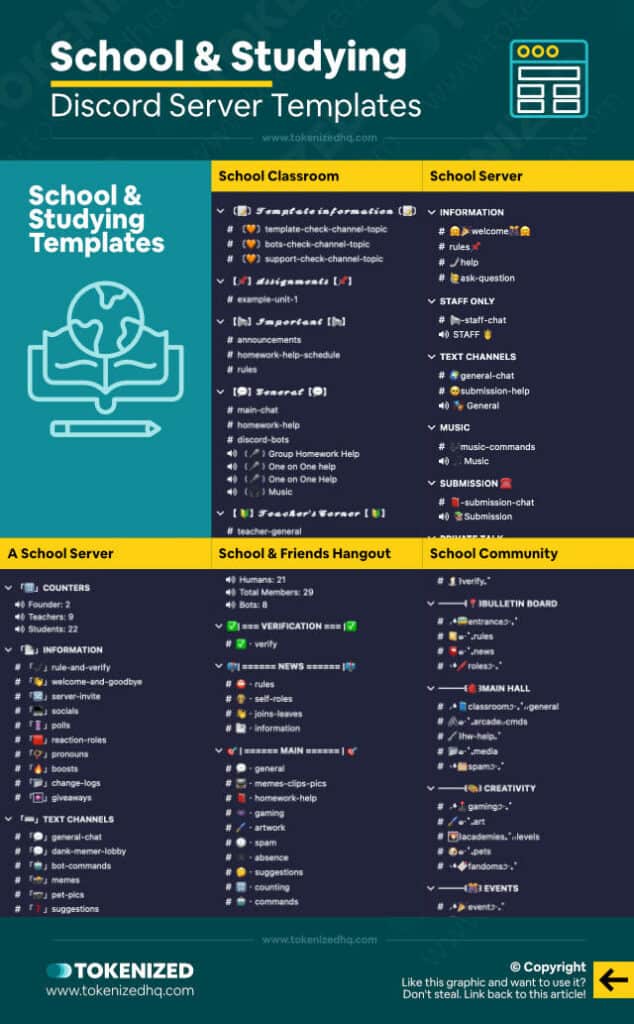 Believe it or not, when kids are spending time on their computers, it doesn't always mean that they're playing games.
Discord has become increasingly popular amongst school kids as a place to do group study and help each other out.
Especially during the pandemic, when schools were mostly closed, Discord played a crucial role in enabling kids to keep in touch and discuss their homework.
Aesthetic Templates
Our final category of Discord server templates is dedicated to some of the prettiest ones out there.
While most of the popular server templates use emojis to make them visually appealing, some communities go the extra mile and give their server beautiful themes.
Some of these are focused on particular niches (e.g. Anime) while others are just incredibly beautiful.
Conclusion
Creating online communities is becoming an increasingly complex endeavor.
Luckily, Discord has made it incredibly easy to tap into the collective creativity and work of its user base and simply spin up a new server using server templates for Discord.
Feel free to use any of the templates we've listed above and mold it to your liking by adding and removing elements as necessary.
Here at Tokenized, we want to help you learn as much as possible about social media. We help you navigate the world of tech and the digitalization of our society at large, including the tokenization of assets and services.