Need some Discord channel ideas for your new Discord server?
Perhaps you're currently busy settings up your very first Discord community and want to get it up and running as quickly as possible.
While setting up your own Discord server is very easy to do, getting all the basic structures in place, including some of the standard channels, is a lot more work than you might think.
In this guide, we'll show you some of the most essential Discord channel ideas that every online community should have.
Let's dive right in.
Key Points (tl;dr)
A good Discord channel structure helps keep things organized in larger community servers and also provide guidance to new members.
Some of the must-have channels that every Discord server should have include:

Welcome channel
Introduction channel
Rules channel
Bot channel
Accounements channel
General discussion
Channels by interest
Memes channel
Support channel
FAQ channel
Dedicated text channel voice chat

Instead of setting up channels all by yourself, you can also use one of the many free Discord server templates that already come with preset channels. Then you can delete the ones you don't need.
For a detailed overview of 10+ essential Discord server channel ideas, PLEASE READ THE FULL ARTICLE.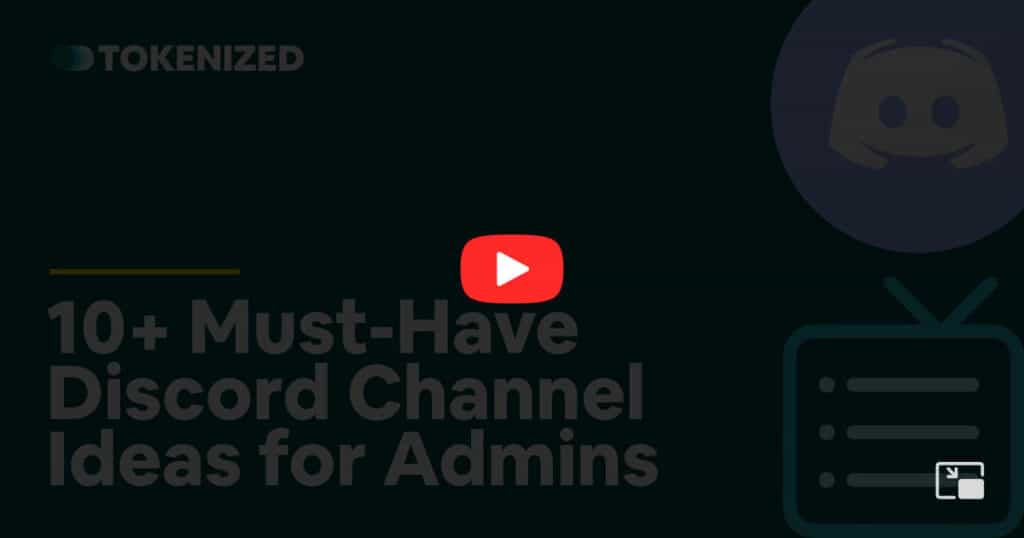 Like this content? Then share it!
10+ Must-Have Discord Channel Ideas for Your Community
Here's the answer. Great article by @ChrisHeidorn right here: https://tokenizedhq.com/discord-channel-ideas/

www.tokenizedhq.com
Why is a Good Discord Channel Structure Important?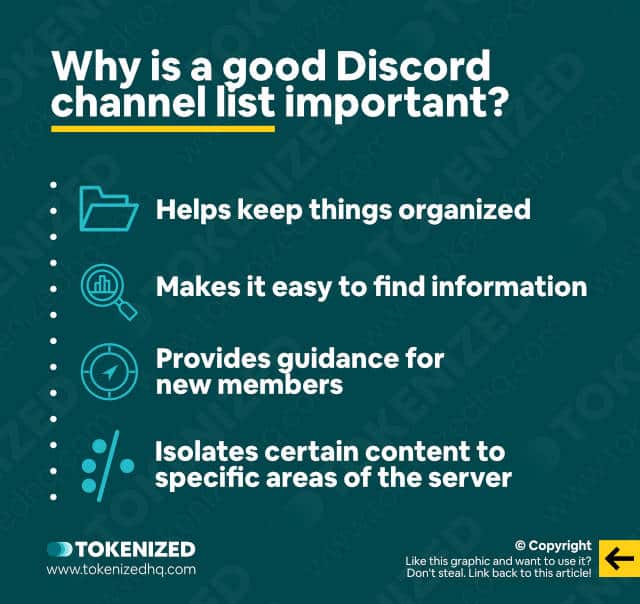 Discord channels are like the rooms of a house.
They provide a space for people to gather and hold conversations.
But just as you wouldn't put the kitchen in the living room, you also wouldn't want to put all your Discord channels in one big jumble.
A good Discord channel structure is important because it helps to keep things organized and makes it easier for people to find the information they're looking for.
Just as you would label the different rooms in your house, you should also label your Discord channels so that people know what each channel is for.
You can also use Discord channel categories to help organize your channels.
Discord channel categories are like the different floors of a house.
They help to keep things organized and make it easier for people to find the channels they're looking for.
If you're looking to create a Discord server that's organized and easy to navigate, be sure to create a good Discord channel structure.
Whether you're looking for Discord channel ideas or just want to learn more about Discord in general, be sure to check out the resources below.
Happy chatting!
10+ Excellent Discord Channel Ideas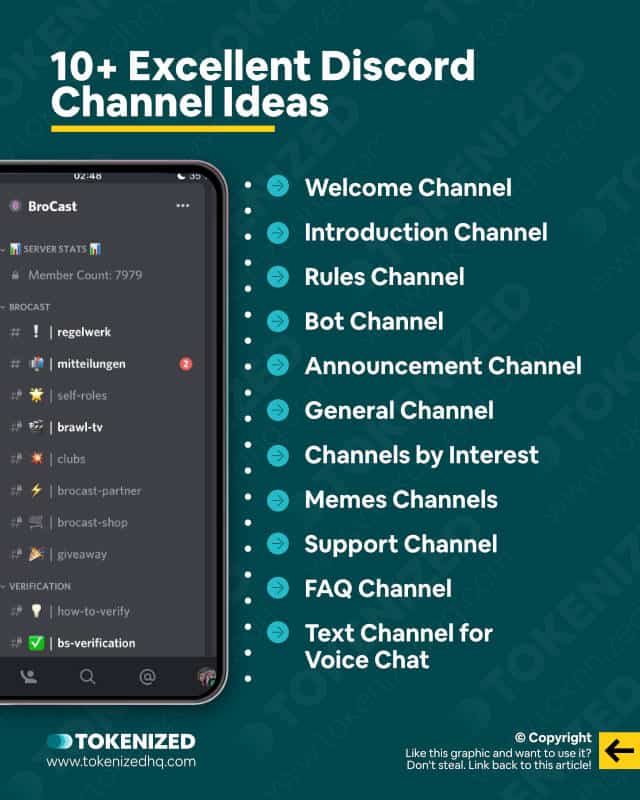 Remember, none of this is cast in stone and obviously, there are thousands of different ways that you can set up your Discord server.
These channel ideas for Discord are just meant to help you get started as quickly as possible.
And they also make sure that you cover all of the most important channels that every server should have.
| Channel Type | Description |
| --- | --- |
| Welcome Channel | To welcome new members and provide guidance. |
| Introduction Channel | A place for new members to introduce themselves. |
| Rules Channel | A permanent reference that users can consult. |
| Bot Channel | A channel exclusively for sending bot commands. |
| Announcement Channel | Helps users get up to speed on what's happening. |
| General Channel | Like your local town square. |
| Channels by Interest | Depending on your community, you'll need dedicated channels for certain topics. |
| Memes Channels | Keeps busy and flashy memes out of regular conversations. |
| Support Channel | A place for users to raise support questions. |
| FAQ Channel | A permanent reference for common problems. |
| Text Channel for Voice Chat | Like a whiteboard for people in voice chats. |
Table showing 11 of the most critical Discord channel ideas that every community needs.
1. Welcome Channel
Welcome channels are a great way to introduce new members to your Discord server and help them get settled in.
You can use your welcome channel to share important information, like server rules and guidelines, or you can simply use it as a place to chat and get to know one another.
Discord welcome channels are a great way to make new members feel welcome and help them get the most out of their Discord experience.
2. Introduction Channel
Another Discord channel idea that's very similar to a welcome channel is an introduction channel.
A Discord introduction channel is a channel where members of a Discord server can introduce themselves to the other members of the server.
This is a great way to get to know the other members of the server and learn more about them.
The introduction channel can also be used to announce important news or events or to simply chat and have fun.
There are many different ways to use an introduction channel, and it is up to the server owner to decide how they want to use it.
3. Rules Channel
Some Discords prefer to solve this with the help of specific screening questions that users must answer before they join the server.
However, it's always a good idea to have a read-only rules channel where everyone can check what the community's rules are.
This is especially helpful if reducing the number of promotions and spam in general.
Also, if you have a team of moderators, it's much easier for them to enforce the rules if they can refer users to them.
It just gives them more authority.
4. Bot Channel
Most Discord servers rely on the use of bots.
While yours may not have one yet, as it grows over time it's almost impossible not to use Discord bots somewhere (e.g. a server stats bot for example).
In this context, one of the most popular Discord channel ideas is a so-called bot channel.
Users interact with bots via commands and most of the time, these bots also return quite a bit of text.
To avoid spamming channels that are meant for discussion, it's fairly common to ask users to restrict their bot commands to a dedicated bot channel
5. Announcements Channel
Although not everyone will agree with me here, I sincerely believe that an announcement channel should be at top of your list of Discord channel ideas.
With so much going on in all the different Discord servers you might be a member of, it's very difficult to keep track of the most important stuff.
By creating an announcements channel, you're doing everyone, including yourself, a great favor.
Whenever I feel I need to catch up on what's happened, I just go to the announcements and bring myself up to speed.
6. General Discussion
You might think that this doesn't require any explanation, but it does.
A general discussion channel is a little bit like the main lobby or the town square.
It's where everyone comes together for the big discussions and where you can literally talk about anything you like.
Trust me, your new community members are going to thank you for providing some guidance.
7. Channels by Interest
Although general discussion is great, depending on what your Discord community is all about, you'll most definitely need a few dedicated channels for certain interests and topics.
The number of potential Discord channel ideas is obviously endless here.
Try not to go overboard but make sure you provide sufficient places for people to discuss certain topics in a calmer environment.
8. Memes Channel
We all love memes but let's face it, they can spam a channel pretty badly.
And that's no fun for those who are actually trying to have a proper conversation.
You should create a separate memes channel where people post memes all day long and all they want without bothering anyone else.
It's also a great way of collecting all the best memes in one place for everyone to find.
9. Support Channel
This one isn't really a Discord channel idea, it's an absolute must-have.
Although a lot of support questions need to be handled in private chats for security reasons, the support channel makes it a lot easier for people to raise a question.
Moderators can keep an eye on activity inside the support channel and help out if anything comes up.
10. FAQ Channel
I know, this might feel a bit redundant but an FAQ channel is essentially the same thing as a rules channel, but for support questions.
It allows you to fill the channel with all of the most common questions and make it a read-only channel.
This helps sort out the vast majority of support requests that need someone's personal attention.
11. Dedicated Text Channel for Voice Chat
The last one of our Discord channel ideas is a bit of an odd one out.
If you don't have any voice channels, you won't really need them.
But if you do, it can be very useful to have a dedicated channel where everyone can post stuff that's relevant to the voice chat itself.
It's kind of like a whiteboard that everyone can write on.
How to Use Discord Server Templates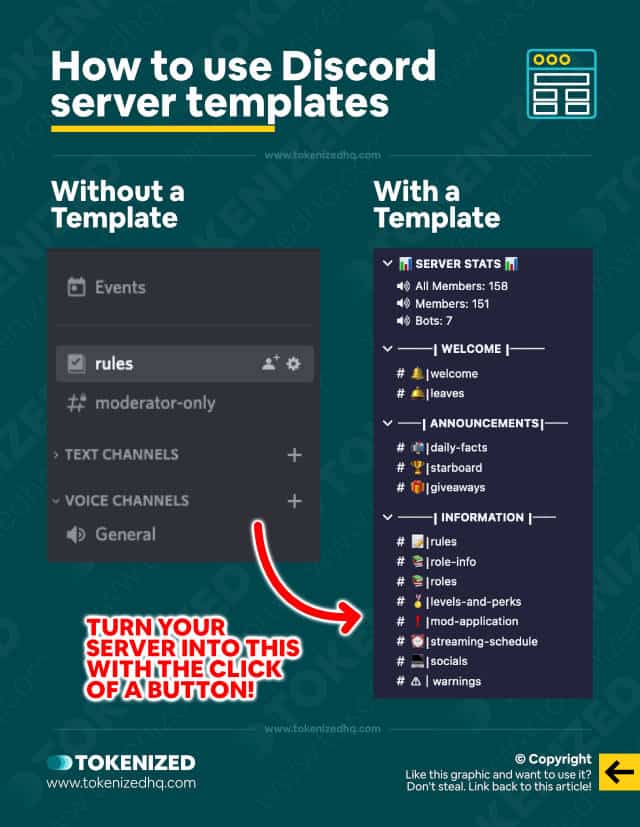 Discord server templates are like blueprints for building the perfect server.
They provide all the essential components that any server needs, including channels, roles, and permissions.
Unfortunately they do not automatically come with a name, but you can easily pick one from our list of good Discord server names if you need one.
By using a template, you can save yourself a lot of time and effort in setting up your server.
And if you ever want to make changes, you can just tweak the template to suit your needs.
That's right, rather than trying to think of the best Discord server channel ideas, just delete the ones you don't need.
Best of all, using a template is completely free.
So why not give it a try?
We actually have a dedicated article on some of the best Discord server templates, right here on Tokenized.
You should check it out!
You might just find that it's the best way to build the perfect Discord server.
Frequently Asked Questions (FAQ)
Before we close off this guide, let's quickly address some of the most common questions related to Discord channel ideas.
What are Discord channel categories?

Channel categories allow you to group channels together into subsections in the channel list. Channel categories can also be collapsed so that they take up less space in your channel sidebar.

How many channels should a Discord server have?

There are almost no rules regarding how many channels a Discord server should have. You can have as few as one and as many as 500. Just bear in mind that more channels do not necessarily translate into a better community. If you have too many channels, it can become overwhelming for your users.
Conclusion
Setting up a Discord server looks really easy from the outside but it's a lot more challenging once you actually do it.
Many people struggle with seemingly simple things such as coming up with Discord channel ideas.
That's why we've put together this list to help ensure that you have all your bases covered.
Here at Tokenized, we want to help you learn as much as possible about social media. We help you navigate the world of tech and the digitalization of our society at large, including the tokenization of assets and services.