Want to add a server stats bot to your Discord server?
Perhaps your Discord server is growing a lot faster than you thought but you don't really have any good stats to visualize its growth?
Well, don't worry, because we've scoured the market for the very best server stats Discord bots we could find.
In this guide, we'll introduce you to the very best Discord server stats bots that you can install today.
Let's check out the list.
Key Points (tl;dr)
Online communities thrive on member engagement and one of the ways you can help drive such engagement is by providing statistics about the community itself.
Nearly every reasonably successful Discord community now uses one of several free server stats bots to display metrics such as member count, boosts, roles, and more.
We've compiled a list of the top 5 server stats Discord bots that we could find and provide a detailed overview of their popularity and feature set:

ServerStats
Member Count
Statbot
Member Counter
Server Stats
For a detailed overview of the top 10 server stats bots, PLEASE READ THE FULL ARTICLE.
Like this content? Then share it!
The Top 5 Discord Server Stats Bots in 2023
Here's the answer. Great article by @ChrisHeidorn right here: https://tokenizedhq.com/discord-server-stats-bot/

www.tokenizedhq.com
What is a Server Stats Bot?
A server stats bot places a widget inside the channel list of your Discord server that can display numerous statistics about your community and its members' activity.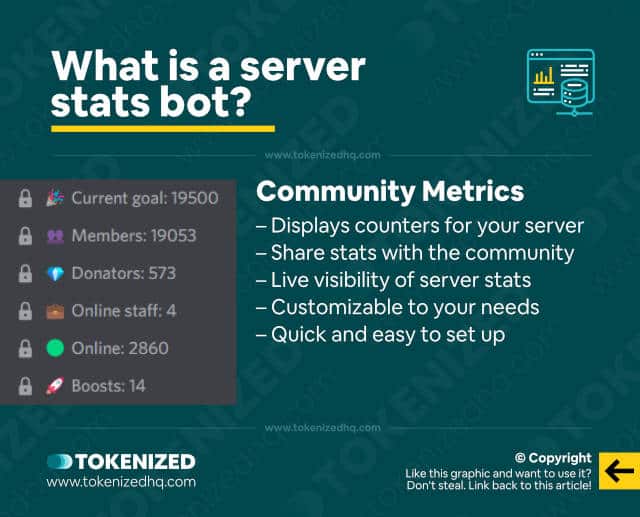 When you create your very own Discord server, it doesn't come with a lot of analytics out of the box.
Although admins do have access to a number of stats via the Discord Developer Portal, they cannot easily share these numbers with their community.
Luckily Discord is more than just a messaging platform.
Thanks to its open API and a lot of other development tooling, it's relatively easy for software engineers to build Discord bots and other plugins that help enhance the features of a server.
One of the most popular plugins for Discord are so-called server stats bots.
A Discord server stats bot will usually place a small widget inside the channel list of the server.
Depending on the exact features of the bot, it will allow you to display a wide-ranging of different metrics.
Some examples of such metrics include:
Member count (incl. target)
Donators
Online staff
Online users
Boosts
Number of bots
Technically, there is no limit to what such a server stats bot can display.
Some of these bots even allow you to pull data from external APIs which effectively means that you can display nearly any type of information you want.
The nice thing about Discord bots that display server stats in public is that every single member of the community can see how the server is growing.
A joint goal can also be extremely motivating for community members and will make them feel like they are part of a bigger movement.
The biggest challenge for Discord server admins is choosing the right server stats bot for your community.
And although you'll have to make that choice yourself, we've already done the groundwork for you.
10 Excellent Server Stats Bots for Discord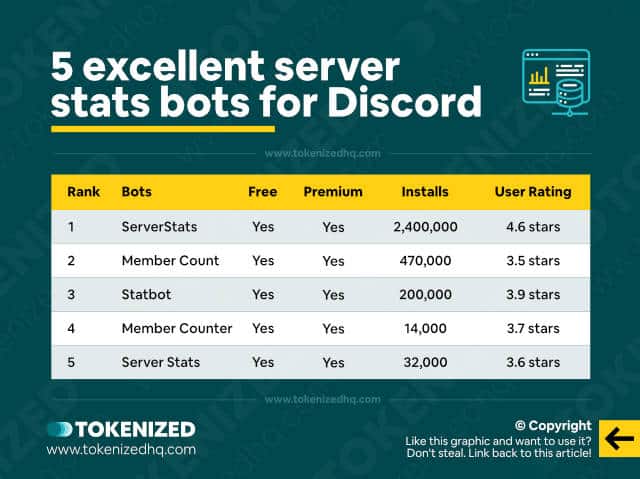 ServerStats
Member Count
Statbot
Member Counter
Server Stats
The following list of server stats bots was compiled by searching through various different registries that list hundreds of such tools.
Our selection criteria are primarily based on the breadth of features that each bot provides, as well as the overall rating given by users.
Most of these bots are very easy to install, so don't worry if you're not a particularly technical person.
So let's check out our list of the top 10 Discord server stats bots.
1. ServerStats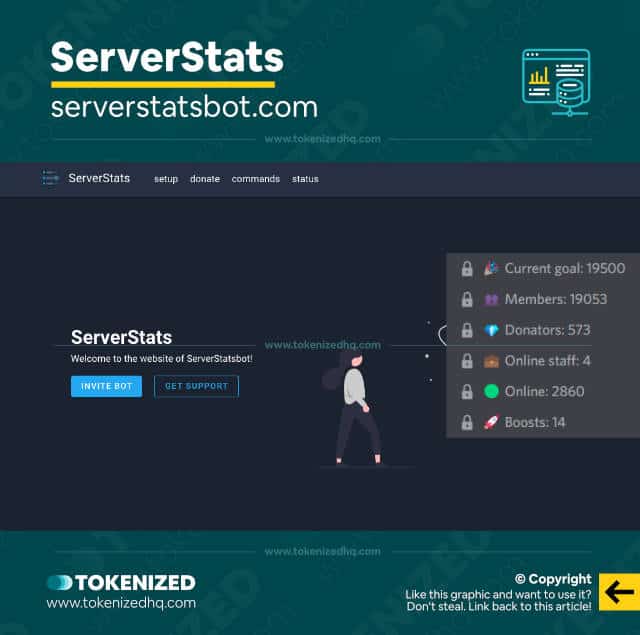 At the very top of our list is the mother of all server stats bots for Discord: ServerStats
The original stats bot boasts a jaw-dropping 2.4 million servers that use this bot.
It is by far the most popular bot of its kind and is clearly doing something right because it also has a 4.6-star rating on Top.gg, which is very good for this category.
Features include:
More than 25 different counters
Fully customizable
10-minute update intervals
Easy setup
Free with Premium options
2. Member Count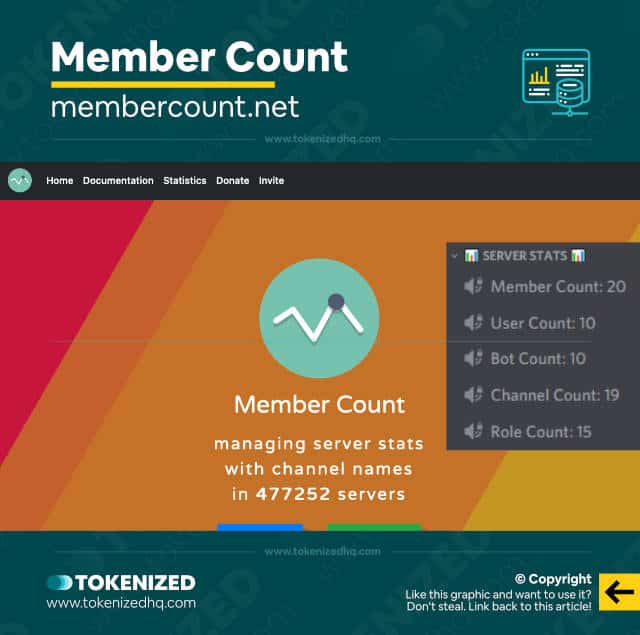 Next on our list is the also very popular Member Count bot, which does exactly what it says.
With over 470,000 installations, it ranks in second place, right behind the ServerStats bot.
However, looking at the 3.5-star rating, it seems like users are running into problems every now and then.
Features include:
Numerous counters incl. members, roles, channels, and even YouTube stats
Customizable
Simple setup process
Free with Premium option
3. StatBot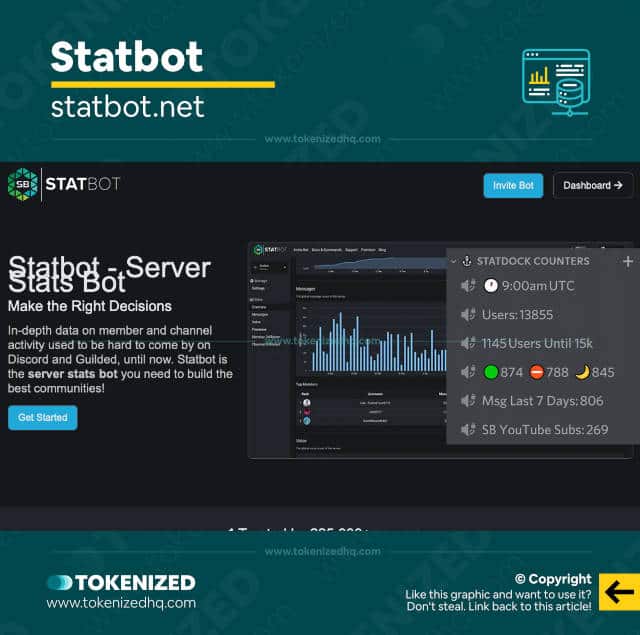 Number 3 on our list of the immensely popular StatBot with more than 200,000 installations and a 3.9-star rating.
Although it only ranks in 3rd place in terms of installations, it is a sophisticated server stats bot for Discord that goes beyond the basics.
StatBot provides in-depth data in a visual dashboard so that you can manage your community the way you should.
Features include:
Get data everywhere (channel counters, commands, and personalized dashboards)
Extremely customizable counters (incl. clocks and countdowns)
Dynamic member roles based on user activity
Free with Premium option
4. Member Counter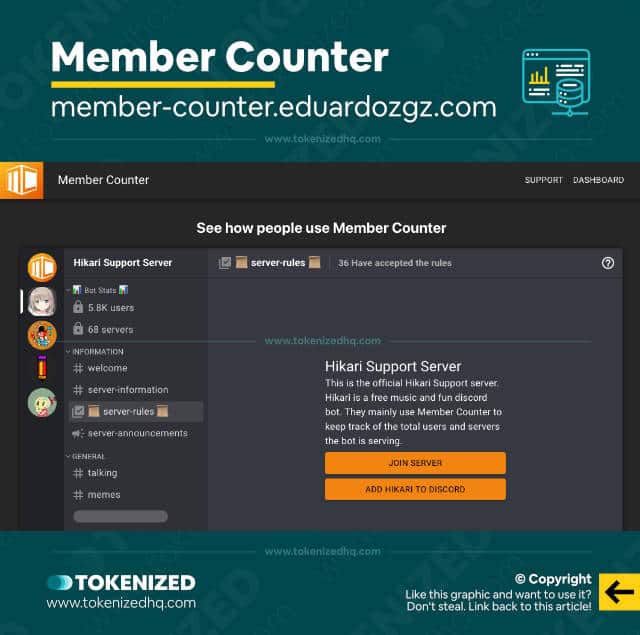 Member Counter is a servers stats bot that does exactly what the name says, but it also does a lot more.
It actually supports more than 30 different counters, which is more than enough for most communities.
Features include:
Dozens of counters
Fully customizable
Multilanguage support
Open-Source
Free with Premium option
5. Server Stats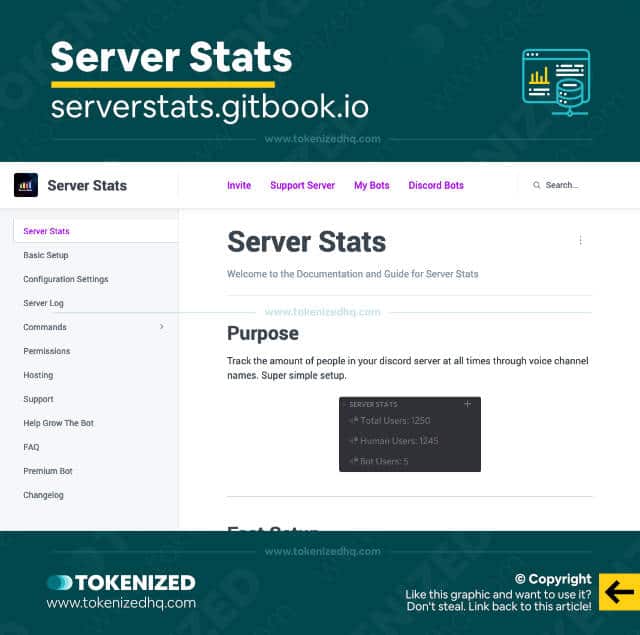 The final entry on our list of server stats bots goes to "Server Stats".
Yes, I know, what an incredibly original name for a bot that displays server stats.
Go complain to the developer!
If you're a friend of no-frills options then this the probably the right bot for you, although a premium version recently became available.
Features include:
3 counters
Free with Premium option
Frequently Asked Questions (FAQ)
Before we close off this article, let's quickly address some of the most common questions that we've received about Discord server stats bots.
How do you get stats on a Discord server?

One way of getting statistics about your Discord server is by inviting a server stats bot that keeps track of a number of different metrics. Usually, these stats will be displayed in a small widget in your channel list. Alternatively, you can also access private server analytics via the Discord Developer Portal.
Conclusion
If you're looking to spice up your Discord server with some metrics, then you should definitely install one of the many popular server stats bots.
All of the options we've listed above are free of charge and only require payment if you want to use premium features.
However, we strongly encourage everyone who uses them to at least consider donating a reasonable amount to the developers to help them continue their great work.
Here at Tokenized, we want to help you learn as much as possible about social media. We help you navigate the world of tech and the digitalization of our society at large, including the tokenization of assets and services.