So you want to add a member count bot to your Discord server?
Perhaps you recently launched your very own Discord community and now that it's growing so quickly, you'd like to add some server stats that everyone can see?
Well, look no further because the perfect solution for this is a bot that is literally called Member Count!
In this guide, you'll learn everything you need to know about Member Count bot, including how to set it up and the most important commands.
Let's get right to it.
Key Points (tl;dr)
Adding detailed server stats to a community's Discord server has become a popular way of keeping track of the community's growth as well as showing off how relevant it has become.
One of the most popular Discord bots that makes this possible is Member Count bot with more than 475,000 active installations around the world.
Not only is Member Count incredibly easy to install, but it also boasts a wide range of additional features (most of them free, some of them paid) and makes it a very versatile plugin that every admin of a Discord server should take under consideration.
For a step-by-step guide on how to set up the Member Count bot, PLEASE READ THE FULL ARTICLE.
Like this content? Then share it!
Discord Member Count Bot: Everything You Need to Know
Here's the answer. Great article by @ChrisHeidorn right here: https://tokenizedhq.com/discord-member-count-bot/

www.tokenizedhq.com
What is Member Count?
Member Count is a popular Discord bot that allows you to display key statistics about your server inside a nice and clean widget that sits within the channel list of your server.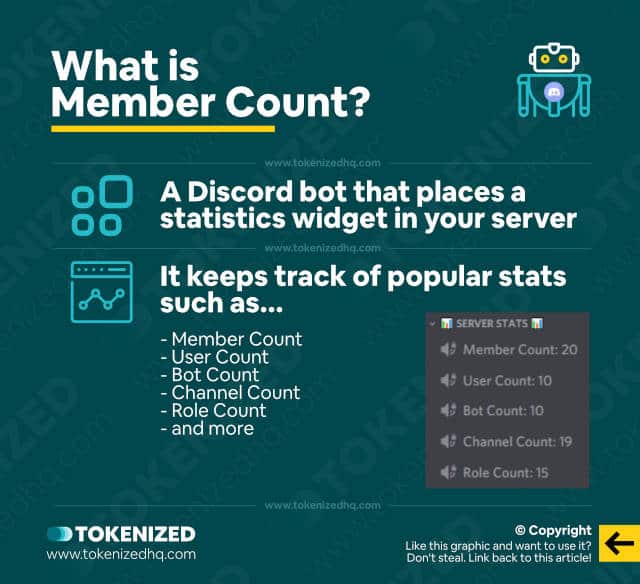 Watching your Discord community grow is loads of fun and super motivating.
However, at some point, it becomes increasingly difficult to keep track of how much it is growing.
Humans love statistics because they make it easier for our brains to quantify progress.
Furthermore, showing off your server stats is a popular way of showing off within the wider Discord community.
Because let's face it, the size of your community is one of the main value propositions.
So what exactly does Member Count bot do?
Well, Member Count Bot is a Discord bot that adds a customizable counter to your server.
This counter contains server stats such as:
Member count
User count
Bot count
Channel count
Role count
So essentially more counts than you can count!
Sorry, that pun was really bad.
Anyway, in the next section, let's have a closer look at the Member Count bot setup.
How to Set up the Member Count Bot
Setting up Member Count is as simple as clicking the bot's invite link, following the on-screen prompts, and calling the setup command inside your server by typing "@Member Count setup".
You might think that setting up a Discord bot is super complicated.
After all, the last time you checked the Discord Developer Portal, you probably saw lots of programming code that you didn't understand.
But believe it or not, setting up Member Count bot is super easy to do.
Here are the steps to set up Member Count bot (assuming that you already have your own Discord server):
Step 1: Visit this invite link to kick off the bot invitation process.
Step 2: Select the server you want to add Member Count to and click "Continue".
Step 3: Next, verify the permissions that you are granting Member Count and click "Authorize".
Step 4: Confirm that you are a human.
Step 5: Finally, go to your server and enter the command "@Member Count setup".
And that's all you need to do to set up the Member Count bot.
You should now see your server stats in the left sidebar just below the channel list.
You can also move the position of the stats by simply dragging and dropping them to a different location in the sidebar.
Just a word of caution regarding the official setup instructions.
We were never able to get things to work with the default "m!setup" command but luckily you can send every command by simply mentioning the bot beforehand as well.
The Most Important Member Count Bot Commands
If you ever need to consult the reference of commands that the Member Count bot supports, simply type:
@Member Count help
This will list all of the commands that you can use on the bot.
We won't go into detail on every single one of the commands, but here's a quick overview of what they do:
help: This displays the bot's help menu.
category: Allows you to manage the categories inside the server stats counter widget.
counter: Is used to manage individual counters for your server. Not all counters are free. Some are limited to premium users.
countername: This allows you to rename the counter's title.
setup: Obviously does exactly what it says.
memberlist: This will return a text file with all the members on your server. It's unreliable beyond 250 members.
prefix: Allow you to change the prefix used for commands if you prefer something else.
invite: This command will return the bot's invite link that can then be shared with someone else.
support: The support command returns the link to the Member Count support server.
data: Returns a JSON formatted dump of all the data that the bot has about your server.
info: Simply returns some data about the bot itself.
ping: Can be used to return the latency between the bot and Discord. Basically, check if the server is online.
This is just a rough overview of all the commands.
For detailed instructions on how to use some of the more complex commands, please refer to the Member Count bot documentation.
If you're going to use the bot a lot, we generally recommend that you create a dedicated bot channel.
It's widely considered best practice and is also on our list of must-have Discord channel ideas.
Is Member Count Bot Free?
The basic version of Member Count is 100% free and can be installed by anyone who wants to use it.
Yes, Member Count Bot is generally free to use, however, it also comes with some premium features that require a subscription.
If you'd like to become a contributing user, please head over to Member Count's Patreon page and subscribe to either of the 2 premium tiers.
Both are incredibly affordable and help the developer keep the bot up-to-date.
How Popular Is Member Count Bot?
According to Top.gg, Member Count bot is used on more than 475,000 Discord servers.
That alone is a testament to the fact that it's clearly a very popular Discord bot.
That being said, there are also more than 75 reviews available for Member Count and although they are mostly positive, some users also gave it a low rating.
Here's what some of them are saying:
"It works really well and I really enjoy it as many others do to."

"I love the bot because if I don't know the count in my server I can use it."

"It is not working correctly It says there are 17 bots in my server but there are 26 weird and can't change."

"Nice setup but not accurate. i have 6 bots and its listed as 2."

"i keep inviting the bot and authorizing it, although the bot won't show up in my discord server, can someone please help me with this?"

"Wow! Works perfectly! The perfect bot for servers stats!!"
Overall, users have given Member Count bot a rating of 3.56 stars.
If you'd like to have a look at some other alternatives, we actually have a very detailed guide that covers the top 5 Discord server stats bots on the market right now.
Conclusion
Discord bots are an easy way to add some spice to your server and also keep track of what's going on.
Member Count is a popular and free option that will satisfy most people's expectations.
Here at Tokenized, we want to help you learn as much as possible about social media. We help you navigate the world of tech and the digitalization of our society at large, including the tokenization of assets and services.