Looking for cool Gaming Discord server names?
Perhaps you recently launched your own Discord community for gamers or you're creating your very own clan for your favorite game?
Coming up with a good name for your Gaming Discord server isn't easy and that's why we always recommend that you get yourself some inspiration first.
In this guide, we'll show you the 50 best Discord server names for gaming.
Let's check out the list.
Key Points (tl;dr)
If you're setting up your very own Discord community for gamers, make sure you put sufficient thought into the naming process. The name of your Discord server isn't just a simple name, it's your brand, and it communicates to new members exactly what to expect.
The very best Discord server names for gamers try to adapt to their specific purpose and the games they are about. Is your Discord meant for a clan or is it about gaming in general?
To make this process easier for you, we've curated a list of the top 50 Gaming Discord server names that we could find. They are meant to provide you with inspiration so that you may come up with a variation that best fits your specific needs.
For a comprehensive list of 50 good Discord server names for gaming communities, PLEASE READ THE FULL ARTICLE.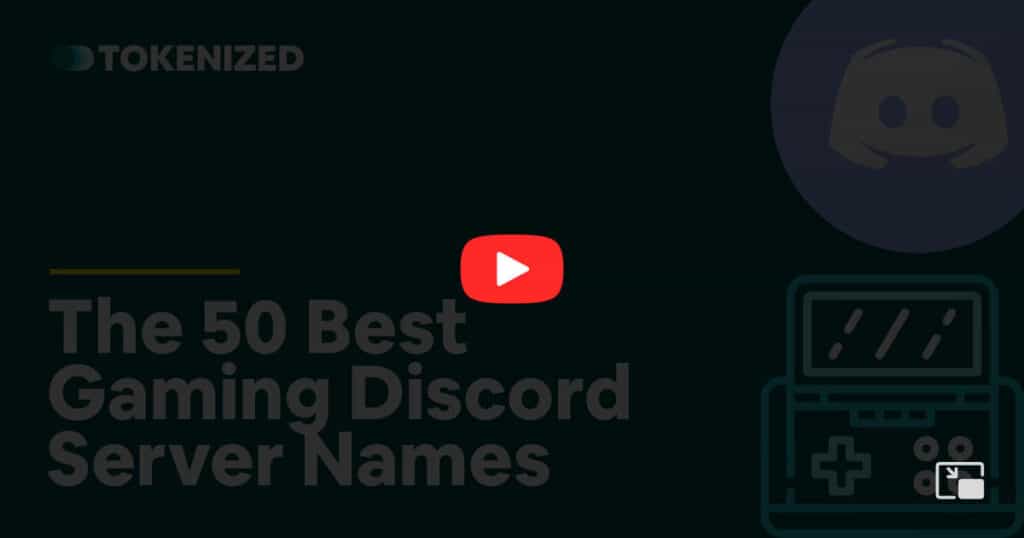 Like this content? Then share it!
The 50+ Best Gaming Discord Server Names [+ Free PDF]
Here's the answer. Great article by @ChrisHeidorn right here: https://tokenizedhq.com/gaming-discord-server-names/

www.tokenizedhq.com
How to Pick Good Names for a Gaming Discord Server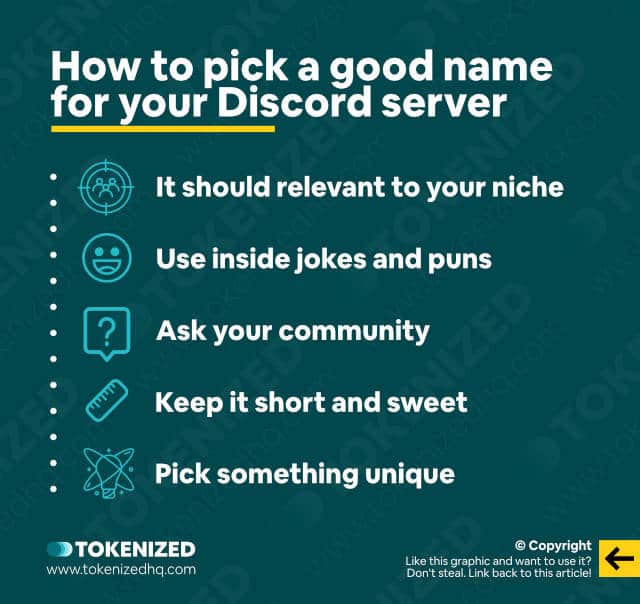 Picking a good name for your gaming Discord server can be tricky.
After all, you want something that reflects the spirit of the game and the community, but you also don't want to pick something so generic that it gets lost in the shuffle.
Here are a few tips to help you choose a standout name for your server.
First, consider the type of game you're playing.
Is it a fast-paced FPS? A strategy game? A multiplayer RPG?
The name of your server should give potential members an idea of what they can expect from the community.
Second, think about the tone of your server.
Are you striving for a laid-back and friendly atmosphere, or do you want things to be a little more competitive?
This will help narrow down your options.
Finally, don't be afraid to get creative!
If you can't find anything that quite fits what you're looking for, try coming up with something unique.
After all, half the fun of gaming is coming up with cool names for things.
With these tips in mind, you should have no trouble picking out the perfect name for your gaming Discord server.
And to make things even easier, we've put together a list of the 50 very best Gaming Discord server names out there.
The 50 Best Discord Server Names for Gaming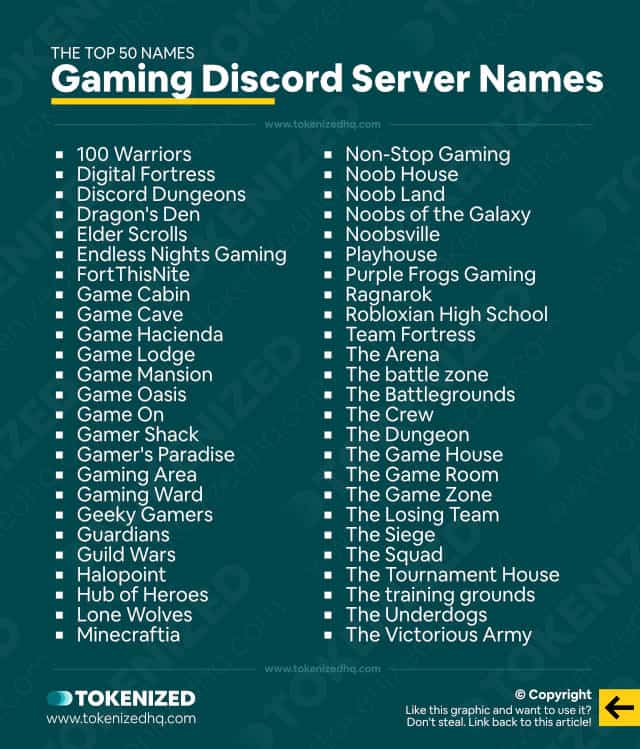 The following selection of 50 Gaming Discord server names is a curated list based on countless hours of research analysis.
We've distilled over 500+ good Discord server name ideas from various categories down to this special list specifically with gamers in mind.
If you're looking for even more server name ideas, make sure you download our free PDF with the full list of over 500 creative Discord server names.
It not only includes ideas for Gaming, but also loads of cool, funny, and even aesthetic Discord server names.
100 Warriors
Digital Fortress
Discord Dungeons
Dragon's Den
Elder Scrolls
Endless Nights Gaming
FortThisNite
Game Cabin
Game Cave
Game Hacienda
Game Lodge
Game Mansion
Game Oasis
Game On
Gamer Shack
Gamer's Paradise
Gaming Area
Gaming Ward
Geeky Gamers
Guardians
Guild Wars
Halopoint
Hub of Heroes
Lone Wolves
Minecraftia
Non-Stop Gaming
Noob House
Noob Land
Noobs of the Galaxy
Noobsville
Playhouse
Purple Frogs Gaming
Ragnarok
Robloxian High School
Team Fortress
The Arena
The battle zone
The Battlegrounds
The Crew
The Dungeon
The Game House
The Game Room
The Game Zone
The Losing Team
The Siege
The Squad
The Tournament House
The Training Grounds
The Underdogs
The Victorious Army
Frequently Asked Questions (FAQ)
Before we close off this guide, let's quickly address some of the most common questions related to Gaming Discord server names.
Where can I find a Discord server name generator?

Vadoo.tv has a really great tool that allows you to generate Gaming Discord server names, as well as names for all sorts of other use cases. Just enter your keywords, click "Submit", and it will generate dozens of suggestions within a few seconds.

Does my Gaming Discord server name need to include the word "gaming"?

No, it doesn't have to include the word "gaming" or "game". This is especially true if you are creating a Discord server for your clan or squad. However, if your community is about gaming in general, keep in mind that others need to be able to tell what your community is about.

Can multiple servers use the same Gaming Discord server name?

Yes, Discord server names are not unique and multiple communities can use the same server name. However, bear in mind that this can sometimes lead to confusion among people who are new to your community.

What should I name my Gaming Discord server?

Try to find a name that resonates with people who love gaming or the specific category of games that you want your community to be about. Many people really like funny names or puns, but when it comes to gaming, it's not uncommon to find a lot of very serious names relate to elements of a particular type of game. For example: "The Dungeon" is an obvious reference to fantasy role-playing games.
Conclusion
Coming up with a cool and original name for a new Discord server for gaming isn't always easy.
Unless you already have a community that you can ask for input, your best bet is to use existing lists of some of the best Gaming Discord server names as inspiration.
Just make sure you don't copy them word for word and instead, give them your own personal spin.
Here at Tokenized, we want to help you learn as much as possible about social media. We help you navigate the world of tech and the digitalization of our society at large, including the tokenization of assets and services.