Everyone's talking about NFTs but you don't really know what they are?
Every time you see those 3 letters, you ask yourself: What does NFT stand for?
There's absolutely nothing to be ashamed about and luckily you've come to the right place to get all your answers.
In this guide, we'll explain to you in simple terms what NFT stands for and why they've taken the world by storm.
But please beware: Once you get started with NFTs, it's very difficult to let go because it's all really quite addictive.
Anyway, let's not waste time and get started.
Key Points (tl;dr)
One of the most common questions right now is: What does NFT stand for?
NFT stands for "non-fungible token".
Unlike "fungible" tokens such as Bitcoin or Ethereum, each NFT is one-of-a-kind and not easily divisible.
NFTs are digital assets that "live" on the blockchain, where they can easily be bought, sold and traded for a profit.
Any type of real-life asset and also be represented as an NFT.
Like this content? Then share it!
Explained: What Does NFT Stand For?
Here's the answer. Great article by @ChrisHeidorn right here: https://tokenizedhq.com/what-does-nft-stand-for/

www.tokenizedhq.com
What Does NFT Stand For?
"NFT" stands for "non-fungible token", which simply means that it's a one-of-a-kind token. Unlike cryptocurrency, such as Bitcoin, each token is different from another and can be uniquely identified on the blockchain. Each token therefore also has its own history. With Bitcoin, it doesn't matter which one you have. They all have the same value.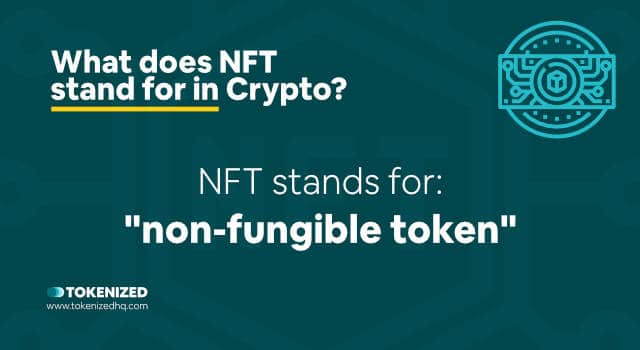 Let's get the basics out of the way first, cause your main question is: What does NFT stand for?
NFT is simply an abbreviation for non-fungible token.
Let me guess: You've probably never heard of the term "fungible".
That's alright, it's mainly a fancy word to say that something is absolutely unique.
Each NFT that follows the ERC-721 token standard of the Ethereum blockchain is considered one-of-a-kind.
Cryptocurrencies are a good example of so-called "fungible" tokens.
They are considered fungible because it doesn't matter which token you have.
Each Bitcoin has the exact same value as the next.
Bitcoin is also easily divisible into fractions while an NFT cannot be split into parts unless it is fractionalized.
So in terms of what does NFT stand for in crypto, the above is probably the most pertinent question.
Real-life examples of common fungible assets are commodities, such as oil, gold, or pork bellies.
Whereas most real estate would definitely fall more into the category of non-fungible assets.
What Is an NFT?
An NFT is a non-fungible token, a digital and tamper-proof entry on a blockchain. It is a digital asset that represents ownership or certain types of rights. For example, these can include ownership of a piece of art, membership in an exclusive club or a share of profits from some type of business.
A much more pertinent question than "What does NFT stand for?" is about the technology itself.
NFTs are digital entries on the blockchain, which contain specific data and this data cannot be changed once it is minted.
The contents of this data can be just about anything and each token is completely unique.
Many people, therefore, believe that NFTs will revolutionize the way we represent ownership of an asset.
Car manufacturers are already exploring how they can use NFTs in their vehicles, so it's not entirely impossible that one day you'll use a car NFT to prove that you own your car.
One of the key benefits of NFTs is that they can be easily traded and transferred from one person to another via one of the many NFT websites.
Since the blockchain is tamper-proof, we may no longer need trusted middlemen to transfer an asset or prove that we are the rightful owners.
Most of the NFTs that are traded right now, represent ownership of a piece of art, or at the very least some type of digital image.
The value of the images themselves is not necessarily the only thing that gives these NFTs value.
Much of their value is currently derived from the status that they represent within society.
If you own a Bored Ape, then you are not only part of an exclusive club but also own a digital asset worth at least $250,000.
And whether you like it or not, for many people, this comes with bragging rights, which is why Twitter NFT verification recently became a real thing.
Imagine you had bought that Bored Ape for $4,000 and sold ich it 9 months later for $250,000?
And you're wondering why so many people are trying to figure out how to make money with NFTs?
In other cases, however, the value is also derived from what NFT project founders create.
Some of them are building metaverse brands, while others are creating some of the best NFT games ecosystems or building intellectual property for the next media empire.
If you'd like to discover more examples of NFTs for various different use cases, we've got a really good article right here on Tokenized.
So while much of it may look a bit silly to you from the outside, think about what could happen once these assets are properly regulated.
Imagine a project turns into a multi-billion dollar business and all holders of their token become shareholders in the business.
But then again, what does NFT stand for in art?
At a much more basic level, NFTs represent a unique opportunity for artists to raise from and reward their community of early supporters.
While in the past you may have needed a big deal with a publisher, those with a strong social media presence now have vastly more bargaining power than they did before.
Conclusion
NFTs are basically just one-of-a-kind tokens that represent ownership of something.
What that ownership means largely depends on the creator of the underlying smart contract.
While NFTs may seem overhyped right now, many believe that owning an NFT will be commonplace within the next 10 years.
The technology itself has the potential to disrupt many industries, which is why you can expect a fair amount of opposition to the idea.
Nevertheless, is very likely that NFTs will help cut out many middlemen in business.
So it's worth having a closer look at NFTs and learning about smart contracts.
Who knows when your own job might be on the line!
Either way, next time someone asks "What does NFT stand for?", you'll be more than prepared to give them an insightful answer.
Here at Tokenized, we want to help you learn as much as possible about the coming NFT revolution. We help you navigate this fascinating new world of non-fungible tokens and show you how you can integrate tokenization into your own business.