Are you having trouble with TikTok not working?
Perhaps you tried doing something that you've done nearly a million times in the past but for some reason, your TikTok app is not working today?
Well, we've got good news for you, because even though more and more people are starting to have various problems with TikTok not working on iPhone or Android, most of the issues can be easily fixed with a handful of solutions.
In this guide, you'll learn exactly why your TikTok is not working and what proven solutions you can use in order to fix it.
Let's get right to it.
Key Points (tl;dr)
Generally speaking, there are many potential reasons why your TikTok app may not be working as expected and if you want to have a specific solution, then you should try searching for a specific problem ("TikTok not working" is definitely not specific).
That being said, the majority of issues are related to connectivity, server problems, device settings, or technical problems with the device or software itself.
One of the most common reasons why TikTok is not working is simply because their servers are temporarily down.
Here are 7 proven solutions to the TikTok No Sound issue:

Solution 1: Check if TikTok is down
Solution 2: Switch from WiFi to Mobile Data
Solution 3: Restart your TikTok app or phone
Solution 4: Clear the app cache

Solution 5: Check for TikTok updates
Solution 6: Uninstall & reinstall TikTok
Solution 7: Contact TikTok Support
For a detailed overview of all 7 solutions to fix why TikTok is not working for you today, PLEASE READ THE FULL ARTICLE.
Like this content? Then share it!
Solved: TikTok Not Working? Here's How to Fix it!
Here's the answer. Great article by @ChrisHeidorn right here: https://tokenizedhq.com/tiktok-not-working/

www.tokenizedhq.com
Why Is TikTok Not Working?
There are many possible reasons why TikTok may not be working on your device, including connectivity issues, server problems, device settings, or technical problems with your device or the software itself.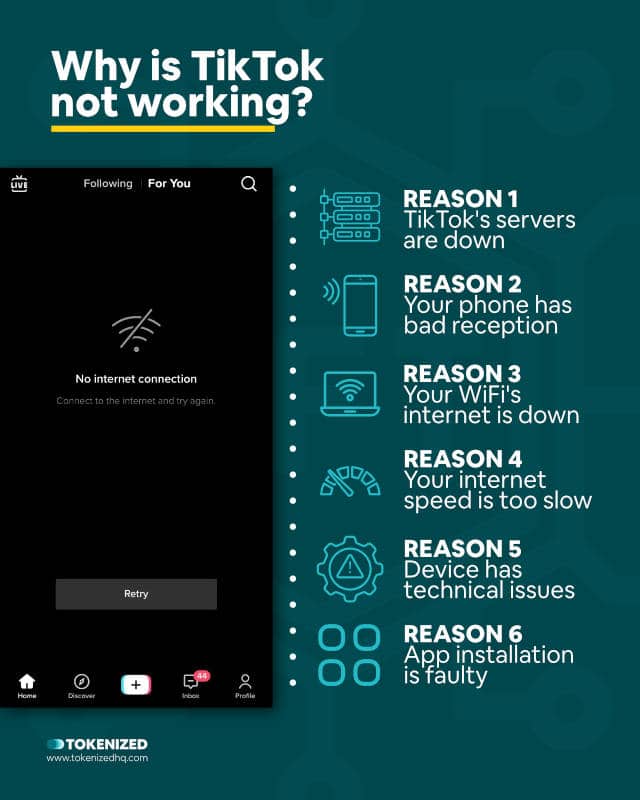 TikTok has recently taken the world by storm and is quickly becoming a serious problem for other social media platforms like Instagram or Snapchat.
But with increased popularity also comes to an increase in user complaints with regards to TikTok not working.
The spectrum of issues is vast, ranging from simple audio issues to total connectivity outages leading to many people, including myself, asking themselves why my TikTok is not working.
But before we can even start to assess what the root causes are, we need to establish what exactly "TikTok not working" means:
Are you having connectivity problems?
Are your videos not playing correctly?
Are you experiencing issues with the audio?
Are your messages not working properly?
Do you have zero views on TikTok?
There are so many different problems that could urge someone to simply say that their TikTok app is not working.
But each case is obviously fundamentally different and one solution doesn't solve everything.
Some of the most common reasons for TikTok not working include:
TikTok's servers are down
Your phone has bad reception
Your WiFi's internet is down
Your internet speed is too slow
Your device has technical issues
The app installation is faulty
These are some of the most common reasons why you might be experiencing issues on TikTok.
But obviously, you want a solution.
So let's look at the 7 most common solutions in the next section.
What to Do if TikTok Is Not Working
Most of the common reasons for why TikTok is not working can be fixed by checking your internet connection, restarting the app or phone, clearing the app cache, updating the app, or simply reinstalling the app altogether. And in some cases, TikTok's servers are simply down.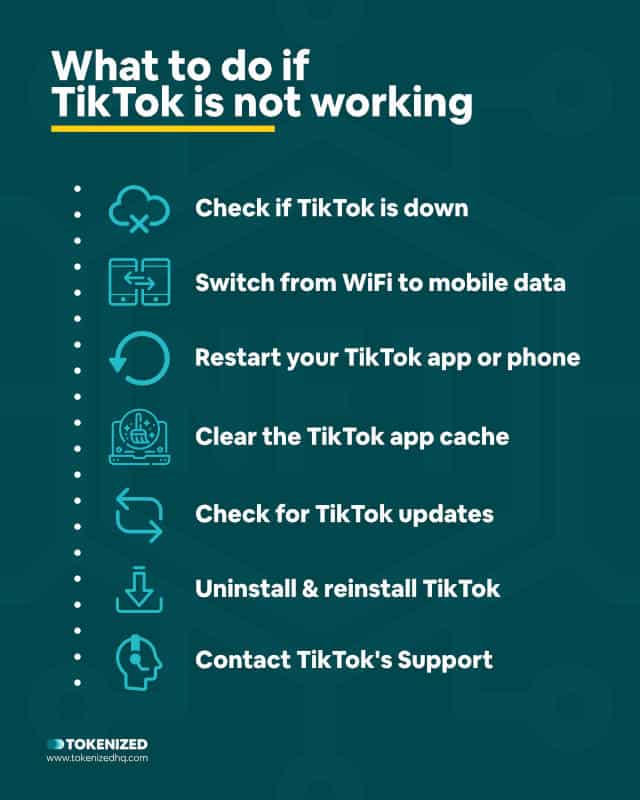 Obviously, there's no guarantee that any of these solutions will fix your specific problem.
However, based on our personal experience, the majority of issues that cause people to search for "my TikTok is not working" are related to things that can be fixed with the solutions below.
As a general rule, whatever problem you might be facing on TikTok, it's always worth going through this list.
Let's have a look at these 7 ways how to fix things if your TikTok is not working.
Solution 1: Check if TikTok is Down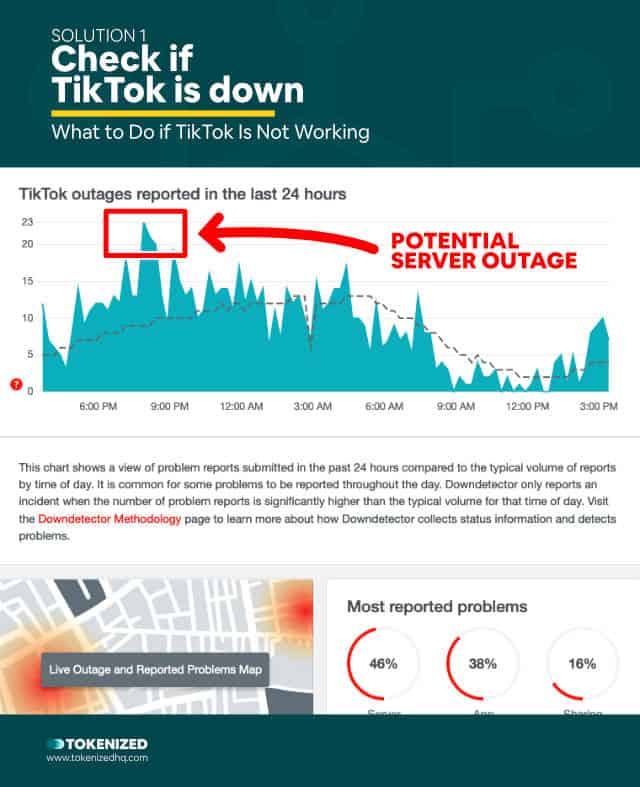 Whenever you run into problems where something isn't loading correctly, the very first thing you should do is check whether TikTok is down.
Even though it doesn't happen often and we've become so used to having constant uptimes 24/7, it does occur from time to time.
Since TikTok doesn't have an official server status page, you're going to have to use one of the many downtime websites on the web.
Some of the most popular ones include DownDetector, ServicesDown, or IsItDownRightNow and you can search them for "TikTok".
Whenever you see a big spike in their graphs, this usually is an indication of a larger server outage.
So if you're experiencing problems right around the same time, then this might be the reason.
The good news is that most server outages are resolved within less than an hour.
Solution 2: Switch from WiFi to Mobile Data
Another reason why you might be experiencing issues loading things on TikTok is your internet connection.
If you are at home, then you're most likely logged into your local WiFi network and not using mobile data.
Unfortunately, if for whatever reason your home network loses its internet connection, then your phone won't have internet via the WiFi network anymore.
Newer phones are able to switch between WiFi and mobile data seamlessly.
However, older models do not have such a feature and you'll have to turn off your WiFi for things to work.
By the way, the same thing can obviously also happen the other way around.
If you don't have any reception, then you may want to log into a WiFi network instead.
If that still doesn't fix things, let's move on to Solution #3.
Solution 3: Restart Your TikTok App or Phone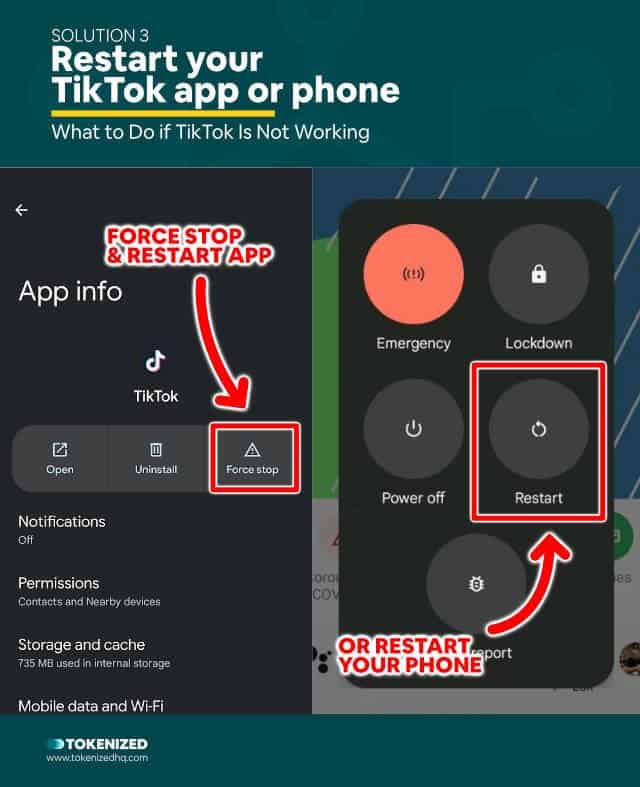 I know that solutions like these seem a bit dumb, but surprisingly enough they actually work in many cases.
If your phone has been running for a very long time (like weeks or months) without ever being restarted, then it's not uncommon for things to get "stuck" at some point.
In some cases, it's enough to simply force the app to shut down and then just restart it.
However, sometimes you'll have to go the extra mile and fully restart the entire device.
I know that you don't want to do that because even just 60 seconds of waiting can feel like a lifetime to many of you.
But give it a try anyway.
Just restart your phone and maybe, just maybe, your issues of TikTok not working on iPhone may become a problem of the past.
Still didn't fix things?
Ok, then let's move on to Solution #4.
Solution 4: Clear the App Cache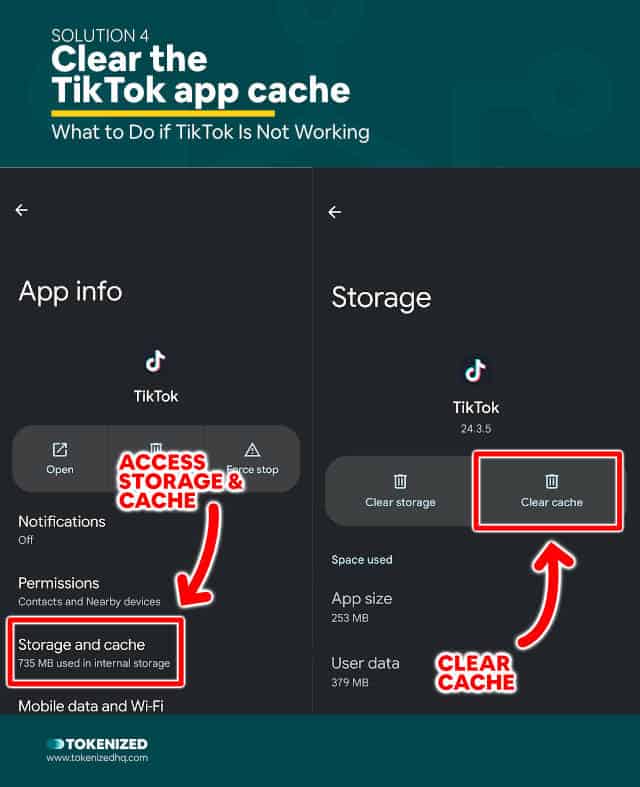 You can think of an app cache like your own body.
Over time, if you don't take care of it, your body fills up with all sorts of bad stuff.
And every so often, it's worth going on a diet in order to reset your body.
Clearing your TikTok app's cache is kind of like that.
Cached files can clog up the system and sometimes lead to harmless malfunctions.
You can easily clear your app cache via the app's system settings.
Solution 5: Check for TikTok Updates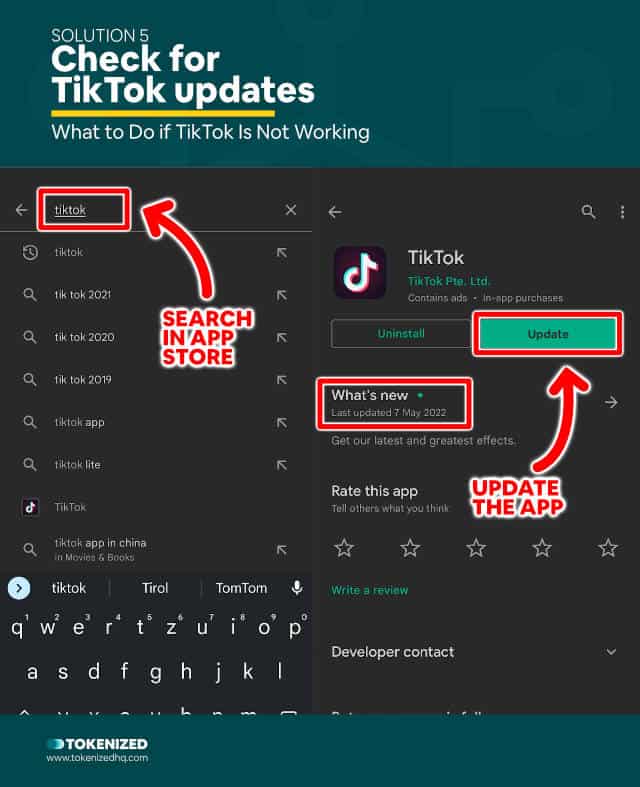 Are you one of those people who turn off automatic updates on purpose?
I do that too, simply because I've had really bad experiences with untested updates breaking things.
That's why I always wait a little bit before I install updates for my operating system.
Also, if you have automatic updates turned on, it can easily fill up your device's storage because apps are getting bigger and bigger.
However, every now and then, a missing update can render your app useless and might leave TikTok not working properly.
So make sure you've updated to the latest version of TikTok and see if that fixes your issues.
If not, then we'll have to give Solution #6 a try.
Solution 6: Uninstall & Reinstall TikTok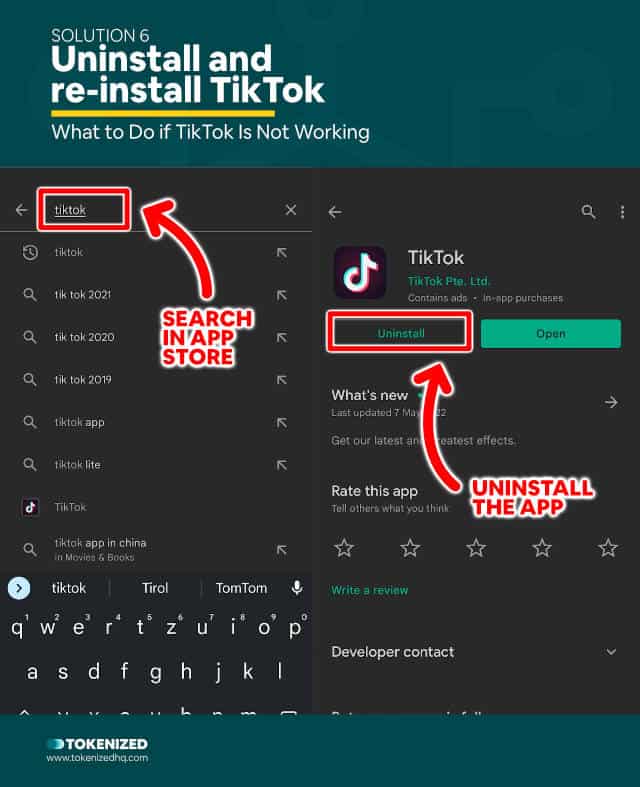 We've called this solution the "nuclear option" in many of our guides.
Mainly because it really feels like a solution of last resort.
Many people shy away from this step because they're afraid of losing their app's settings (which isn't really the case though).
Try uninstalling the app from the Play Store or App Store and then simply re-install it again.
Sometimes this will clear your system of certain files that were causing problems before.
If that still doesn't fix the issue, then I'm afraid there's only one more thing you can do.
Solution 7: Contact TikTok Support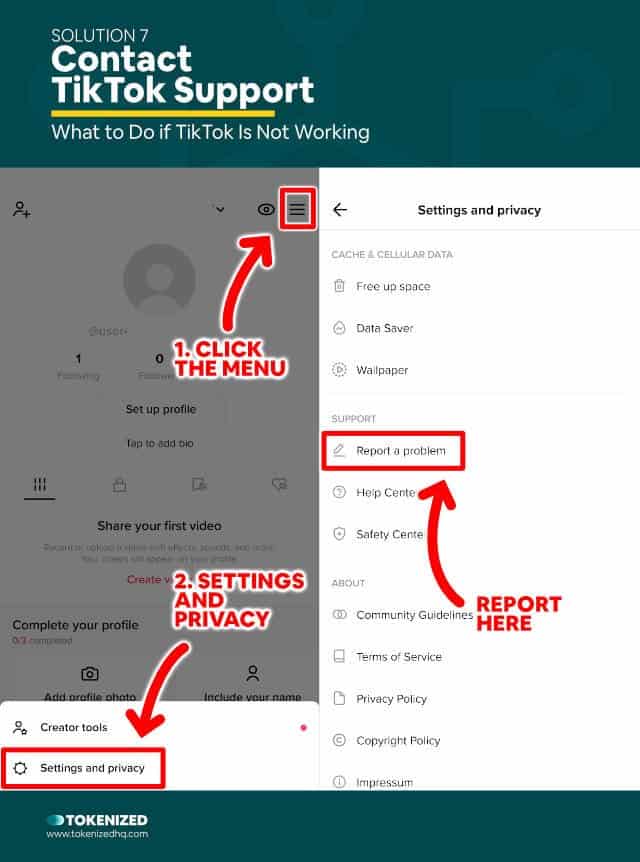 Contacting TikTok's support is the last thing anyone wants to do.
In an era of instant gratification and chat-based support, it's difficult for people to send a message that might take 1-2 days until they get a response.
Especially younger generations struggle with this.
They want everything right now and then.
Well, maybe it's time to practice some mindfulness instead.
Send TikTok a message via their support request form outlining how exactly your TikTok is not working.
Common Problems Experienced by TikTok Users
TikTok No Internet Connection
TikTok Following Too Fast
TikTok Videos Not Playing
No Sound on TikTok
TikTok Messages Not Working
0 Views on TikTok
TikTok Profile Picture Viewers
TikTok Private Account Viewers
I know that a lot of the solutions I've presented above may seem somewhat generic.
But to be fair: If you searched for something like "TikTok not working", then you really weren't being particularly specific, to begin with.
There are in fact many different types of issues that you might encounter with TikTok.
And each of those problems is distinctly different and may or may not require special solutions.
The TikTok No Internet Connection error is very common and we've written a detailed guide on how to approach that fix.
TikTok videos not playing is another common problem that can be fixed with similar solutions as connection issues and very often they're actually one and the same thing.
A totally different kind of issue is the TikTok Following Too Fast error, which isn't really a problem per se, but more of a limitation on how you use the app.
Then there are people who for some reason have no sound on TikTok and we've gone into detail about how you can try to fix that issue as well.
Others seem to be dealing with a lot of issues with their TikTok messages not working.
And finally, some people aren't really having a technical problem at all.
They just want to surveil someone and therefore need a TikTok Private Account Viewer.
Most of the time these are just concerned parents, but in other cases, it's ex-boyfriends who want to see what their former girlfriends are up to.
There's a myriad of other issues that TikTok users deal with and we try to address each and every one of them in a dedicated article.
Including stuff like how you can change TikTok usernames and all sorts of other challenges.
Conclusion
Remember, if you search for a very generic problem, then you're going to get generic solutions.
Most of the solutions we've presented above will help solve many of the technical issues that people face when using TikTok.
But there are always certain cases where the problem is actually a lot more specific than their search query suggests.
Here at Tokenized, we want to help you learn as much as possible about social media. We help you navigate the world of tech and the digitalization of our society at large, including the tokenization of assets and services.