Are you having problems with no sound on TikTok?
Or perhaps you recently uploaded a new video but for some reason, that particular video keeps playing with muted sound?
Well, don't worry, because there many simple reasons for why your latest TikTok has no sound or why you generally have no sound on TikTok anymore.
In this guide, you'll learn exactly why you're not hearing any sound on TikTok as well as what might cause TikTok to mute the sound of specific videos that you upload.
Let's dive right in.
Key Points (tl;dr)
If none of the videos in your TikTok app are playing any audio and the sound simply isn't working, then you've either turned down the volume too much or your microphone permissions aren't set up correctly.
In other cases, TikTok might automatically mute your videos if you've used copyrights or unlicensed songs in them.
If it's unclear what is causing the sound to be off on TikTok, you may have to take more drastic measures to fix the problem.
Here are 7 proven solutions to the TikTok No Sound issue:

Solution 1: Turn up the volume & unmute your device
Solution 2: Grant permissions to your device's microphone & speaker
Solution 3: Restart your TikTok app or phone
Solution 4: Clear the app cache
Solution 5: Test the device hardware
Solution 6: Check for TikTok updates
Solution 7: Uninstall & reinstall TikTok
For a detailed overview of all 7 solutions to the "No Sound on TikTok" issue, PLEASE READ THE FULL ARTICLE.
Like this content? Then share it!
Solved: How to Fix "No Sound on TikTok" Issues Quickly
Here's the answer. Great article by @ChrisHeidorn right here: https://tokenizedhq.com/no-sound-on-tiktok/

www.tokenizedhq.com
Why Is My TikTok Sound Not Working?
When the TikTok app's sound isn't working, it usually means that something is wrong with your device's audio settings or microphone permissions. Another reason could be that you are using copyright or unlicensed music in your video.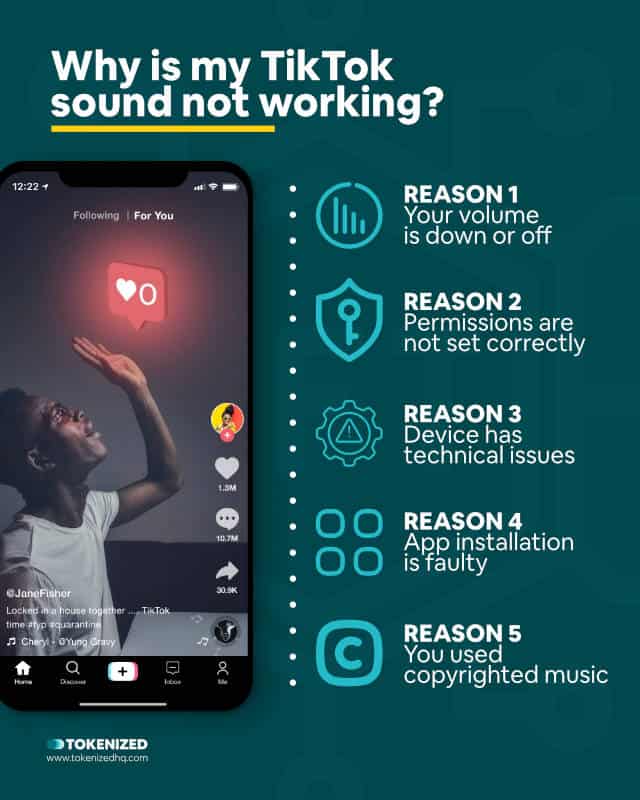 Let's face it: Watching videos on TikTok without any sound is only half as fun as it could be.
Many videos actually don't really make sense unless you can actually hear the audio.
You see, not all videos are just underlaid with some generic music.
In many cases, the audio is crucial to understanding the content and figuring out what the joke is.
TikTok sound not working is a surprisingly common issue amongst many users of the popular social media platform.
Although there are many potential things that could cause no sound on TikTok, nearly all cases are linked to 5 possible causes:
Reason 1: You've made changes to your device's audio volume
Reason 2: Device permissions aren't set correctly
Reason 3: Your device is having technical issues
Reason 4: Your TikTok installation is causing problems
Reason 5: You've recorded a video with copyrighted music
If you really want to be picky, then you could easily differentiate between many subsets of issues within each of those reasons.
But in the end nearly all cases of TikTok sound not working can be traced back to one of those 5 reasons.
The good thing is that there are several easy solutions to these problems.
And that's what we'll address in the next section.
How to Easily Fix "No Sound on TikTok" Issues
There are several ways you can fix the "No Sound on TikTok" problem. They include turning up the volume, unmuting your device, fixing permission settings, or trying a number of system-related fixes, such as clearing the app cache or even re-installing the app altogether.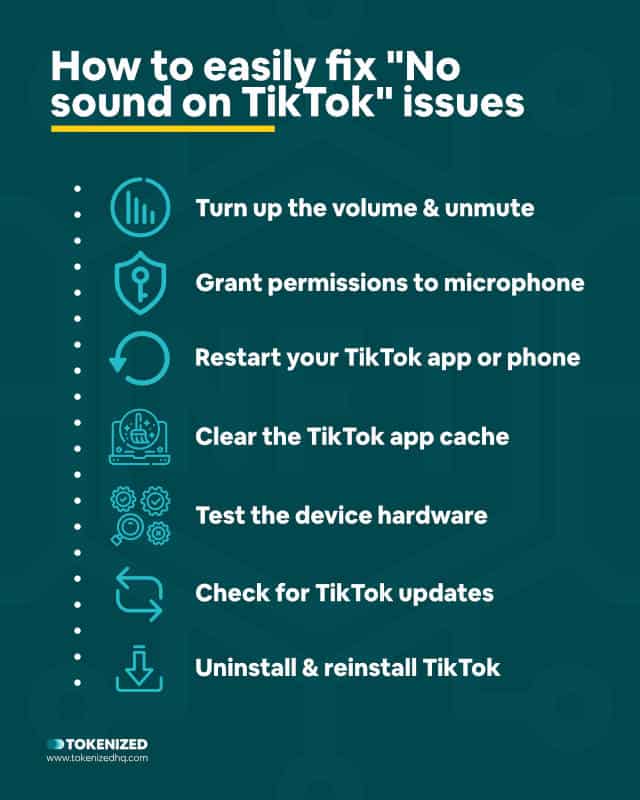 There are a number of possible fixes that you try in order to address the TikTok No Sound issue.
It could be as easy as simply checking the volume button on your phone.
In other cases, you might have to dive into your device's settings and potentially clear some cache files.
And in some cases, nothing is actually wrong with your device's sound.
Either way, before we get to that, let's first have a look at these 7 ways how to fix the "No Sound on TikTok" issue.
Solution 1: Turn Up The Volume & Unmute Your Device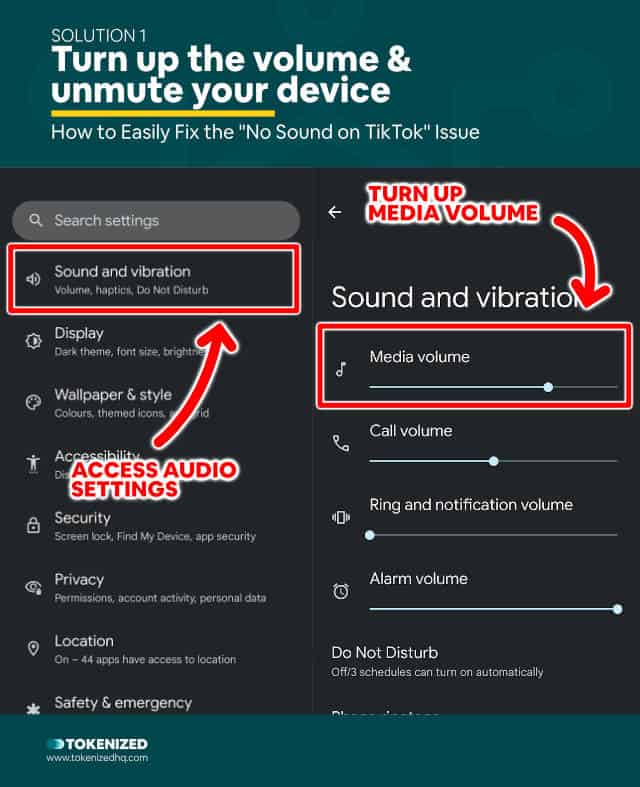 I know this sounds silly and you already hate me for suggesting this.
But you'd be surprised in how many cases the reason why people had no sound on TikTok was simply due to their volume settings.
You see, on some devices (mainly Android) the volume buttons of your phone are able to change the settings for your ringtone as well as for music audio output.
The operating system usually does a good job at understanding which one you are trying to change but sometimes the system gets confused or the user doesn't realize what they just did.
As a result, you may have wanted to set your ringer to silent or vibrate mode, but in reality, you completely turned off all audio.
So make sure you actually have your audio turned up and didn't accidentally mute it.
Solution 2: Grant Permission to Your Device's Microphone & Speaker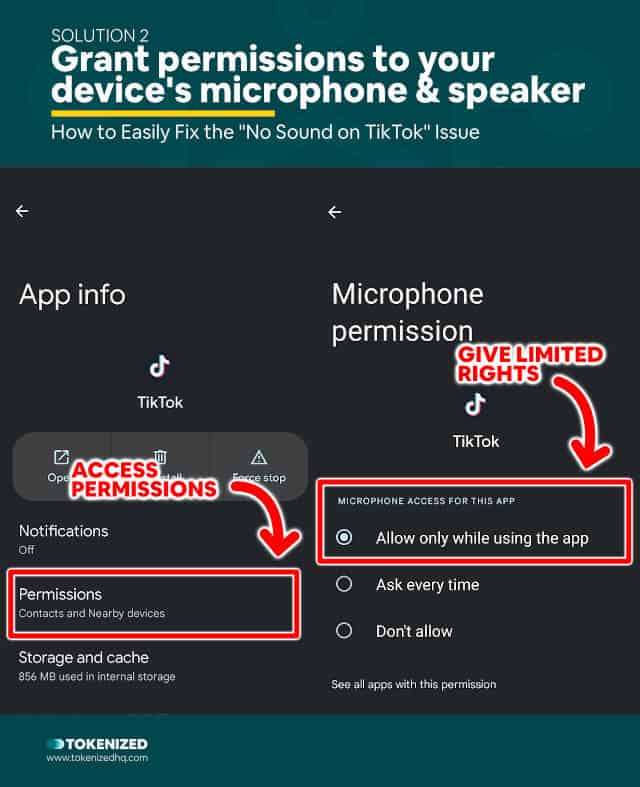 Over the years, users have become increasingly aware of what big tech companies have been doing with their devices and apps.
Many of the scandals have uncovered the fact that companies have been and continue to eavesdrop on us by either reading what we type or listening to what we say.
And if the big US companies are doing it, why wouldn't the Chinese company that runs TikTok do it as well?
As we've become more aware of this as users, we've begun to be more selective about what apps we grant certain permissions to our device.
So it's not outlandish to think that you may have denied TikTok access to your device's microphone.
Unfortunately, this also means that every video your record on TikTok will be lacking sound from your microphone.
Perhaps that's the reason there's immediately no TikTok sound?
The good news is that you can easily fix this by simply granting TikTok access to your mic.
Another reason might also be that you have additional Bluetooth devices that are blocking the audio connection.
While this has nothing to do with the microphone's permissions per se, it is a common reason why the WhatsApp audio is not working and it's entirely possible that this impacts TikTok as well.
Solution 3: Restart Your TikTok App or Phone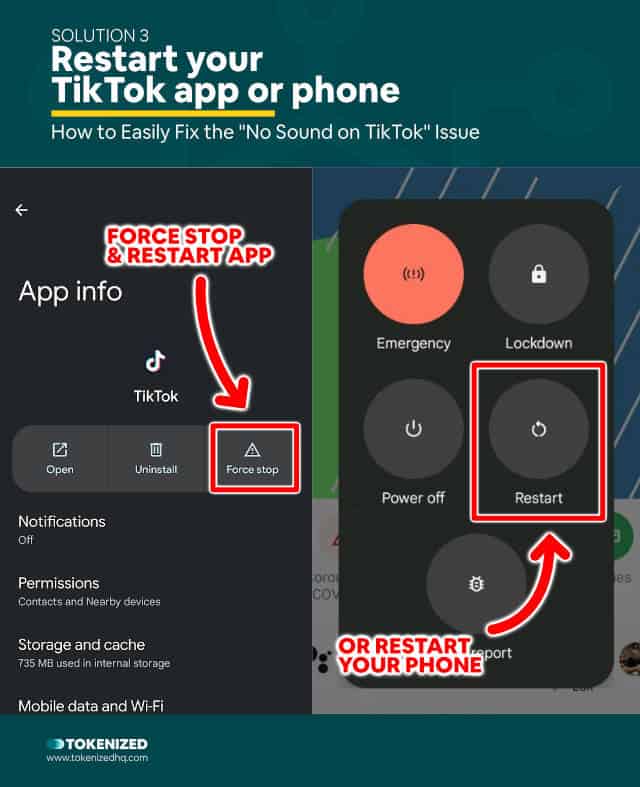 It's not unusual for certain parts of your device's software to get hung up from time to time.
For example, my headphones frequently stop playing any audio on my Spotify app despite all other sounds still working.
There's no apparent reason why this would happen but in some cases, it's enough for me to simply restart the app.
In other cases, I literally have to restart the entire phone.
Anyone who's been using computers for the past few decades knows that sometimes the simplest solution is to simply restart things.
Give it a try, it just might work with this "TikTok No Sound" issue.
If not, move on to Solution #4.
Solution 4: Clear the App Cache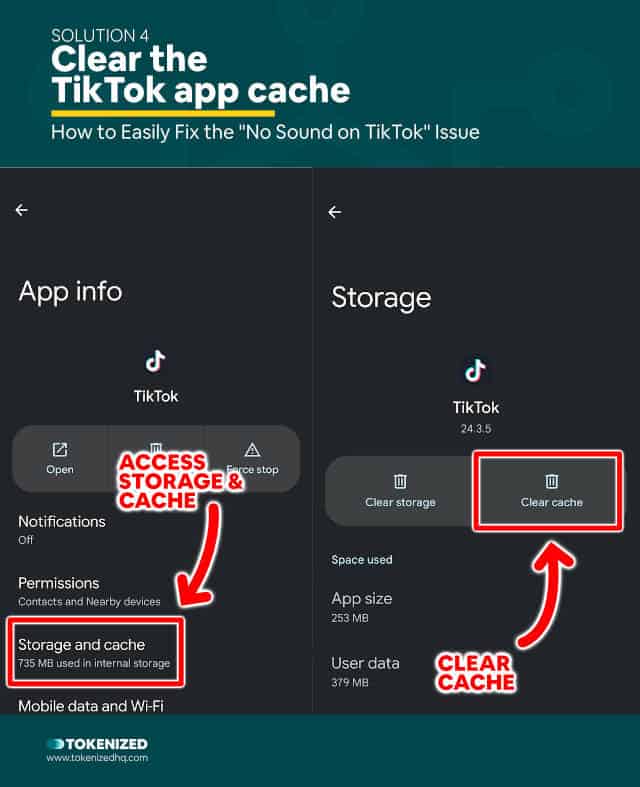 Just like any other operating system, your phone's OS (no matter whether iOS or Android) will eventually clog up with files and other data from various apps.
While this won't necessarily have an impact on your device's functionality, it's not unreasonable to expect an impact on performance in some areas.
This clearly isn't a perfect solution for trying to deal with your TikTok sound not working.
That being said, there's no harm in at least giving it a try.
You can easily clear your app's cache via the system settings.
Solution 5: Test the Device Hardware (not available everywhere)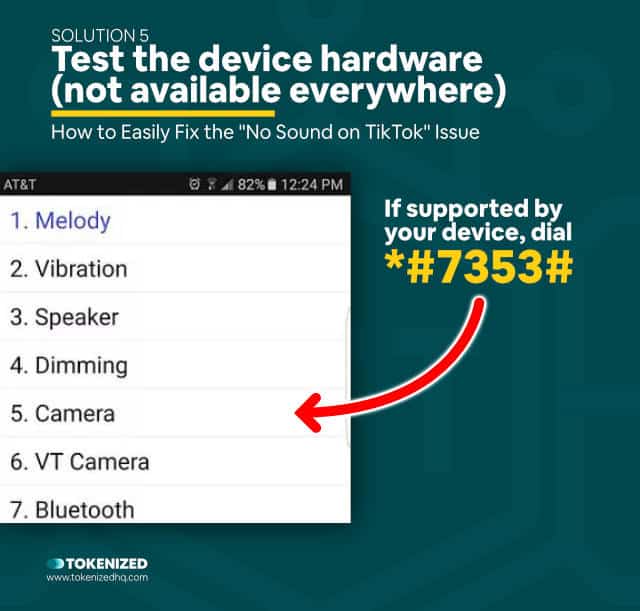 Unfortunately, this is not a solution that we've been able to test ourselves.
However, we've heard of many users, especially those in the US, who have been able to fix things this way.
Many phones have "secret" codes that can be used for testing hardware.
Apparently, on many devices (not iPhones), you can access this testing menu by dialing *#7353# and then pressing the speaking button.
We honestly have no idea which devices support this and which don't.
But it might be a potential solution to fixing the "No Sound on TikTok" issue.
Solution 6: Check for TikTok Updates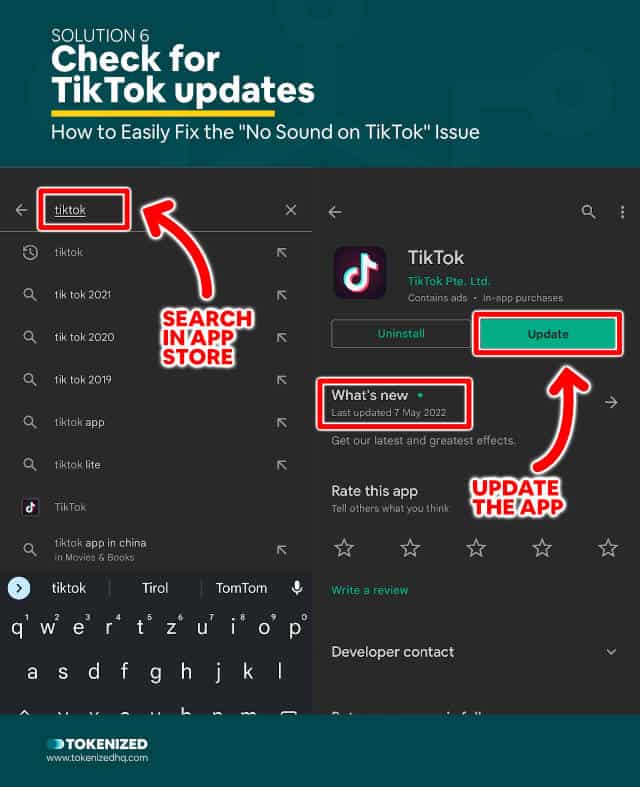 Do you have automatic app updates turned on?
I usually don't because one of the things I've learned over the years is to avoid installing major software updates on day 1.
Let's face it, especially big updates tend to be rushed out since teams need to hit certain deadlines.
Unfortunately, that very often means that new software hasn't been sufficiently tested and that's why I tried to avoid these automatic updates.
However, that also means that you might be using a TikTok version that is completely out of date.
So, it's entirely possible that the reason you have no sound on TikTok is related to a missing software update.
Check if you have the latest version of the TikTok app installed and if you don't, consider updating it.
If this still doesn't fix the problem, we've got one more solution that you should consider.
Solution 7: Uninstall & Reinstall TikTok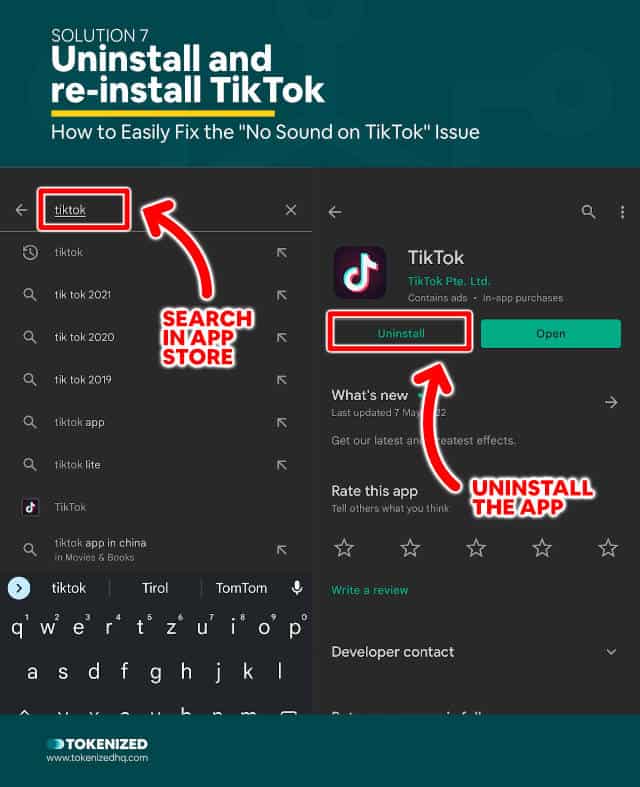 We sometimes call this solution the "nuclear option" because it's like dropping a bomb on everything.
Some software-related issues simply cannot be fixed with updates or restarting devices.
And in these extreme cases, the best thing to do is to simply uninstall the app completely and re-install TikTok on your phone.
I know this might seem annoying, especially because a lot of people are initially worried about losing their settings.
But there's nothing to worry about.
Just uninstall the app and then re-install it again.
And if you're lucky, no sound on TikTok might just turn out to be a thing of the past.
Why Is TikTok Muting Some of My Videos?
If you are using copyrighted or unlicensed music in your video, TikTok's artificial intelligence will usually detect the song and mute the audio on the video to avoid running into legal problems.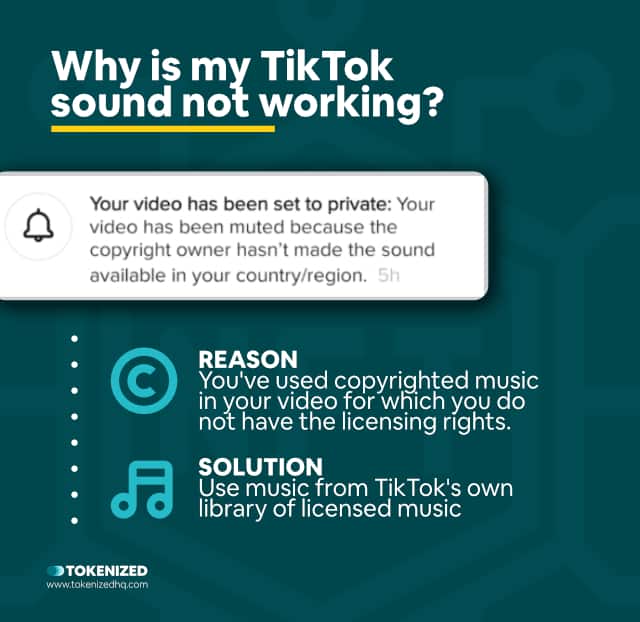 So maybe you don't really have any problems with your sound on TikTok, but some of your videos seem to have lost their audio?
You even checked the app permissions on your device and TikTok has full access to your microphone?
Well, the most likely reason why this is happening is that you've uploaded a video that uses music that is copyrighted.
You see, TikTok will automatically mute videos if they detect copyrighted music in them.
This is an entirely automatic process and TikTok's AI is incredibly good at detecting soundbites that are from popular copyrighted songs.
If you still want to upload the video, we recommend re-uploading it and adding music from TikTok own licensed library.
For details please refer to TikTok's intellectual property policy.
Conclusion
More and more people have been running into issues with their TikTok sound recently.
We believe this is mainly related to the continued growth that TikTok has been experiencing in recent years.
And in many cases, it's not even a technical issue per se but simply the fact that a lot of users aren't aware that they cannot use copyrighted or unlicensed music in their videos.
Here at Tokenized, we want to help you learn as much as possible about social media. We help you navigate the world of tech and the digitalization of our society at large, including the tokenization of assets and services.