Has your WhatsApp audio suddenly stopped working?
Perhaps you tried to send a voice message to one of your friends or received a voice call yourself but for some reason, the sound isn't working?
Well, cases of WhatsApp audio not working are far more common than you might think, however, the range of potential solutions is quite big as well.
In this guide, you'll learn about 7 things you can do when you suddenly have no sound on WhatsApp.
Let's dive right in.
Key Points (tl;dr)
Audio problems are among the most annoying issues that someone can face when using WhatsApp for voice messages or calls.
Luckily, the majority of cases where your WhatsApp audio isn't working can be linked back to 2 key mistakes that people make. The first one is related to the microphone permissions for WhatsApp and the other one is caused by other Bluetooth devices that are preventing audio playback.
If you're dealing with WhatsApp voice message issues or other case of no sound, one of the following 7 solutions is almost guaranteed to solve your problem:

Solution 1: Check your microphone permissions
Solution 2: Check for conflicting Bluetooth devices
Solution 3: Force-close all apps, including WhatsApp
Solution 4: Clear WhatsApp's cache and storage
Solution 5: Update or reinstall the app
Solution 6: Reboot your smartphone
Solution 7: Check your audio volume (I know, it's dumb, but it happens!)
For a step-by-step guide on how to fix issues of your WhatsApp audio not working, PLEASE READ THE FULL ARTICLE.
Like this content? Then share it!
[SOLVED] 6+ Fixes for WhatsApp Audio Not Working
Here's the answer. Great article by @ChrisHeidorn right here: https://tokenizedhq.com/whatsapp-audio-not-working/

www.tokenizedhq.com
Why is My WhatsApp Audio Not Working?
Audio problems on WhatsApp are very common because they are an important experience of the app experience. The majority of cases where voice messages are not working or videos do not have any sound can be linked back to 2 root causes. Either your device's permissions are not set correctly or you have conflicting Bluetooth devices.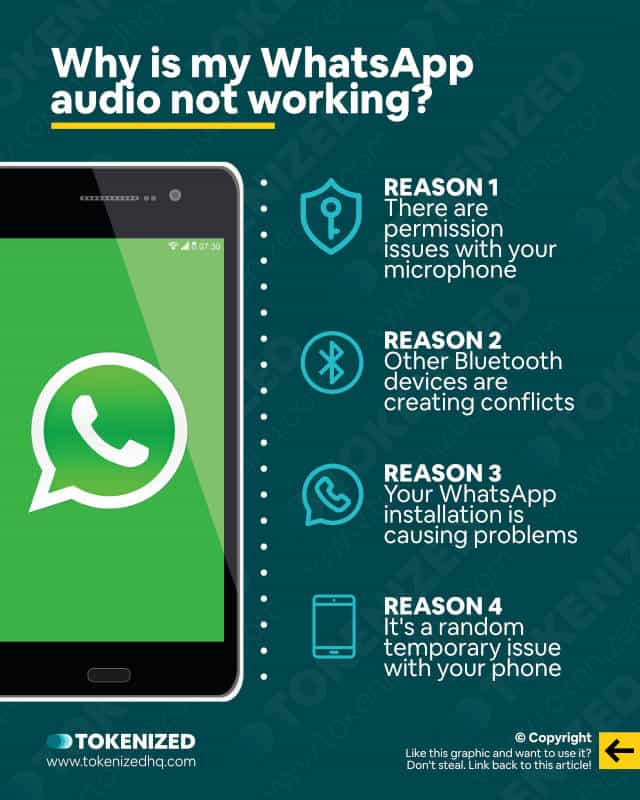 WhatsApp users from all over the world are constantly facing issues on a daily basis.
The reasons for these problems are diverse because there are so many different factors that influence them.
While in some cases, the problems may be linked to the app itself, the vast majority of problems are caused by your smartphone or other devices connected to it.
And not every WhatsApp audio problem is the same.
Some of the most common complaints include:
WhatsApp microphone not working anymore
WhatsApp voice message not working properly
No sound on WhatsApp at all
WhatsApp videos with no sound
WhatsApp calls not working
While many of the problems may be linked to similar root causes, the variety of device setups makes it very difficult to effectively troubleshoot the problem.
Sometimes it's the microphone, in other cases it's the speaker, and the issues are usually very different between Android and iPhone devices.
That being said, we do tend to see clusters of issues and some are more common than others.
From our experience, the vast majority of WhatsApp audio problems are due to 2 main reasons:
Permission issues
Conflicts with other audio devices
Most cases of WhatsApp audio not working fall into these categories.
No matter whether you're making calls, recording voice messages, or trying to play a video on WhatsApp, the root cause is very often one of those 2 things.
So how do you go about fixing the problem?
Well, that's what we're going to look at in the next section.
How to Fix WhatsApp Audio & Microphone Problems
The majority of WhatsApp sound problems can be fixed by setting the correct microphone permissions or disconnecting Bluetooth devices that are creating audio conflicts. In rare edge cases, you may have to take a more generic troubleshooting approach.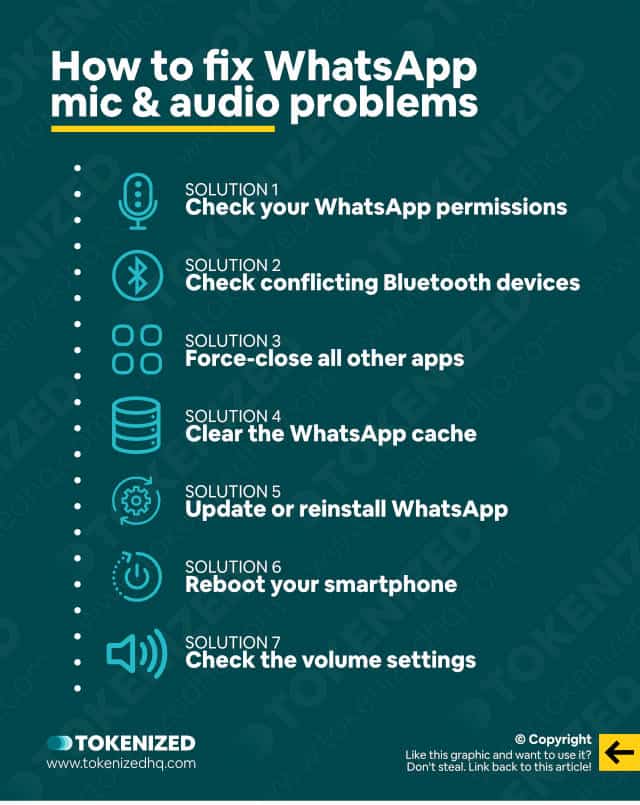 We're going to start off by looking at two solutions that directly address the most common root causes that we mentioned above.
However, although these may be the most common causes, there are always some edge cases where those solutions will not work.
That is why we have also included additional solutions in case you continue to have no sound on WhatsApp video or audio messages.
Solution 1: Check the WhatsApp Microphone Permissions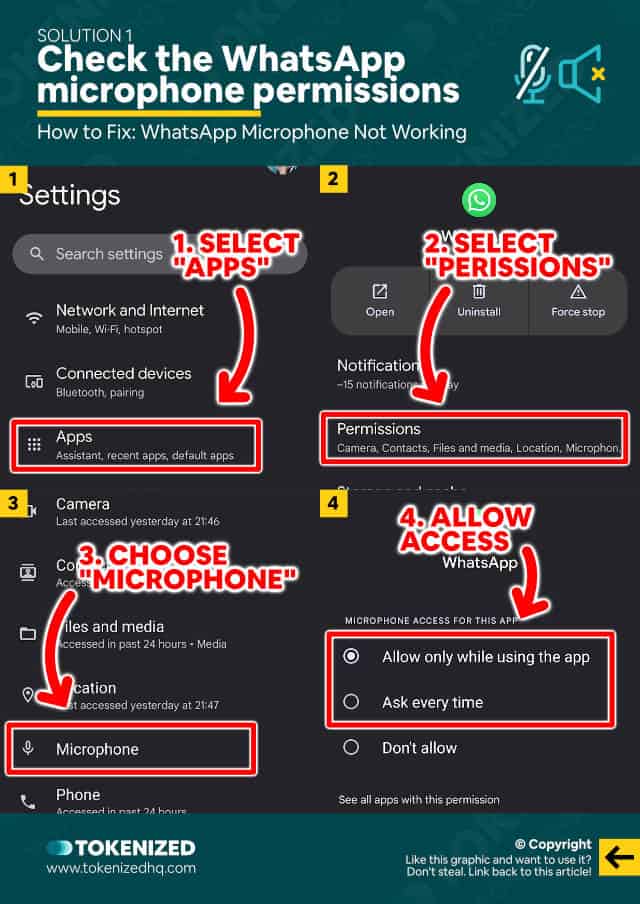 So, the very primary reason why many people struggle with no sound on WhatsApp is the app's permissions.
This might sound strange because after all, why would the app's permissions suddenly change overnight?
Well, if you have automatic updates turned on then sometimes permissions can get reset by your device.
Anyway, if your microphone isn't working on WhatsApp, you'll need to check its permissions.
And if they're set to "Don't allow", then you'll have to change the setting.
Here are the steps to give WhatsApp access to your microphone:
Step 1: Open your phone's settings and access the "Apps" section.
Step 2: Look for "WhatsApp" and then select "Permissions".
Step 3: Now select "Microphone" and set it to "Allow only while using the app".
And that's it.
If the permission was set to "Don't allow", then this is 99% guaranteed to fix the problem.
Solution 2: Check for Conflicting Bluetooth Devices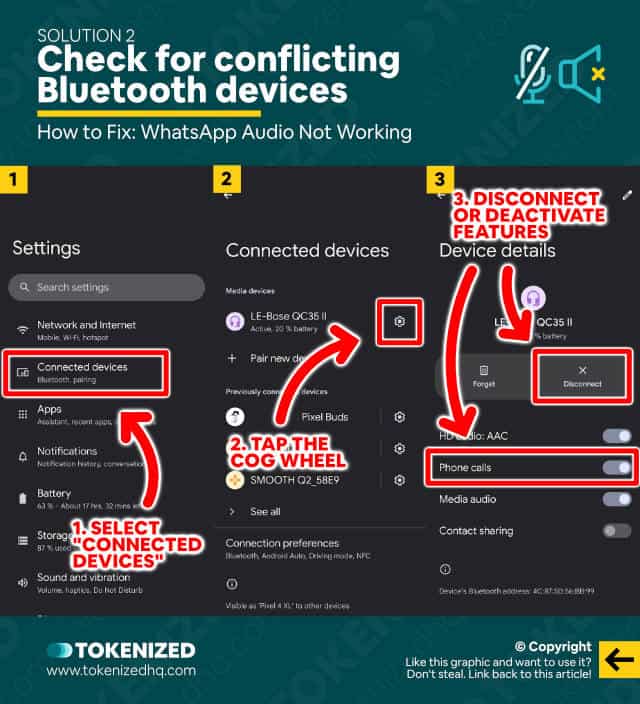 The second solution on our list is very effective but not many people know about this problem.
Nowadays our smartphones are no longer the only device that we use.
Most people now also own cordless headphones and sometimes even a smartwatch.
All of these devices usually connect via Bluetooth.
While this isn't always a problem when it comes to playing back audio, especially microphones can cause issues.
Why? Well, because only one device may access the microphone at a time.
So, if 2 devices are activated for "Phone calls" or "Media audio", it can sometimes create conflicts.
Believe it or not, so many cases of the WhatsApp microphone not working or people hearing no sound on WhatsApp are due to this problem.
Luckily, it's fairly easy to fix these problems with a few simple steps:
Step 1: Access your phone's system settings and select "Connected Devices".
Step 2: Then tap the cogwheel icon next to your actively connected devices.
Step 3: For each device, you can now choose to disconnect it or simply deactivate certain features, such as "Phone Calling".
Depending on what your specific audio problem is, make sure that only 1 device has access to it.
The above instructions are for Android, but iPhone users that are dealing with WhatsApp audio not working can you a very similar approach.
The interface is different, but the logic is mostly the same.
No, if none of these 2 solutions was able to fix your WhatsApp audio problem, then you're going to need to try out some more generic fixes.
Move on to solution #3 below.
Solution 3: Force-Close All Apps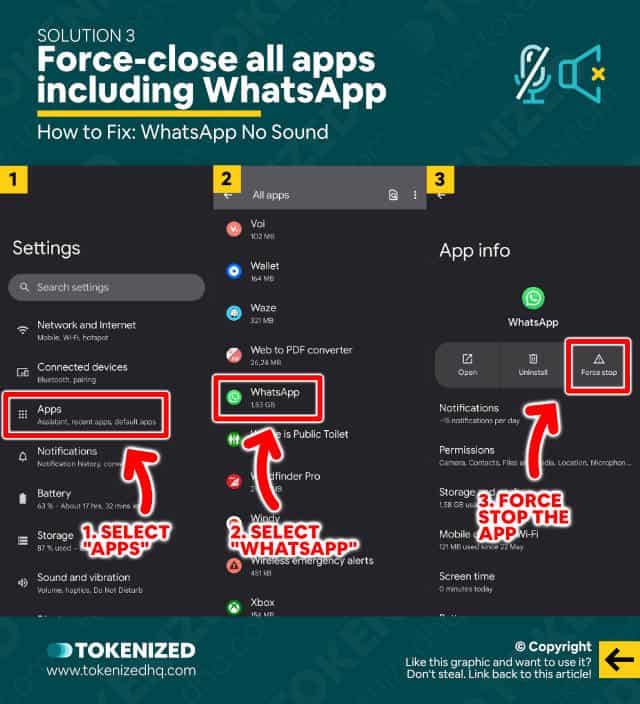 We're now moving into the more "generic" solution space.
You know, the type of troubleshooting that most tech support people will ask you to do.
Most of the time no one really knows why these solutions work, but often enough, they do.
Let's start off with something that won't force you to reboot your phone:
Step 1: Force close WhatsApp and restart it again.
Step 2: If that doesn't fix it, try forcing all other apps to shut down as well.
Sometimes when audio isn't working with a particular app, it's just a temporary glitch and a hard reset will fix it.
However, if you're still getting no sound on WhatsApp video and audio, move on to solution #4.
Solution 4: Clear the WhatsApp Cache & Data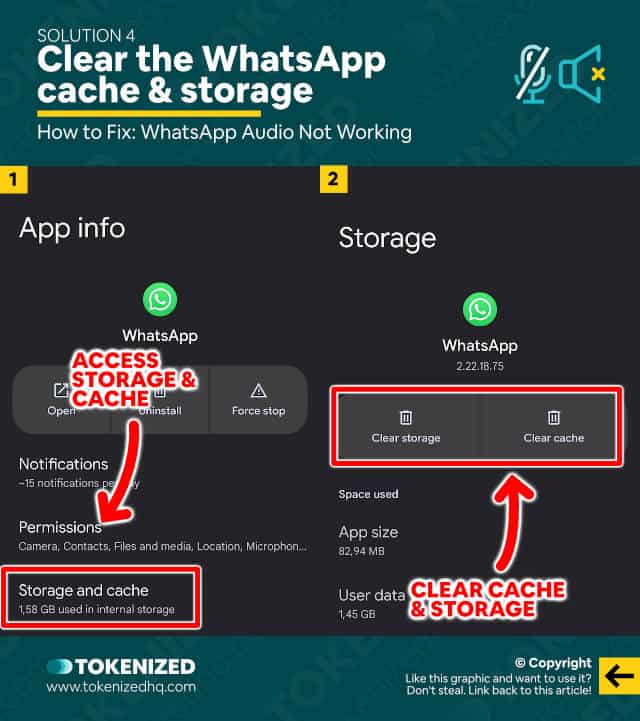 Remember how back in the day your computer would get slower and slower over time simply because the hard drive filled up?
Well, a similar phenomenon exists for smartphones as well.
The more you use a particular app, the more its installation fills up with temporary files and its cache can get quite bloated.
Although this shouldn't impact something as essential as WhatsApp's audio functionality, you never really know.
Here are the steps to clear the WhatsApp cache:
Step 1: Tap and hold the WhatsApp icon and then tap the "Info" icon.
Step 2: Now select "Storage and cache" from the App info screen.
Step 3: Finally, tap "Clear Storage" and "Clear Cache" to free the app from unnecessary files.
If you now restart the app, this will sometimes fix issues that lead to the WhatsApp sound not working.
However, if you're still struggling, then let's move on to Solution #5.
Solution 5: Update or Reinstall WhatsApp
A lot of people do not have automatic updates turned on on their phones.
The reason most people do this is that they want to avoid installing updates that end up being buggy.
We've all heard the horror stories of MacBook users whose device was "bricked" overnight due to an automatic operating system update.
I generally avoid big updates on their initial release because of the risks involved.
Anyway, while turning off automatic updates can save you some headaches, it tends to create new ones in other places.
Sometimes a recent update of your phone can cause incompatibilities with certain apps and vice versa.
Chances are, a recent WhatsApp update has fixed the issue for your specific phone model.
So try updating WhatsApp in the Google Play Store or Apple App Store.
If that still doesn't work, let's move to more draconian measures in Solution #6.
Solution 6: Reboot the Device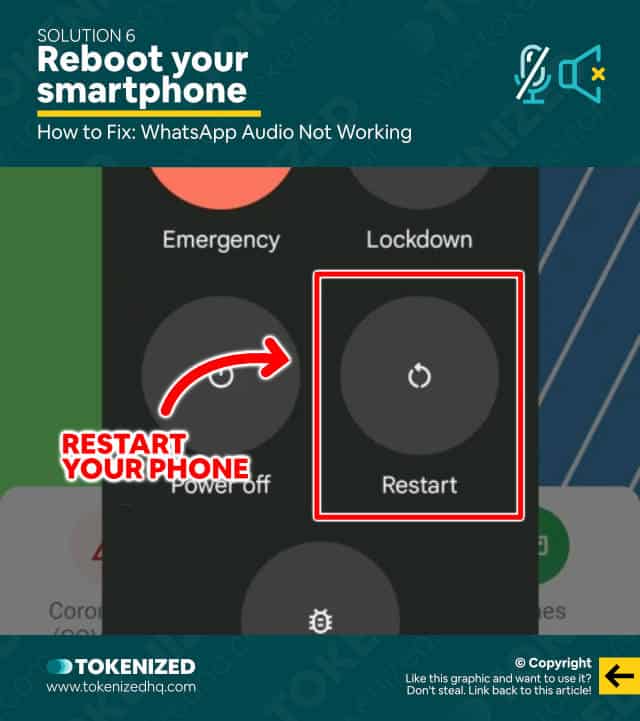 I personally own a Google Pixel 4 XL and also a set of Pixel Buds.
Sometimes, for no apparent reason, my audio will stop working, even though no other devices are connected.
When that happens I can't hear any audio on YouTube or Spotify, and I also have no sound on WhatsApp videos.
The only way I can fix it is by rebooting my phone.
I know it sounds stupid, but it works for me.
Before we close off this article, let's look at one final solution.
Solution 7: Check the Volume Settings
I know this sounds stupid.
It's the equivalent of asking "Did you press the power button?" or "Is the power plugged in?".
It's so dumb that no one even dares to suggest it.
But guess what? Maybe you just forgot to turn up the volume!
Frequently Asked Questions (FAQ)
Before we close off this article, let's quickly address some of the most common questions that we've received about why their WhatsApp audio isn't working.
Why is my WhatsApp audio not working?

There are 2 common reasons why your WhatsApp audio may not be working. The first one is related to missing microphone permissions in your app. The second one is a connectivity conflict that is frequently caused by another Bluetooth device that your phone is connected to.

Why is my microphone not working on WhatsApp?

If your microphone isn't working on WhatsApp, make sure you check the app's permissions. You may have prevented WhatsApp from accessing your microphone. You can easily change the app's permissions at any time.
Conclusion
There's nothing for frustrating than recording a voice message only to be confronted with your WhatsApp audio not working.
Unfortunately, with so many connected devices, you're almost guaranteed to run into audio problems at some point.
Luckily, we've put together a list of solutions that we believe will help fix 9 out of 10 WhatsApp sound issues.
Here at Tokenized, we want to help you learn as much as possible about social media. We help you navigate the world of tech and the digitalization of our society at large, including the tokenization of assets and services.