Are you wondering why your TikTok videos are not loading?
Perhaps you've already been using TikTok for a while now but you've never run into a situation with TikTok videos not playing anymore.
Well, don't worry, because even though it's probably one of the most annoying issues on TikTok, there's usually a very simple explanation for it.
In this guide, you'll learn about some of the reasons for TikToks not loading as well as how to fix cases of TikTok videos not playing on your iPhone or Android device.
Let's dive right in.
Key Points (tl;dr)
If you're seeing any of the typical TikTok No Internet Connection errors, such as "No internet connection", "No network connection", or "Unstable internet connection", then either TikTok's servers are down or there is a problem with your WiFi or mobile data connection.
If you're having problems loading videos on TikTok, then either TikTok's servers are down or there is a problem with the internet connection of your WiFi or mobile data connection.
Here are 7 proven solutions to TikTok videos not playing:

Solution 1: Check if TikTok's servers are down
Solution 2: Check your WiFi or mobile connection
Solution 3: Restart the TikTok app or phone
Solution 4: Clear the TikTok app cache
Solution 5: Check TikTok for updates
Solution 6: Connect via a VPN
Solution 7: Completely re-install TikTok
For a step-by-step guide on how to fix TikTok videos not playing, PLEASE READ THE FULL ARTICLE.
Like this content? Then share it!
Solved: How to Fix TikTok Videos Not Playing in 2023
Here's the answer. Great article by @ChrisHeidorn right here: https://tokenizedhq.com/tiktok-videos-not-playing/

www.tokenizedhq.com
Why Are My TikTok Videos Not Playing?
When videos no longer load or are not playing on TikTok, then it usually means that either TikTok's servers are down or there are other connectivity issues related to your WiFi or mobile data connection. It's also possible that your internet connection is simply too slow and TikTok therefore won't load videos.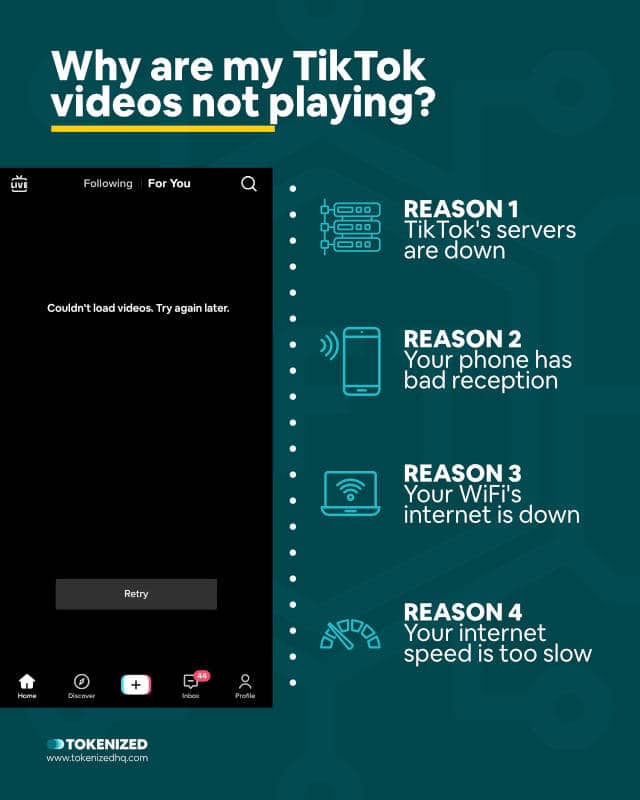 Don't we all just hate it when we're in the process of procrastinating, avoiding work at all costs, and then all of a sudden the app that's distracting us starts to have issues?
Does that seem familiar seem to you?
Are you currently dealing with a case of TikTok not loading videos anymore?
Sometimes it's unclear whether the issue is with the app, your phone, or perhaps just your internet connection.
There are a number of potential reasons why TikTok may not be playing videos.
However, in all the different cases the problem is nearly always linked to one of the 4 different root causes:
Reason 1: The TikTok servers are down
Reason 2: Your smartphone has really bad reception
Reason 3: Your WiFi router lost its internet connection
Reason 4: You have an incredibly slow internet speed
Believe it or not, these are usually the reasons for TikToks not loading.
They are the same reasons that tend to cause TikTok No Internet Connection issues.
Now, although you might know what's causing the problem, finding the right solution that will fix it is a whole different story.
And that's why we've put together this list of solutions in the next section.
How to Fix TikTok Videos Not Loading
There are a number of ways you can fix TikTok videos not loading. These solutions include switching your connection from WiFi to mobile data, restarting the TikTok app, clearing the app cache, or potentially using a VPN to connect.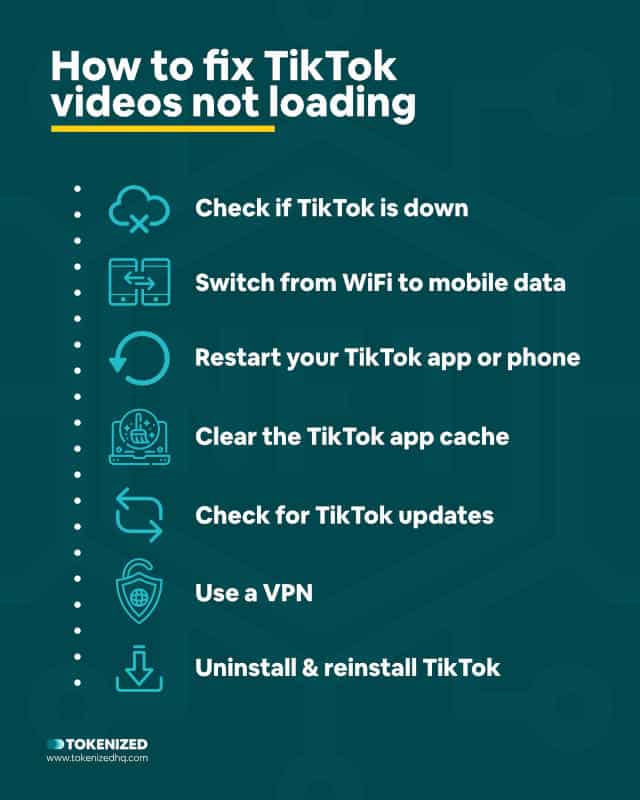 There are a whole bunch of different ways you might be able to fix this issue of videos not loading on TikTok.
Sometimes it's just a simple case of TikTok's servers temporarily being down.
In other cases, you may have to fiddle around with your WiFi connection or connect through a VPN provider.
And as a last resort, you can always try re-installing the entire TikTok app.
But let's not get ahead of ourselves.
Here are 7 ways how to fix cases of TikTok videos not playing.
Solution 1: Check if TikTok's Servers are Down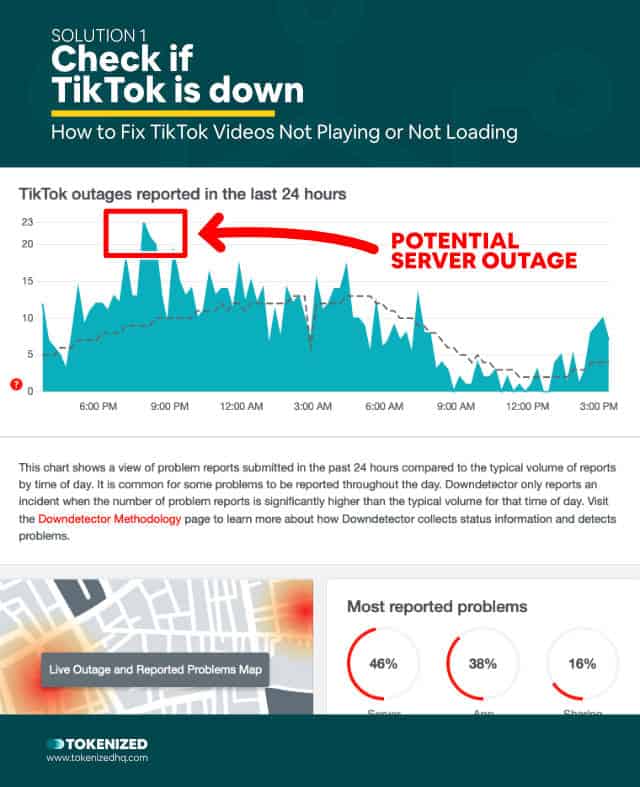 The very first thing you should do before trying any of the other solutions is to check whether TikTok is down.
I know that nowadays we've all grown accustomed to constant availability and most big social media platforms rarely go down.
But it happens to the best of them and TikTok is no exception.
The problem is that TikTok doesn't have an official server status page.
What you can do instead is check one of the many popular sites that track server statuses:
All of the above are popular options to verify TikTok's server status.
If you see a spike in the graph then it usually means that many other people are experiencing TikTok videos not playing.
So there's a fair chance that you're not the only one with a case of TikTok not loading videos.
The good news is that most server outages are usually resolved in an hour or less.
However, if everything seems to be more or less normal, then you'll probably have to look at some of the other solutions below.
Solution 2: Check Your WiFi or Mobile Connection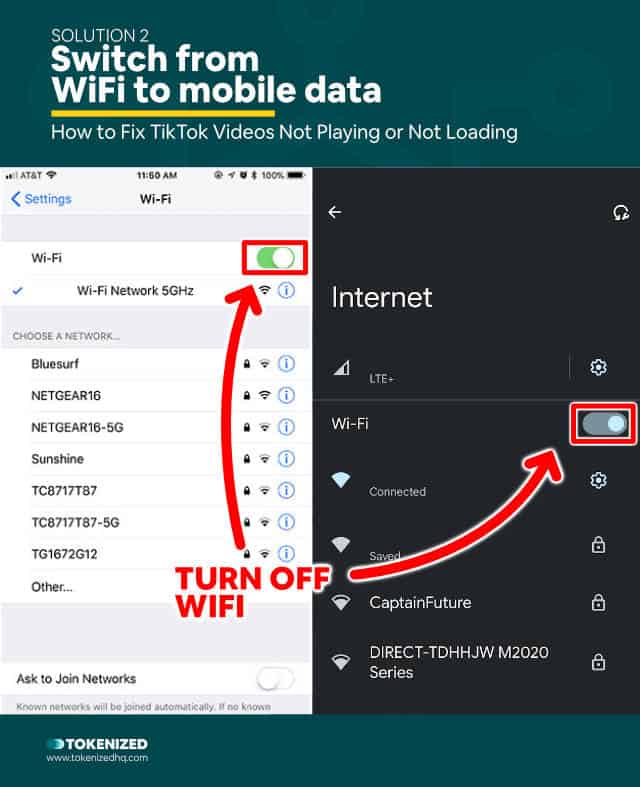 The reason why your TikToks aren't loading doesn't have to be on their end.
It's entirely possible that your phone simply doesn't have a good internet connection.
A very common problem amongst people with older smartphones is that they're logged into a WiFi network with no internet connection.
Since their phone isn't able to seamlessly switch between WiFi and mobile data, the phone simply can't connect.
In those cases, you'll either have to check what's wrong with your WiFi router or simply turn off WiFi altogether.
It's rare that both don't work unless you're somewhere out in the woods with no cell reception.
The important thing is to isolate the source of the problem to either one of your connections.
If all of this still doesn't help and your TikToks still won't load, then move on to Solution #3.
Solution 3: Restart the TikTok App or Phone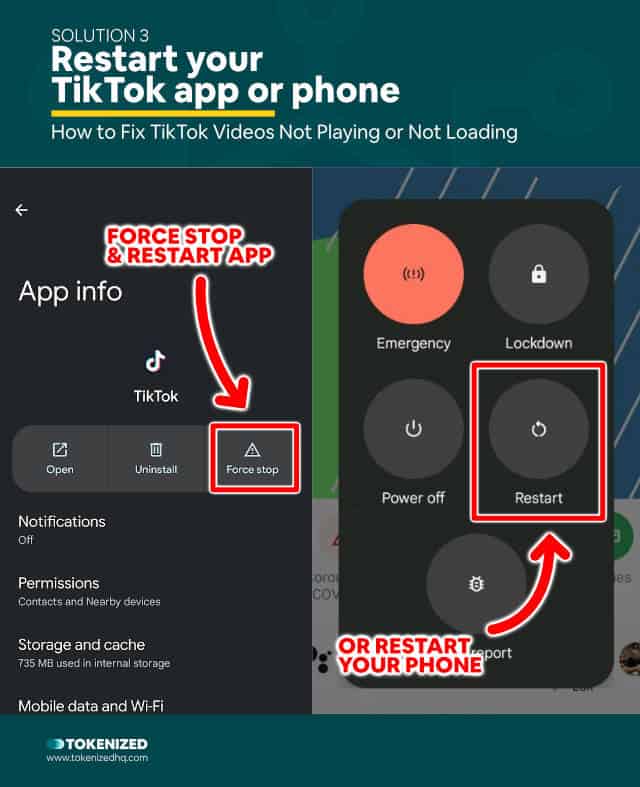 I know this may sound silly but electronic devices sometimes do weird stuff and since we can't see what's going on under the hood, our phones sometimes don't work for no apparent reason.
You know when your phone just refuses to connect to a WiFi or cell network?
Sometimes all it takes is a simple reboot of the device.
And the same is true for applications.
How many times have you simply rebooted your computer, hoping that it would fix things?
If you are my age, then I bet you've done this a million times.
So if you're still struggling with TikTok videos not playing, then you should first force the app to shut down and restart it.
And if that doesn't work, your next step is to restart the entire phone, no matter whether it's an iPhone or an Android device.
If TikTok still won't load any videos, then move on to Solution #4.
Solution 4: Clear the TikTok App Cache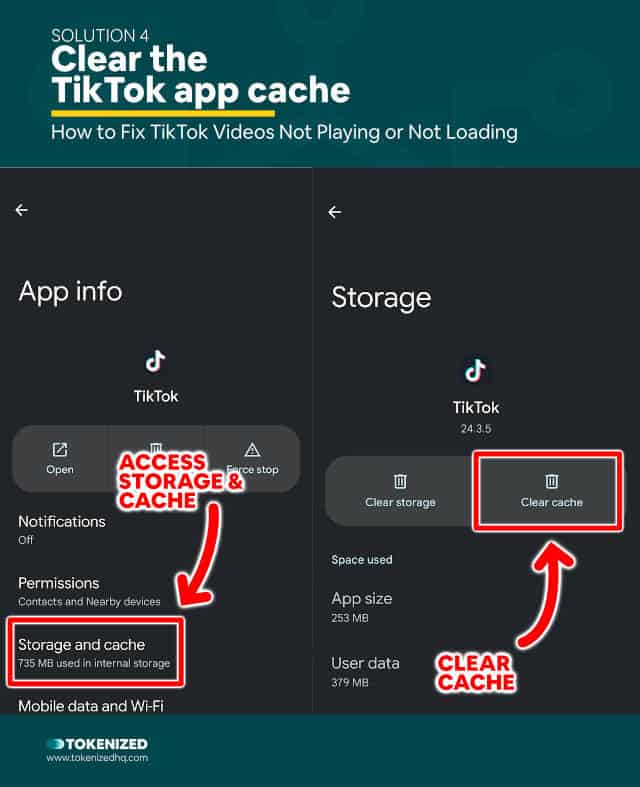 We're all familiar with clearing the cache of our browsers and we all have at least a remote idea of what that does.
But what exactly happens when you clear an app's cache?
Well, it's not really all that different.
When you clear an app's cache, you're deleting a whole bunch of temporary files that were cached in order to make things run faster.
Unfortunately, cached files can not only clog up the system but can also prevent important settings from updating.
And sometimes that results in an app malfunction such as TikTok videos not playing.
If that still doesn't fix it, then move on to Solution #5.
Solution 5: Check TikTok for Updates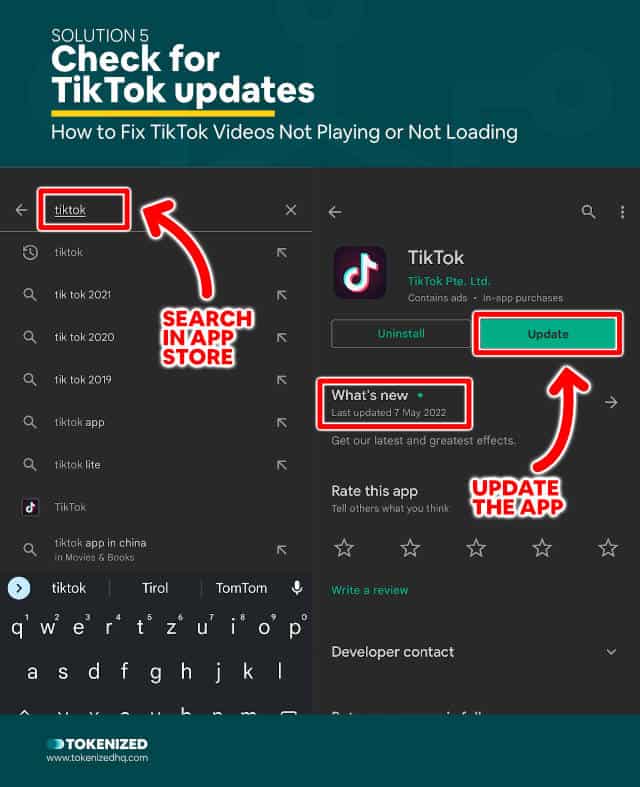 I personally never activate automatic updates on my devices.
I mainly try to avoid it because I've had bad experiences with Apple pushing an entirely new operating system onto my MacBook even though it was still very buggy.
In some cases, automatic updates have been "bricked" entire devices by accident.
Unfortunately, that also means that I'm sometimes a bit late to update my software and that can have negative consequences for the functionality.
It's not out of the question that a missing update may be preventing videos from playing on your TikTok app.
So go check if you have the latest version of TikTok installed.
If you're still experiencing TikToks not loading, then there's one last solution before we may have to pull the nuclear option.
Solution 6: Connect via a VPN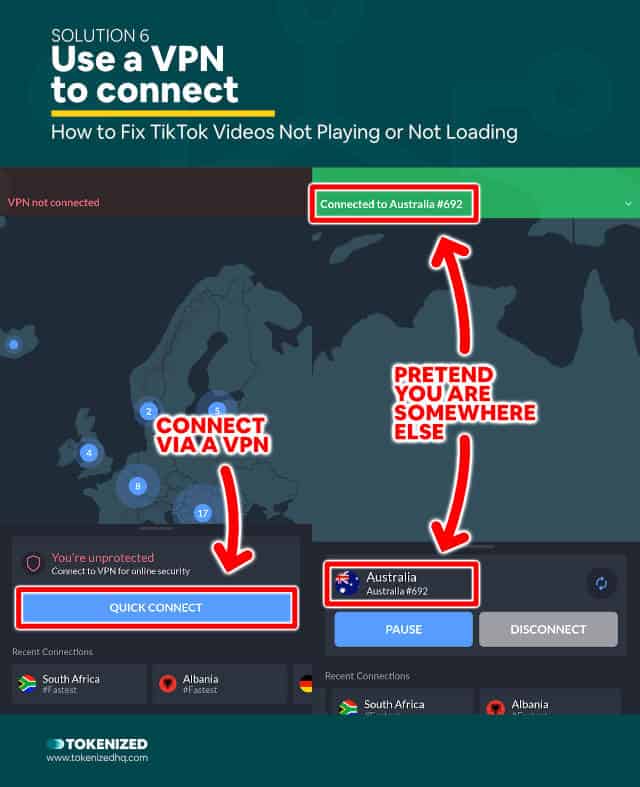 Now, before you do this, I want to give you a quick word of warning.
If you not only watch content on TikTok but also post your own videos, then you may want to skip this solution.
The reason I say this is because the Chinese company that owns TikTok is not a big fan of VPNs.
I won't go into all the reasons why that is but you should know that there have been reports of people getting 0 views on TikTok when using a VPN.
However, if you're not a content creator, then there's not much to worry about.
Just try one of the following popular VPN services:
Solution 7: Completely Re-Install TikTok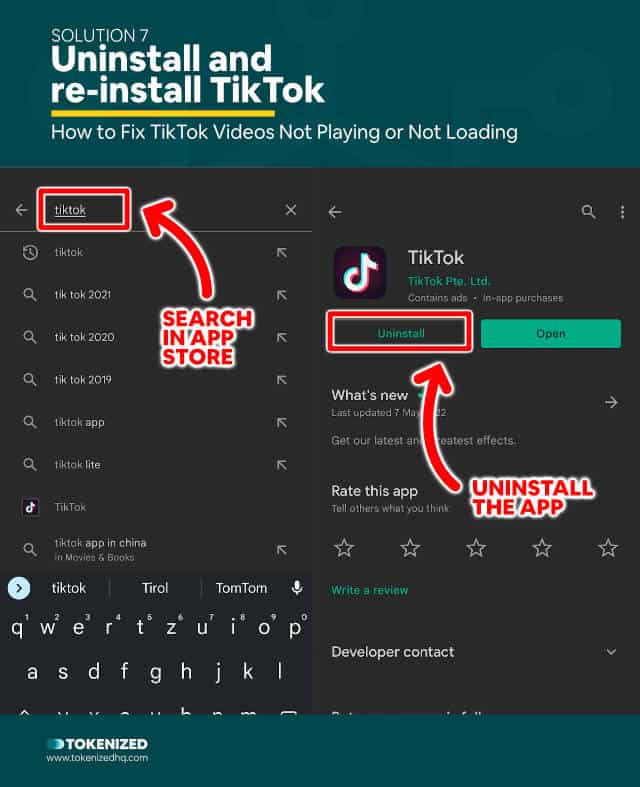 The good old "clean reset" is still a great approach.
This is what I like to call the "nuclear option" and I've recommended this solution in many other articles that cover various forms of TikTok not working.
Uninstalling the TikTok app and re-installing it is obviously one of the most extreme approaches, but you shouldn't be afraid of trying it out.
You can't really lose any data or settings.
So give it a try.
Just go to the app store, uninstall TikTok and then install it on your device again.
Open the app and log in with your username and password.
If that still doesn't fix it, then you may have to contact TikTok to report a problem with your account.
Conclusion
The vast majority of issues that you can encounter on TikTok are somehow related to content not loading.
And usually, these issues are easily fixed with one of the 7 solutions provided above.
Most of the other problems are related to your own behavior and the reasons are outlined in the community guidelines.
Here at Tokenized, we want to help you learn as much as possible about social media. We help you navigate the world of tech and the digitalization of our society at large, including the tokenization of assets and services.