Are your videos only getting 0 views on TikTok?
Perhaps you recently changed something in your content strategy and now you're faced with the same 0 views TikTok users keep complaining about?
Well, don't worry, because you're obviously not alone with this problem and in most cases, there are good reasons why your videos are getting zero views on TikTok.
In this guide, you'll learn exactly what might be causing the problems and how to fix 0 views on TikTok.
Let's get right to it.
Key Points (tl;dr)
TikTok has one of the most advanced AI-based algorithms of all social media platforms and it is incredibly effective at determining what sort of content drives the most engagement.
That being said, TikTok also has some of the strictest rules in terms of what sort of content you are allowed to post and what might get you shadow-banned on the platform.
Both these factors play a role in explaining why many users have experienced situations where their videos get zero or only very few views.
Here are 10 reasons why you might only have 0 views on TikTok:

Reason 1: Low Completion Rates

Reason 2: Low Engagement
Reason 3: Your Account is New
Reason 4: You're Targeting Too Many Niches
Reason 5: You Posted Inappropriate Content
Reason 6: Your Video Contains Banned Items
Reason 7: You're Using Copyrighted Material
Reason 8: You're Using Multiple Accounts on one Phone
Reason 9: You're Using a VPN
Reason 10: Your Video is Under Review
For a detailed overview of all 10 reasons why your TikTok video only has 0 views, PLEASE READ THE FULL ARTICLE.
Like this content? Then share it!
Solved: Why You're Getting 0 Views on TikTok in 2023
Here's the answer. Great article by @ChrisHeidorn right here: https://tokenizedhq.com/0-views-on-tiktok/

www.tokenizedhq.com
10 Reasons Why You're Getting 0 Views on TikTok
TikTok's social media platform runs on some of the most advanced AI algorithms in the world and its primary objective is to promote highly engaging content that is suitable for all ages. The platform employs very strict rules in terms of the type of content it allows and only pushes content users actually watch. Unengaging or inappropriate content simply isn't displayed to anyone.
Let's face it. There's nothing more annoying than investing tons of time and effort in a new TikTok video, only to see it get 0 views after an hour.
The TikTok 0 views glitch is one of the most common problems that users run into and pretty much everyone will experience it at some point.
The reason we call it a glitch is that it doesn't really have any impact on your future videos.
It's a problem that only affects the specific video you're currently dealing with.
You see, on TikTok, all new videos are initially shown to a small group of people, and based on how those people respond to them, TikTok will put them out to a larger group.
TikTok's entire algorithm is fueled by data and it will continue to show your video as long as it continues to generate engagement.
So if your video is literally stuck at 0 views on TikTok, then something's not right.
Let's look at the top 10 reasons why you're only getting 0 views on TikTok and how you can fix them.
Reason 1: Low Completion Rates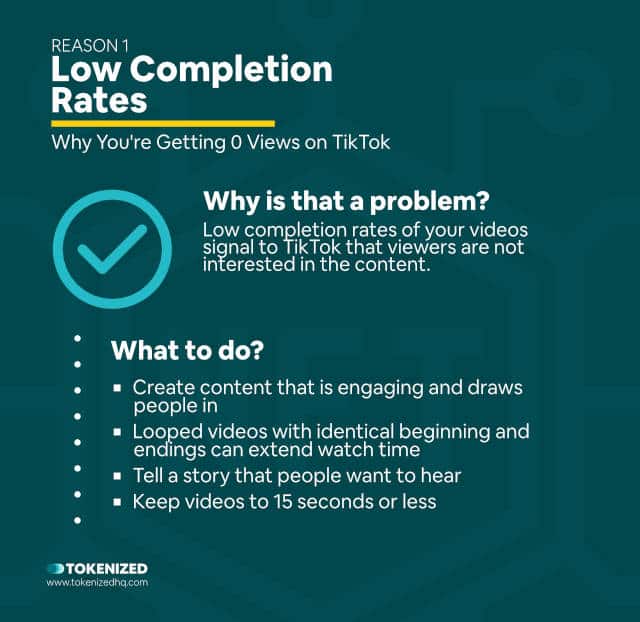 As I already explained earlier, TikTok's algorithm uses massive amounts of data to determine which videos it will push.
It gets this data from the initial set of people that it shows the video.
There 2 main factors that determine this:
Completion Rate: How many people actually finish watching the video
Watch Time: How much time is spent on your vide overall
If your video isn't getting any attention then chances are you'll end up with 0 views on TikTok simply because the algorithm won't show it to anyone else.
What to do?
Create content that is engaging and draws people in
Looped videos with identical beginning and endings can extend watch time
Tell a story that people want to hear
Keep videos to 15 seconds or less
Reason 2: Low Engagement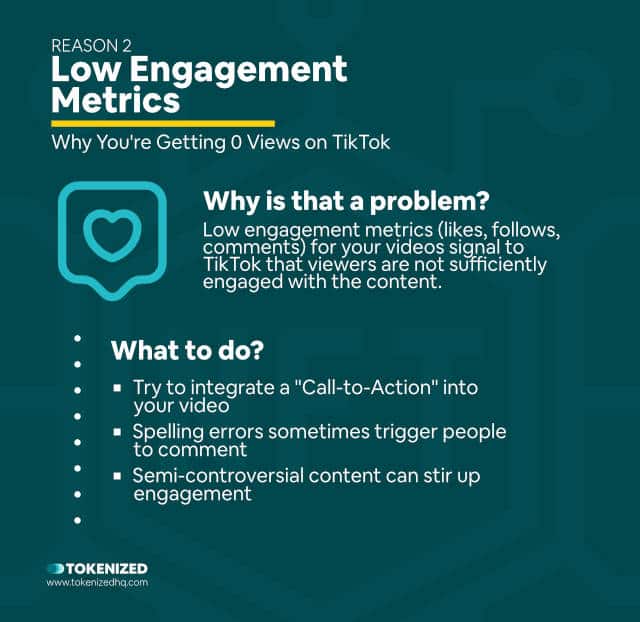 Another factor that goes into determining whether TikTok's algorithm will continue to show a video is the engagement.
Typical engagement metrics include:
Follows
Likes / Hearts
Comments
These are mostly the same engagement metrics that you're probably familiar with from other social media platforms.
And if these are too low, then you do run a risk of getting 0 views on TikTok.
What to do?
Try to integrate a "Call-to-Action" into your video
Spelling errors sometimes trigger people to comment
Semi-controversial content can stir up engagement
Reason 3: Your Account is New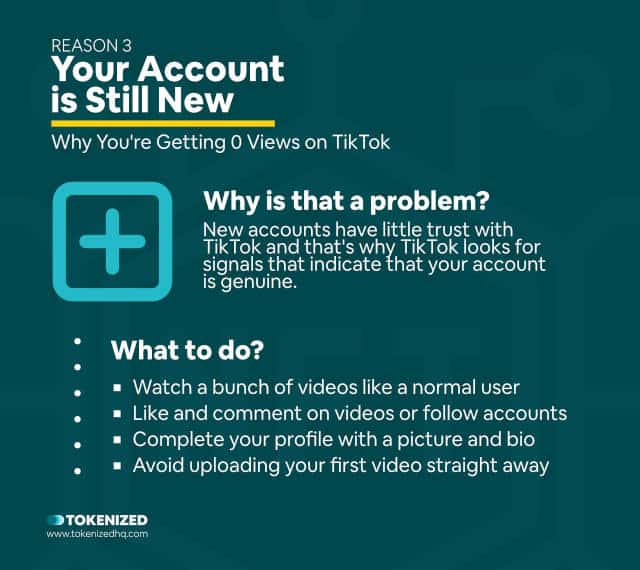 Especially brand new accounts are very common among those that keep saying: "My TikTok has 0 views!".
Just like any social media platform, TikTok wants to prevent as many fake accounts as it can.
And that's why new accounts very often have a lot more trouble getting their videos in front of people.
0 views on TikTok is actually a very common occurrence there.
That's why it's important to make sure that your account has some decent trust signals that suggest that it's real.
What to do?
Watch a bunch of videos like a normal user
Like and comment on videos or follow accounts
Complete your profile with a picture and bio
Avoid uploading your first video straight away
Reason 4: You're Targeting Too Many Niches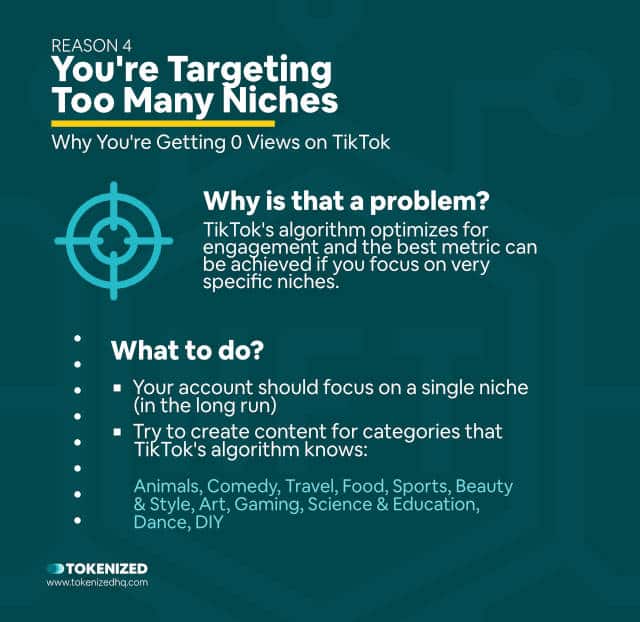 I've said it before and I'll say it again: TikTok's algorithm runs completely on data.
The primary objective of the algorithm is to increase engagement.
And once of the ways to ensure high engagement is by silo-ing people off into niches that they are actually interested in.
Every video is treated more or less the same, so just because you have videos about "Food" that got tons of views, it doesn't mean you'll have a headstart in the "Sports" niche.
In fact, you might just end up with 0 views on TikTok.
Engagement and views are at their highest when you serve very specific niches of interest.
What to do?
Your account should focus on a single niche (in the long run)
Try to create content for categories that TikTok's algorithm knows:

Animals
Comedy
Travel
Food
Sports
Beauty & Style
Art
Gaming
Science & Education
Dance
DIY
Reason 5: You Posted Inappropriate Content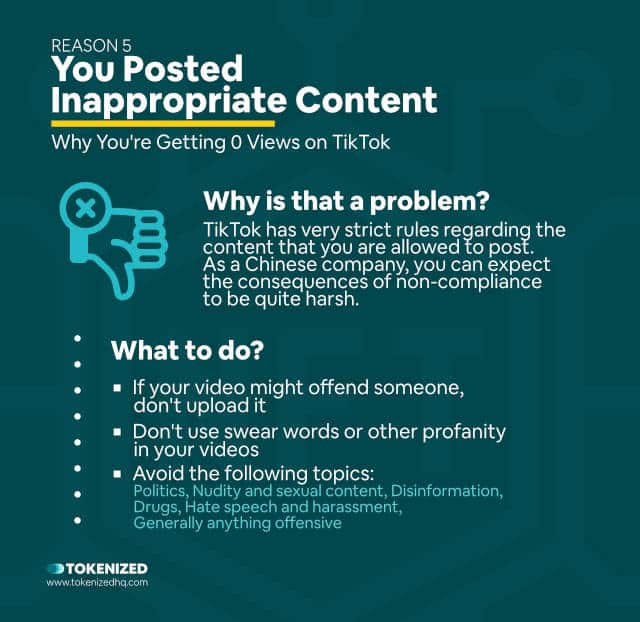 I really shouldn't have to say this, but one of the main reasons a lot of people get 0 views on TikTok is because they are posting inappropriate stuff.
TikTok has very strict guidelines on what it considers appropriate and what not.
If you ignore this then there's a real chance that you might get shadow-banned or banned altogether.
Also bear in mind that since TikTok is a Chinese company, you're going to want to stay away from topics that may be considered sensitive in China.
If in doubt, check the community guidelines.
What to do?
If your video might offend someone, don't upload it
Don't use swear words or other profanity in your videos
Avoid the following topics:

Politics
Nudity and sexual content
Disinformation
Drugs
Hate speech and harassment
Generally anything offensive
Reason 6: Your Video Contains Banned Items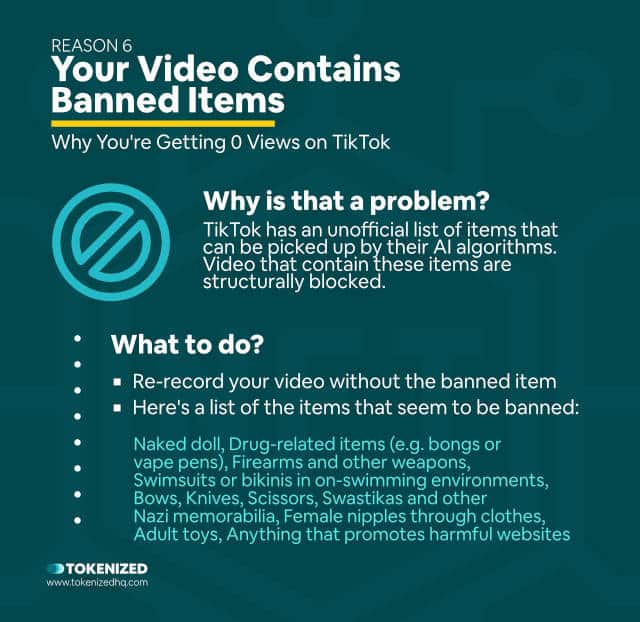 You may have heard that TikTok employs some of the most advanced artificial intelligence systems in the world.
Well, believe it or not, their AI is able to detect specific objects in your videos.
Some of those objects might be on their list of banned items and that's why your videos might be getting 0 views on TikTok.
While this hasn't been officially confirmed by TikTok, leaked company documents suggest there is a specific list.
What to do?
Re-record your video without the banned item
Here's a list of the items that seem to be banned:

Naked doll
Drug-related items (e.g. bongs or vape pens)
Firearms and other weapons
Swimsuits or bikinis in on-swimming environments
Bows, Knives, Scissors
Swastikas and other Nazi memorabilia
Female nipples through clothes
Adult toys
Anything that promotes harmful websites
Reason 7: You're Using Copyrighted Material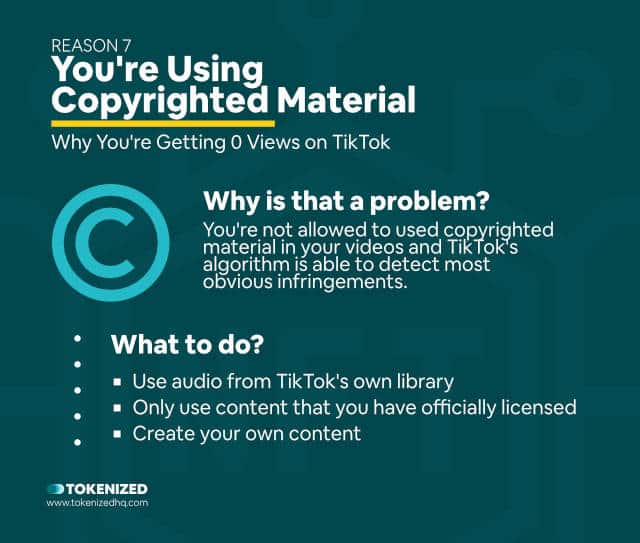 Another reason your video may be getting 0 views on TikTok is simply that it's lacking audio.
You see, a very common problem with a lot of videos is that they contain copyrighted music and whenever TikTok detects this, the audio is automatically muted.
We've actually written a detailed guide on what to do if you have no sound on TikTok.
The same obviously applies to video material as well.
What to do?
Use audio from TikTok's own library
Only use content that you have officially licensed
Create your own content
Reason 8: You're Using Multiple Accounts on one Phone
There's no official statement from TikTok's side that this is an actual rule, but there seems to be a correlation here.
People who use the same phone for multiple accounts tend to report 0 views on TikTok more frequently than others.
I guess it all comes back to the fact that TikTok wants real users on their platform and not tons of fake ones.
I know there are various legitimate reasons to have multiple accounts, but try to stick to 1 account per phone.
What to do?
Only use 1 account per phone
Get another device if you really need to run 2 accounts
Inquire with TikTok directly about what the recommended approach is
Reason 9: You're Using a VPN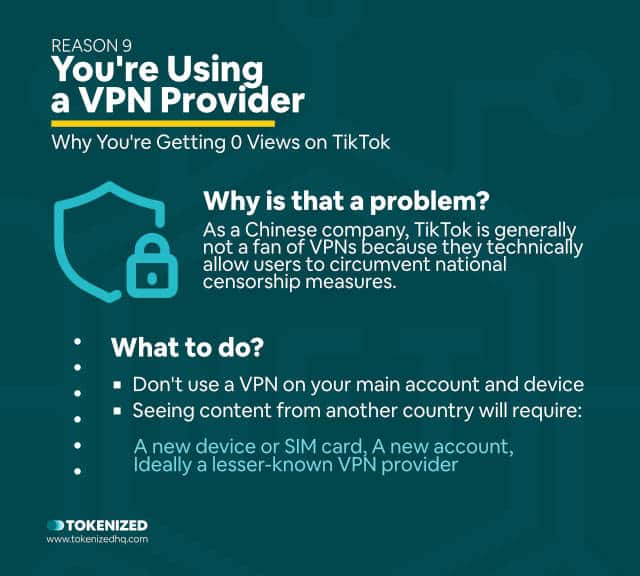 VPNs are a touchy subject in this space.
I totally get that people want their privacy and I also love to use VPNs in order to access some content in other countries.
While I'm not aware of any social media platforms banning you outright, a lot of them don't like VPNs because there is a high correlation between bots and other illegitimate use.
However, the reason I see VPNs are a problem on TikTok is that it's a Chinese company.
China doesn't want Chinese people to see certain content from the US or Europe.
And most Westerners aren't going to know what to do with Chinese videos.
So certain regions seem to be grouped together into content bubbles.
If you start using a VPN then chances are TikTok will detect them and you'll end up with 0 views on TikTok.
What to do?
Don't use a VPN on your main account and device
Seeing content from another country will require:

A new device or SIM card
A new account
Ideally a lesser-known VPN provider
Reason 10: Your Video is Under Review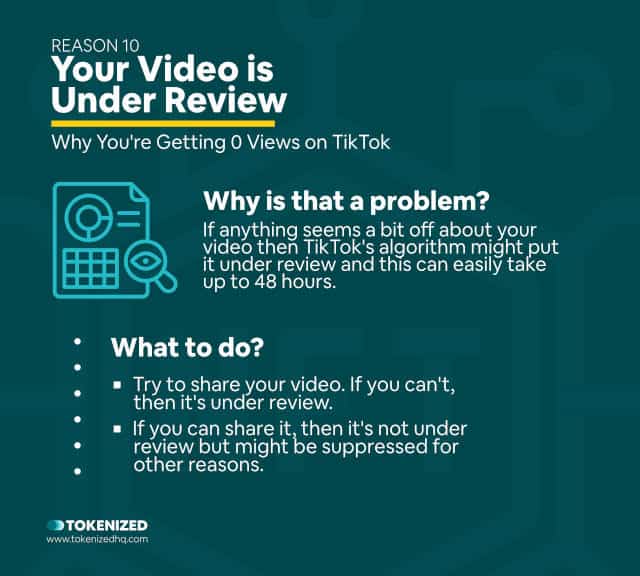 This may sound a bit basic, but a lot of videos end up with 0 views on TikTok initially because they are under review.
And this might happen well before they are ever shown to any other users.
If you are hit by a review, it can take up to 48 hours or more.
What to do?
Try to share your video. If you can't, then it's under review.
If you can share it, then it's not under review but might be suppressed for other reasons.
Conclusion
As you can see, there are many possible reasons why you may be getting 0 views on TikTok.
Not just initially but even after an hour or more.
The key thing is to know how to fix 0 views on TikTok and we hope this list helped you gain some insight.
Here at Tokenized, we want to help you learn as much as possible about social media. We help you navigate the world of tech and the digitalization of our society at large, including the tokenization of assets and services.