Trying to stay up-to-date on the latest NFT news?
Or perhaps you're looking for some sound advice from industry insiders?
Newsletters have become an immensely popular format for information and education over the past few years and the NFT space is no different.
Not into reading and you'd prefer to listen to an NFT podcast? No problem, we've got an article on the 10 best NFT podcasts as well.
In this guide, we'll introduce you to a list of 10 excellent NFT newsletters that specialize in delivering quality content about non-fungible tokens.
Let's check them out.
Key Points (tl;dr)
Newsletters are a popular way for people to stay up-to-date on the latest developments without having to constantly follow social media.
Tokenized has not yet launched its own newsletter, but you can already subscribe to our mailing list and we'll let you know as soon as we launch it.
In the meantime, we've put together a list of the best NFT newsletters we could find on the net that are still actively maintained.
Like this content? Then share it!
10 Excellent NFT Newsletters to Stay Up-to-Date
Here's the answer. Great article by @ChrisHeidorn right here: https://tokenizedhq.com/nft-newsletter/

www.tokenizedhq.com
What are NFT Newsletters?
NFT newsletters are a convenient way to stay on top of everything that's happening in the NFT space. Instead of digging through Twitter or dozens of Discord servers, newsletters provide you with a clean and simple digest of recent events.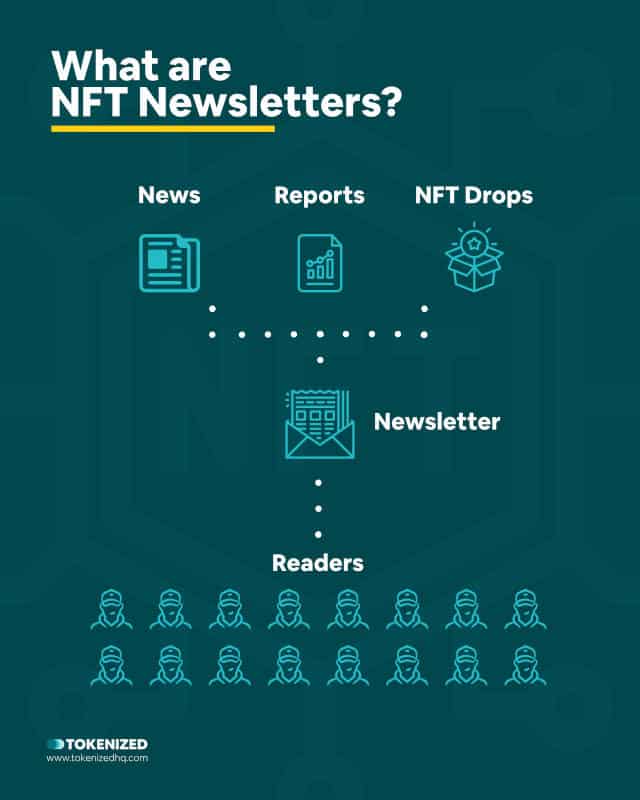 We live in the information age and with so much data and news flying around the internet and other media channels, it's not always easy staying up-to-date.
In fact, in NFTs, it's particularly difficult to do so because so much stuff happens in private Discord servers.
If you spend a lot of time on Twitter and interact with the right people, you will automatically find out the latest news just by sheer word of mouth.
But since each community tends to have its own closed channels, not all of the information necessarily spills over into social media.
While this can be beneficial for those who are particularly active in one specific project, it is nearly impossible if you are invested in multiple projects.
NFT newsletters won't necessarily be able to give you the latest alpha, but they provide you with a useful digest of what's happened in the past week.
And for project creators, they can be an effective way how to get more views on OpenSea and hopefully make more sales.
There isn't any particular NFT newsletter that we would necessarily call "the best", but we put together a list of good sources.
We recommend you check out at least 2 to 3 different ones in order to find out which format you prefer.
Subscribe to the Tokenized NFT Newsletter!
The Tokenized NFT Newsletter has not launched yet. However, you can help us accelerate the process by subscribing to our mailing list and showing your support. We'll let you know as soon as we're ready to kick off with the first edition.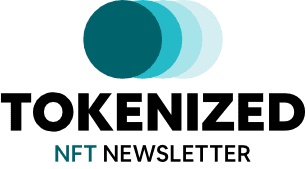 That's right, we are planning on creating our very own NFT newsletter.
As you may have noticed, we are already churning out tons of quality content here on the Tokenized blog.
Most of our content centers around providing people like you with the best information and education that we can.
So why not create our own newsletter format as well?
Please note that we are currently not releasing any editions yet.
This is primarily because we want to gauge the interest amongst you first.
However, every single subscriber to the mailing list brings us one step closer to launch.
So, if you're keen on the same type of quality that you've come to expect from the blog, then please subscribe via the form below.
9 NFT Newsletters That We Recommend
If you search the internet you'll find many sites advertising their lists of 20 or more of the best NFT newsletters.
The problem is that a lot of people start newsletters but very few continue to put in the work.
The reality is that an NFT newsletter is a lot of work and very often the creators underestimate how long it takes to build a decent readership.
That's why we've only listed newsletters in this article that were still being actively maintained at the time of writing.
1. NFT Lately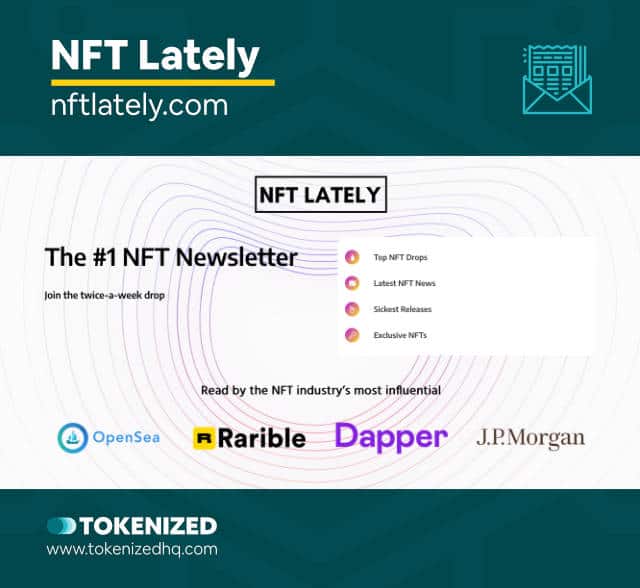 You can think of NFT Lately as similar to the "Morning Brew" newsletter.
NFT Lately is written by Jared Maldonado and releases a new edition twice a week.
He covers the latest NFT news, top NFT drops, his favorite releases and exclusive NFTs.
According to the NFT newsletter's website, his list of readers includes employees at OpenSea, Rarible, Dapper Labs and JPMorgan.
2. NonFungible.com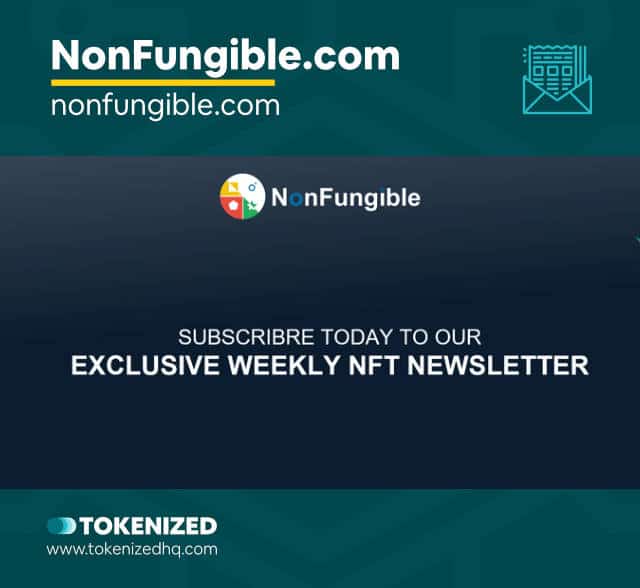 NonFunfigble.com is one of the best-known NFT websites in the NFT space.
They provide data analytics services that help you find new NFTs, track industry trends and analyze market activity.
They also have a weekly NFT newsletter which covers all of the latest news in NFTs.
3. Forefront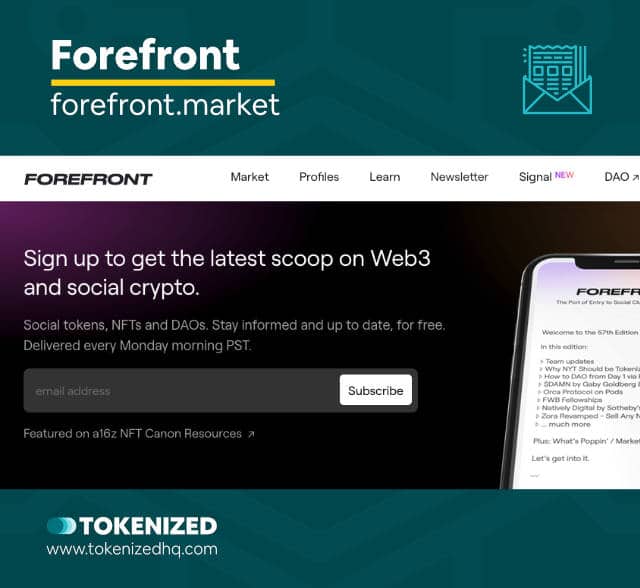 Forefront aims to be the leading content and insights aggregator on social tokens, DAOs and Web3.
Their NFT newsletter is released every Monday morning (PST) and they also have their own Podcast format.
4. Zima Red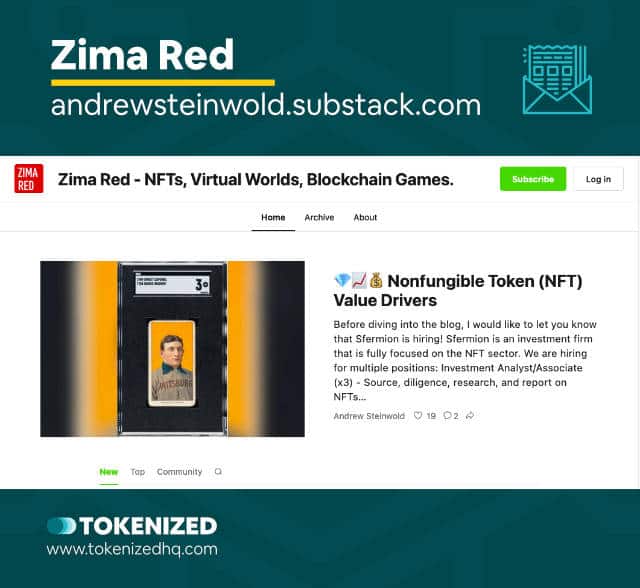 Zima Red hosts his NFT newsletter on Substack, which means that you can have a look at the past editions before actually signing up.
This is especially nice for all of those people who don't like to give away their email addresses without knowing what they'll get in return.
Zima tries to cover pretty much everything in the NFT ecosystem, including weekly roundups as well as covering issues around intellectual property.
5. Metaversal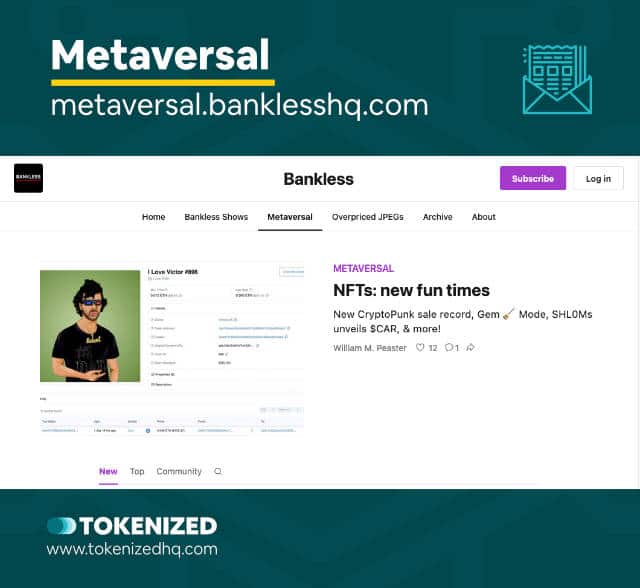 If you come from the crypto space you might already be familiar with Bankless.
Metaversal is an NFT newsletter from within that Bankless ecosystem that takes a more analytical view on NFTs.
So the objective isn't necessary to cover the very latest and hottest news, but rather provide deeper insights into specific topics.
6. NFT Drops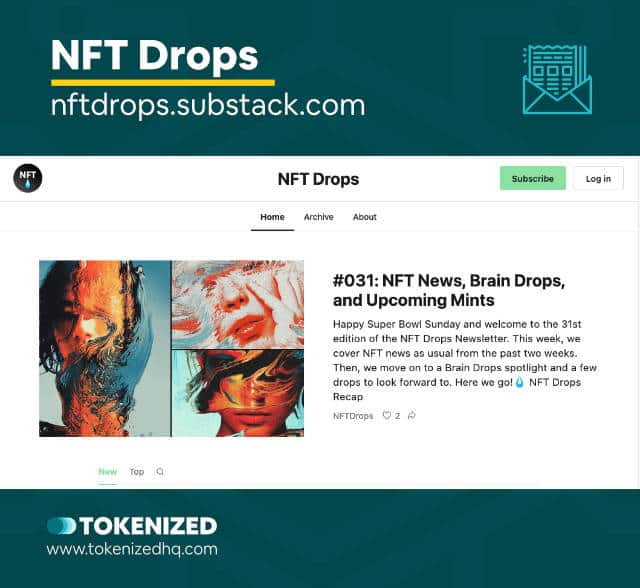 Some people want the very latest news, while others just want to know what new NFT projects are dropping.
This seems to be the primary focus of the NFT Drops newsletter which is released twice per month.
You'll get some commentary on recent news as well though.
7. The NFT Voice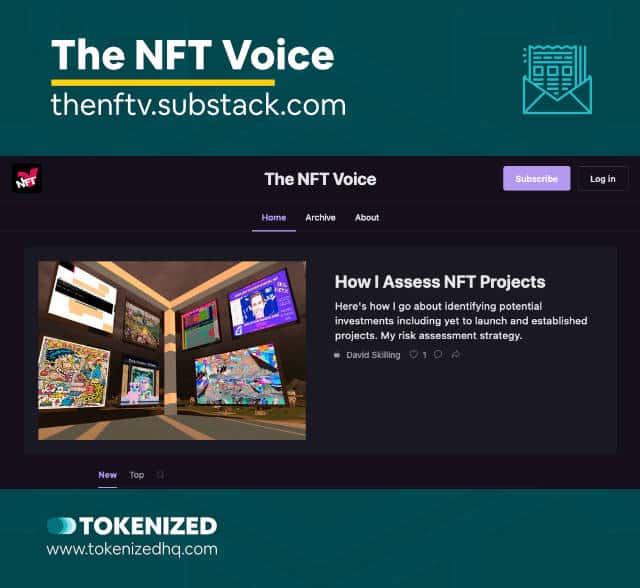 The NFT Voice, formerly known as The NFT Letter, aims to provide you with the latest and greatest coming out of the NFT space.
David Skilling, the author behind this NFT newsletter, says he is an NFT consultant who works with big brand names and celebrity talent.
8. NFT Review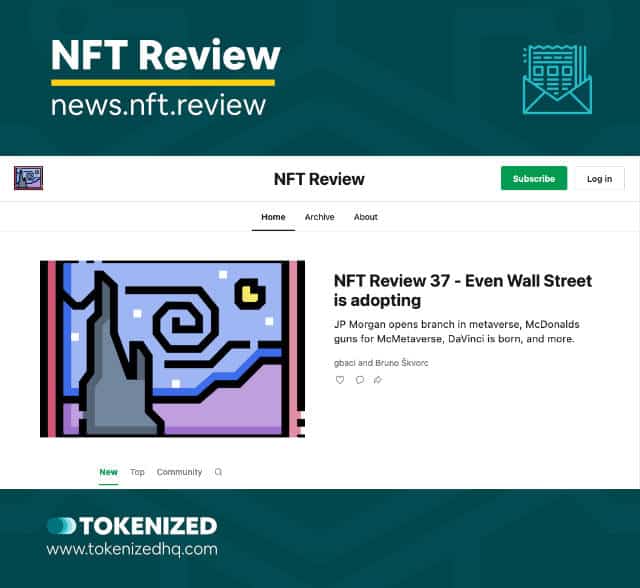 NFT Review is another NFT newsletter hosted on Substack, so you'll be able to check some of the earlier editions before you subscribe.
If you want to keep an eye on new products, new art, DAOs and other income mechanics in the NFT space, then this is the right NFT newsletter for you.
9. Play to Earn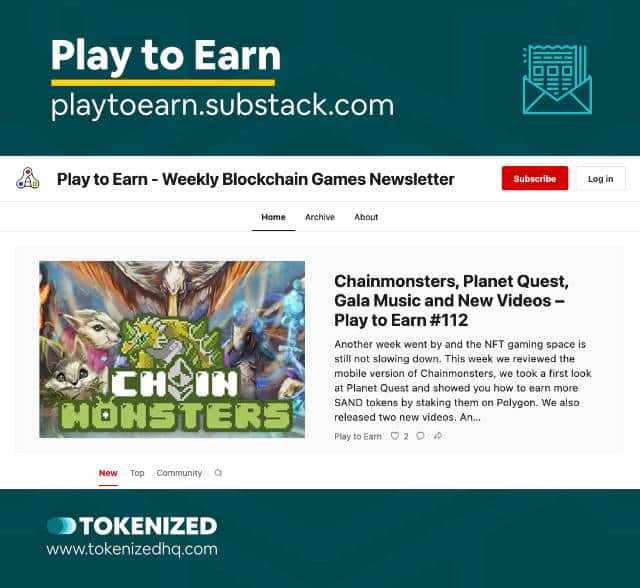 As the name already states, Play to Earn is a newsletter that is specifically targeted at anyone who is interested in play-to-earn games.
It covers some of the best NFT games out there and aims to keep its readers as up-to-date as possible on everything related to blockchain gaming.
With more than 100 editions to date, this is also one of the newsletters that are guaranteed to stick around for a while.
Conclusion
Newsletters have taken the world by storm over the past few years.
Writers who used to be dependent on a stable salary from a publisher can now monetize their writing more directly and with less outside influence.
The best NFT newsletters are a great way to stay on top of the latest news and at the same time support a creator with their project.
We hope you found this list useful and if you'd like us to add anything, please feel free to reach out and we'll see what we can do.
Here at Tokenized, we want to help you learn as much as possible about the coming NFT revolution. We help you navigate this fascinating new world of non-fungible tokens and show you how you can integrate tokenization into your own business.