So you want to delete your OpenSea account?
Perhaps you've realized that OpenSea is actually a pretty darn centralized company and to delete OpenSea accounts is the only way to really protect your personal data?
Well, don't worry because we've done some digging and researched what it takes to delete OpenSea accounts and their records.
At the same time, we also need to point out that your Ethereum wallet obviously still exists on the blockchain, and thus not all of the data related to your transaction can be erased.
In this article, you'll learn exactly how you can delete your OpenSea account step by step within no time.
Let's dive right in!
Key Points (tl;dr)
Despite the fact that your Ethereum wallet and all of its transaction are immutable and public record, you can still delete OpenSea accounts.
If you filled in any of the personal information in your OpenSea profile, such as an email address, username or profile pictures, then this information is stored on OpenSea's centralized servers. This information can still be deleted.
Here is a step-by-step guide on how to delete OpenSea accounts:

Step 1: Submit a Request
Step 2: Select "My Account"
Step 3: Select "Deleting Account"
Step 4: Enter Wallet Address
Step 5: Provide a Subject
Step 6: Provide Description and "Submit"
Like this content? Then share it!
Solved: How to Delete OpenSea Accounts Easily
Here's the answer. Great article by @ChrisHeidorn right here: https://tokenizedhq.com/delete-opensea-account/

www.tokenizedhq.com
Can You Delete an OpenSea Account?
Yes and no. While OpenSea provides the option to delete your account via a single central support request, this will only delete the sensitive profile data that is based on your own personal input (email address, profile name, etc). The underlying Ethereum address is beyond OpenSea's control and all of the transaction history is still publicly available on the blockchain.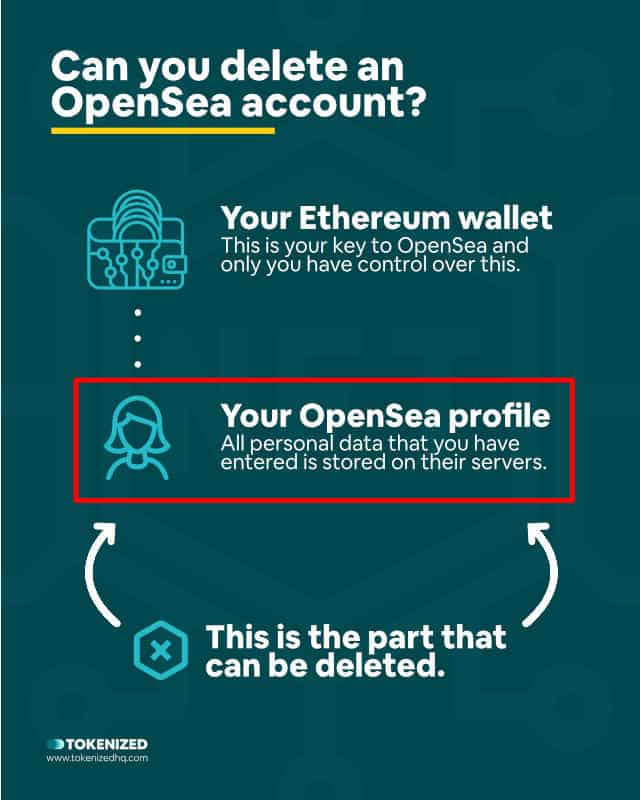 We've been hearing more and more reports from people who have become disillusioned with OpenSea's business practices.
Aside from the fact that OpenSea is a de facto monopolist, a lot of users are legitimately concerned about the security of their wallets and also their personal data.
Although OpenSea is generally safe to use, numerous recent scandals around stolen Bored Apes, as well as a fairly significant phishing attack, have left lots of people asking questions about OpenSea refund policies.
Some people have already decided that they want to leave OpenSea and are now looking for ways to delete OpenSea accounts.
And there definitely are a lot of fully decentralized OpenSea alternatives out there.
However, it's important to clarify that OpenSea is built in a fairly decentralized way itself as well.
Although the company is effectively still centralized, you can more or less use OpenSea without ever handing over any of your private information.
Sure, OpenSea obviously knows about your wallet address, but it's entirely anonymous up until the point where you start filling out your profile.
It's important to understand the distinction between a wallet and your OpenSea profile.
Your Ethereum address is entirely yours and it is your key to using OpenSea.
However, any additional information that you may have provided, such as an email address, a username, and social media handles are stored on OpenSea's central servers.
And it's simply not enough to just know how to disconnect wallet from OpenSea.
So, can you delete OpenSea accounts?
Yes and no. You CANNOT delete the associated wallet address and its history, but you CAN delete all of the sensitive data that you originally entered yourself.
In this article, we teach you exactly how to do this.
How to Delete OpenSea Accounts
To delete OpenSea accounts, navigate to the OpenSea help center and submit a new help request. When the request form shows up, select "My Account" from the first dropdown, fill in your email address and then select "My Account > Deleting account" from the second dropdown. Finally enter your wallet address, enter a simple subject line and provide a short description of why you want to close your account. Hit "Submit" and wait at least 72 hours for the support team to respond.
Remember how easy it was to create OpenSea accounts?
Well deleting an OpenSea account is a fairly simple process too, however, it does require you to get in touch with OpenSea's support team.
That also means that you may have to bring along some patience because their team is known to be notoriously slow to respond due to an overwhelming number of support requests.
Here's a step-by-step guide on how to delete OpenSea accounts:
Step 1: Submit a Request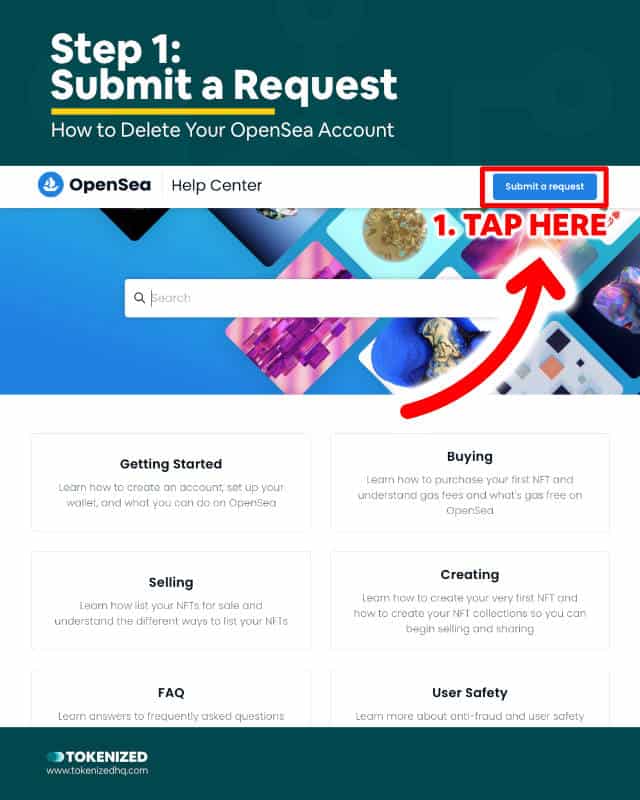 Using a browser of your choice, navigate to OpenSea's help center and click the "Submit a Request" button in the top right corner.
Step 2: Select "My Account"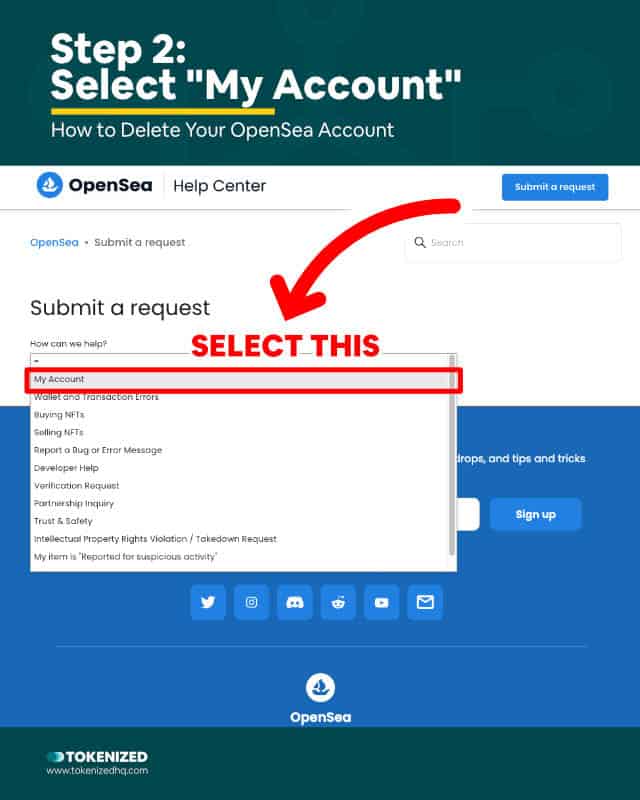 The very first question is "How can we help?" and from its dropdown menu you must select "My Account".
This will load the rest of the form.
Step 3: Select "Deleting Account"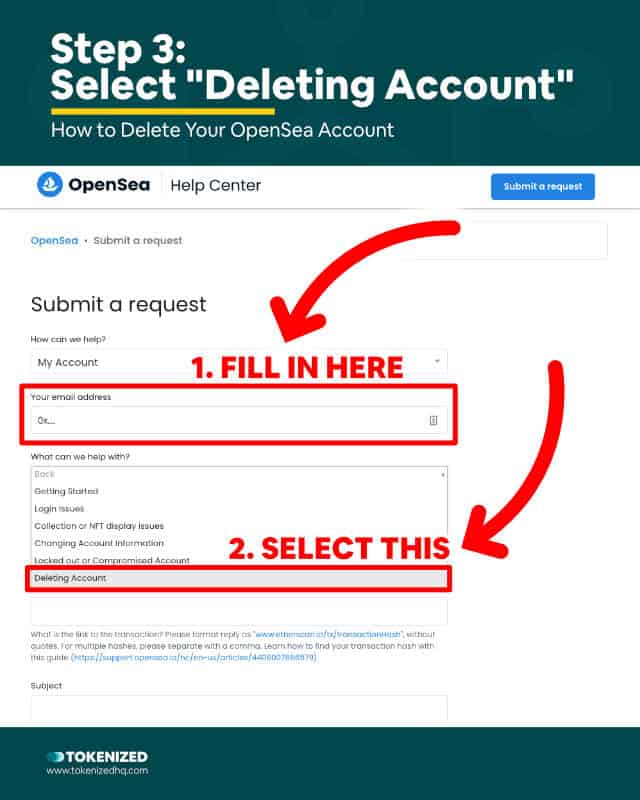 Make sure you fill in your email address so that the support team can get back to you with potential queries.
From the "What can we help with?" dropdown menu make sure you select "My Account" again and once additional options show up, select "Deleting account".
Step 4: Enter Wallet Address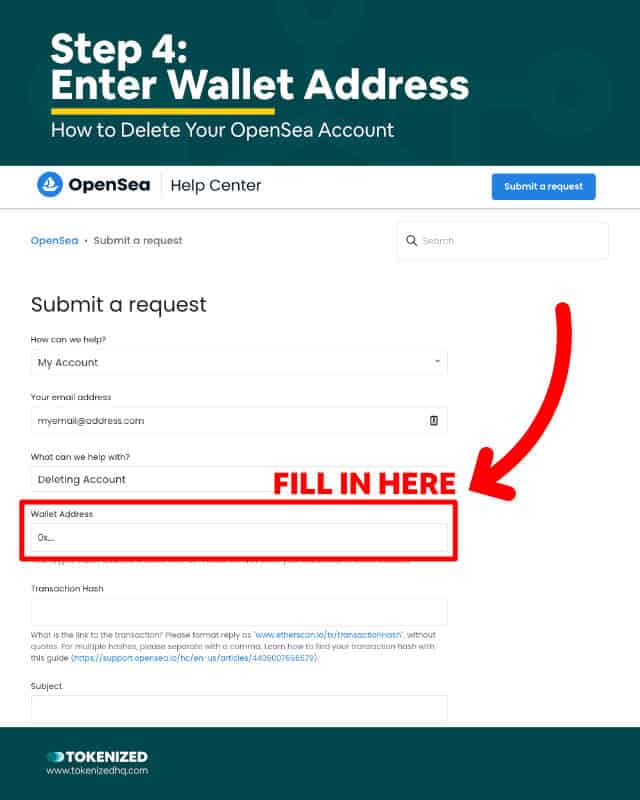 You'll then have to enter your Ethereum wallet address.
I know this might feel awkward if you're still new to crypto and NFTs but there's really nothing particularly unsafe about this step.
In the end, OpenSea just needs it in order to cross-reference the internal data and make sure they are deleting the correct profile.
Step 5: Provide a Subject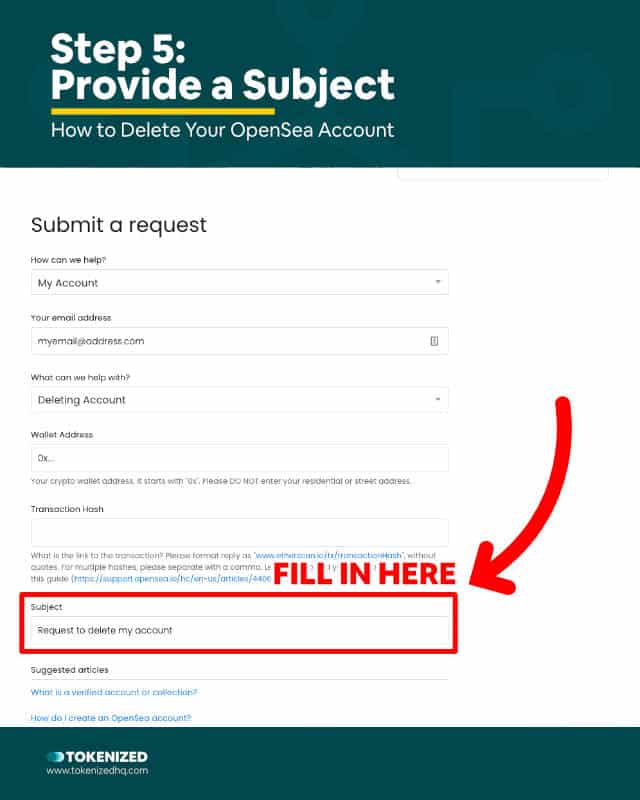 You can ignore the "Transaction Hash" field since your request isn't related to a specific transaction.
However, in the subject line, you should put something like "Request to delete my account".
Step 6: Provide Description and "Submit"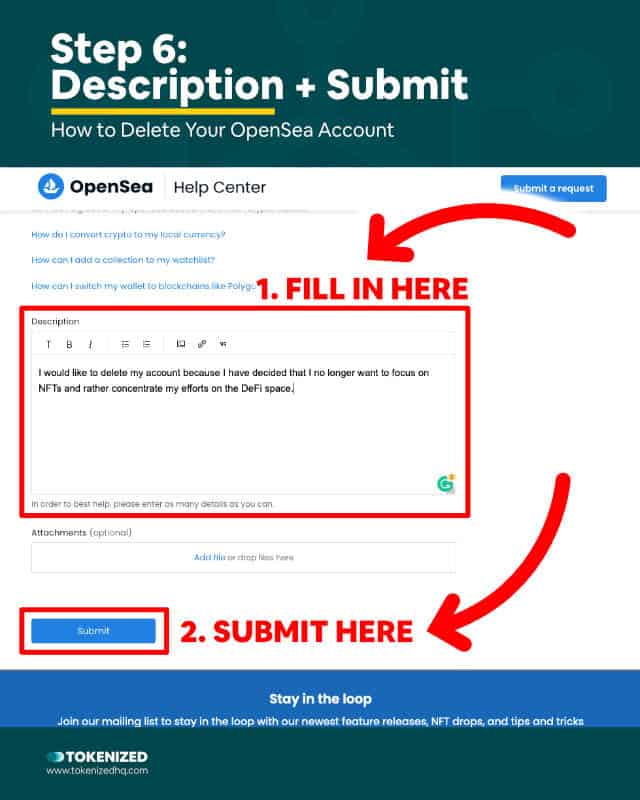 The description field is technically optional, however, we strongly recommend that you add 1 or 2 sentences providing a simple reason as to why you want your account to be deleted.
Don't worry, you don't need to justify your reasons but it does help OpenSea get a better understanding of what your motivations are and how they might want to improve things in their business.
Once you hit the "Submit" button, you'll have to wait at least 72 hours to get a response.
To be honest, it might even take longer, so we recommend you set up reminders in your calendar roughly once per week.
Conclusion
Ever since the introduction of GDPR by the European Union as well as similar legislation in various US states, data privacy regulations have become considerably stricter.
Companies now need to provide a reasonable way for users to delete their personal data from their records as long as they aren't necessary for tax reasons (speaking of tax, make sure to check out our guide on OpenSea taxes).
And believe it or not, despite calling itself a "decentralized" marketplace, OpenSea also allows you to delete your account details.
It's really not as daunting as it may sound and that's why we put together this quick step-by-step walkthrough on how to delete OpenSea accounts.
We hope you found this useful in regaining a little bit of your own freedom!
Here at Tokenized, we want to help you learn as much as possible about the coming NFT revolution. We help you navigate this fascinating new world of non-fungible tokens and show you how you can integrate tokenization into your own business.