Are you looking for the best NFT description generators?
Perhaps you're working on your very first NFT project and are now struggling with the NFT description that you usually need to add to your collection?
Well, don't worry because we know exactly what you're dealing with and we also understand that a lot of people are desperately looking for an NFT description generator to help them with their writing.
In this guide, you'll learn everything you need to know about NFT description generators, whether they exist at all and what alternatives you have at your disposal.
Let's get started.
Key Points (tl;dr)
NFT descriptions are more than just simple descriptive text about your project. They are also part of your marketing efforts and should be used to compell readers to become potential buyers.
There currently is not a single NFT description generator on the market simply because automatic text generation still is a challenging topic and at the same time an NFT description is simply too short to be worthy of a full-fledged tool.
If you're a founder and writing a simple description text already poses a significant problem for you, then you should seriously reconsider your plans to launch your own project.
Great NFT descriptions use storystellung to evoke emotions and refrain from making false or misleading claims.
For detailed guidance on how to write great NFT descriptions, PLEASE READ THE FULL ARTICLE.
Like this content? Then share it!
The Truth About NFT Description Generators
Here's the answer. Great article by @ChrisHeidorn right here: https://tokenizedhq.com/nft-description-generator/

www.tokenizedhq.com
What is an NFT Description?
An NFT description is usually a piece of short-form text that provides viewers with a quick summary of what your NFT or NFT collection is about. It is very similar to a product description in the sense that it not only serves an informational purpose but can also be part of the overall marketing and branding strategy.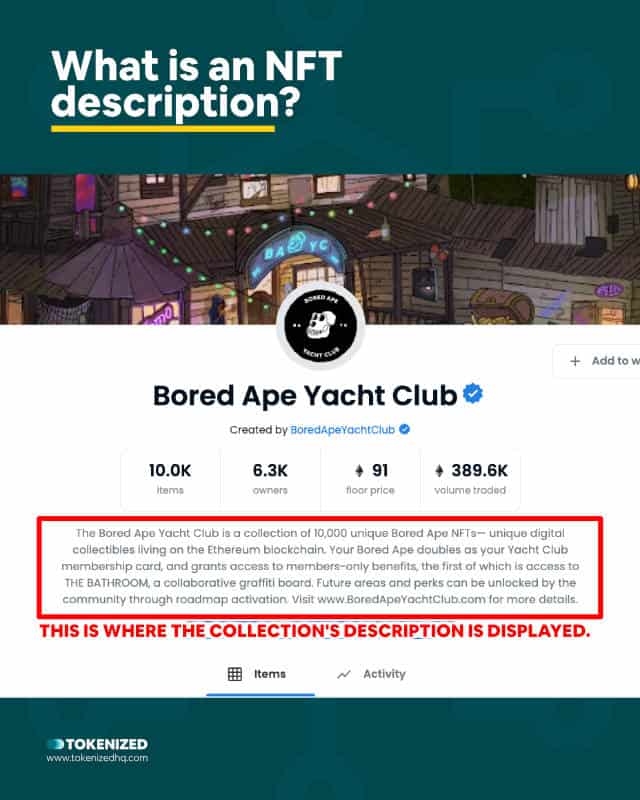 So you've decided that you want to launch your own NFT collection or maybe even a larger NFT project?
Well, believe it or not, even though the majority of your work will go into the artwork, smart contract creation, community building, and marketing efforts, you're still going to have to think about stuff like metadata.
That's right. When you create your NFT collection you will have to provide metadata, such as a title, description, and also lots of information about potential NFT traits.
NFT descriptions are actually a highly visible part of your NFT collection.
Every time someone lands on the collection page on OpenSea or another NFT marketplace, chances are that they will immediately see your NFT description text.
And yes, people do read them!
So, you're going to want to add some engaging text that tells a story about your project and compels the viewer to potentially buy your NFT.
The problem is that most people simply lack the creativity to write engaging stories.
Others are simply too lazy to put any serious effort into anything, so they end up searching for stuff like NFT description generators.
What they are trying to achieve is to outsource the hard labor to a simple tool, just like many people use NFT generators to simplify the workflow of creating hundreds of artwork layers based on an NFT traits list.
That's what NFT description generators are for.
What is the Best NFT Description Generator?
Currently, there are no viable NFT description generators in the market. We are not aware of any specific tools that tackle the challenge of writing an NFT description for you. Therefore, there is no such thing as the "best" NFT description generator. You'll have to write it yourself.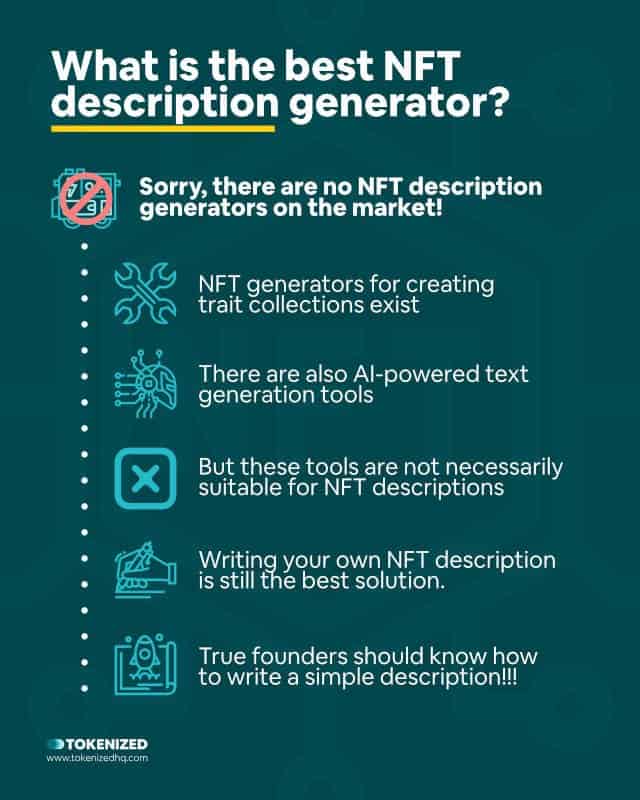 Most people end up on this page because they're looking for the best NFT description generator to take work off their hands.
Well, I'm afraid I have bad news for you.
Despite the fact that many people are obviously looking for such a solution, there is no viable NFT description generator on the market at this time.
Just think about it. A good NFT description requires more than just basic descriptive text about a project.
Considering how many PFP projects are based on strange combinations of animals and creatures with forced alliterations in their names, I can't really think of a reasonable way to generate good descriptions.
Of course, AI-powered text generation and full-blown articles are on the rise.
The AI-model GPT-3 is an extremely powerful language prediction model that already powers many tools that help marketers with their sales copy.
One of the most popular examples of this is Copy.ai, a SaaS tool that helps its users with brainstorming ideas and phrasing marketing and sales copy for various use cases.
There are a number of tools similar to Copy.ai that you may be able to leverage when writing your NFT descriptions.
However, AI still isn't perfect and it might be a bit extreme to use such a powerful tool as a quasi NFT description generator.
I mean, come on, if you want success in this world, you've got to be able to write at least a few paragraphs of text.
Otherwise, I'm afraid you're going to have a tough time in the market.
I prefer to give it to you straight.
How to Write Great NFT Descriptions
A compelling NFT description uses storytelling and colorful language to associate positive emotions with the project. It's also important to avoid making false claims, being too generic, and boring the reader with overly long text.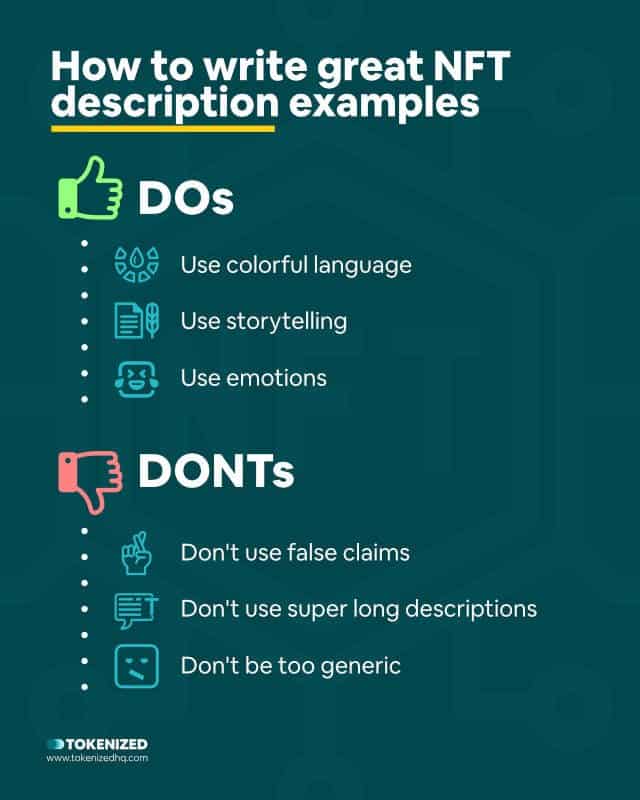 Although there aren't any NFT description generators in the market, it's really not that difficult to write it yourself.
Most people tend to overthink the process of writing an NFT description.
They experience a form of "writer's block" simply because they think they need to be particularly clever.
Yes, NFT descriptions are part of your marketing, but a simple description is still better than no description at all.
Here are some simple guidelines on what should do and what you should avoid.
DOs
Use colorful language
Use storytelling
Use emotions
DONTs
Don't use false claims
Don't use super long descriptions
Don't be too generic
We actually have a really great article here on Tokenized that might help you get started.
Check out our guide on 15 perfect NFT description examples to spark your imagination.
Don't stick to them religiously like a template because every NFT description is different anyway.
Just tell a story about what your project is about and what you aim to achieve.
Conclusion
No one needs an NFT description generator in order to write an engaging paragraph of text.
Using an NFT tool for something as simple as a single description text for your NFT collection says a lot about your ability to execute.
It's neither clever nor necessary to use these cheap shortcuts.
Don't overthink something as mundane as a description text and just start writing something.
You can always come back and change it later.
Here at Tokenized, we want to help you learn as much as possible about the coming NFT revolution. We help you navigate this fascinating new world of non-fungible tokens and show you how you can integrate tokenization into your own business.