Are you looking for some examples of great Midjourney prompts?
Perhaps you recently discovered Midjourney AI and are really keen to play around with it, but don't really know how to craft a good text prompt?
If you've been paying attention to some of the images generated by other people on the Midjourney Discord server, then you've probably seen some strange prompts too.
In this guide, you'll learn exactly how to write effective text-to-image Midjourney prompts that will bring your ideas to life.
Let's dive right in.
Like this content? Then share it!
30+ Beautiful Midjourney Prompts That Will Blow You Away
Here's the answer. Great article by @ChrisHeidorn right here: https://tokenizedhq.com/midjourney-prompts/

www.tokenizedhq.com
Tips for Midjourney Prompts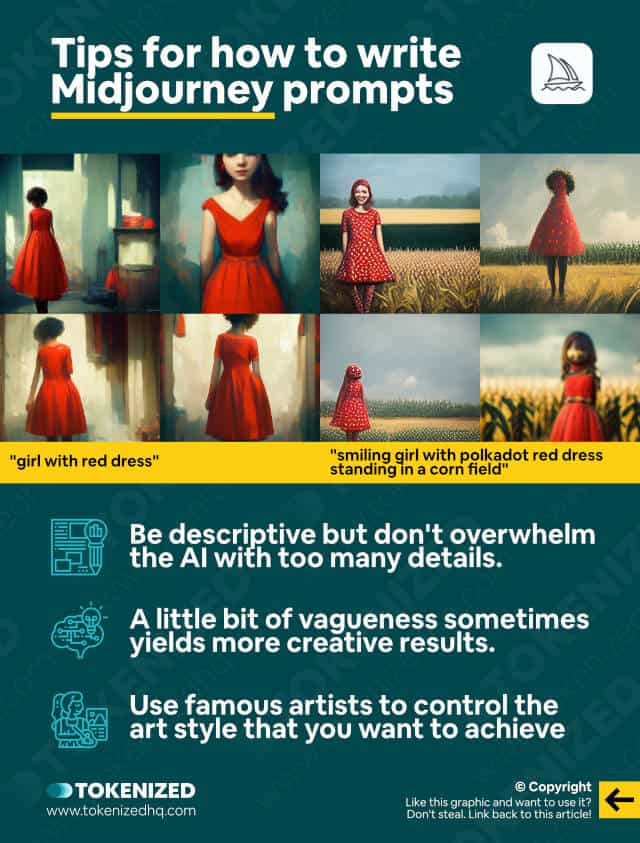 It's fairly easy to get started if you use a guide on how to use Midjourney, such as ours.
However, those who don't necessarily have a vivid imagination will eventually reach a point where they don't know what to do.
Generally speaking, it's a good idea to try to be as descriptive as possible when writing your Midjourney prompts.
For example, rather than just writing "girl with red dress", you could add more adjectives to your Midjourney prompt so that the AI has more to work with:
/imagine smiling girl with polkadot red dress standing in a corn field
Just look at how different the results are.
That being said, too many details can easily overwhelm the system.
So, although the descriptive text is helpful, sometimes it's just better to think of an artistic title.
Speaking of artists, Midjourney's AI also responds to specific keywords that define a certain style.
So, for example, you could ask to imitate the art styles of famous artists such as Vincent van Gogh or Pablo Picasso.
Or, if you're looking for a specific mood, you could use terms such as "cyperpunk", "realism", or "abstract".
There are a number of categories of keywords and terms that will help you generate images of a particular style.
Since there are so many of them, it's usually a good idea for most people to use one of the popular Midjourney prompt builders to craft a nice prompt.
We take a closer look at these categories and provide you with inspiration in our list of Midjourney prompts.
Key Points (tl;dr)
If you want to get the most out of Midjourney's awesome AI, you need to understand how to properly craft Midjourney prompts that give you what you want.
Text prompts that provide little to work with might provide some surprising results that are great for inspiration. However, if you want to create something specific, you'll need to be a lot more descriptive.
Some of the most common Midjourney prompts fall into 7 rough categories:

Well-defined objects
Storytelling titles
Architecture
Style adjectives
Famous art styles
Compositions
Technical terms
List of Common Midjourney Prompts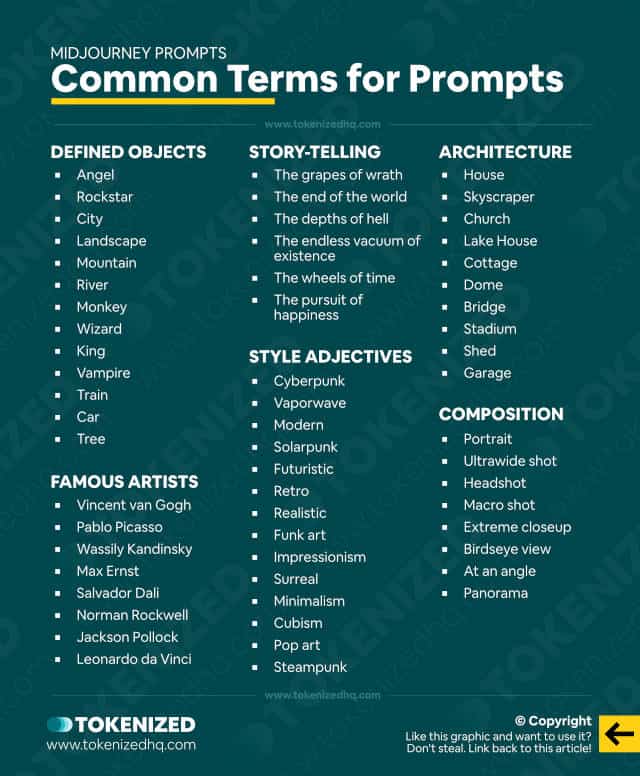 Obviously, this list of Midjourney prompts isn't exhaustive and it's not meant to be.
However, it serves as a good starting point if you're not entirely sure what to do.
We've grouped these terms into clearly defined categories that will help you structure your next Midjourney prompts.
If you want to know which terms get used the most in Midjourney prompts, check out our article on Midjourney statistics for a detailed chart.
Well-Defined Objects
Angel
Rockstar
City
Landscape
Mountain
River
Monkey
Wizard
King
Vampire
Train
Car
Tree
Storytelling Titles
The grapes of wrath
The end of the world
The depths of hell
The endless vacuum of existence
The wheels of time
The pursuit of happiness
Architecture
House
Skyscraper
Church
Lake House
Cottage
Dome
Bridge
Stadium
Shed
Garage
Style Adjectives
Example: a pop art monkey
Cyberpunk
Vaporwave
Modern
Solarpunk
Futuristic
Retro
Realistic
Funk art
Impressionism
Surreal
Minimalism
Cubism
Pop art
Steampunk
Famous Artist Styles
Example: Barack Obama by Vincent van Gogh
Vincent van Gogh
Pablo Picasso
Wassily Kandinsky
Max Ernst
Salvador Dali
Norman Rockwell
Jackson Pollock
Leonardo da Vinci
Composition
Example: Portrait of Queen Elizabeth
Portrait
Ultrawide shot
Headshot
Macro shot
Extreme closeup
Birdseye view
At an angle
Panorama
Technical Terms
Unreal Engine
Ray Tracing
VRay
4k
HD
Octane Render
Cinematic Lighting
Dramatic Lighting
30+ Examples of Midjourney Prompts (Text-to-Image)
We've collected a list of some Midjourney prompts that generate beautiful artwork.
You can use these as a starting point or try to determine which terms played an important role in getting to the image.
That way you can extract certain words and apply them to your own Midjourney renderings.
You can also use a Midjourney prompt generator to make building awesome prompts even easier.
Once again, we've grouped them into categories for you.
Animals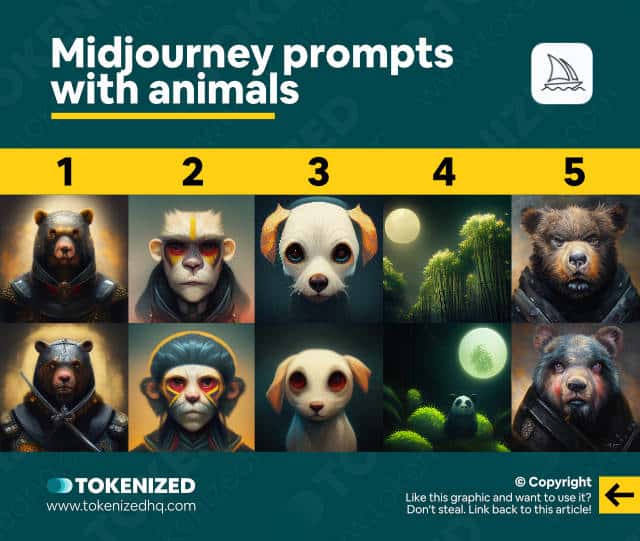 1. fantasy character, armored bear with big sword, portrait, Ultra realistic, 4k
2. warrior monkey with human face
3. dog
4. Pandas eat bamboo under the moonlight, the moonlight passes through the bamboo forest, Fireflies, CG, 8k
5. portrait of a weaponed fantasy bear with skars, hyper realistic --stylize 20000
People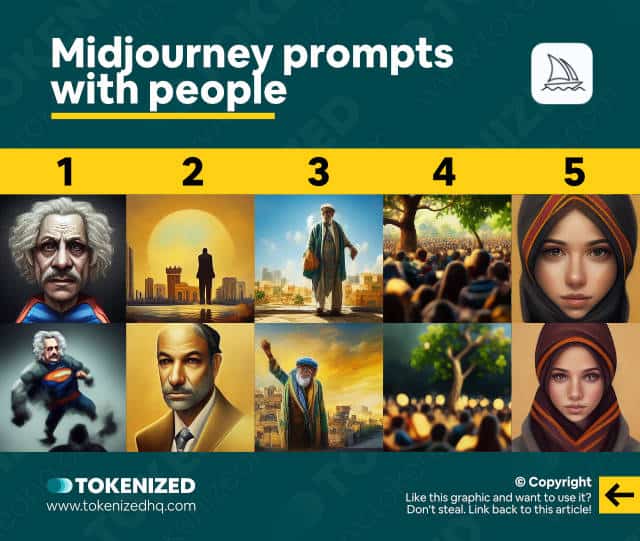 1. superman fighting albert einstein realistic
2. Picture of a rich man in the city of Babylon the richest man in the city
3. Picture of an old and rich Arab man in the city of Babylon, around him people are cheering for him
4. Thousands of people sitting around a tree and playing guitar, happiness, ultra realistic, 4k
5. Arabic girl face hijab brown eyes photorealistic
Objects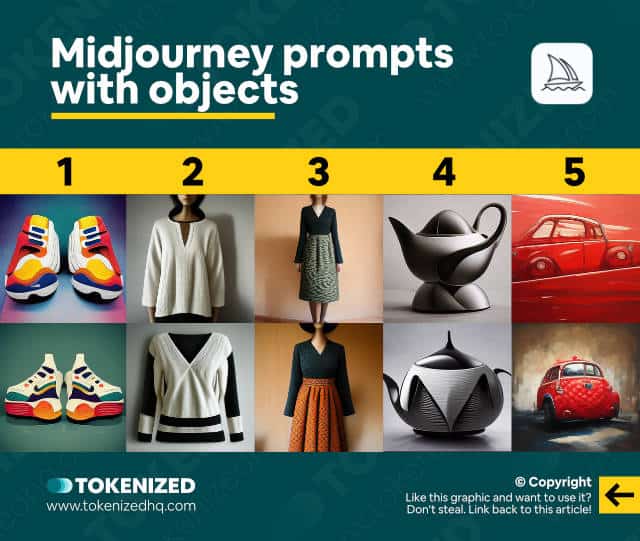 1. the most beautiful pair of sneakers in the 90's
2. women sweater,asymmetrical,wool,chic,white
3. wool dress,tie neck, midi skirt, animal pattern
4. surrealism teapot, parametric architecture Style in shapes, designed by Martin Rico
5. a fabulous big new red French ca
Architecture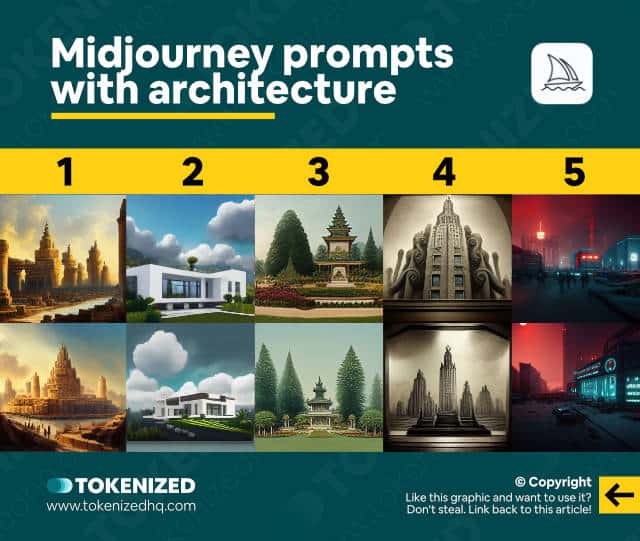 For even more stunning Midjourney architecture examples, check out our collection of over 50 prompts, categorized by type of structure.
1. The rich ancient city of Babylon
2. Modern villa with stunning views, gray villa with partly cloudy sky, and a beautiful luxurious garden, picture size 9:16
3. The Southeast Asian garden surrounded by the palace has a statue of King Jinpeng in the middle, flowers, trees and swings. Topographic relief
4. a new york building decorated with lovecraftian art deco statues, photorealistic
5. cyberpunk soviet union, unreal engine
Landscape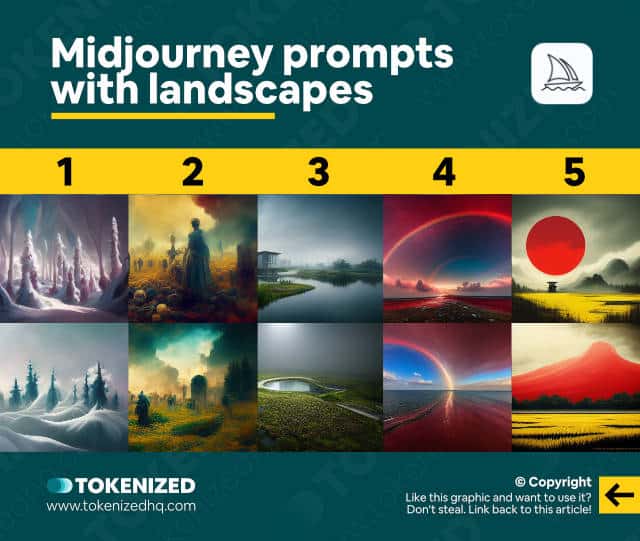 1. otherworldly snow forest
2. the dead rise from the graves, renaissance style painting, hypermaximalist, hyperdetailed, watercolor, octane, post-production, dramatic scenario in an epic style, dynamic composition, golden ratio, dramatic light, beautiful, filmic, wide angle lens, landscape photo, haunting visuals, terror, --ar 5:3
3. national wetland park, landscape architecture at the front, Valerio Olgiati, Peter Zumthor, small fish ponds, city at the back, landscape design, national geographic photography, foggy, ultra detailed, sharp focus, dramatic lights, photorealistic, lumion, 8k --ar 16:9
4. Rainbow sky, red crystal sea, real shooting, real, realistic, 8K, super wide angle, panorama, 3D, ultra-high definition, high pixel, landscape photography, Mark Adams
5. purified, large japanese landscape, monster, katana, red, yellow
Fantastical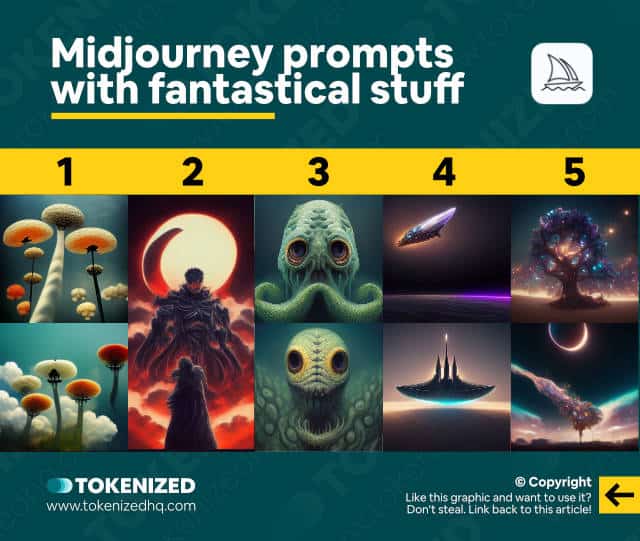 1. fungi, aquarium, in the sky, surreal, birds perched on fungi, spring time
2. berserk eclipse, 1990s anime style, godhand, behelit, --ar 9:18
3. The face of a sea monster. The upper part of the human body, the lower part of the tentacle, Stand and look down
4. space ship, shaver shape, galaxy, futuristic, neo-gothic, unreal engine
5. A cosmic tree of galaxies and nebulae, cosmic, intricate detail, cinematic, 3d, surreal photo, cg digital rendering, featured on artstation, unreal engine, by studio ghibli
Frequently Asked Questions (FAQ)
Before we close off this guide, let's quickly address some of the most common questions related to crafting Midjourney prompts.
How do I try Midjourney AI?

You can try out Midjourney AI by simply joining the official Midjourney Discord server. Once there, you can create your very first AI-generated image by using the /imagine command and entering a text prompt. This will automatically start your trial of 25 jobs.

How do I use image prompts in Midjourney?

In Midjourney, image prompts are placed right after the /imagine command and before the text prompt. You can use one more URL of images on the internet as your image prompt. Furthermore, by using the image weight parameter (--iw) you can control how much emphasis should be put on the image as opposed to the text prompt.

How can I use Midjourney for free?

Anyone can start a free trial of Midjourney by simply joining the official Midjourney Discord and entering the /imagine command. Once your 25 trial jobs are used up, you can either use a trick to use Midjourney free of charge for another 25 jobs or you can subscribe to a paid membership plan.
Conclusion
As you can clearly see, crafting good Midjourney prompts isn't as easy as one might guess.
Although it's fairly simple to create something that generally looks good, it's a lot more difficult once you want to exert more control over the outcome.
Perhaps some of the examples above will serve as inspiration for your own Midjourney experiments.
Here at Tokenized, we want to help you learn as much as possible about the AI software industry. We help you navigate the world of tech and the digitalization of our society at large, including the tokenization of assets and services.