Are you looking for the best Midjourney prompt generators?
Perhaps you've started playing around with Midjourney and even consulted some of the command cheat sheets on the web but still find it difficult to structure your prompts?
Well, you're not alone and many users are looking for some guidance on how to craft prompts that will generate the type of images that they are looking for.
In this guide, we'll introduce you to 5 of the very best Midjourney prompt builders and generators on the web.
Let's dive right in.
Like this content? Then share it!
The Top 5 Midjourney Prompt Generators & Builders
Here's the answer. Great article by @ChrisHeidorn right here: https://tokenizedhq.com/midjourney-prompt-generator/

www.tokenizedhq.com
What Are AI Prompt Generators & Prompt Builders?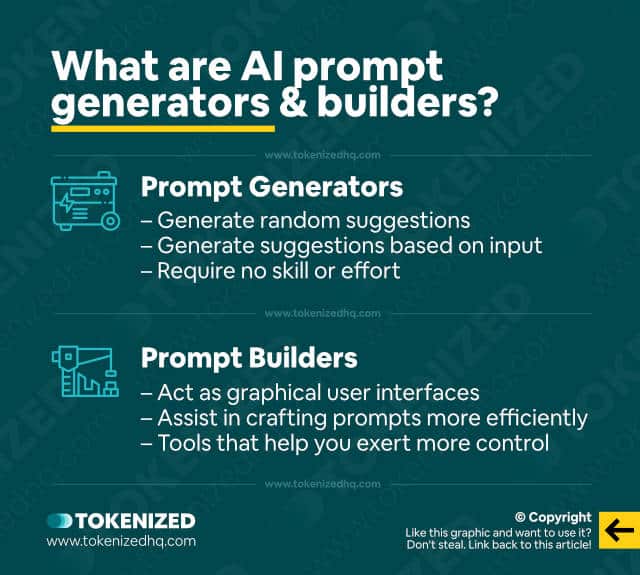 If you've already used one of the many popular AI art generation tools such as Midjourney or DALL-E 2 then you're already familiar with what a text prompt is.
For those that aren't, a text prompt is essentially a description of what you want the AI to create.
It will usually contain words that describe well-defined objects and elements of scenery, but also other inputs such as lighting or art styles.
The shorter your prompt is, the more you leave things up to the AI itself and that might generate quite surprising results.
If you want more control over the final image, you must add a lot more detailed instructions.
However, for many people, the process of writing elaborate Midjourney prompts feels rather overwhelming.
That's where prompt builders and generators come into play.
Prompt Generators
A Midjourney prompt generator is normally used to provide inspiration for those who lack imagination.
You'd be surprised how many people struggle with even the simplest tasks that require a minuscule amount of imagination.
A prompt generator will either generate a completely random text prompt idea or use a text AI tool to suggest a number of different prompts based on keywords that you've entered.
So, for example, if you want to create something that involves elephants, a jungle, and a dangerous situation, you'd even the keywords "elephant jungle danger".
The Midjourney prompt generator will then suggest a number of different text prompts that you can use.
Prompt Builders
Prompt builders are slightly different because they cater to those who have a very clear idea of what they want but do not know which commands they need to use.
Although in this article we primarily talk about Midjourney prompt builders, many of the tools we list here actually cover other AI art generators as well (e.g. DALL-E 2, Stable Diffusion, etc).
Using a prompt builder feels a little bit like using a "setup wizard" because it walks you through various elements step by step.
At each step you can choose from a wide array of options and each option is usually represented by a sample image.
This way it's considerably easier for you to control what the final image will look like without having to have a cheat sheet with Midjourney commands ready all the time.
Key Points (tl;dr)
It's important to differentiate between prompt builders and prompt generators. The former acts like a graphical user interface that helps you create the right commands. The latter generates a random text prompt for you.
We've taken a closer look at the top 5 prompt generators for Midjourney:

promptoMANIA
Phraser
Noonshot
Midjourney Random Commands Generator
DrawingPrompt + Midjourney Prompt Generator
The Top 5 Midjourney Prompt Generators
We've selected the following 5 Midjourney prompt generators based on their popularity and especially their ease of use.
In the end, your preferred choice will mainly depend on the type of user interface you generally like to use.
Anyway, let's take a closer look at each one of these Midjourney prompt generators and builders.
1. promptoMANIA Prompt Builder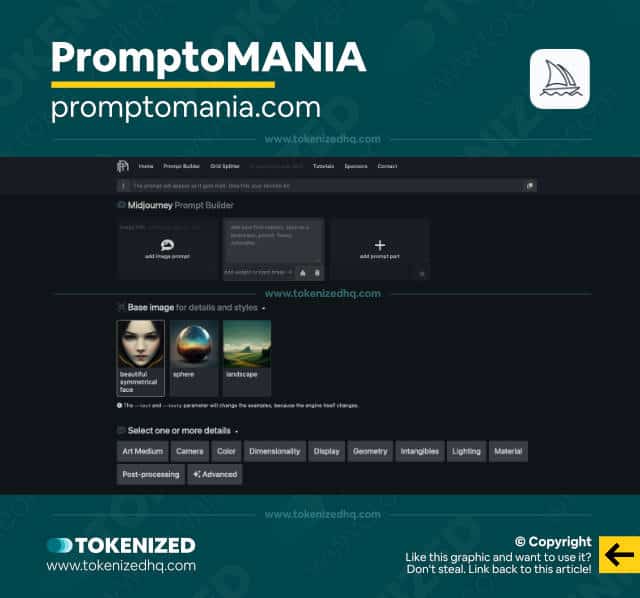 The promptoMANIA text prompt builder covers a wide range of AI art generators, not just Midjourney.
It starts off why asking you which model you would like to use and then walks you through various steps of the process.
Although you still have to enter your own initial text prompt, the remainder of the prompt is built by simple clicks of a button and changing settings via an interface.
Whenever you need to decide between styles or other options, it provides you with visual queues on how it will impact the final image.
Features include:
Support for Midjourney, DALL-E 2, Stable Diffusion, and more
Point-and-Click user interface
Visual queues to assist in decisions
Artist style selection
Simplified parameter construction
Image sizing
2. Phraser Prompt Generator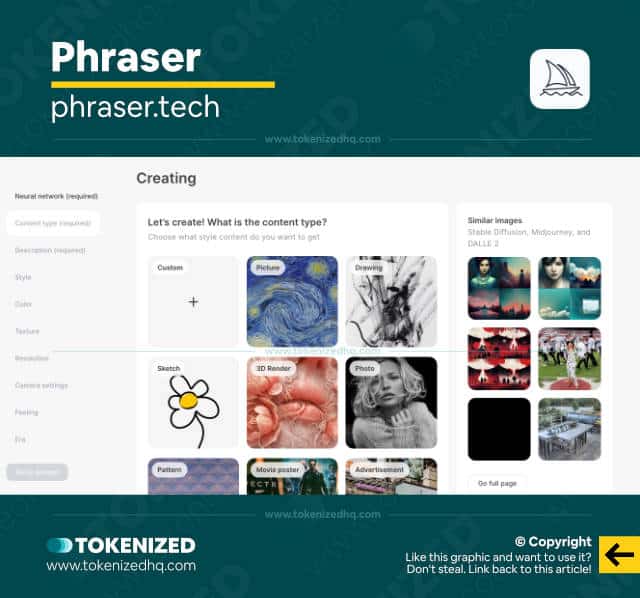 Phraser uses a similar approach by essentially walking you through various elements of a prompt, including content type, style, color, texture, and more.
As to proceed to the wizard-like user interface you are presented with similar images that fit the decisions you've made so far.
Nearly every choice you make is supported by visual examples of what the outcome might look like.
The process is a lot more prescriptive than with promptMANIA and unfortunately, you need to register in order to see the final text prompt.
Features include:
Support for Midjourney, Disco Diffusion, Stable Diffusion, and more
Wizard-like crafting process
Visual queues assisting choice
More prescriptive with less control over parameters
3. Noonshot Prompt Builder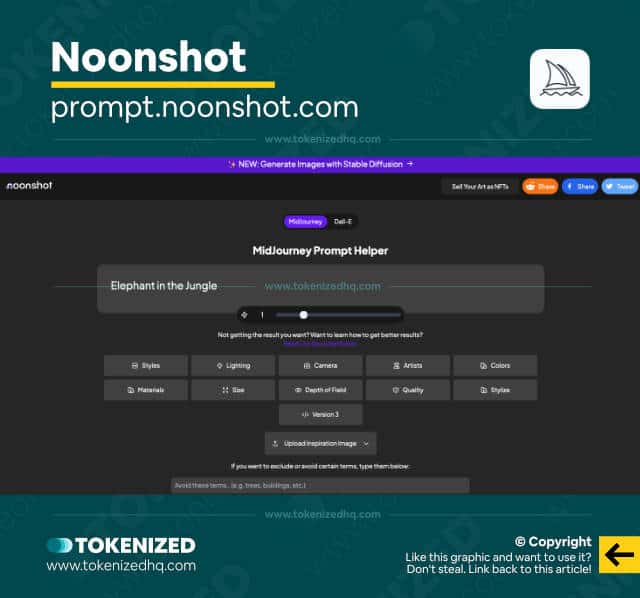 Next on our list is Noonshot which doesn't waste time and gets straight to the point.
The interface is very intuitive and starts off by asking you for your initial idea.
After that, you can choose from various elements that you'd like to influence and select from a wide array of suggested options.
Having a basic understanding of how Midjourney prompts work is helpful because not all of the settings are immediately obvious.
Features include:
Support for Midjourney, DALL-E, and Stable Diffusion
Simple and intuitive interface
Lots of settings and options
Very quick process
Doesn't require registration
4. Midjourney Random Commands Generator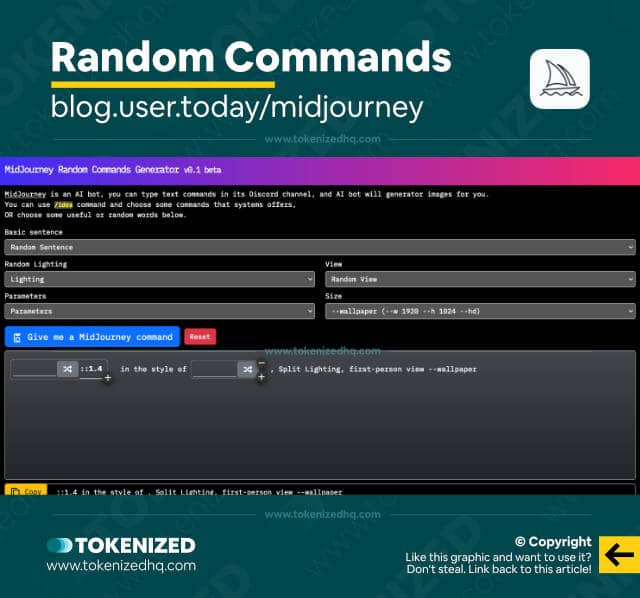 Next up is the Midjourney Random Commands Generator, but it's actually a lot more like a prompt builder.
You start off by selecting a basic sentence structure with placeholders and then proceed with options on lighting, views, parameters, and sizes.
The idea is to provide you with some structure on how prompts are usually crafted but it's relatively limited in freedom.
5. DrawingPrompt + Midjourney Prompt Generator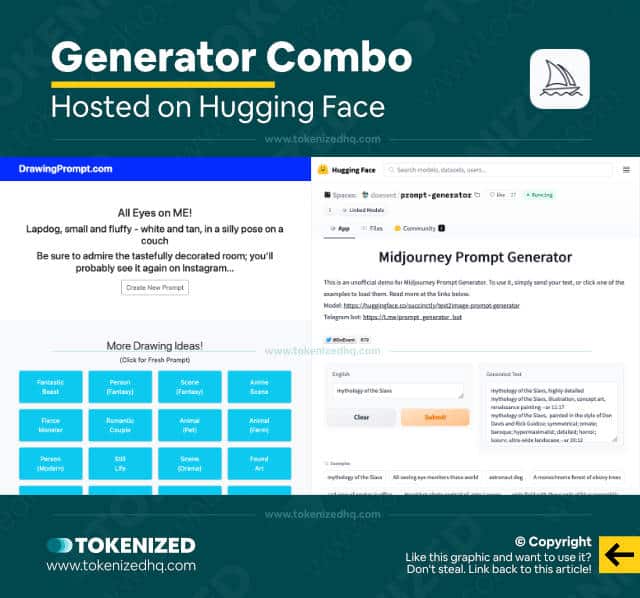 The final spot on our list doesn't go to a single tool but rather a combination of 2 tools.
DrawingPrompt is a tool that simply generates random text prompt ideas based on an initial topic.
You have 24 different topics to choose from and every time you click a button, it will generate a new text that you can use as a prompt.
However, these text prompts are not optimized for Midjourney.
So what you can do is take the text and paste it into the Midjourney Prompt Generator on Hugging Face and let it will turn your phrase into various text prompt ideas for Midjourney.
Granted, it's not exactly the best option out there but definitely worth trying out if you're lazy.
Frequently Asked Questions (FAQ)
Before we close off this guide, let's quickly address some of the most common questions related to Midjourney prompt generators.
Are Midjourney Prompt Generators free?

Based on everything we've seen, it looks like nearly all text prompt generators and builders are currently free. However, we wouldn't be surprised with someone created a vastly superior product that users were willing to pay for.

Where can I purchase professional text prompts for AI generators?

PromptBase has built the world's first marketplace for text prompts. It currently lists text prompts for Midjourney, DALL-E, GPT-3, and Stable Diffusion. Most prompt packages start at $1.99.
Conclusion
The irony of AI art generators is that even though they allow people with absolutely no drawing or painting skills to create beautiful pieces of art, writing excellent text prompts has essentially become an art in itself.
Some of the Midjourney prompt generators in this article make the process of crafting text prompts a lot easier and accessible to others.
We wouldn't be surprised if this opens up an entirely new line of jobs and software over the coming years.
Here at Tokenized, we want to help you learn as much as possible about the AI software industry. We help you navigate the world of tech and the digitalization of our society at large, including the tokenization of assets and services.