Are you looking for some good Midjourney architecture examples?
If you're an architect or interested in architecture, then without a doubt you've probably heard some of the stories about how your colleagues are using Midjourney to create concept art.
And most likely, you're curious to find out what all the fuss is about and whether Midjourney really is a viable tool that you can use in your current workflow.
In this guide, we'll show you some of the most mind-boggling examples of Midjourney architecture so that you'll finally understand why AI art is a game-changer.
Let's dive right in.

Like this content? Then share it!
50+ Mind-Blowing Midjourney Architecture Examples
Here's the answer. Great article by @ChrisHeidorn right here: https://tokenizedhq.com/midjourney-architecture-examples/

www.tokenizedhq.com
50+ Stunning Midjourney Architecture Examples
This probably isn't the first article that you've come across while searching for some good Midjourney architecture examples.
But unlike many of the other articles, that just string together a random list of beautiful images, we're going to add some reasonable structure to our post.
Rather than just put up a bunch of images for display, we've decided to collect images for some of the most common types of structures known to man.
In this article, we cover the following buildings and structures:
Towers
Bridges
Curches
Temples
Parks
Marketplaces
Town Halls
Castles
Mansions
Residential
For each and every one of those categories, we've generated our own set of Midjourney architecture examples.
And guess what, we even share the prompts that were used to create the images, so that you can try to reproduce them yourself.
So let's dive into the fabulous world of Midjourney architecture examples.
Key Points (tl;dr)
The Midjourney architecture examples will help stimulate your creativity and give you a good idea of what AI is capable of.
Make sure you take a closer look at some of the prompts. This will help you learn how to reproduce similar images in your own prompts.
Most of the examples below were created using version 3 of the Midjourney algorithm. Try re-creating them with Midjourney v4 and watch your jaw drop in awe.
Towers
The following examples contain classic towers but also numerous types of skyscrapers.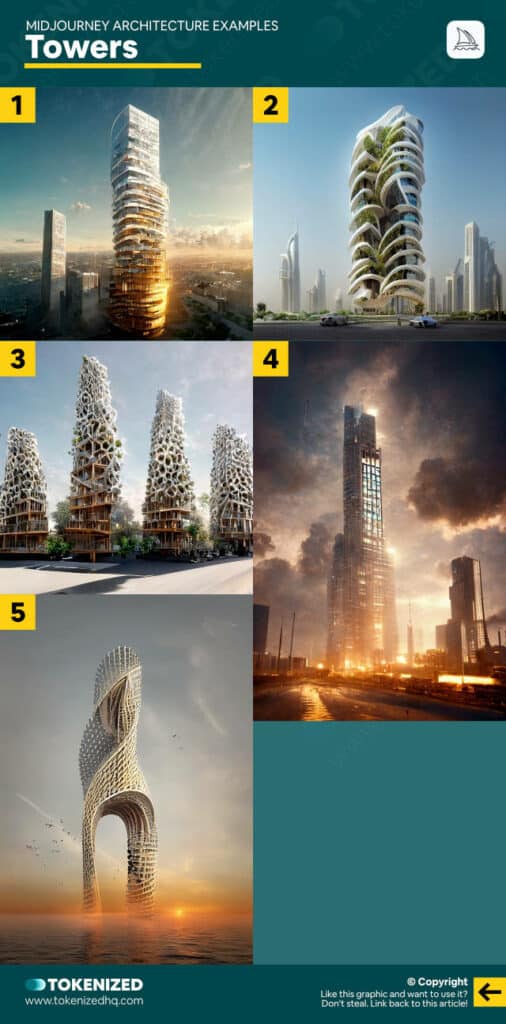 1. Twisted Skyscraper
Created by: @rahdon113
/imagine skyscraper with a twist and with metallic curvilinear sunshades. Future architecture. Sunny atmosphere. Ultra detailed architectural visualization, vray
2. Mixed-Use High-Rise
Created by: @gurkanguney
/imagine Dubai high-rise mixed-use building with curved double-skin glass facade in the use of folded thresholds, wrapped atmospheres, spatial fluidity, ethereal materiality, cold form glass, and large terraces in Gokhan Avcioglu and GAD Architecture style, regenerative ecosystems, exoskeleton, outdoor green areas, baubotanik, photorealistic, 8k, highly detailed ultra-realistic wide-angle Octane render
3. Radiolaria Tower
Created by: kiryaka
/imagine radiolaria framework scaffolding is support for multistory building with hanging gardens balconies growing out of bedrock laminated wood material towers in the background volumetric light sunlight hdri
4. Dystopian Skyskraper
Created by: @markusnowakowski
/imagine skynet large building skyscraper in the future, machines controlling the planet, unreal engine, drone shot, photorealistic, city, hdr, dirty Train, scary, dark light, blade runner, dramatic, cinematic lighting, extremely detailed, ultra-realistic, cinematic lighting, uhd, 3d, octane render, cinematic, style of ArtStation, raytracing, very detailed, 8k, unreal engine,
5. Parametric Sea Tower
Created by: @rantonelli
/imagine parametric architecture/organic structure/two towers/flying lifts/skyscraper/organics srtructures/in the sea/sunset/fog
Bridges
Bridges are not a common theme among many AI artists, which is why you won't find many Midjourney architecture examples for such structures.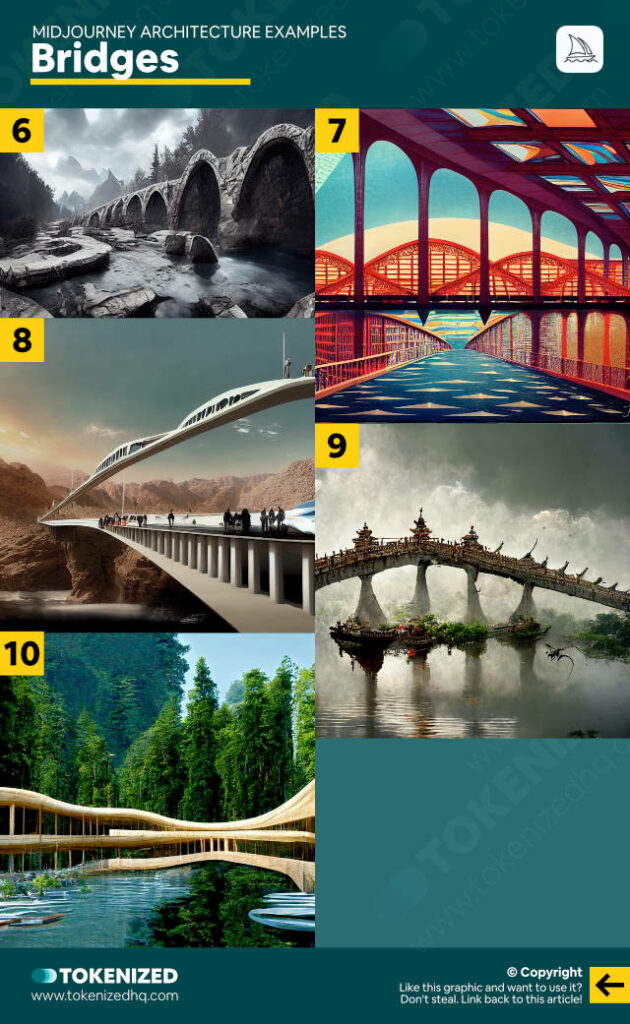 6. Medieval Bridge
Created by: @Mike
/imagine stone bridge over ravine, Skyrim, medieval, vfx, sfx, landscape, epic composition
7. Abstract Bridge Concept
Created by: @Ivan
/imagine 10 overlapping bridges, indoors, 3-D architecture, abstract-detailed-background, photo-realistic, background, unique pattern, cinematic, escher
8. Middle-Eastern Desert Bridge
Created by: @altoby
/imagine wadi in the middleast in the future with lifeguards, bridges, very futuristic, very detailed, 4k
9. Dragon Bridge
Created by: @hoang
/imagine Dragon Bridge Vietnam, a real dragon flies above, complex details, very realistic
10. Wood-Creek Bridge
Created by: @panasonic
/imagine view from the water of a creek of a complex architecture galaxy soho zaha hadid project made in wood on a mountain creek shore, photorealistic, octane, architecture visualization, pine trees, suspended gardens, lush vegetation, suspended bridges with gardens, bicycle lane, swimming pool in the river, parametric architecture, Jean-Marie Tjibaou Cultural Center by Renzo Piano
Churches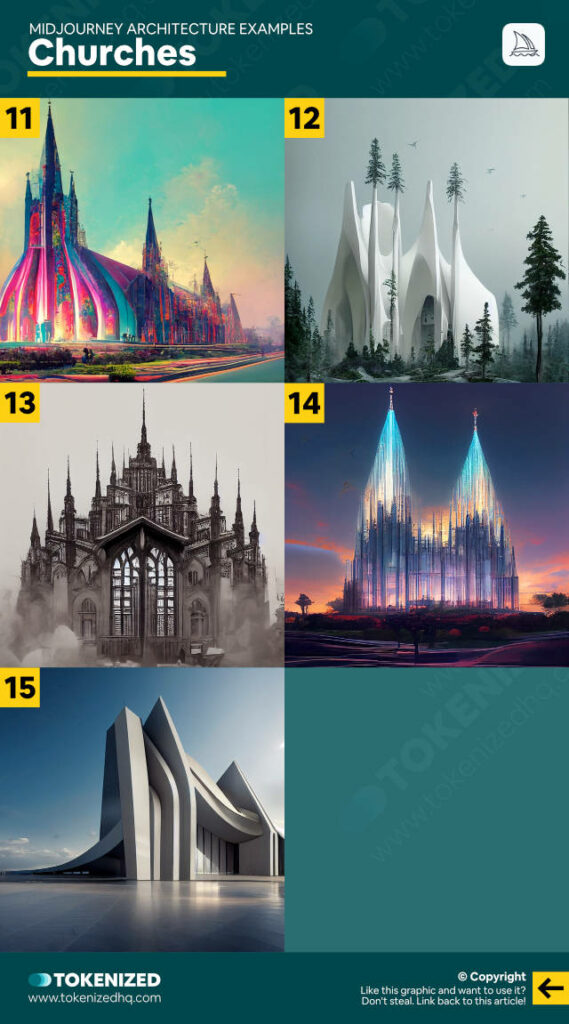 Churches are among some of the most common Midjourney architecture examples, simply because they are an excellent way to showcase different styles.
11. Rainbow Cathedral
Created by: @wilhelmine
/imagine victorian cathedral, oversized, solarpunk, dreamlike, colorful detailed
12. The White Church
Created by: @Maximus13
/imagine white futuristic temples extending above a dense forest
13. Gothic-Modern Church
Created by: @Nikinom
/imagine gothic architecture with modern touches
14. Crystal Church
Created by: @ObrazkiDlaLudu
/imagine living crystal cathedral
15. The Church of Hadid
Created by: @ivoAmbrosi
/imagine 3 buildings designed by Zaha Hadid Architects are dancing toghter, hyper realistic cinematic dramatic atmosphere ultra detailed
Temples
Technically, temples fall into the same category as churches.
However, due to their distinct style, we created a separate collection of Midjourney architecture examples for them.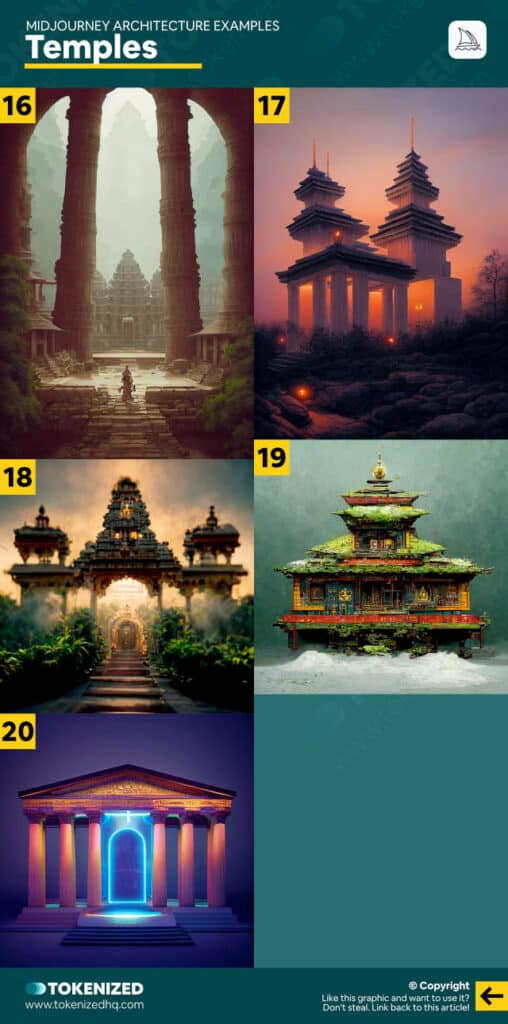 16. Uncharted Worlds
Created by: @Zenitsuhiro
/imagine Pondicherry temple, old tamil warriors, river pathway, Lara Croft environment, steam punk environments, studio ghibli style
17. Temple 3000
Created by: @TomBoon
/imagine The Temple of Little Lights at dusk
18. Tibetan Temple
Created by: @seamonkey
/imagine tibetan temple mixed with frog
19. Mysterious Jungle Temple
Created by: @rohan_kk
/imagine the entrance of Shambhala, ornate, beautiful, indian temple, intricate, lush, nature, low angle, 4k, photorealistic, detailed
20. Agora of the Future
Created by: @Wandereule
/imagine front view of an greek temple with blue glow inside, with translucent plastic skin, holographic augmentation, machine symbiosis, marble, octane render, high contrast, detailed and intricate, hypermaximalist, hyper realistic, super detailed, soft studio lighting
Parks
You won't find many sites that list parks among their Midjourney architecture examples.
This is a pity because some of the most exciting concepts coming out of AI art are highly relevant to city planning.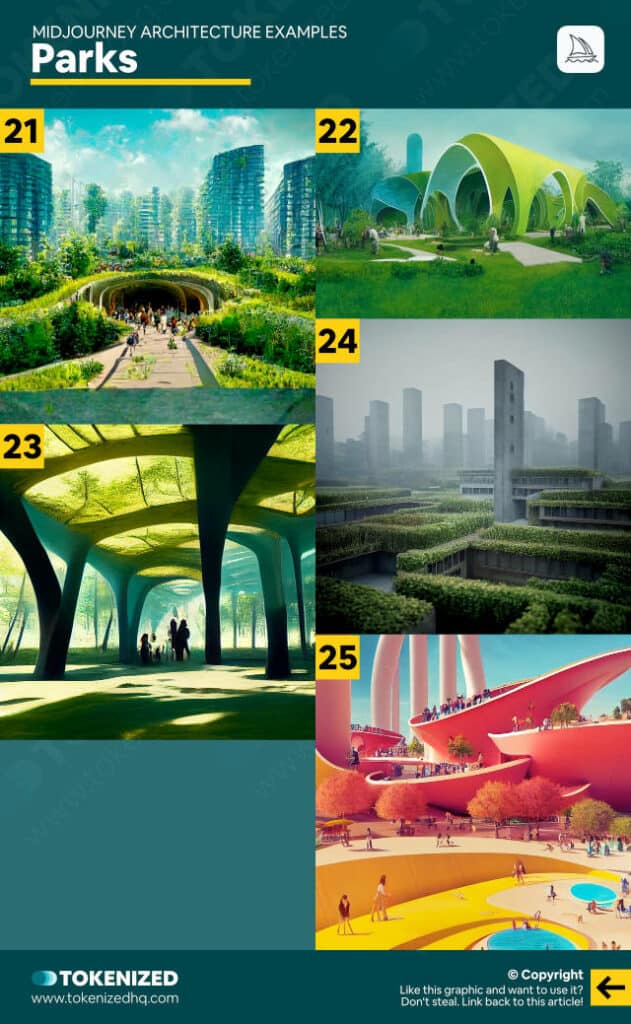 21. Harmony Park
Created by: @laflaka
/imagine underground forest with croud of people enjoying a sunny day on vacation having a good time optimistic place utopic city designed by norman foster cinematic shot bright future smart city, people eating, food trucks, flying kites, sunny day, fresh green gardens
22. The Green Society Park
Created by: @connydor
/imagine grandious soft architecture for a collective solarpunk society, bushy greens, people helping in the garden, positive colours, in the syle of peter cook
23. Underwood Park
Created by: @laflaka
/imagine underground forest with people enjoying a sunny day optimistic place utopic city designed by norman foster cinematic shot
24. Parks of Brutalism
Created by: @chromadroid
/imagine ephemeral brutalist design, ronchamp, octane render 8k, realistic, foggy day, scattered rooftop trees and plants
25. The Aqua-Park
Created by: @AzatSary
/imagine 20 hectares of futuristic aquapark with modern architecture, designed by zaha hadid and bjarke ingels, surrounded with cafes and restaurants, sunny, happy kids enjoying waterscapes, smiles, colorful shapes, 8k, ultra realistic, cinematic
Marketplaces
Whether it's a market, a department store, or a town square where people connect, Midjourney is capable of producing fascinating new ideas.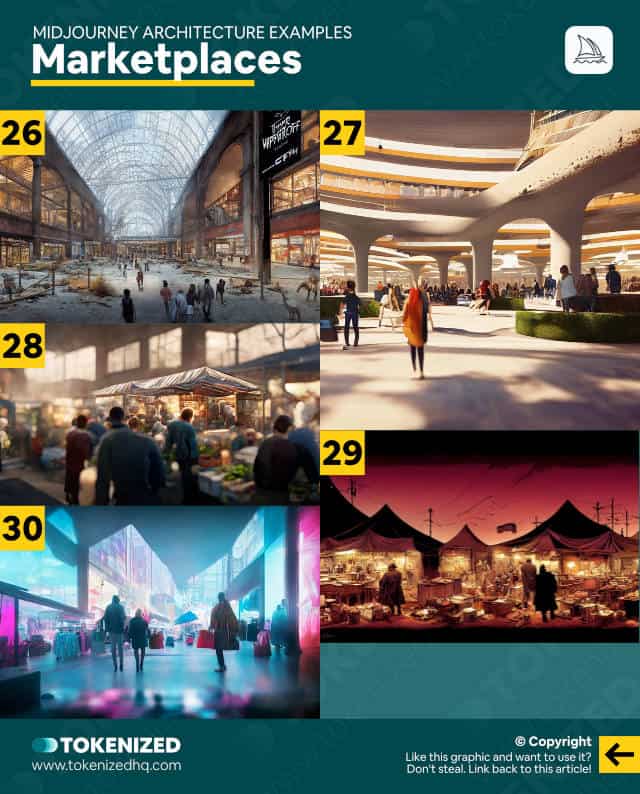 26. Fallout Market
Created by: @Superfer
/imagine Hyper-realistic inside the CF Toronto Eaton Centre with loft forest ruins over the abandoned stores, wild animals walking, looking north in perspective from queen street location in the mall, abandonment of time is noticeable, key visual by Jacek Yerka, background art
27. Future Markets
Created by: @treis
/imagine city of the future, sustainable, people walking, shops, domes, vegetation, concrete, hyper-realistic, volumetric lighting, very high detail, 8k render, denoise, atmospheric
28. Classic Market
Created by: @alienhead
/imagine an outside market with some people ,realistic ,detailed ,daytime ,cinematic, 4k
29. Roman Flea Market
Created by: @x1uo3yd
/imagine an ancient roman flea market in the night. Artistic. illustrated by Frank Miller in the style of "The Punisher".
30. Cyberpunk Market
Created by: @ELMAX
/imagine street scene of people shopping in a huge metaverse city, symmetric, futuristic fashion shop, neon data, glass, clouds, daylight, by Benjamin Lindberg, octane rendering, hyper realistic, photoreal, hyper realism, ultra detailed, octane render, realistic cinematic lighting, golden ratio, artstation
Town Halls
We had a bit of trouble finding suitable Midjourney architecture examples for town halls.
Town halls aren't a particularly popular subject and they tend to fall into similar categories as office buildings.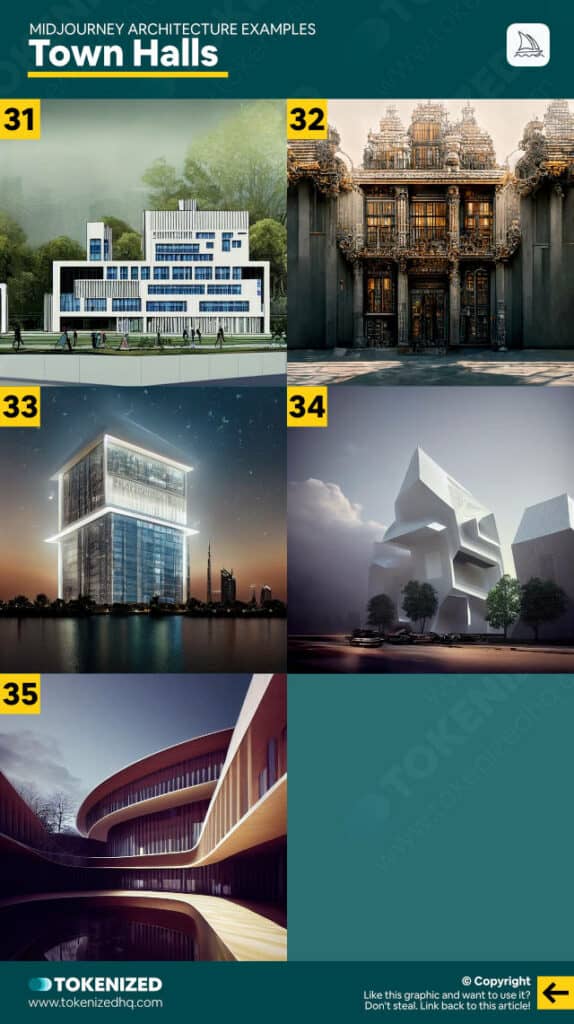 31. Town Hall 2000
Created by: @Dylanmoyano
/imagine a modern high tech college campus engineering building
32. French Style Town-Hall
Created by: @benjaminboyaval
/imagine an incredible, and sublime very detailed facade of an old building with neo classic intricate architecture big tall zinc roofing, deronneries, intricate sculptures and decors, elevation, complexity, Octane Render, Vray, Ray tracing, 8K
33. Town Hall of Lights
Created by: @Shahenda
/imagine the beauty of Aventgarde office in Dubai at night in Dubai Design District hanging in the sky around the skyscrapers in the night and there is lighting surreal source in the mystrey ocean
34. Bureaucracy of the Future
Created by: @KosŠimon
/imagine Jean Nouveau designed a cool residential block inspired by the 2001: A Space Odyssey in an delirium session with Bjarke Ingels, they have put a lot of hard surface modelling onto a cumulonimbus and they felt this foggy render with atmospheric volumetric morning lighting is the best.
35. Town Office
Created by: @rsiii_design
/imagine amazing tiered architecture with roof ponds and dense greenery integrated into the facade located in rural England in the style of Neri Oxman and Ricardo Bofill.
Castles
Given that Midjourney is extremely popular among fantasy nerds, it's no surprise that many of our Midjourney architecture examples for castles look like they were taken from Lord of the Rings.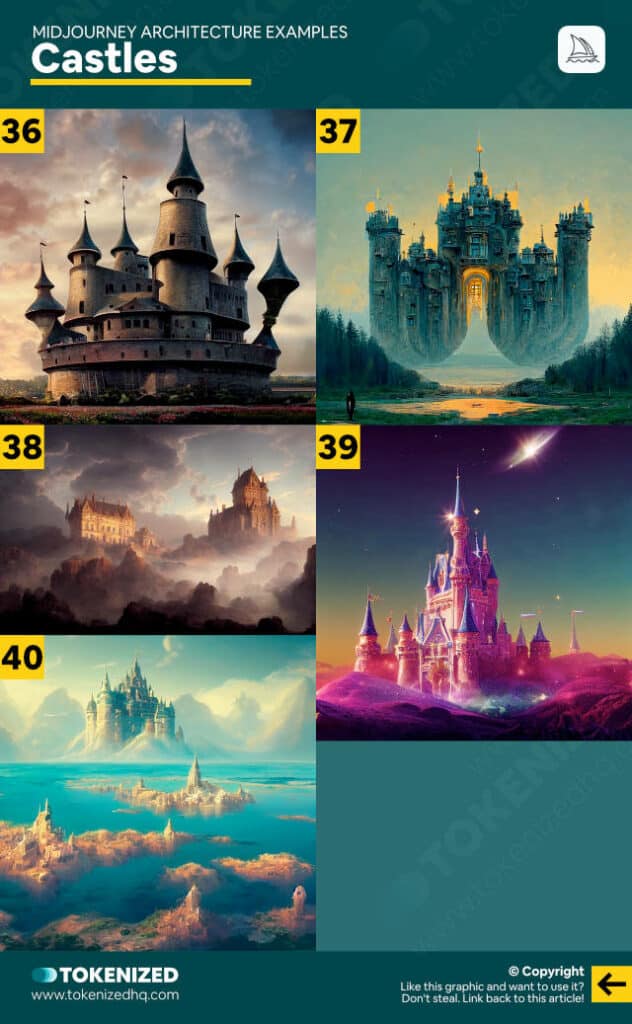 36. Pixar Castle
Created by: @Arcontis
/imagine huge castle made of steel with a huge crown on its top, pixar style, photo
37. Castle of Symmetry
Created by: @lujiabin
/imagine symmetrical castle
38. The Castle of the Clouds
Created by: @Smauffle
/imagine magnificent ultra, hyper realistic landscape with a white marble castle paited by Rembrandt, volumetric lighting, gorgeous soft clouds, evening dusk, 8k
39. The Realm of Glitter
Created by: @staypuft
/imagine glitter princess castle colorful galaxy sky with the planet saturn photorealistic unreal engine hyper detail octane render dynamic lighting
40. Kingdom of the Outer Worlds
Created by: @Infinia
/imagine floating islands with a castle in the sky, cinematic
Mansions
We're huge fans of trying to come up with beautiful ideas for mansions that blend into their surroundings.
These Midjourney architecture examples do a pretty good job of that.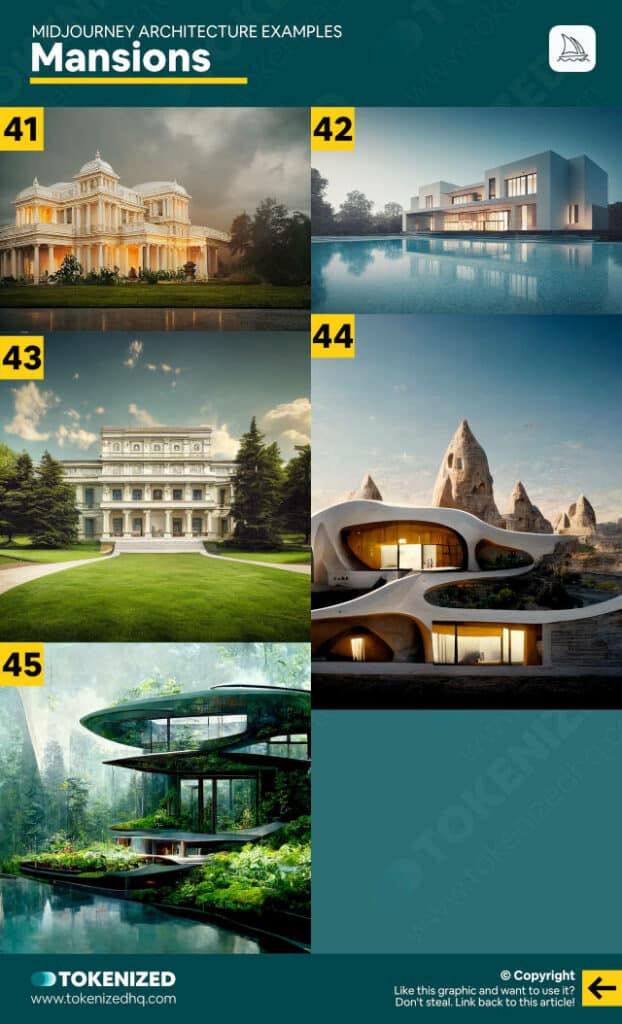 41. Country Palace
Created by: @gor_gon_zola
/imagine palace exterior overcast day jeweled greek revival american queen orange orchards cinematic lighting ornate
42. SoCal Mansion
Created by: @Splinter
/imagine majestic modern mansion, award winning photography, nikon 800mm, soft dramatic lighting, highly detailed, octane render, 4k 8k,
43. The Lawns of Congress
Created by: @Heath
/imagine beautiful upscale home, 4k, immaculate detail, in the style of the Library of Congress, surrounded by grass and trees, hyper realistic
44. Cappadochia Concept
Created by: @CanisMajoris
/imagine Michael Bay movie shot, futuristic Cappadocia architecture houses, cappadocia architecture, cly, geometric, glosy white, architectural villa, with artificial lighting, terra-cotta, by zaha hadid, annotations, afternoon sunlight, dusk, movie shot, photo real, ultra detailed, 8k render
45. The Forest Mansion
Created by: @ionut_armasu
/imagine matte painting of sustainable tesla futuristic house in the lush forest
Residential
To finish off this collection of Midjourney architecture examples, let's have a look at some concepts for residential buildings.
Although you might not find them exciting, they are arguably more relevant for an architect than most of the other images we've shared above.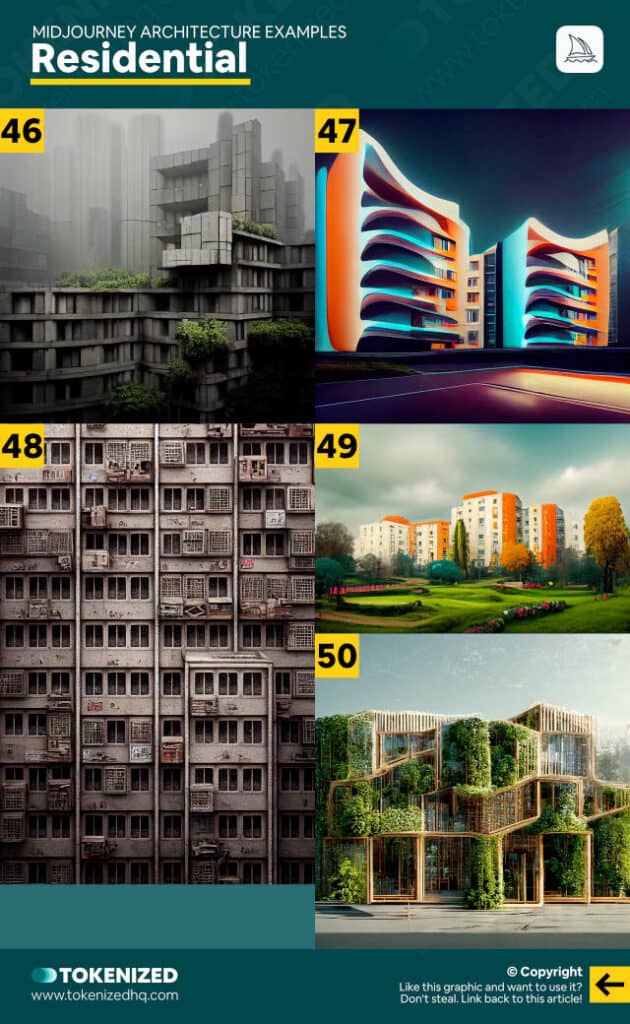 46. Brutal Housing
Created by: @chromadroid
/imagine ephemeral brutalist design, ronchamp, octane render 8k, realistic, foggy day, scattered rooftop trees and plants
47. Cyber-Condos
Created by: @g4kraazy
/imagine Street view of Apartments with Zaha Hadid style, neon, Futuristic, hyper realistic, Detailed Photo, wide angle
48. Future Prisons
Created by: @Artlandis
/imagine Zoom view, inside the alleys of walled mega city inspired by Kowloon Walled City with sky-scraping residential apartment blocks + epic cinematic view + ultra realistic details + realism + arnold render + volumetric + post processing + denoise + 8k
49. The Real World
Created by: @B9
/imagine european city town lush park suburbs apartment buildings, wide landscape photo
50. Blended Living
Created by: @benjaminboyaval
/imagine an incredible, and sublime very detailed front view of a facade of future building with intricate network grid bases architecture, with a cellular structure, with a lot of wood sidings and mashrabiya, large glass windows, in-wall growing vegetation, Ivy, elevation, complexity, Octane Render, Vray, Ray tracing, 8K
Frequently Asked Questions (FAQ)
Before we close off this guide, let's quickly address some of the most common questions related to Midjourney architecture examples.
What is Midjourney architecture?

Midjourney can be used to create architectural concept art that pushes the boundaries of what we can conceive today. While its results aren't necessarily realistic from an engineering point of view, it is incredibly helpful in brainstorming new ideas, especially when trying to blend different influences into a single concept.

Can I design architecture in Midjourney?

Yes, as you can see from the numerous Midjourney architecture examples in this article, Midjourney and other AI art generators are excellent tools to help boost your creative output. It is particularly useful for blending different styles and influences into new concepts and can help break through barriers of what we perceive to be possible.
Conclusion
Although AI hasn't been able to break into the engineering world yet, it is definitely making a big impact in the area of concept art.
With the help of Midjourney, architects are able to iterate through conceptual ideas much faster before settling for a final design.
Considering we're so early in the process, just imagine where we'll be once AI art starts to mature.
Here at Tokenized, we want to help you learn as much as possible about the AI software industry. We help you navigate the world of tech and the digitalization of our society at large, including the tokenization of assets and services.