Are you looking for more information on Midjourney v4?
If you've experimented with Midjourney at any point in 2022, then you most likely interacted with version 3 of Midjourney's algorithm, which has been the default version since August of the same year.
However, in early November 2022, the team released version 4 of its codebase into early beta and the improvement over version 3 is absolutely mind-blowing.
In this guide, we'll show you what has changed in Midjourney v4, how you can get early access, and how it compares to images generated with previous versions.
Let's dive right in.

Like this content? Then share it!
Why Midjourney V4 Is a Massive Game-Changer
Here's the answer. Great article by @ChrisHeidorn right here: https://tokenizedhq.com/midjourney-v4/

www.tokenizedhq.com
What Is Midjourney v4?
UPDATE: As of 20 December 2022 v4 is officially the default algorithm for Midjourney. If you want to use any of the previous versions, simply add the –v algorithm modifier at the end of your prompt.
If you currently have a subscription to Midjourney then all of the images you've been generating have been created using version 3 of Midjourney's algorithm.
With v4, Midjourney has introduced an entirely new codebase and a model that has been trained on a new AI supercluster that the team has been working on for more than 9 months.
While the results it creates may look incredible to most of us, the Midjourney team is far from done with its development.
In fact, it considers v4 to be the first step towards something much bigger than any of us can currently imagine.
Midjourney v4 is capable of generating unbelievably realistic images, much better than anything we've seen so far.
Don't believe me and want to check it out for yourself?
Go ahead and give it a try by simply applying the Midjourney algorithm modifier like this:
/imagine prompt: A blue tree made out of snakes --v 4
That last parameter at the end tells the Midjourney bot to use version 4 of the algorithm rather than the default v3.
For more details on parameter, options check out the official Midjourney documentation.
Key Points (tl;dr)
The latest version of Midjourney's algorithm takes the AI art game to a whole different level and is capable of creating shockingly realistic images.
Major improvements in Midjourney v4 include better knowledge of places and objects, more detailed images, complex prompting, and multi-object scenes.
The extent of the improvement is best illustrated by comparing images generated with the same prompt using 2 different versions of the algorithm.
What Has Improved in Midjourney v4?
So you might be wondering what exactly has changed in version 4.
While it's fairly obvious to anyone that images created with v4 look much more detailed than in v3, you probably want to know how it has improved in certain areas.
Here's a quick overview of improvements:
Knowledge: The new version of the Midjoureny AI model has vastly superior knowledge of real-life locations, creatures, and specific people.
Details: It is also considerably better at getting the details of your prompt right. While v3 often had trouble interpreting the more specific elements of a prompt, v4 seems to understand nearly every single detail.
Complex Prompting: Version 4 is even capable of handling extremely complex prompts that consist of entire paragraphs of prose.
Multi-Object Scenes: This falls into the same category as complex prompting but it's worth pointing out that you can now describe entire scenes with multiple objects and people.
Despite all these improvements, the results you get may still vary and not every single detail that you feed into Midjourney will necessarily show up in the images you create.
However, it's safe to say that Midjourney v4 is an absolute game-changer already and we can only imagine how much more advanced it will become over time.
Complex Prompting in Version 4
In the previous section, we mentioned that complex prompting was one of the most impressive improvements in v4 of Midjourney.
To give you a better idea of what that means we'd like to show you a few examples of complex prompts and how Midjourney's new algorithm is able to transform them into beautiful scenes.
Time for Football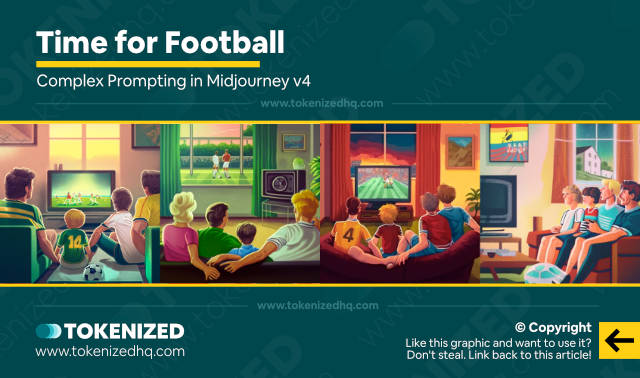 Here's the prompt:
/imagine A German family of four sitting on the couch in the living room watching a football match between Germany and Brazil on TV, digital art, 80s style, sharp focus, --v 4
Oktoberfest Girl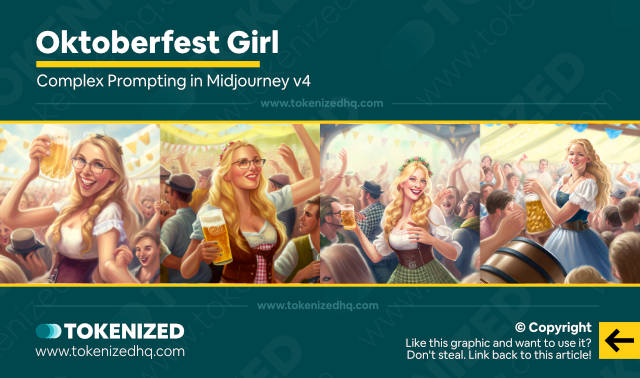 Here's the prompt:
/imagine A beautiful woman with long blonde hair wearing a Dirndl at Oktoberfest, standing inside a tent with big glasses of beer in her hands, surrounded by a cheering crowd of drunk Oktoberfest visitors, everyone is having a great time, --v 4
Crypto Rivalries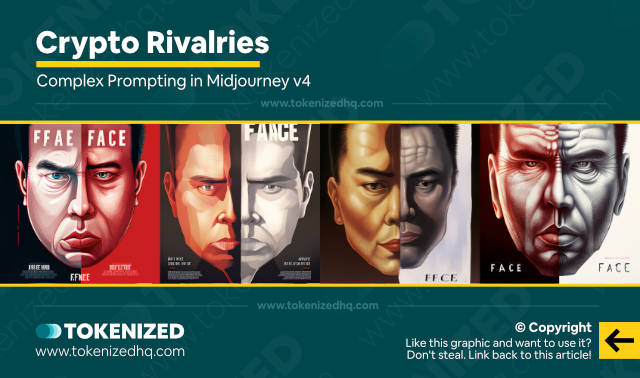 Here's the prompt:
/imagine Poster of the movie "Face/Off" starring Sam Bankman-Fried and Changpeng Zhao, --v 4
Comparison of Midjourney v3 and v4
Even though it's fairly obvious to most people that v4 is massively better than v3, the scale of it only becomes apparent when you compare 2 images based on the exact same prompt.
We've put together 5 examples of prompts that we've generated using v3 and v4.
The exact same prompt results in completely different types of images.
Although it's quite clear that Midjourney v4 is capable of creating far more realistic images, some might also argue that v3 is sometimes more "artistic" due to the abstract nature of its style.
1. Devil with Horns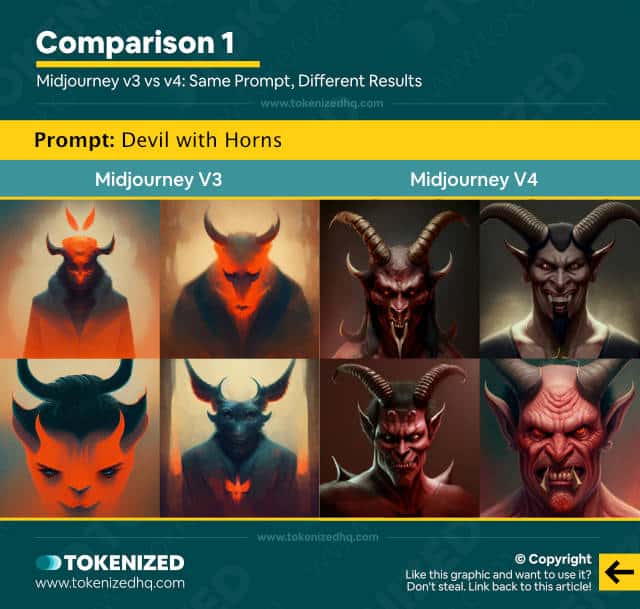 Prompt:
/imagine Devil with Horns
2. Bunny Rabbit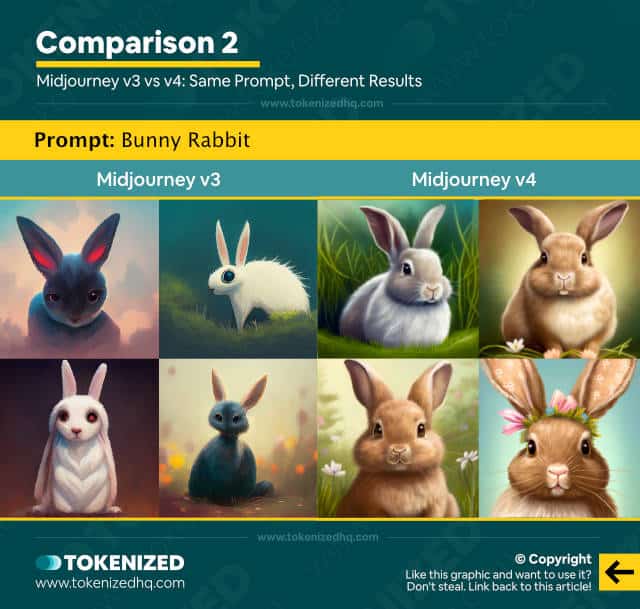 Prompt:
/imagine Bunny Rabbit
3. Pretty Girl with a Red Umbrella in her Hand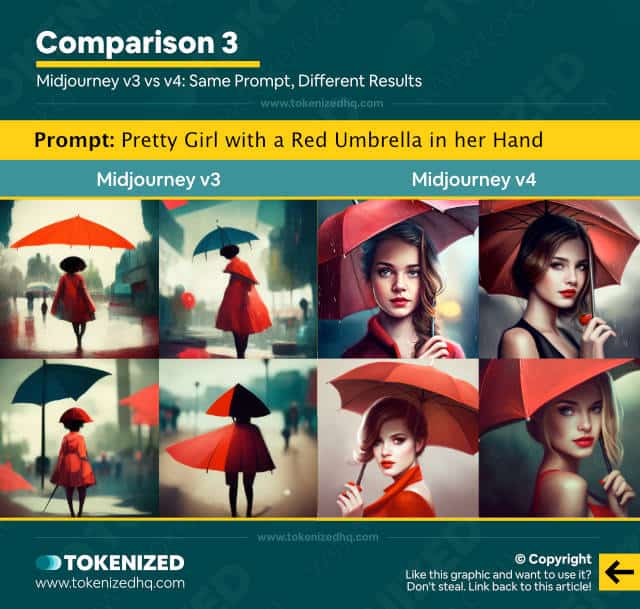 Prompt:
/imagine Pretty Girl with a Red Umbrella in her Hand
4. Barack Obama in the Style of Van Gogh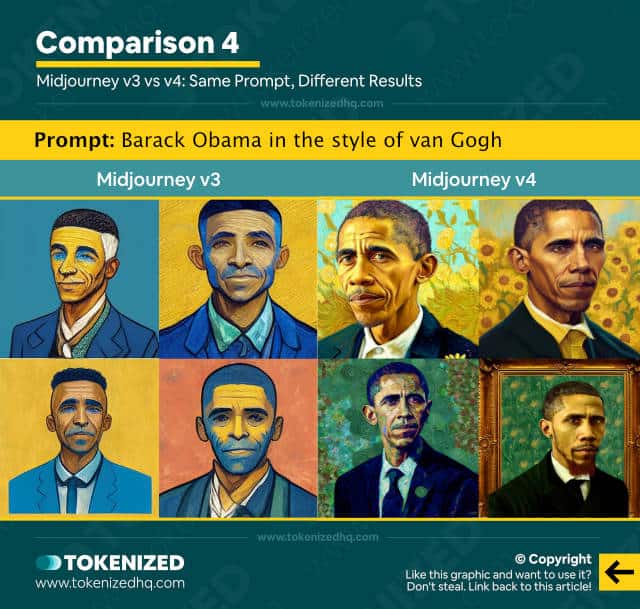 Prompt:
/imagine Barack Obama in the Style of Van Gogh
5. Mysterious Samurai Warrior in Front of Pagoda
Prompt:
/imagine Mysterious Samurai Warrior in Front of Pagoda
Frequently Asked Questions (FAQ)
Before we close off this guide, let's quickly address some of the most common questions related to Midjourney v4.
How do I get access to Midjourney v4?

Anyone who has an active trial or a subscription with Midjourney can access Midjourney v4 by simply adding the parameter "--v 4" at the very end of their prompt. This will instruct the Midjourney bot to use v4 of the algorithm to generate the image.

Is Midjourney v4 better than v3?

Although most people would confirm that v4 is capable of creating far more detailed and realistic images than v3, it still depends on personal preference. Some of the more abstract types of artwork created with the v3 algorithm look more "artistic" than the hyper-realistic images generated with version 4 of Midjourney's AI model.
Conclusion
Just as we thought that we had seen it all in AI art, Midjourney's new version 4 of its algorithm proves us wrong.
Midjourney v4 elevates the AI art game to another level and one can safely say that it is already a game changer in many respects.
It also makes you wonder how many massive improvements we will see in the next few years.
Here at Tokenized, we want to help you learn as much as possible about the AI software industry. We help you navigate the world of tech and the digitalization of our society at large, including the tokenization of assets and services.