Want to know how to switch between Midjourney algorithms?
The vast majority of people who play around with Midjourney tend to stick to the default settings and even if they do use some parameters, almost no one decides to change the algorithm.
However, it's always worth trying out some of the other Midjourney versions just to get a feeling for how the technology has evolved and especially when new versions are released into beta.
In this guide, you'll learn how to generate images using the Midjourney algorithm modifier to get early access to the newest features.
Let's dive right in.
Like this content? Then share it!
How to Use the Midjourney Algorithm Modifier
Here's the answer. Great article by @ChrisHeidorn right here: https://tokenizedhq.com/midjourney-algorithm-modifier/

www.tokenizedhq.com
What is Midjourney Algorithm Modifier?
There are a number of different Midjourney algorithm modifiers, however, the most important one is used to switch between different versions.
As of today (14 November 2022) there are 4 different versions of the Midjourney algorithm.
Version 3 is currently the default version that is used by the majority of users and already managed to blow people's minds last summer.
However, things are about to get a little bit crazier with version 4.
Once a new version of the algorithm is released into beta, users will be able to access it by using the Midjourney algorithm modifier "–v" or "–version".
Key Points (tl;dr)
Algorithm modifiers allow users to generate images with different versions of the Midjourney algorithm.
Switching between different versions of Midjourney is very easy and only requires you to add a simple version parameter to the end of your command (e.g. "--v 4").
If you compare images generated with the exact same prompt, you'll quickly realize just how powerful Midjourney's AI has become over time.
How to Switch Between Midjourney Versions
Switching between older versions of the algorithm or testing the newest version is very easy to do.
Simply write your prompt the way you normally would and also feel free to add whatever additional parameters you may need.
Before you send the command make sure you add one last parameter at the very end and set which version of the Midjourney algorithm you want to use.
Here's an example:
/imagine prompt: pretty girl with a red umbrella in her hand --version 4
Alternatively, you can also use "--v" which is shorthand for "--version".
Since every version may behave a bit differently, don't be surprised if it takes a bit longer to generate the initial previews of your images.
And once you see what version 4 of Midjourney is able to achieve, your jaw is going to drop to the floor.
Comparison of All 4 Algorithm Versions
In order to properly illustrate just how good Midjourney's AI has become in such a relatively short period of time, let's have a look at some examples.
The following 4 images have all been generated using the exact same prompt: "pretty girl with a red umbrella in her hand".
The only thing we've changed is the version modifier in the command.
Midjourney Version 1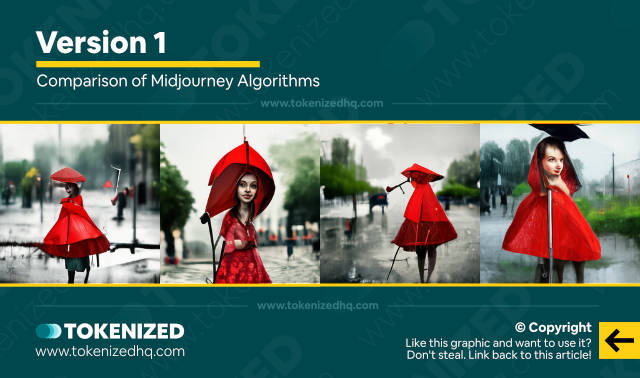 Version 1 of Midjourney's algorithm still had lots of flaws and also put a lot more emphasis on photos.
Most of the images remind us of the type of output you would receive from open-source models such as DALL-E Mini.
Midjourney Version 2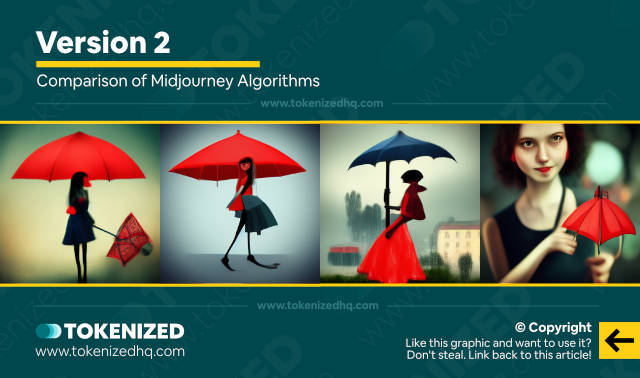 Using version 2 of the Midjourney algorithm modifier we get results that move more toward digital art.
While the results are clearly more artistic, the composition and the proportions of bodies are still not quite right.
Midjourney Version 3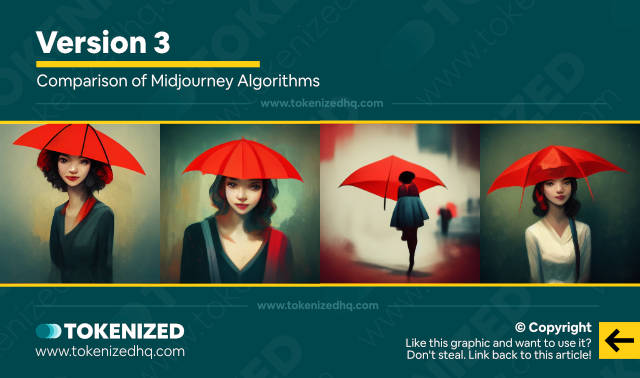 Version 3 was the big breakthrough that caught the public's attention summer of 2022.
What made Midjourney particularly popular was the fact that the results looked incredibly artistic and didn't necessarily try to emulate photography.
As of today, version 3 is still the default algorithm, according to the official Midjourney documentation.
Midjourney Version 4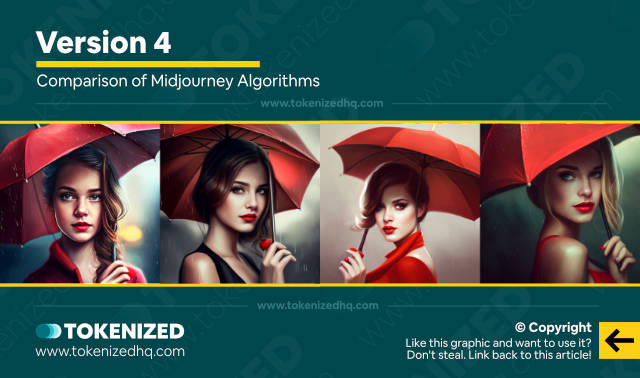 Version 4 of Midjourney is currently in beta, but it is so incredibly good that it's only a matter of time until it becomes the new default.
Although it still seems to face some challenges when it comes to hands and fingers, the over results are so unbelievable, that it's downright scary.
Frequently Asked Questions (FAQ)
Before we close off this guide, let's quickly address some of the most common questions related to Midjourney algorithm modifiers.
How do I select a specific Midjourney version?

If you would like to use a specific version of Midjourney's algorithm to generate an image, simply add the "--v" parameter followed by the version number. Example: /imagine blue rabbit --v 4.

Are new Midjourney versions better than older ones?

Although there is no particular rule that states that newer versions must automatically be better than older ones, general consensus seems to be that Midjourney's algorithm is getting better and better with each new iteration.

Is Midjourney version 4 available to the public?

As of 14 November 2022, version 4 of Midjourney is still in beta. However, you can already start using it by applying the version modifier to your commands (e.g. "--v 4").
Conclusion
Most users will not need to use the Midjourney algorithm modifier in order to have an enjoyable experience.
However, if you are a professional user, getting early access to newer versions of Midjourney will undoubtedly give you an edge once it does become the new standard.
We strongly recommend that you give version 4 of Midjourney a try and prepare to be blown away.
Here at Tokenized, we want to help you learn as much as possible about the AI software industry. We help you navigate the world of tech and the digitalization of our society at large, including the tokenization of assets and services.