Looking for a rundown of everything that Midjourney v5 can do?
If you thought things couldn't get better after the major advancement with Midjourney v4 in November last year, you were wrong.
Not only have some of the major concerns been addressed in this update, but the level of realism is also absolutely mind-blowing.
In this guide, I'll show you some of the most exciting improvements that Midjourney v5 has to offer.
Let's dive right in.

Like this content? Then share it!
Midjourney v5: Everything You Need to Know
Here's the answer. Great article by @ChrisHeidorn right here: https://tokenizedhq.com/midjourney-v5/

www.tokenizedhq.com
Midjourney v5 is Live!
Midjourney Version 5 is officially live and the excitement was so huge that we literally broke it within 20 minutes.
But don't worry, it's back online and ready to receive all your prompts.
A lot has changed in version 5 and the true extent will only become clear in the next few days and weeks.
So let's have a look at the key differences and what this means for you.
Key Points (tl;dr)
Version 5 excels in realism, producing some of the most life-like images we have ever seen.
It also generates images at 2x the resolution and also supports higher quality settings.
Other improvements include a wider range of styles, improved image prompts, better landscapes, and better architecture.
Aspect ratios are now free of any limits and both the --iw and --tile parameters have finally made a comeback.
Higher Resolution Images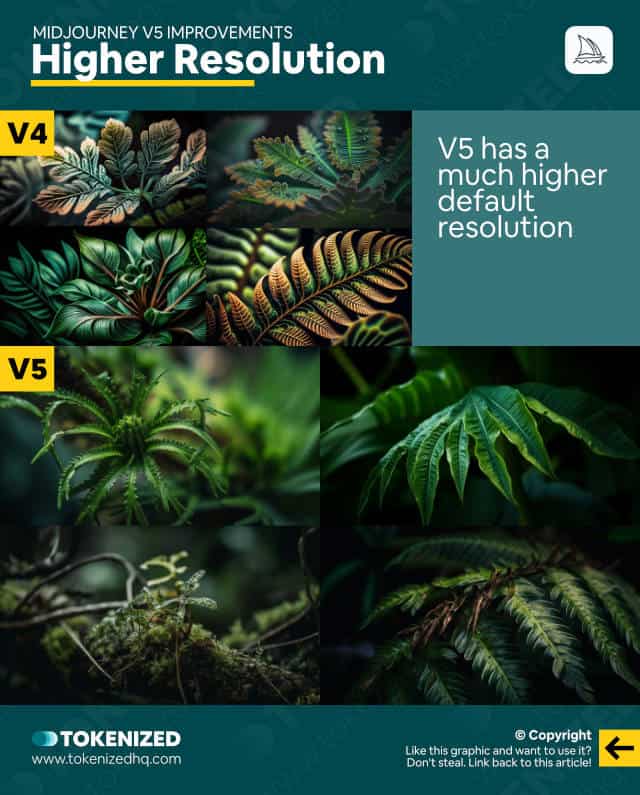 Midjourney v5 is a big step forward in terms of image resolution.
While in the previous version, the default dimensions were 512×512, and higher resolution required upscaling, v5 output 1024×1024 by default.
Let's do a quick comparison using the following prompt:
/imagine
nature photography,
macro shot of jungle flora and fauna,
extremely detailed, natural light
--ar 16:9 --v (4|5)
In the image above you can see a side-by-side comparison of v4 versus Midjourney v5.
I know some people might argue that the difference in resolution is barely noticeable, but trust me, it's there.
The full-size images are much bigger.
Unfortunately, this also means that Midjourne v5 requires more GPU time, and generating images will take longer.
The upside to this is that your upscales will be more or less instantaneous because the full-resolution image is already available.
You probably noticed something else about these 2 images.
One of them is far more realistic than the other, right?
Yup, that's version 5.
Realism
One of the most obvious changes in Midjourney v5 is the level of realism.
The Midjourney team calls this "unopinionated", which basically just means that it's less artistic out of the box.
This current alpha of Midjourney v5 is essentially still in "Pro Mode".
That means that prompting may be a little more difficult than before and achieving the same result may or may not require longer prompts.
To give you an idea of how this looks, let's check out this prompt:
/imagine
image of a yellow dress for women
with very thin and detailed
floral ornaments in green color
--ar 16:9 --v (4|5)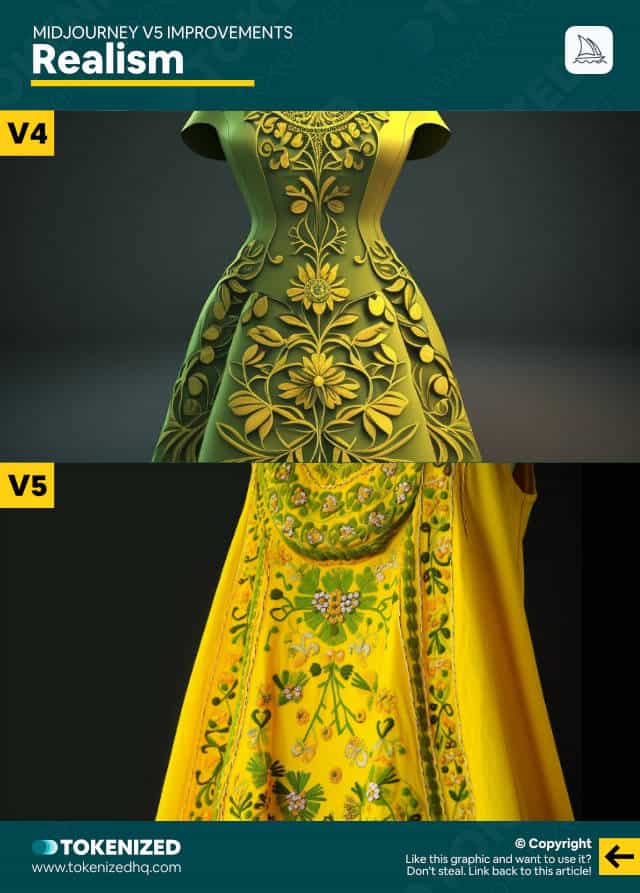 You can clearly see how different the interpretation is and also how much more real the images from Midjourney v5 are.
I think these images speak for themselves.
The realism is even more obvious when you describe a real-life scene.
/imagine
street photography, an attractive old French lady
in her seventies wearing a blouse and blazer,
walking through the "Jardin des Tuileries"
on a bright Sunday morning --ar 16:9 --v (4|5)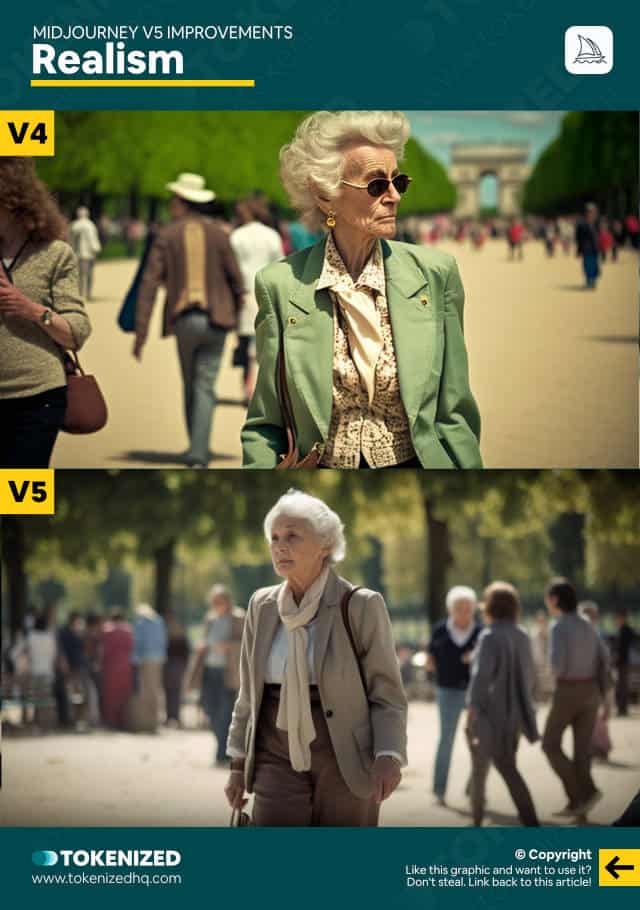 The v4 images already looked super neat.
But in terms of realism, version 5 blows version 4 out of the water.
I literally cannot tell whether this is stock photography or not.
More realism and less opinionated results also mean that you'll have far more control over the final image.
Control
So how exactly do you measure control?
Well, here's an example.
I'm going to try to create a close-up shot of a woman who has heterochromia.
That's when the person has two irises with different colors.
Here's the prompt I used:
/image
close up shot of a beautiful woman
with eyes in different colors,
left eye has a green iris,
right eye has a blue iris --ar 16:9 --v (4|5)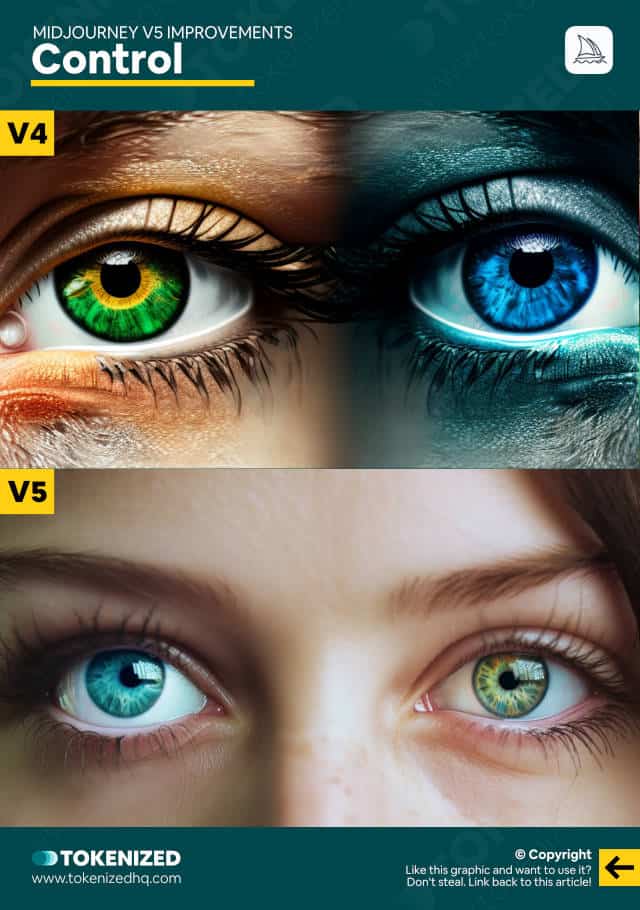 As you can see in the v4 images, Midjourney doesn't really understand what I want it to do.
It's showing us split images but these are not the same person.
Midjourney v5 is much better at this and manages to produce images of the exact same person with actual Heterochromia.
/imagine
wide angle shot of 2 young people standing in a garden,
a pretty girl with blonde hair
standing far away at a distance,
red-haired boy with blue clothes
standing close to the camera --ar 16:9 --v (4|5)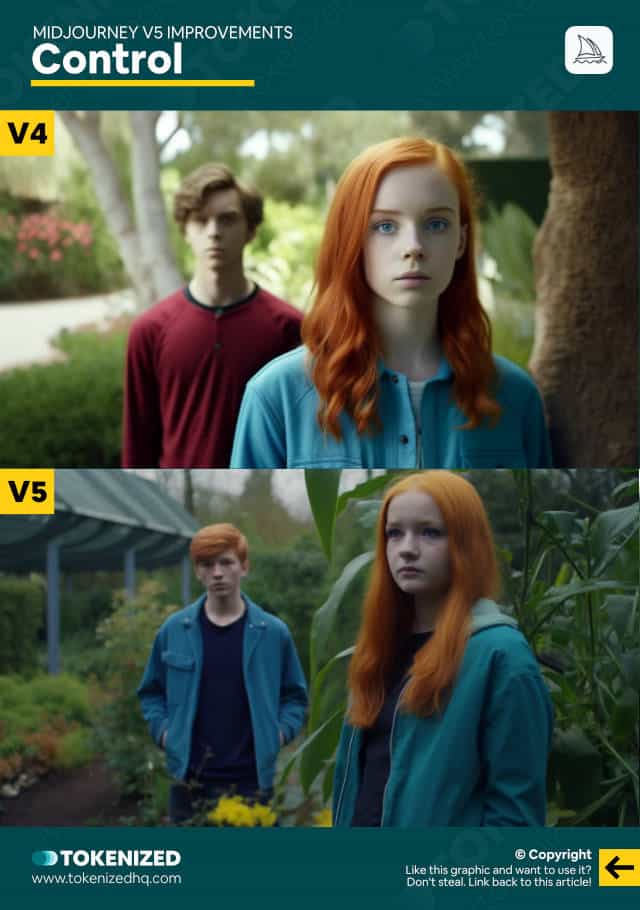 In the v4 images, you can see that Midjourney struggles to understand that we want the characters to be positioned differently.
The v5 images, on the other hand, are much better at getting these details right and most importantly, in far more natural positions.
Color bleed and attributing the right details to each character is still something Midjourney struggles with, but it's a big step forward.
So far, all of the images have looked very realistic.
So you might be wondering what happened to all those beautiful styles.
Don't worry, they're still there.
Stylistic Range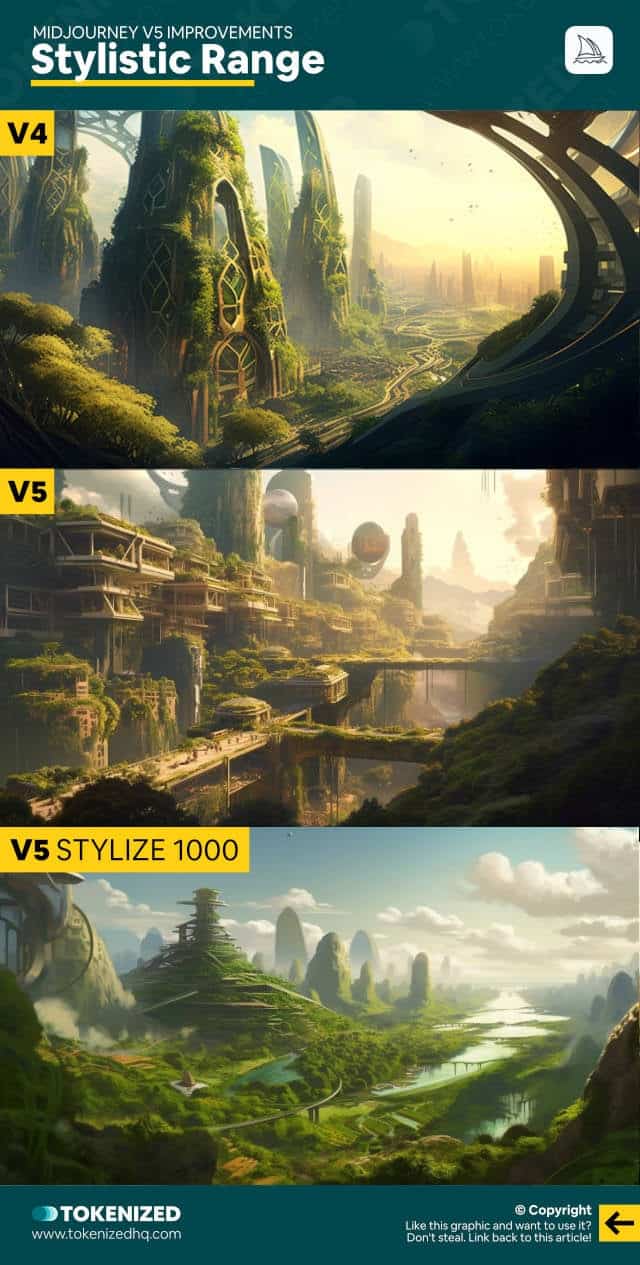 Version 5 of Midjourney is absolutely capable of producing beautiful digital artwork, just like version 4.
In fact, it's shocking how good and how detailed the images are.
Here's a sample prompt:
/imagine
digital art painting, wide angle shot of a lush green valley
in an eco-dystopian future, bustling city at the bottom of
the valley with organically-shaped architecture and
natural materials, golden hour sunlight --ar 16:9 --v (4|5)
Version 4 will produce the type of opinionated and visually appealing images that we're used to.
But Midjourney v5 takes the level of detail and realism to a whole new level.
I know some of you may prefer the v4 images.
But let me quickly show you what happens when you set the stylize parameter to 1000.
/imagine
digital art painting, wide angle shot of a lush green valley
in an eco-dystopian future, bustling city at the bottom of
the valley with organically-shaped architecture and
natural materials, golden hour sunlight --ar 16:9 --v 5 --stylize 1000
The only thing I've done here is I've added --stylize 1000.
This is absolutely mind-blowing if you look at the intricate details that Midjourney v5 has added.
Here's another example that's a bit simpler.
/imagine
a fox and a panda bear fighting eachother,
muay thai kickboxing, pixar animation style
--ar 16:9 --v (4|5)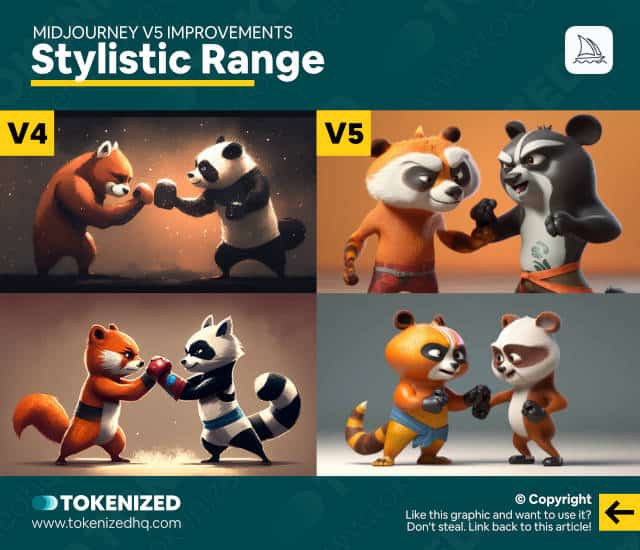 Version 4 was really great at producing aesthetic images, however, it didn't always give you what you actually asked for.
In this example, you can clearly see that this doesn't reflect the typical Pixar style.
But version 5 does this with ease and the characters look like they were taken straight from a Pixar movie.
You can even take things further and increase the quality parameter.
That's right, quality is back!
More Quality
Version 5 already comes with a very high level of quality to begin with.
I mean, just check out this simple prompt:
/imagine
portrait photography, close up portrait of a
futuristic soldier wearing a helmet with a
visor made of orange-tinted glass, sunlight
piercing the visor --ar 16:9 --v (4|5)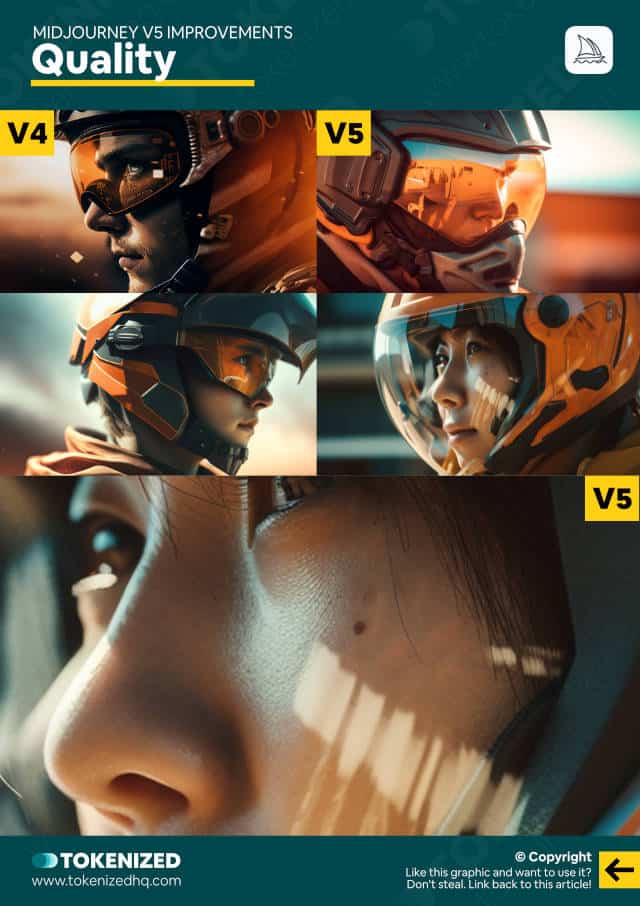 The version 4 images were already mind-blowing enough.
But check out what version 5 can do.
You might find the v4 images more aesthetic but just look at these images.
It's absolutely insane.
Have a look at the details on this.
And what do you think will happen if I increase --quality to 2?
/imagine
portrait photography, close up portrait of a
futuristic soldier wearing a helmet with a
visor made of orange-tinted glass, sunlight
piercing the visor --ar 16:9 --v 5 --q 2
The level of detail in Midjourney v5 surpasses anything we've ever seen before.
Here's a close-up of one of them.
But let's try this on something more basic.
/imagine
single gaming icon design,
magic potion flask --v (4|5) --stylize 500 --q 2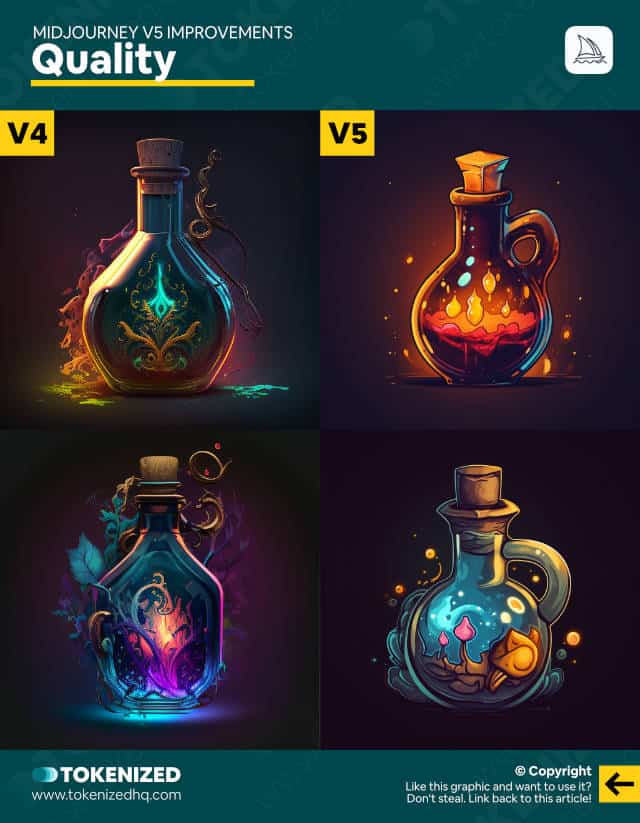 Version 4 gives us a set of potions that look absolutely stunning.
But I'd argue that they're a bit too polished for actual use in a game.
Midjourney v5 gives us these here straight out of the box.
The style is much more in-line with the typical video game.
Speaking of parameters, what else has changed?
Aspect Ratio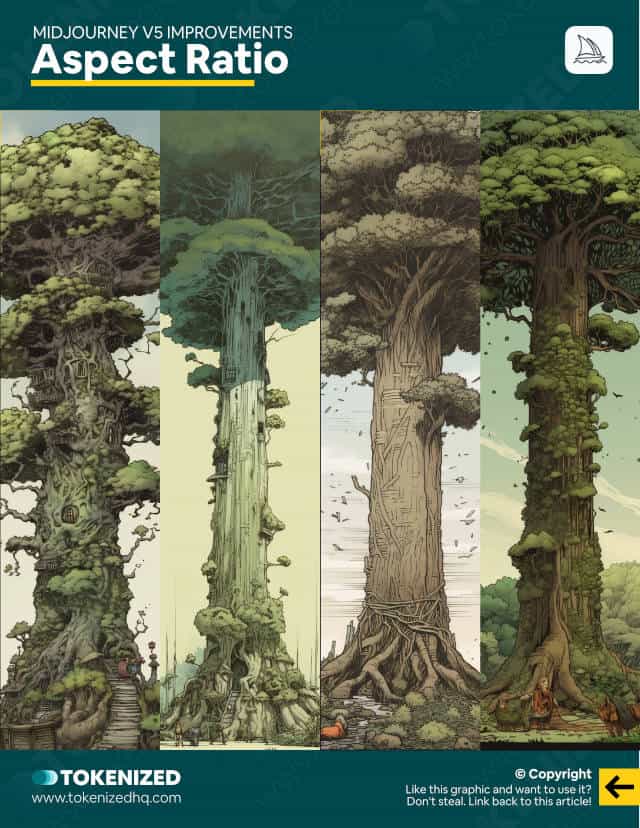 Midjourney v5 has all but removed all limits on aspect ratios.
You can literally cook up anything you like.
Just check out this prompt:
/imagine
the world's tallest imaginary tree,
in the style of a fantasy graphic novel
--ar 1:5 --v 5
Sure, you might be wondering why you would want to create an image like that.
But trust me, the extra control will open up so many new use cases.
Image Weight
Yes, image weight is finally back.
That means you can control exactly how much influence your image reference should have on the prompt.
Here's an example:
/imagine
https://s.mj.run/jasH0cRzRok
the lord of war
--ar 16:9 --v 5 --iw (0.5|1|2)
The image reference is from an example I showed you earlier.
And here's what the images look for with an image weight of 0.5, 1, and 2.
The differences are obvious and it looks like subtle changes in the weights will have quite an impact.
Tile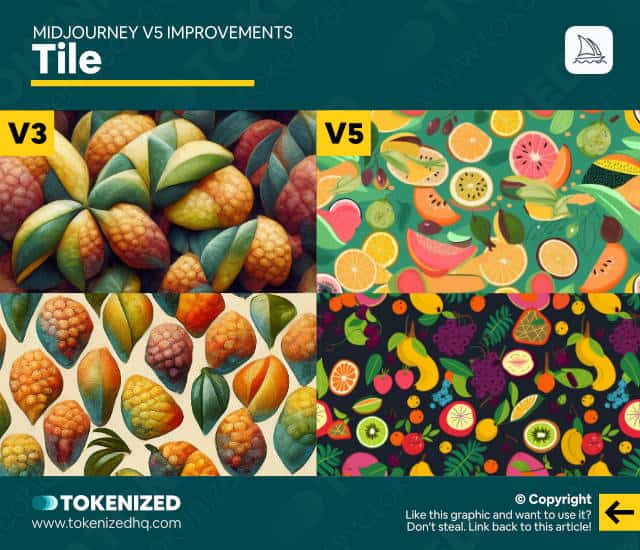 One last thing I'd like to touch upon is the return of the --tile parameter.
It allows you to create seamless patterns.
This was a very popular feature from v3 of Midjourney and particularly useful for use cases such as print-on-demand.
It is also very useful for textures in the gaming industry.
Unfortunately, v4 never got this feature, but v5 does.
Here's a basic example:
/imagine
pattern of assorted tropical fruit
--ar 16:9 --v (3|5) --tile
Here's what you used to get from version 3.
And now check out the Midjourney v5 example.
Yes, these are seamless.
And I'm pretty sure you can do a lot more crazy stuff if you experiment a little bit more.
Here's another example that's more impactful in the gaming industry:
/imagine
aerial shot of cobblestone road,
texture --ar 16:9 --v (3|5) --tile
Here's what version 3 produces.
It's not as useful because it's not a proper aerial shot.
You would have to distort the image in order to use it.
But the v5 images are much better.
Not only are they more realistic but you've got the right angle and everything.
Frequently Asked Questions (FAQ)
Before we close off this guide, let's quickly address some of the most common questions related to Midjourney v5.
When was Midjourney v5 released?

Version 5 of Midjourney was released into alpha testing on March 15, 2023. It is an "unopinionated" implementation that produces incredibly high levels of realism, however, reproducing similar results as in v4 may prove challenging for some people. An "opinionated" version will eventually become the default.

Is Midjourney v5 better than v4?

That largely depends on your taste. If you like to produce realistic photos, then Midjourney v5 is the way to go. If you prefer stylized images and digital art, then v4 might generate more appealing images out-of-the-box. While v5 is far more powerful than v4, it is currently also more difficult to use.

Who has access to Midjourney v5?

All paying members of Midjourney have access to version 5 of the algorithm. Since it is currently not the default setting, users must append the –v 5 parameter in order to use it.

Where can I find more details on Midjourney v5?

The official Midjourney docs have a nice overview of all the different models, including version 5.
Conclusion
So, as you can see, Midjourney v5 is a massive step forward.
While it is currently still in "pro mode" and prompting might feel more difficult than before, Midjourney has stated that they are working on a more opinionated version.
This will likely become the new default styling once it is finalized, however, you will be able to turn this off and return to the more professional mode.
So does this mean that everything you've learned about Midjourney is now obsolete?
Absolutely not.
Will you have to adjust what you've learned with every new version of Midjourney?
Possibly.
But your knowledge doesn't get lost, it just expands.
Here at Tokenized, we want to help you learn as much as possible about the AI software industry. We help you navigate the world of tech and the digitalization of our society at large, including the tokenization of assets and services.