Want to start staking on LooksRare?
Or perhaps someone has told you that LooksRare staking is all the rage and wants to learn more first?
Well, you've come to the right place because we staked quite a few LOOKS during Phase A of the token release schedule.
In this guide, you'll learn more about LooksRare rewards and we'll also show you how to stake on LooksRare.
No time to waste. Let's get started.
Key Points (tl;dr)
LooksRare staking is one of the many ways to earn LOOKS tokens within the LooksRare rewards program.
You can buy LOOKS tokens on several different exchanges, however we recommend doing so on Uniswap for better liquidity.
Staking your LOOKS is very easy. Simply visit the LooksRare rewards page, connect your wallet, enter how many LOOKS you would like to stake and hit the "Stake" button.
Like this content? Then share it!
LooksRare Staking: How to Stake LOOKS for Rewards
Here's the answer. Great article by @ChrisHeidorn right here: https://tokenizedhq.com/looksrare-staking/

www.tokenizedhq.com
What is LooksRare Staking?
Staking is one of 3 ways that you can earn rewards on the LooksRare NFT marketplace. The other two are the initial airdrop (deadline expired) and rewards earned based on actual trading activity. LooksRare staking allows you to earn passive yield in the form of LOOKS tokens as well as WETH from trading fees.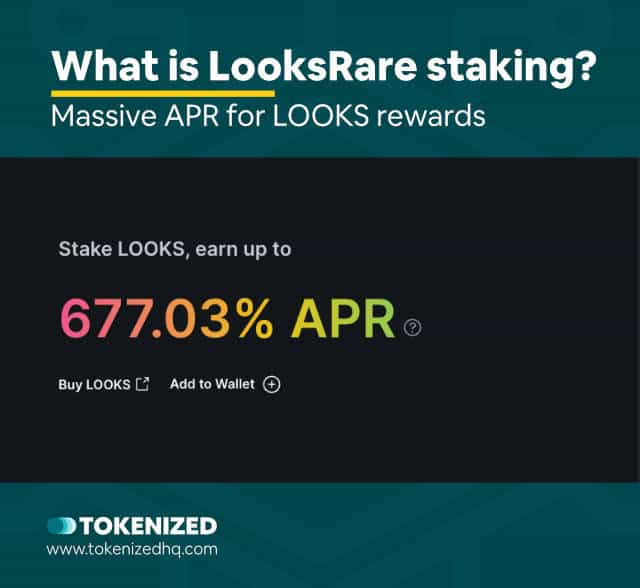 LooksRare is a relatively new NFT website that was launched in early January 2022.
It is currently considered the most promising competitor to OpenSea, the largest NFT marketplace in the world.
The platform launched with significant backing from social media influencers as well as its own native token, which is meant to incentivize investors to switch from OpenSea to LooksRare.
Over a period of 2 years, 75% of all LOOKS tokens will be distributed to the community via an initial airdrop as well as two types of rewards.
The first category of rewards comes from actual trading activity on the platform and the more you trade, the more LOOKS rewards you'll earn.
The second category is the staking rewards which are earned by locking your LOOKS tokens into a DeFi contract.
However, stakers do not only receive LOOKS rewards, they also receive 100% of the trading fees (currently 2% of each transaction) in form of wrapped ETH.
That's right. All of the OpenSea fees that currently remain in the pockets of OpenSea, go to stakers on LooksRare.
We've previously discussed the anonymous team as well as the tokenomics of LooksRare in a separate article here on Tokenized.
Today, we're going to focus on showing you how to get started with LooksRare staking.
How to Buy LOOKS Tokens
We recommend buying LOOKS tokens on Uniswap V3. Head over to the app, connect your wallet, select the cryptocurrency that you would like to swap for LOOKS and finally hit the "SWAP" button.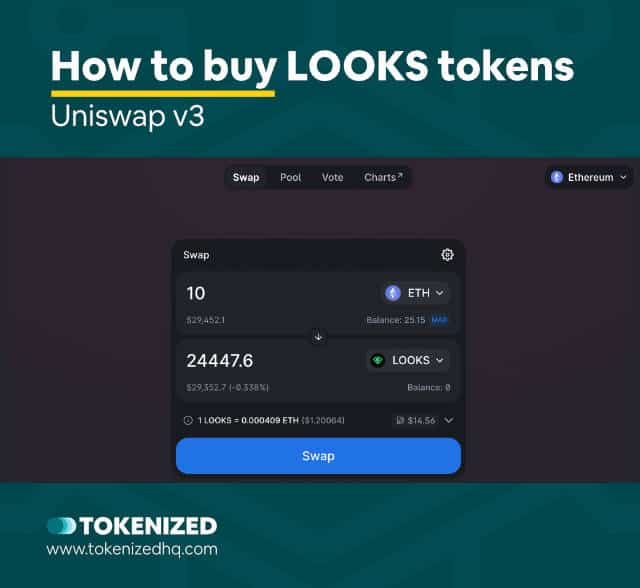 As of today (Feb 19, 2022) there are over 30 different centralized and decentralized exchanges that offer a LOOKS trading pair.
However, the majority of them do not have a lot of liquidity and you are unlikely to get a good price there.
The top 5 markets for LOOKS tokens currently are:
Uniswap (52% of trading volume)
FTX
Huobi Global
Hoo
Gate.io
We recommend that you stick to Uniswap V3 simply because it's the main market for LOOKS right now.
So how do buy LOOKS on Uniswap?
Step 1: What you'll need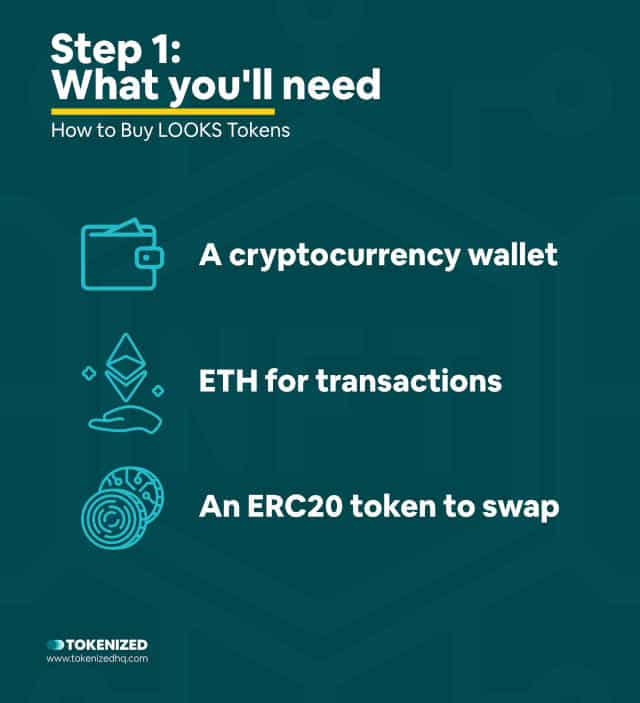 In order to buy LOOKS on Uniswap, you're going to need a number of things.
First of all, you'll need a cryptocurrency wallet such as MetaMask or any other MetaMask alternative.
You will also need to have ETH in your wallet in order to pay for gas fees.
And finally, you will need cryptocurrency which is based on the Ethereum blockchain.
Technically it can be any ERC-20 token, however, it's better to use ETH or WETH in order to ensure as little slippage as possible.
In this context, limiting slippage essentially means avoiding a bad exchange rate.
Step 2: Go to Uniswap V3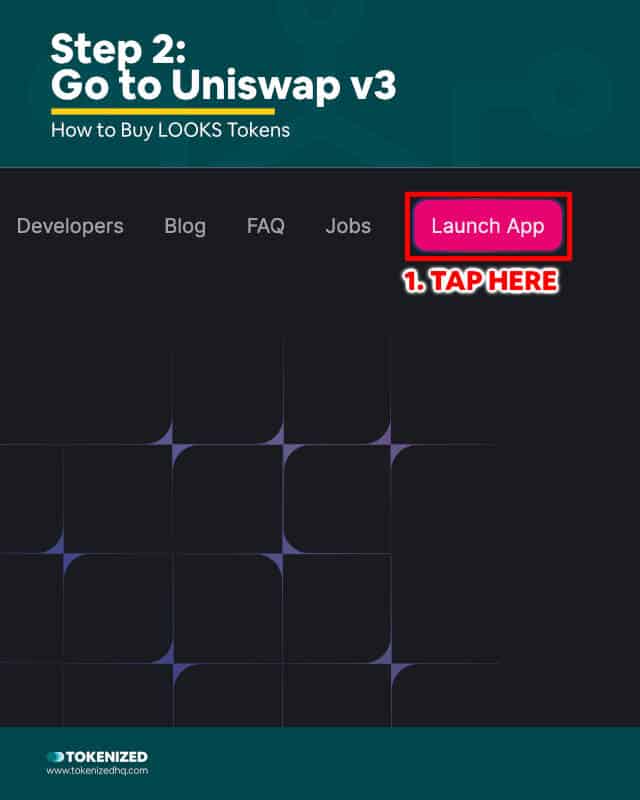 Use your browser of choice to access the Uniswap website and launch the app.
Step 3: Connect your wallet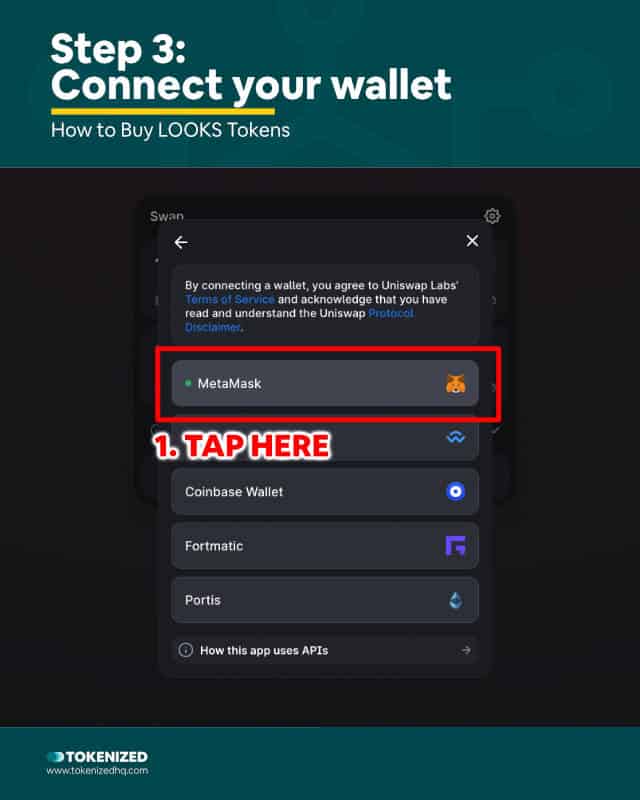 When you click on the "Connect"-button, you'll be asked to connect one of many wallet options.
Step 4: Select the tokens that you want to swap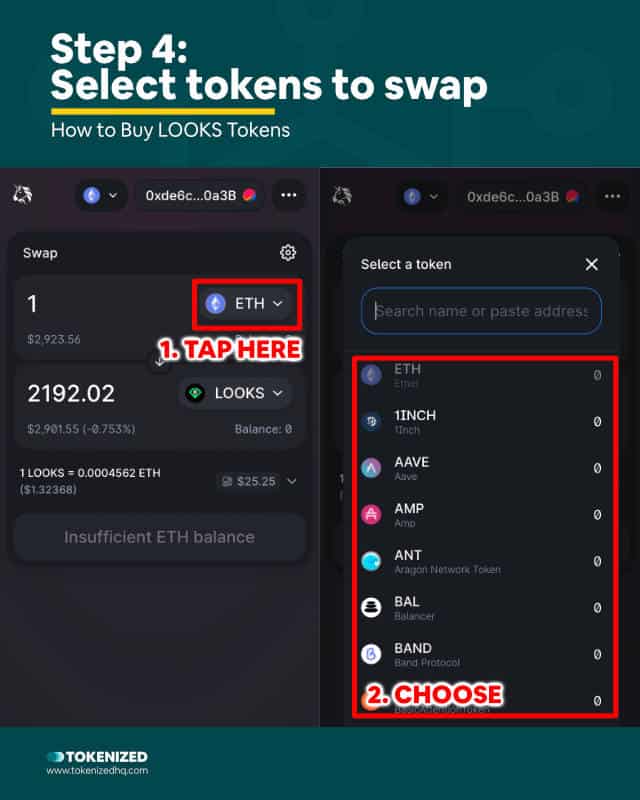 In the upper box, you need to select the cryptocurrency that you would like to swap for LOOKS (ideally ETH or WETH).
In the lower box, you need to select LOOKS and make sure that it's actually the correct token.
You can avoid errors by simply using this link which will automatically pre-select the correct LOOKS token (the token's address is 0xf4d2888d29d722226fafa5d9b24f9164c092421e).
Step 5: Enter the amount and swap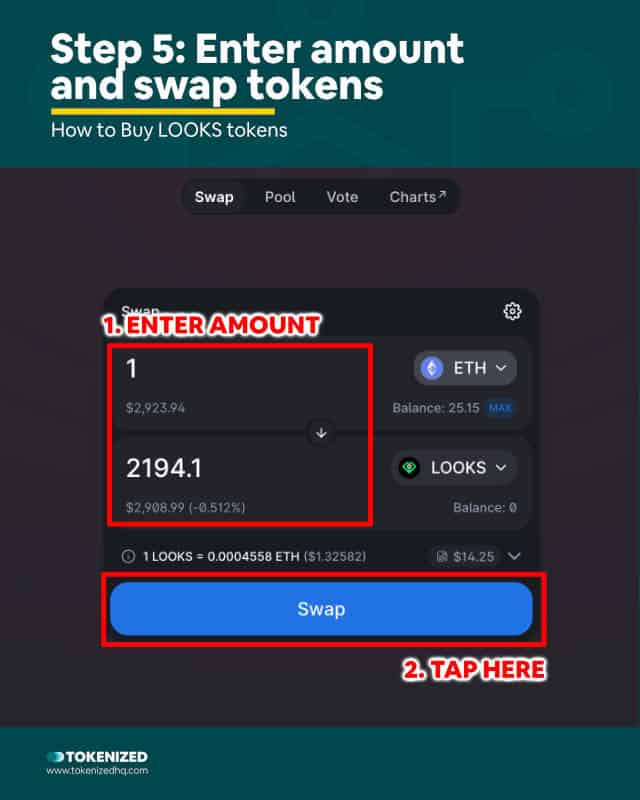 Now input the amount of ETH or WETH (or any other token) that you would like to swap into LOOKS.
Once the number of LOOKS tokens is calculated and the "SWAP" button turns blue, you can hit the button and the transaction will be sent.
Uniswap will now swap your tokens and you'll find LOOKS in your wallet.
How to Stake Looks Tokens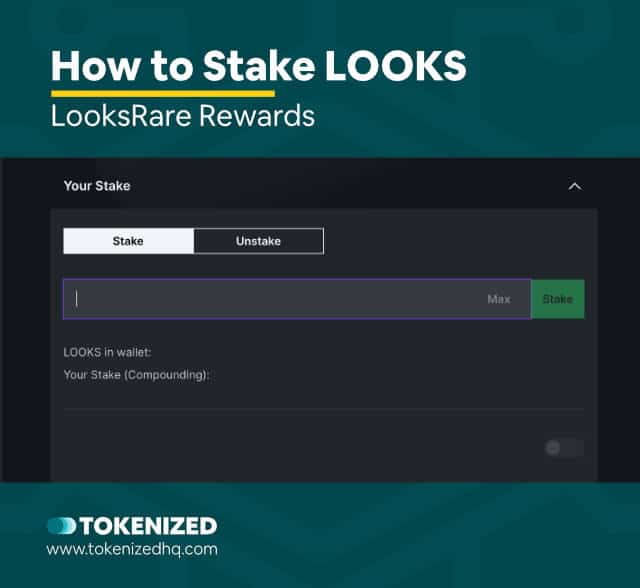 Once you have LOOKS tokens, the process of LooksRare staking is very simple.
Simply browse to the LooksRare rewards page and identify the section of the page called "LOOKS Staking".
The page will display the current estimated annual percentage of return (APR) of LooksRare staking, which consists of 2 parts.
The first part is the pure LOOKS APR and the second part is the WETH APR.
A significant portion of the current WETH rewards is driven by wash traders, which artificially drives up trading fees.
We are currently in Phase B which will last until the middle of May 2022.
Unless the LOOKS price improves considerably, you can safely assume that the WETH rewards will take another hit once Phase C begins.
So what are the steps for LooksRare staking?
Staking your Looks
We're going to assume that you want to stake all the LOOKS you have.
It doesn't really make sense to only stake a portion of your tokens.
Once you hit the "Stake" button your LOOKS will be locked within the contract and you will start earning rewards.
The LooksRare rewards page will display how many LOOKS you are earning as well as the WETH rewards that you can collect.
Collecting WETH Rewards
You can collect your WETH rewards at any point in time without unstaking your LOOKS.
Some people like to take their WETH rewards and re-invest them into more LOOKS.
We are not going to give any advice on whether that makes sense or not.
That's for you to decide.
Where Can I Audit the LooksRare Contracts?
Despite having an anonymous team of founders, LooksRare is quite transparent with regard to its operations.
Here are resources that will allow you fully audit various smart contracts related to the token:
If you want to know more about the tokenomics as well as the release schedule, we recommend reading through our earlier article on LooksRare.
We discuss some of the concerns but also the opportunities associated with this new platform.
Conclusion
If you ended up here because you heard about unreal APRs of more than 1,000%, then unfortunately you'll be disappointed to hear that those times are gone.
Phase A of the LOOKS release schedule was incredibly attractive for just about anyone who bought in.
However, with the disappearance of the majority of the wash trading and the significant drop in the LOOKS price, the situation has changed quite a bit.
While the APR is still very high compared to most other DeFi options out there, it's fair to assume that anyone not overly familiar with decentralized finance might be turned off.
That being said, despite the bumpy start to Phase B, we still believe that LooksRare has a real at becoming a major contender in the NFT space as well as a template for future Web3 projects.
Here at Tokenized, we want to help you learn as much as possible about the coming NFT revolution. We help you navigate this fascinating new world of non-fungible tokens and show you how you can integrate tokenization into your own business.