Are you looking for more information about the DALL-E pricing model?
Although AI art generators seem to have taken the world by storm and nearly everyone and their grandmother has given them a try by now, some people are wondering what this new technology will end up costing them.
Unlike Midjourney, which uses a subscription-based pricing model, the DALL-E pricing model uses a credit-based system.
In this guide, we'll show you what exactly that means in terms of the actual cost per month, how it compares to other competitors, and why it might still be a good deal for some.
Let's dive right in.
Like this content? Then share it!
DALL-E Pricing Fully Explained
Here's the answer. Great article by @ChrisHeidorn right here: https://tokenizedhq.com/dall-e-pricing/

www.tokenizedhq.com
Overview of the DALL-E Pricing Model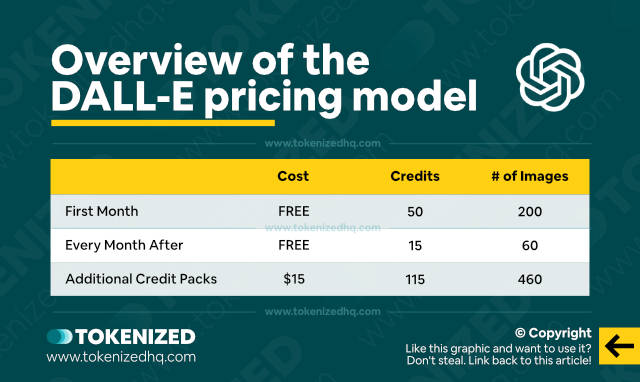 In many ways, the DALL-E prices are considerably easier to understand than some of the subscription-based models chosen by its competitors.
Rather than trying to explain the difference between Fast and Relax GPU Time (like in Midjourney), credits offer an intuitive logic that almost everyone will instantly understand.
Every time you enter a prompt into DALL-E and ask it to generate an image, it will cost you 1 credit and you will receive a set of image suggestions in return.
The DALL-E pricing model eliminates the risk of not using your subscription to its full extent and everyone pays for exactly what they use.
Here's a quick DALL-E 2 price chart:
| | Cost | Credit | # of Images |
| --- | --- | --- | --- |
| First Month | FREE | 50 | 200 |
| Every Month After | FREE | 15 | 60 |
| Additional Credit Packs | $15 | 115 | 460 |
Table showing how the DALL-E pricing model works
As you can see, when you initially sign up for DALL-E, you receive a free allocation of 50 credits for your first month.
50 credits let you enter 50 prompts which will give you a total of 200 images.
If you want to get the most out of your trial, make sure you use all those credits because they expire after the first month.
Afterward, your account will refill with an additional 15 free credits every single month, allowing you to continue to use DALL-E forever without paying anything.
That being said, DALL-E 2 does require quite a bit of trial and error until you finally get the result you're looking for, so you tend to burn through those credits rather quickly.
Once you've used up all your free credits, you can purchase additional credits in incremental packs of 115, which cost $15.
115 credits give you 460 images, which sounds like a lot.
But remember, every single action you do in DALL-E 2 will cost you 1 credit, so those 115 credits are a lot less than you might think.
If you use some of DALL-E 2's special features such as Inpainting or Outpainting, your credits are going to evaporate into thin air.
Also bear in mind that your purchased credits will expire after 12 months.
Key Points (tl;dr)
Unlike other AI art generators, the DALL-E pricing model is usage-based.
New users receive 50 free credits upon sign-up and an additional 15 credits a month after that. These credits usually expire by end of the month.
Those who need more credits can buy them in packs of 115 at a price of $15 per pack.
While it's questionable whether DALL-E 2's image generation capabilities justify the price of credits, its advanced editing features (Inpainting & Outpainting) sure do.
Is DALL-E 2 Worth It?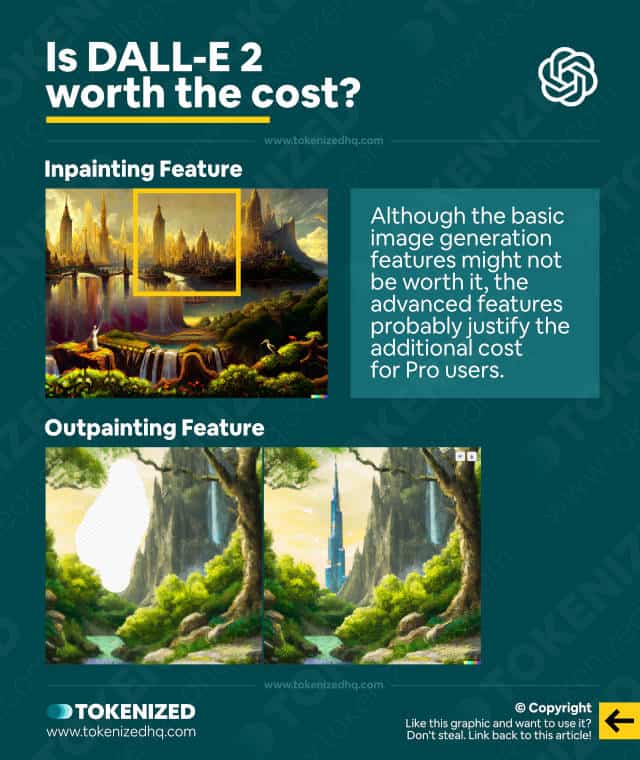 As much as people hate subscription models, Midjourney's Basic and Standard plans feel a lot more affordable when compared to the DALL-E pricing model.
On the other hand, credits are much easier to understand and some users may feel like they have more control over their DALL-E costs.
In reality, you can't really compare the price of DALL-E 2 and Midjourney sie-by-side, simply because both tools are very different.
In fact, I wouldn't be surprised if most professionals end up using both tools for different types of things.
While Midjourney is amazing for creating really creative digital art, the only way to interact with it is by using commands and there's no option to edit the images with AI.
A lot of people dislike the fact that it takes them much longer to achieve good results from their prompts in DALL-E 2.
However, the ability to add or remove objects with Inpainting is extremely powerful.
And DALL-E's new Outpainting feature elevates it to a whole new level.
None of this is possible in Midjourney and is a strong argument for using DALL-E for very specific use cases.
If you're just a hobbyist, you're probably better off getting the Basic Midjourney subscription.
But if neither the DALL-E price nor Midjourney's subscription fee feels particularly expensive to you, then you'll probably want to use both.
You might use Midjourney to create your initial imagery and then improve upon it by using DALL-E 2's editing features.
Can I Use DALL-E for Free?
When you first sign up for DALL-E, you'll receive 50 free credits that are valid for 1 month.
These credits will allow you to generate up to 200 images and get a feeling for all of the features that DALL-E 2 has to offer.
Once your initial trial credits expire, you'll receive 15 new credits every month.
So technically, you could continue to use DALL-E 2 forever at absolutely no cost to you.
Some of you might be thinking that you could get those initial 50 free credits multiple times by simply signing up with different Google or Microsoft accounts.
However, that trick won't work with DALL-E 2 because you need to verify your account with your mobile phone.
So, unless you have multiple phone numbers, OpenAI will know that you've created an account before.
How to Buy Additional DALL-E Credits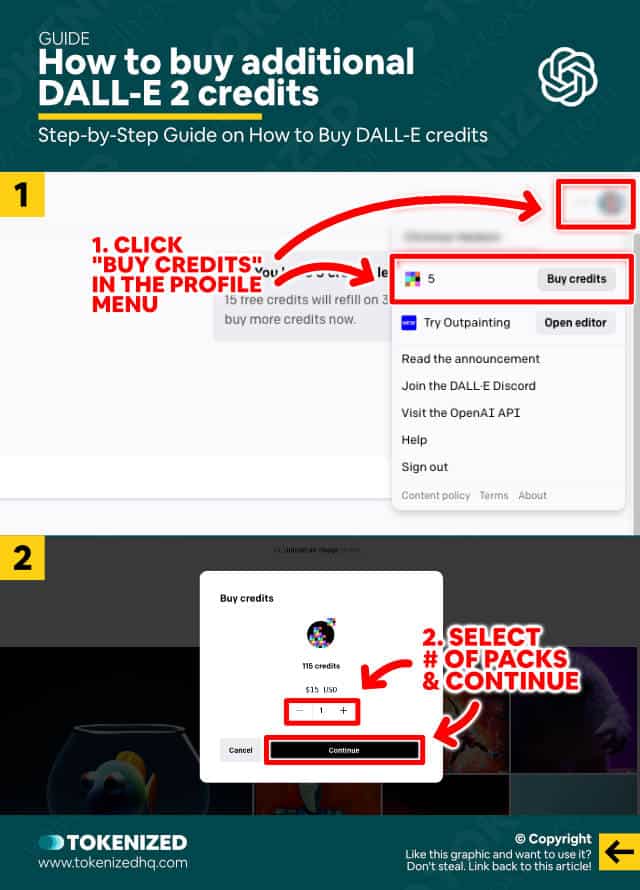 If you used up all of your DALL-E credits and want to continue using the software, you'll have to purchase additional credits.
Follow these steps to buy credits for DALL-E 2:
Step 1: Log into your DALL-E account.
Step 2: Click your profile picture in the top-right corner.
Step 3: Select "Buy credits" from the dropdown menu.
Step 4: Next, click the "Buy credits" button in the middle of the screen.
Step 5: Now select how many packs of credits you want to purchase and click "Continue".
Step 6: Add your payment details and complete the checkout.
Bear in mind that there are no volume discounts on credit purchases, so there's little benefit in buying multiple packs.
In fact, since your credits expire after 12 months, it's better to buy less, or else you might end up with unnecessary DALL-E costs.
Frequently Asked Questions (FAQ)
Before we close off this guide, let's quickly address some of the most common questions related to the DALL-E 2 Outpainting feature.
How much does it cost to use DALL-E?

DALL-E comes with 50 free trial credits for new users and 15 free credits every subsequent month. If you need more credits, you can purchase them in packs of 115 at a price of $15 per pack. Your overall cost to use DALL-E 2 will ultimately depend on how much you use it. Particularly the editing features of DALL-E 2 can become quite costly when used extensively.

Can you use DALL-E for free?

Every new user receives 50 free trial credits for DALL-E. You also receive 15 additional credits every month. If you do not need more than 15 credits per month, then you can technically use it for free forever.

Is DALL-E expensive?

Whether the DALL-E pricing model is cheap or expensive largely depends on how much use it and what you use it for. What tends to make DALL-E 2 rather expensive are its special features such as Inptainting and Outpainting. Using these features often requires considerable amounts of credits which will seem expensive to most users.

Is the DALL-E API free?

The DALL-E API is not free, however, when you create your account, you are given $18 worth of credits that you can use to experiment with the DALL-E API. Compared to the cost of credits for the DALL-E 2 web application, the API pricing model is incredibly cheap. However, this is not surprising since the objective of the API is to allow other developers to create new products on top of the API. Its pricing needs to be cheaper in order to leave sufficient margin for product developers.
Conclusion
The DALL-E pricing model is usage-based and therefore looks very fair at first glance.
However, depending on how you plan to use DALL-E, it might end up being incredibly costly as well.
Some of DALL-E 2's advanced features might justify the higher cost but its basic image generation capabilities mostly don't.
Here at Tokenized, we want to help you learn as much as possible about the AI software industry. We help you navigate the world of tech and the digitalization of our society at large, including the tokenization of assets and services.