Trying buy or cancel a Midjourney subscription?
Perhaps you're a bit confused by the way Midjourney has set up its subscription management between Discord and the website?
Quite a few people seem to be struggling to figure out how the Midjourney subscription works and whether they can cancel their subscription without losing access.
In this guide, we'll show you how to buy a Midjourey subscription as well as how you can cancel it.
Let's dive right in.

Like this content? Then share it!
How to Buy & Cancel a Midjourney Subscription
Here's the answer. Great article by @ChrisHeidorn right here: https://tokenizedhq.com/midjourney-subscription-cancel/

www.tokenizedhq.com
How to Buy a Midjourney Subscription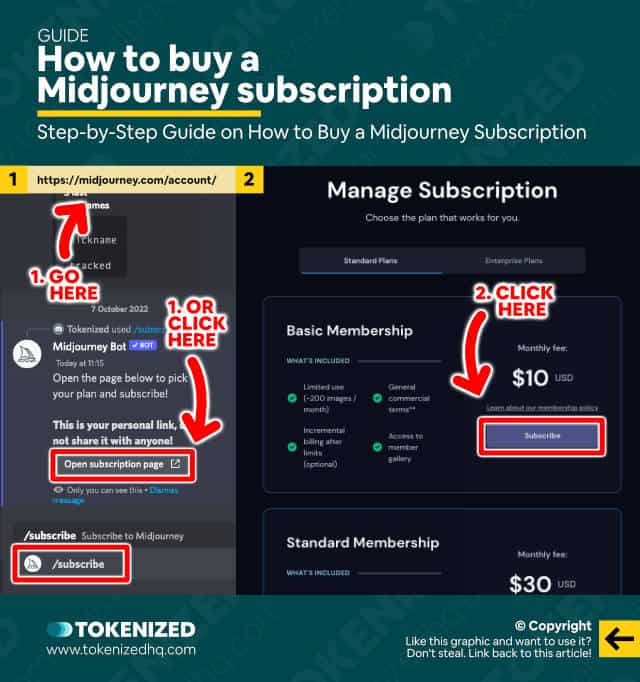 The following instructions assume that you've already joined the Midjourney Discord server and have created a trial account.
In other words, you've already played around with Midjourney and now you'd like to become a paid member.
In order to get a paid Midjourney subscription, you must access your account page on the Midjourney website.
There are 2 methods that you can use to get to the account page:
Method 1: Simply open your browser and navigate to https://www.midjourney.com/account/
Method 2: Type the /subscribe command inside the Midjourney Discord and click the "Open subscription page" button.
Although each option opens a different URL in your browser, the interface looks pretty much identical.
Now, all you need to do is choose the membership you want by clicking on the "Subscribe" button.
This will bring you to Midjourney's checkout page which is hosted by Stripe.
Enter your payment details and finally hit the "Subscribe" button one more time and you'll be ready to go in no time.
If you're in the habit of managing your recurring expenses by canceling your subscriptions immediately after signing up for a service, follow the instruction in the next section.
Key Points (tl;dr)
The process for purchasing and canceling a paid Midjourney subscription is always the same and there are 2 ways you can do it:

Method 1: Navigate straight to the Midjourney account page.
Method 2: Enter the /subscribe command inside Discord and click on the "Open subscription page" button.

Canceling your subscription will NOT restrict your account until the full billing cycle has ended.
How to Cancel Your Midjourney Subscription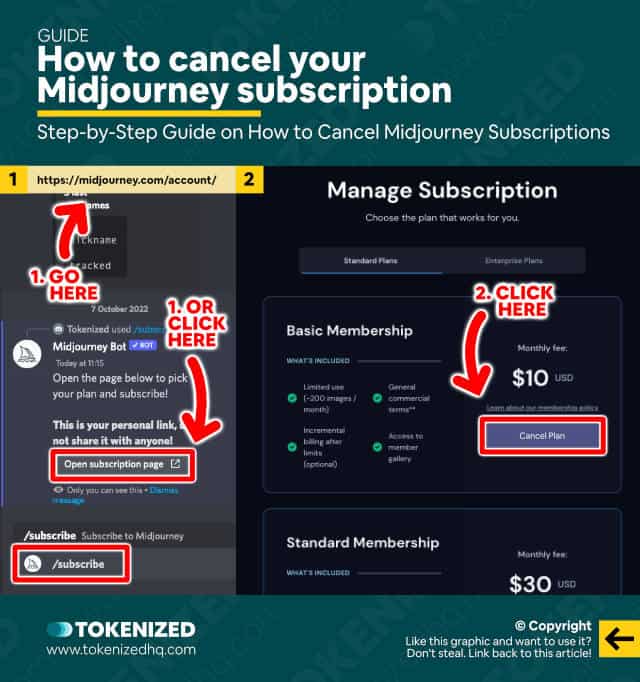 Canceling your Midjourney subscription is just as easy as becoming a paid member.
A question that comes up quite frequently is whether your account's access is restricted immediately after canceling or only once the billing cycle ends.
Well, we've got good news for you because even if you cancel your subscription immediately after signing up, you'll still have access to the full benefits of a paid membership.
Your account is only restricted once the full month (e.g. 30 days) has elapsed.
Once again, there are 2 ways to access the subscription page:
Once the "Manage subscription" page loads, simply look for the "Cancel Plan" button or link and click it.
You'll most likely be asked to confirm your decision and once you do, your plan will be canceled and will not renew once the billing cycle has ended.
WARNING: Please bear in mind that deleting your Discord account DOES NOT cancel your Midjourney subscription. The subscription is managed separately and therefore needs to be canceled first. Please also refrain from complaining about how Midjourney's membership automatically renews itself. It's literally how 99% of all online subscriptions work. So take accountability for yourself. Stop complaining and just cancel your membership!
Midjourney's Pricing Plans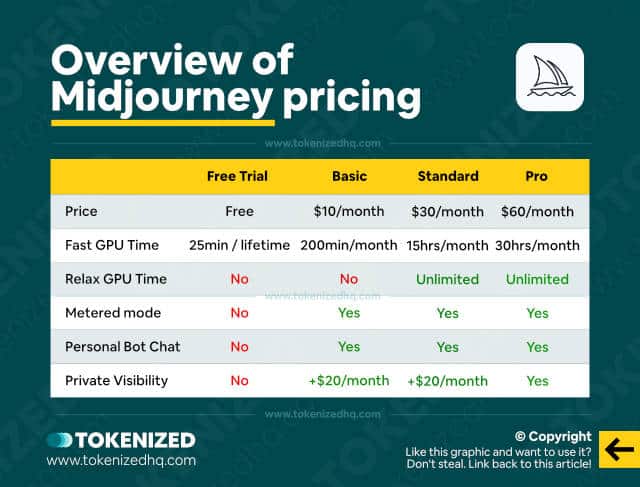 UPDATED on 20 December 2022 to reflect the additional of a third "Pro" plan. It gives you 30 hours of Fast GPU time for $60/month and includes "Private Mode". It also looks like the "Corporate" plan may have been removed for good, although this has not been confirmed.
For a detailed overview of the different membership plans and how they compare, please refer to our dedicated article on Midjourney's pricing.
That being said, we'd like to give you a quick rundown of the choices you have.
Basic Membership

Price: $10/month
Jobs: 200/month
No access to relax mode
Upgrade receive proportional discounts
Private visibility is available at a $20 surcharge
Standard Membership

Price: $30/month
Jobs: Unlimited (technically ~ 900)
Access to Midjourney's relax mode
Upgrade receive proportional discounts
Private visibility is available at a $20 surcharge
Pro Membership

Price: $60/month
Jobs: Unlimited (technically ~ 1800)
Access to Midjourney's relax mode
Upgrade receive proportional discounts
Free private visibility
Corporate Membership (phaseout not confirmed yet)

Price: $600/year
Jobs: Unlimited (technically ~7,200)
Everything else like the Standard Membership
Free private visibility
This plan is compulsory for employees of companies that make more than $1 million in revenue per year.
Frequently Asked Questions (FAQ)
Before we close off this guide, let's quickly address some of the most common questions related to Midjourney subscriptions.
Does the Midjourney subscription automatically renew every month?

Yes, subscriptions always renew automatically. Your credit card will be billed on a recurring basis unless you actively cancel your subscription. Deleting your Discord account is not enough because it is completely separate from your subscription with Midjourney.

Why can't I cancel my Midjourney subscription?

If your credit card was declined after a recent membership renewal, you will not be able to cancel your subscription until you pay the amount that is still due.

Why don't I see any option to cancel on the Midjourney account page?

Make sure that you've logged in with the correct Discord account. Your subscription is linked to the Discord account you used when you subscribed. If you've logged into a different account, then the website has no way of knowing who you are.

Can I un-cancel my Midjourney subscription if I change my mind?

Yes, even if you've canceled your membership, you can still "un-cancel" or "reactivate" it as long as the billing cycle hasn't ended.
Conclusion
Anyone who's ever spent at least 5 minutes playing around with Midjourney will have seriously considered signing up for a paid membership.
But for many people, there are a lot of open questions about whether they can cancel their membership or whether it renews automatically.
Well, we hope this article helped answer some of your most burning questions about Midjourney subscriptions and look forward to seeing you here again.
Here at Tokenized, we want to help you learn as much as possible about the AI software industry. We help you navigate the world of tech and the digitalization of our society at large, including the tokenization of assets and services.