Are you trying to understand why someone would buy an NFT?
Perhaps you've noticed that more and more people are talking about NFTs but you just can't seem to wrap your head around why anyone would care about them?
Well, don't worry, because the vast majority of people still don't quite understand what they are all about and that's because it's still very early.
In this guide, you'll learn exactly why do people buy NFTs and why digital assets are becoming increasingly relevant in our society.
So let's get right to it.
Key Points (tl;dr)
As NFTs become increasingly widespread, more and more people are beginning to ask themselves: Why do people buy NFTs?
At their core, NFTs are just unique entries in a database stored on the blockchain. However, this makes them not only permanent but also immutable. NFTs are singular tokens that can be owned, transferred, and traded.
Here are some of the reasons why someone would buy an NFT:

Bragging Rights & Social Status
Special Gaming Items with Utility & Status
Collectors & Curators searching for Culturally Significant Art
Fans Looking to Support Creators
People Looking for Alternative Investments & Higher Returns
For a detailed answer to the question "Why do people buy NFTs?", PLEASE READ THE FULL ARTICLE.
Like this content? Then share it!
Explained: Why Do People Buy NFTs?
Here's the answer. Great article by @ChrisHeidorn right here: https://tokenizedhq.com/why-do-people-buy-nfts/

www.tokenizedhq.com
What is an NFT?
An NFT is a digital entry in a database stored on the blockchain. It is immutable and permanent. It can be owned and sold. Because an NFT is non-fungible, it can potentially represent any real-life or digital item that you can think of.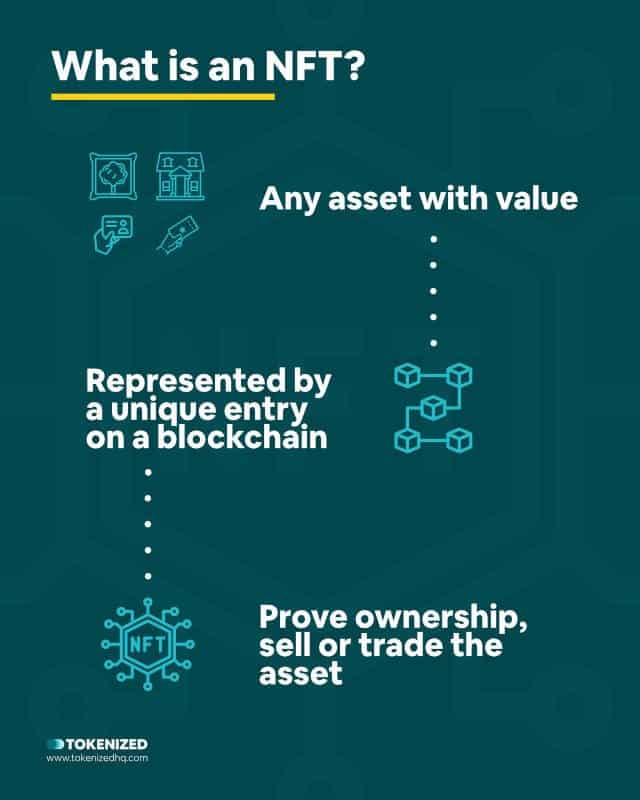 Let's start off by getting some very simple basics out of the way.
One of the first things that people ask when they hear the term NFT is what NFT actually stands for.
NFT stands for "non-fungible token" and it essentially means that it is a unique token, unlike any other.
Examples of fungible tokens are Bitcoin or Ethereum, where each token is as good as the other.
Real-life examples of (mostly) fungible things are most major commodities, such as water, oil, or coffee beans.
From a technical point of view, an NFT is nothing more than an entry in a database.
The difference is that this database is stored on the blockchain which not only means that the entry cannot be changed or manipulated, it also means that it can be owned and sold.
I know this all sounds a bit vague and esoteric but an NFT can potentially represent any real-life or digital item that you could think of.
The best comparison I can think of is a deed for a house or land, except that you no longer need the deed office because it has been replaced by the blockchain.
Now that you have a slightly better understanding of what NFTs are, you're probably still asking yourself why would anyone buy an NFT, right?
Well, let me explain…
Why Do People Buy NFTs?
More and more people are buying NFTs. Some are just looking to flex their wealth, while others are keen to experiment with play-to-earn games or collect art. However, in its current state, the vast majority is simply speculating on their value increasing over time.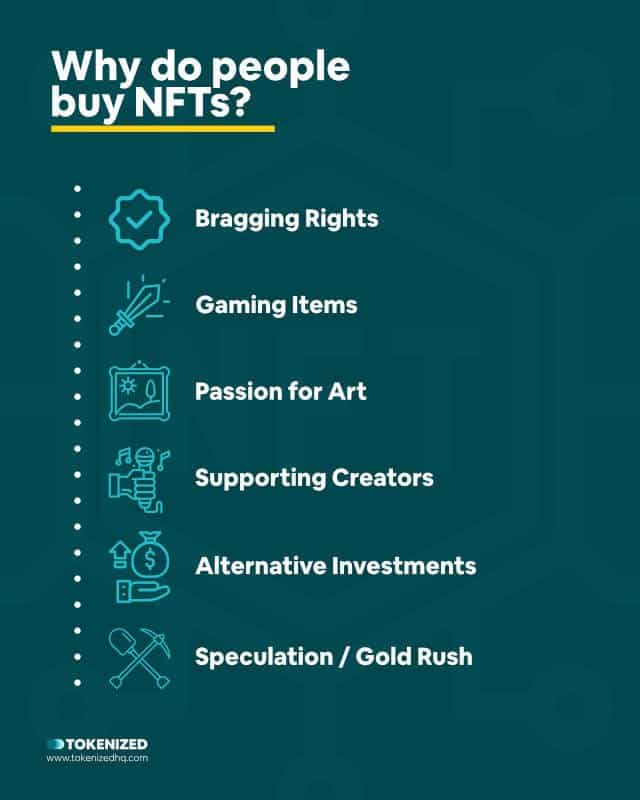 I actually get this question a lot: Why do people buy NFTs?
So many people struggle with the idea of paying money for something that's intangible or that they consider to be worthless.
It's not a surprise that particularly older generations struggle with this concept.
I don't blame them considering that they've grown up in a world where physical assets are used as a major store of value (e.g. gold, silver, real estate, etc).
However, in most of the developed world, life is slowly transitioning more and more into the digital world.
Not only do we spend most of our time interacting via digital technology, but for many people, their entire careers revolve around the things they do on the internet.
That's about as digital as you can get.
We've already established that NFTs are able to represent almost any item, whether digital or physical.
So, in other words, buying an NFT is not necessarily different than buying a car or a house.
Both of these things come with paperwork that helps you prove that you are the rightful owner of these assets.
An NFT is essentially the same thing as that paperwork, except that you no longer need any central authority to prove it.
Some people like to own physical assets and others like to own digital assets.
The fact that digital assets are intangible doesn't mean that they don't have value.
Digital assets are rising in value every day.
That being said, the true motivations for why do people buy NFTs are a lot more diverse than that.
So let's dig deeper and try to find some answers to the question: Why would someone buy an NFT?
Bragging Rights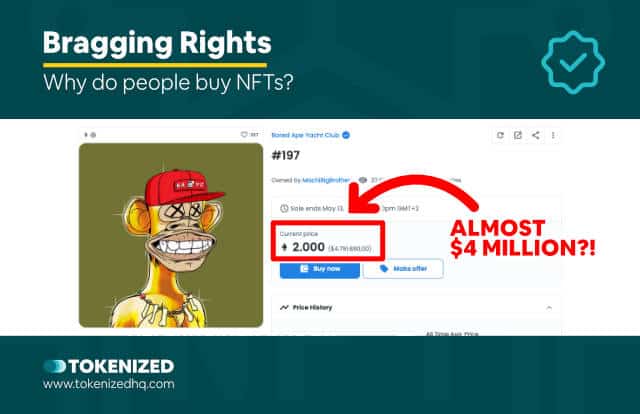 We live in a capitalist system and everyone is looking for their place in society.
Some people are more self-aware than others and depending on what circles you move around in, wealth quickly becomes a very relative concept.
While you might be rich from a statistical point of view, if you're surrounded by people who are even wealthier than you, you might still feel depressed.
Many rich people buy expensive things not because need them, but because it sends signals to the outside world.
It's meant to show society how rich you are or what stuff you like.
This is especially true for NFT collections that are extremely trendy, like Bored Ape Yacht Club.
Owning a BAYC NFT is genuinely and verifiably rare.
So why do people buy NFTs?
Well, in many cases it's all about status, flex, and bragging rights.
Gaming Items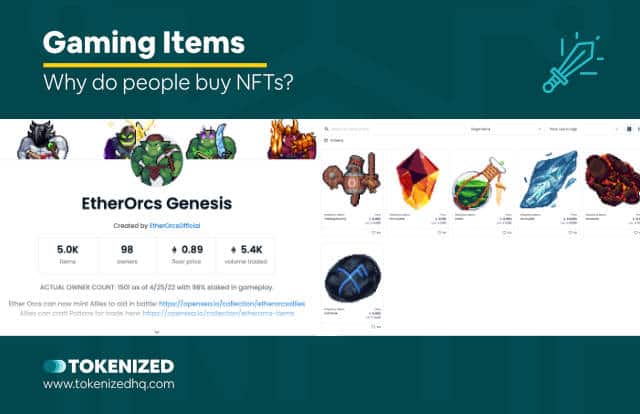 But not all NFTs are just about how expensive an NFT is.
You see, owning unique digital items is not something new.
The gaming industry has been using many concepts around customization, scarcity, and ownable items for a very long time.
Games like Fortnite, which are free to play, make a huge chunk of their revenue from in-game items.
That's right: People are willing to pay real money for the neon leopard skin suit or the huge rail gun that only exists 3 times.
The difference between existing game platforms and the nascent Play-to-Earn gaming industry is that the items now have the potential to exist outside their native gaming platforms.
Imagine using the same character or skin not only in one game but in all NFT games that you play.
If you're still wondering why do people buy NFTs, then let's move on to the next category.
Passion for Art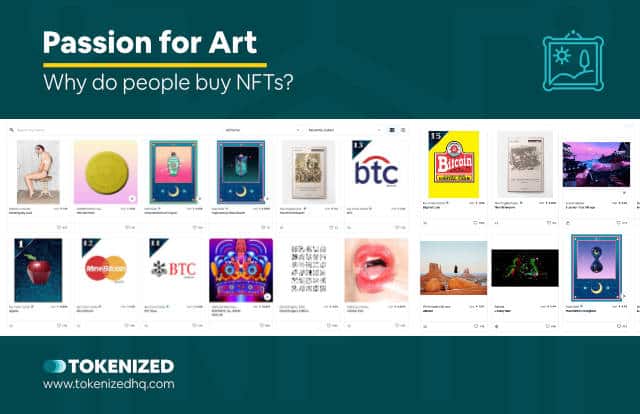 The art scene was one of the very first communities to embrace NFTs with open arms.
I don't think there was a single serious art expert that asked: Why do people buy NFTs?
Art collectors and curators spend most of their time trying to find culturally significant artwork in all its forms.
And if you look at what has happened in the NFT space, there's no doubt that NFTs are having a significant and lasting impact on the art scene.
Of course, there are artists who despite NFTs and we've even written an article on why people hate NFTs.
But there are also many artists out there who have embraced the technology and are reaping the benefits of their foresight.
NFTs have the potential to revolutionize how artists make a living.
Supporting Creators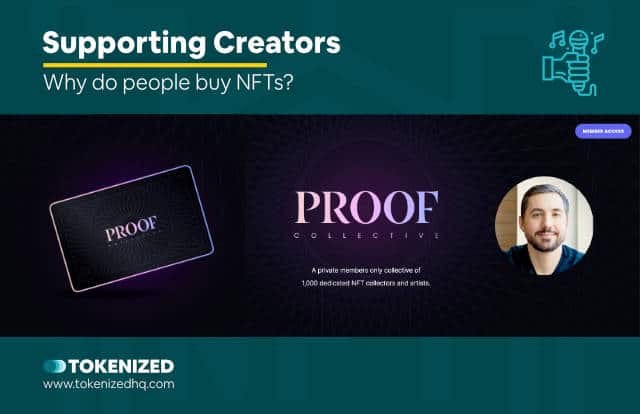 And guess what, NFTs are not just revolutionary for digital artists.
I strongly believe that their impact on the creator economy will be even more significant.
I'm not only talking about musicians but also YouTubers, Podcasters, Writers, and pretty much anyone who creates content for a community of fans.
NFTs can be used to raise funds from your fans without the need for an intermediary who takes a huge cut from your earnings.
Since your fans now own a limited NFT that probably comes with utility as well, the value of that NFT has the potential to go up.
The incentives of creators and fans become significantly more aligned than they used to be.
Fans suddenly become marketers because they stand to benefit from the creator's success as well.
And the creator can use the royalties earned from secondary sales to invest in his or her community.
So, are still asking yourself: Why do people buy NFTs?
Alternative Investments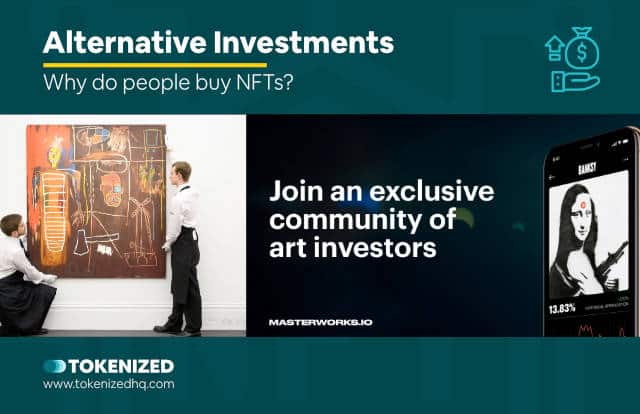 If none of the above examples convinced you that there are many reasons why someone would buy an NFT, then let me give you one final reason.
How much interest are you currently earning on your savings account?
I'm guessing it's closing to nothing.
If you've invested in stocks you're already doing better than most people but what about the recent wave of inflation?
Can your investments keep up?
Not everyone can afford to invest in real estate.
More and more people are going further and further out on the risk curve in order to generate a return that will help them compensate for inflation.
Alternative investments, such as oldtimers, rare whiskey, and artwork have traditionally yielded very strong returns.
However, they tend to require a lot of expertise in each field.
And that's why more and more companies are starting to offer so-called "fractionalized" investments.
Imagine breaking down a piece of real estate into thousands of small shares, each one represented by an NFT.
All of a sudden, even the small guy can invest in real estate and benefit from the returns.
If you're keen to learn more, I recommend you check out our article on NFT real estate.
Conclusion
It's very common for people to ask the question: Why do people buy NFTs?
To be fair, most people still struggle with the concept of cryptocurrency as it is, so NFTs can easily become even more confusing.
However, it's a fact that our lives are becoming more and more digitized and the traditional concepts of what type of assets hold value and which don't are shifting.
And younger generations will be at the forefront of this movement.
Here at Tokenized, we want to help you learn as much as possible about the coming NFT revolution. We help you navigate this fascinating new world of non-fungible tokens and show you how you can integrate tokenization into your own business.