Are you trying to figure out what OpenSea WETH is and how to get it?
Or perhaps you're just trying to understand how to exchange ETH for WETH on OpenSea?
Well, don't worry, because the concept behind Wrapped Ether (WETH) is actually quite simple, and converting ETH to WETH or vice versa is very easy.
In this guide, you'll learn what WETH is, how it is different from ETH, and how to get your hands on some WETH for your next OpenSea purchase.
Let's get to it.
Key Points (tl;dr)
On OpenSea WETH is usually used to make one or multiple bids on various different NFTs with the same amount of WETH. Once a bid is accepted, the transaction is completed automatically and all other bids are canceled.
Although the price of WETH is pegged to that of ETH, they are not the same thing. WETH is an ERC-20 token that has a different purpose from ETH.
For example, you cannot pay gas fees with WETH because that must be done in Ethereum's native token.
Converting (or wrapping) ETH to WETH is a simple process:

Step 1: Select "Wrap" from your OpenSea wallet balance
Step 2: Enter the amount you want to wrap
Step 3: Confirm the transaction

Sometimes MetaMask will not display your Wrapped Ethereum balance. In that case, you may need to add the token manually.
For a step-by-step guide on how to convert ETH to OpenSea WETH, PLEASE READ THE FULL ARTICLE.
Like this content? Then share it!
OpenSea WETH: Everything You Need to Know in 2023
Here's the answer. Great article by @ChrisHeidorn right here: https://tokenizedhq.com/opensea-weth/

www.tokenizedhq.com
What Is WETH on OpenSea?
OpenSea uses Wrapped Ethereum (WETH) to facilitate auction-based NFT transactions. WETH allows buyers to place a pre-authorized bid on items, which are immediately processed as soon as the buyer accepts the bid.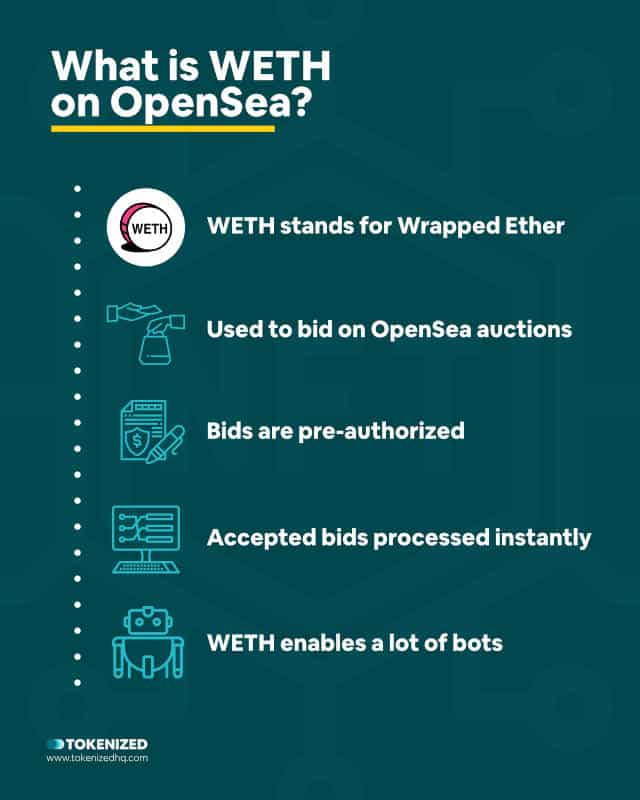 If you've been on OpenSea for a while then chances are good that you've bumped into the term Wrapped Ethereum or WETH before.
As the name already suggests, WETH has something to do with Ethereum.
On OpenSea WETH is used to buy and sell NFTs in auctions.
WETH is a currency that makes it possible to create a pre-authorized bid on any NFT that can then be fulfilled at a later date without any additional action from your side.
This is incredibly useful because it promotes activity on marketplaces, eliminating the need for everyone to constantly interact with the OpenSea website.
OpenSea WETH bids also have the massive benefit of allowing you to use 1 WETH and make as many bids on different items as you want to, even though the total value of all bids combined might exceed the 1 WETH you have.
This is possible because once one of your bids is accepted, the others automatically get canceled.
WETH is one of the main reasons why you see so many bots on OpenSea.
Is WETH the Same as ETH?
ETH and WETH both have the same value, however, they are not the same thing. ETH is Ethereum's native token that is used to pay for transaction fees. WETH, on the other hand, is an ERC-20 token that can be used by dApps. WETH's value is pegged to the price of ETH.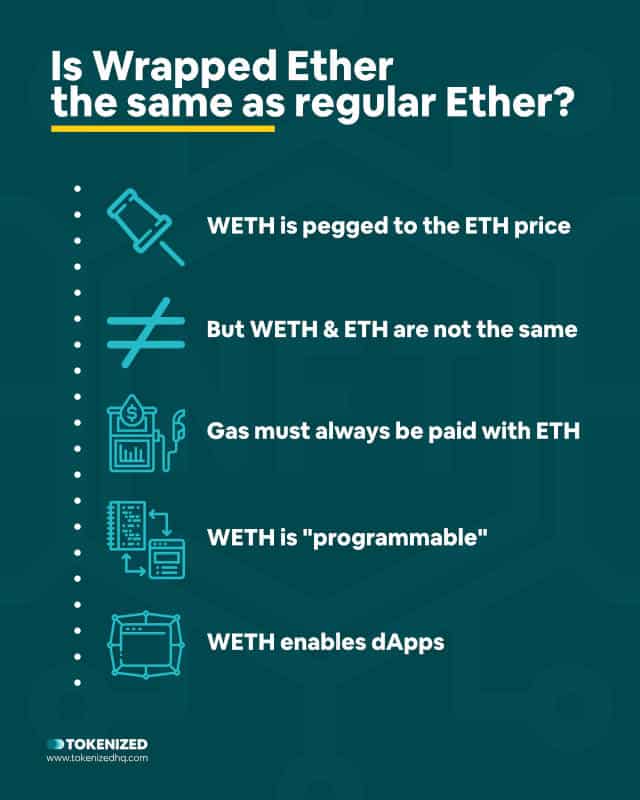 While ETH and WETH have the exact same value and purchasing power, they are distinctly different in their properties.
ETH is the native currency of the Ethereum blockchain network and this will never change since it is also used to pay gas fees.
ETH is a cornerstone of the Ethereum ecosystem and the internet's leading value layer.
However, there are a number of critical OpenSea WETH use cases and they are anchored in the fact that Wrapped Ethereum allows dApps to do things that simply aren't possible with ETH.
WETH not only enables auctions on OpenSea, but it also spawned the entire DeFi space by facilitating staking and other investment opportunities such as lending and liquidity pools.
Do You Pay Gas With WETH?
Ethereum network transaction fees can only be paid with native ETH. WETH, although the same in value, is only an ERC-20 token that cannot be used to pay for gas.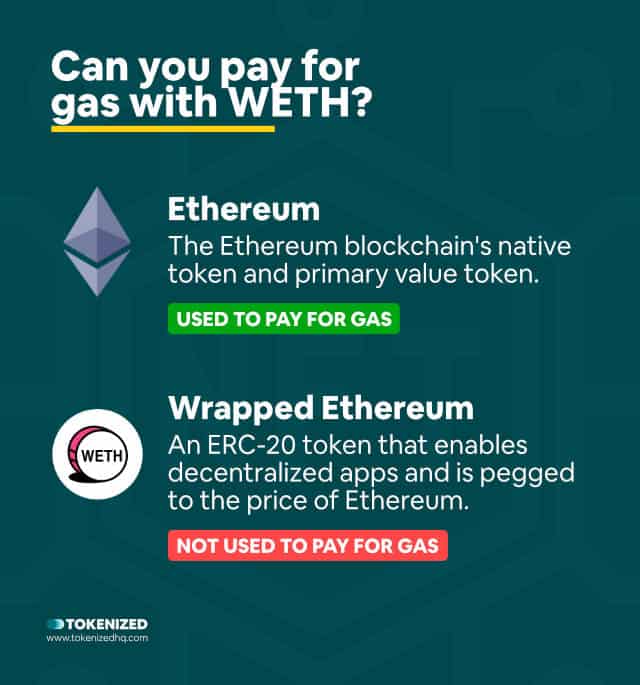 Since the price of WETH is pegged to that of ETH, many people tend to ask whether they can use their Wrapped Ethereum to pay for gas.
Unfortunately, this isn't possible because WETH is technically just another ERC-20 token.
All network fees must be paid in ETH, so having a bunch of WETH in your wallet without any ETH will not be helpful.
How to Convert OpenSea WETH to ETH and Vice Versa
To convert ETH to WETH on OpenSea, open the wallet panel by clicking on the top right corner of the screen. Then select the 3-dot-menu next to your Ethereum balance and click "Wrap". Finally, select the amount you want to convert and click the "Wrap ETH" button.
The process of converting ETH to WETH is called "wrapping" Ethereum.
Converting any amount of WETH back to ETH is called "unwrapping" your Ethereum.
That makes sense, right?
Normally, most people would use a DeFi platform such as UniSwap or SushiSwap to do this.
However, decentralized exchanges can feel a bit overwhelming if you're not familiar with them.
Luckily OpenSea has made the process of converting ETH to WETH and back very easy.
Follow these 3 simple steps to convert OpenSea WETH to ETH or vice versa.
Step 1: Select "Wrap" from Your OpenSea Wallet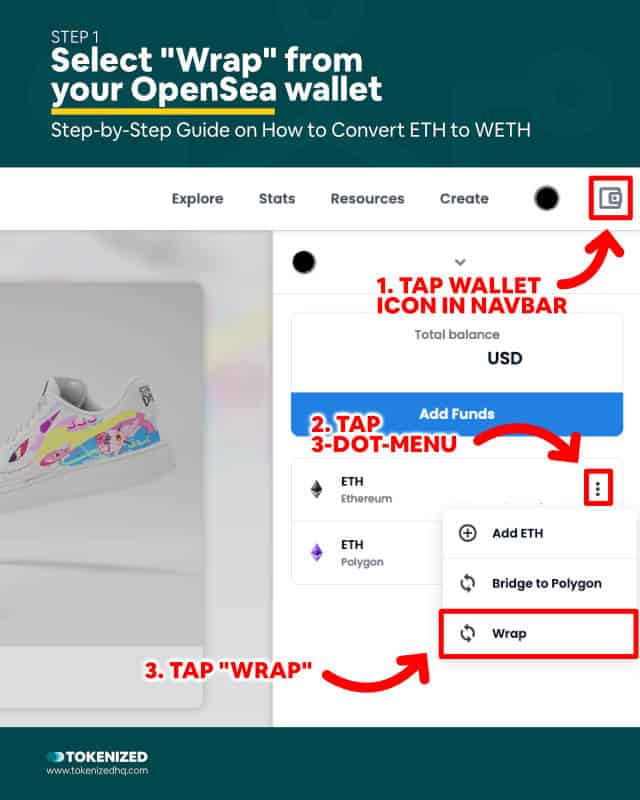 Go to the OpenSea website and make sure your wallet is connected.
Open your OpenSea wallet by clicking the wallet icon in the top right corner.
Now click the 3 little dots next to the currency you want to convert and either click "Wrap" or "Unwrap".
Step 2: Enter the amount to convert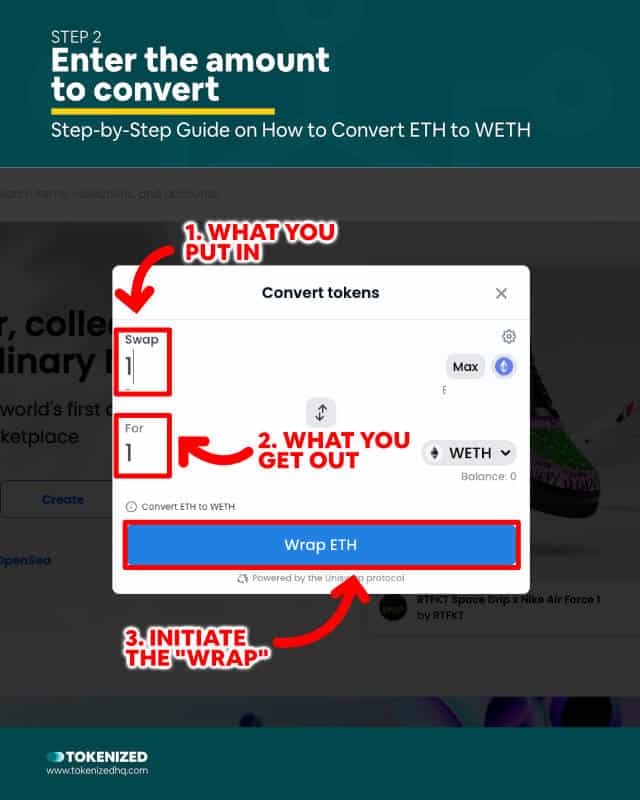 When the new popup menu opens, enter the amount of ETH or WETH that you want to swap.
Remember that you need ETH every time you complete a conversion, so make sure you keep some ETH if you plan to convert back soon.
Once you're happy with the amounts, click the "Wrap ETH" button.
Step 3: Confirm the transaction and convert funds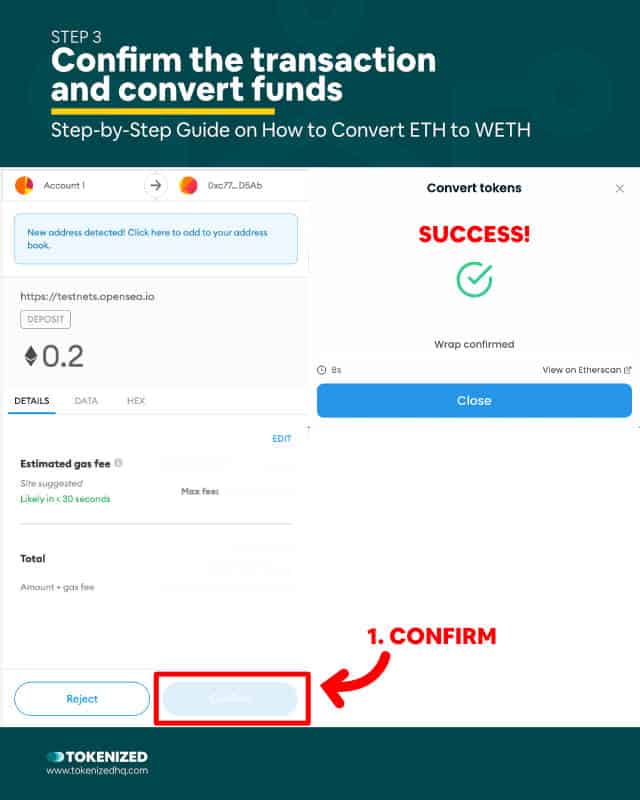 The next steps will largely depend on the type of wallet provider you are using.
In this example, we use MetaMask since it's the most popular wallet right now.
Your MetaMask extension will be triggered and a window will appear, asking you to confirm the transaction.
Once the transaction has been successfully confirmed, it will be shown on-screen.
You're now ready to use your new OpenSea WETH and make bids on all sorts of NFTs.
Have fun!
How to Add WETH to Metamask
You can add the WETH token to your MetaMask by clicking the "Add Token" button in the "Assets" tab and searching for the "Wrapped Ether" token. Once added, your WETH balance will show inside your MetaMask wallet.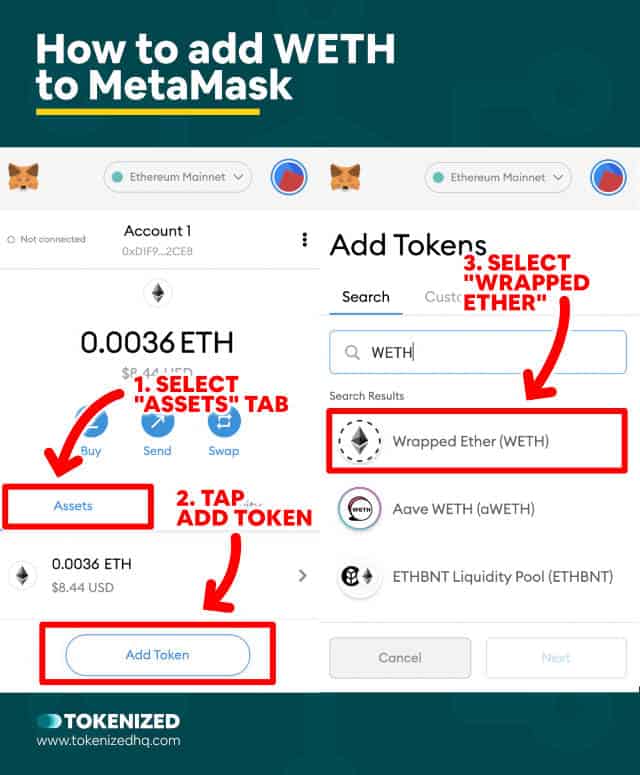 Normally MetaMask should detect Wrapped Ethereum in your wallet by default.
In some rare instances, however, it may not show as an ERC-20 token inside your MetaMask wallet.
But don't worry, adding it to your wallet manually is a very simple process.
Here's how to add WETH to MetaMask:
Step 1: Open the "Assets" tab and click the "Add Token" button
Step 2: Search for WETH and select the "Wrapped Ether (WETH)" option
Step 3: Click "Next" and now MetaMask should display your WETH balance
If you're not happy with how MetaMask works, you can also have a look at our detailed guide on MetaMask alternatives.
It's not uncommon for many people to prefer another wallet provider, such as Coinbase Wallet, because it supports other blockchain networks as well.
Conclusion
Wrapped Ethereum was quite a revolution when it was first introduced.
Even though it has the same value as regular ETH, it spawned massive innovation and enabled many of the decentralized finance applications that we know today.
And it also has many uses in the NFT space as well, enabling bidding with automatic transaction completions.
Just remember that even though swapping between ETH and WETH (and back) is very simple, you will always need some WETH in order to pay for gas.
Here at Tokenized, we want to help you learn as much as possible about the coming NFT revolution. We help you navigate this fascinating new world of non-fungible tokens and show you how you can integrate tokenization into your own business.