Looking for a clean, simple, and updated list of the most expensive NFT art ever sold?
Or perhaps you're just curious whether the most expensive NFT sold has changed in the past month or so?
Don't worry, we know there are a lot of lists out there that claim to be updated regularly, only to not actually list the latest transaction that should be on the list.
Keeping track of all these sales isn't always easy but we aim to revise this list at least once a month.
In this comprehensive list, you'll learn about the most expensive NFT purchases in history.
So let's get right to it.
Last Updated on: November 4th, 2023
Key Points (tl;dr)
NFTs have taken the world by storm every since Beeple's "Everydays" sold for $69 million in February 2021.
The most valuable NFT artwork is currently concentrated around 4 major artists: Beeple, Pak, XCOPY and Larva Labs.
The top 10 NFT sales in history represent sales volume of more than $300m.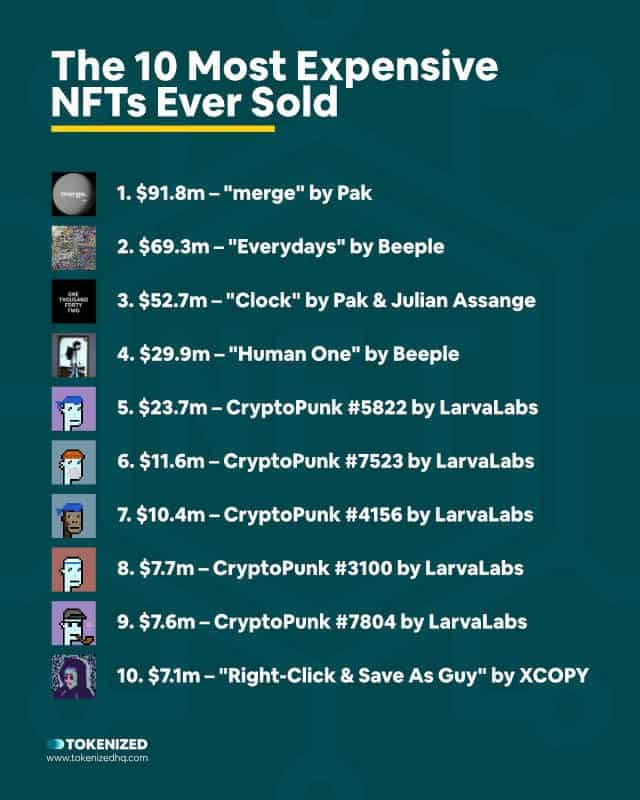 Like this content? Then share it!
The 10 Most Expensive NFTs Ever Sold (Updated Monthly)
Here's the answer. Great article by @ChrisHeidorn right here: https://tokenizedhq.com/most-expensive-nft-sold/

www.tokenizedhq.com
The Most Expensive NFTs Ever Sold
The list of the 10 most expensive NFTs ever sold currently includes 4 distinct artists (Beeple, Pak, XCOPY & Larva Labs), and these works alone are currently worth a total amount of at least $300 million.
2021 was the year when most of the world realized that cryptocurrency and blockchain technology was here to stay.
After a massive influx of capital and huge advancements in infrastructure development markets reach new all-time highs.
But despite all this progress, the real music was playing in an entirely different corner of the crypto universe.
Non-fungible tokens (NFTs) were finally grabbing the attention of the mainstream and a lot of people with some serious money saw an opportunity for outsized returns.
It all really kicked in February 2021 when Christie's auctioned off an NFT for $69 million.
It was that moment in time that made a lot of people ask themselves: Is NFT a good investment?
But let's not get ahead ourselves and have a closer look at the 10 most expensive NFTs ever sold.
10. "Right-Click and Save As Guy" by XCOPY – $7.09m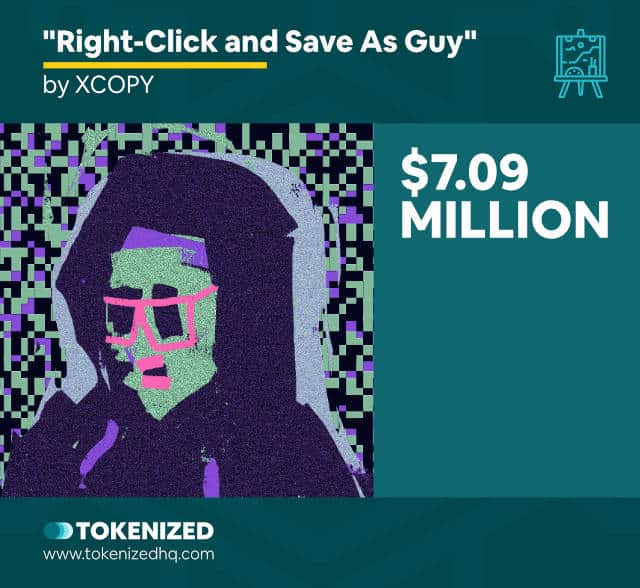 XCOPY has become famous for his very distinct style of animated digital art and many of his works now rank amongst the most expensive NFTs in the world.
His piece "Right-Click and Save As Guy" is an obvious caricature of one of the main criticism that the NFT art scene has had to deal with.
Naysayers are quick to point out that they can easily right-click and save the image of the artwork and insinuate that this is the equivalent to ownership of the artwork.
The fact you can easily take a photo of a building and still don't own it is an often-cited rebuttal to this criticism.
Either way, XCOPY's most valuable artwork to date was purchased by Cozomo de'Medici in December 2021 via SuperRare for the "modest" amount of 1,600 ETH ($7.09m).
9. CryptoPunk #7804 by Larva Labs – $7.6m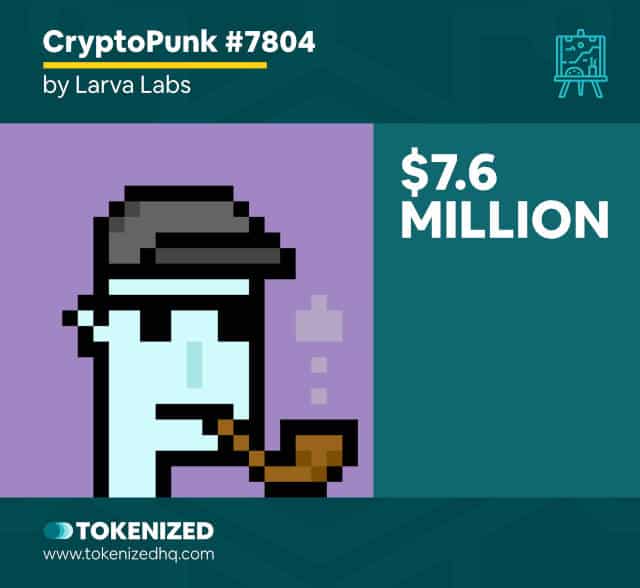 We've spoken about CryptoPunks a lot here on Tokenized.
CryptoPunks were originally created by Larva Labs in 2017 and have since become somewhat of a template for profile-pic (PFP) collections with 10,000 unique tokens.
Thousands of "me-too" projects have popped up ever since NFT generators made the process of creating them very easy.
Amongst the rarest and most sought-after CryptoPunks are those with alien, zombie, ape and hoodie traits, with aliens clearly taking the top stop (there are only 9).
As you'll see, the next 5 spots of the most expensive NFTs sold, including this one, are covered by CryptoPunks, which clearly says a lot about their significance.
CryptoPunk #7804, an alien with a cool cap, pipe and shades, was sold in March 2021 for 4,200 ETH (approx. $7.6m).
8. CryptoPunk #3100 by Larva Labs – $7.67m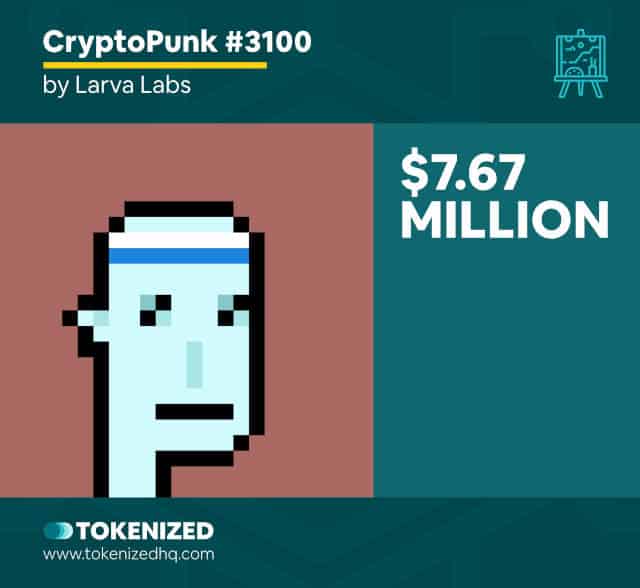 Only 1 day later, yet another alien CryptoPunk made the headlines.
This time it was CryptoPunk #3100, an alien with a headband, that was sold for 4,200 ETH as well (approx. $7.67m at the time of the transaction).
If you'd like to know more about this particular CryptoPunk, we actually dedicated an entire article to some of the crazy facts surrounding CryptoPunk 3100.
7. CryptoPunk #4156 by Larva Labs – $10.4m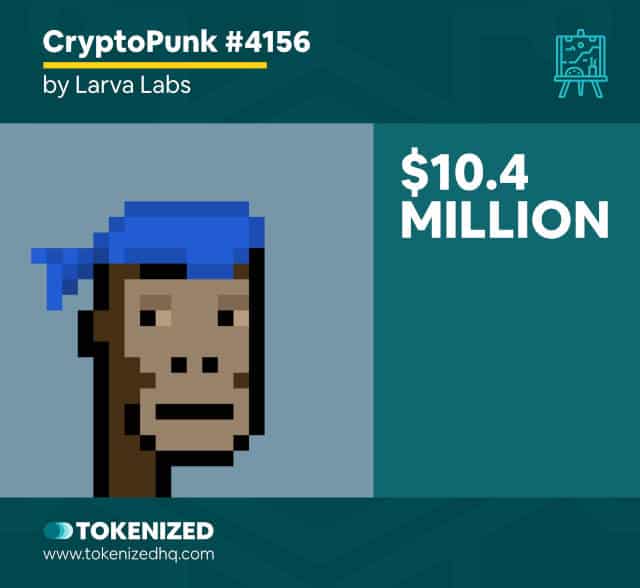 The next CryptoPunk sale has a little more story to it.
Although it's obviously a very rare CryptoPunk with ape and blue bandana traits (ranked 46th most rare CryptoPunk), it was formerly owned by a very active member of the NFT scene (Twitter handle @punk4156).
4156 was and still is very vocal on Twitter and has always promoted the principles of decentralization and web3.
After continuous debate and ultimately significant frustration with the way Larva Labs has chosen to manage the IP around CryptoPunks, 4156 eventually decided that it was time to leave the community.
To this date, it is the largest recorded private sale in the history of NFTs (i.e. no auction house was involved).
CryptoPunk #4156 was ultimately sold for 2,500 ETH (~$10.4m).
6. CryptoPunk #7523 by Larva Labs – $11.75m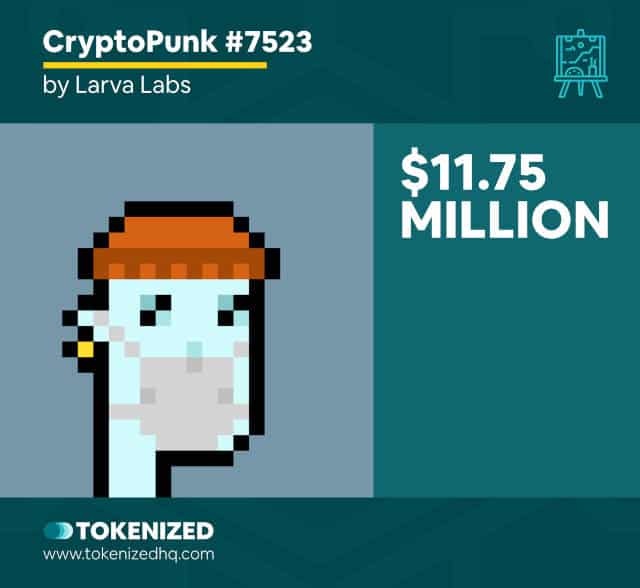 Next up is CryptoPunk 7523, yet another alien character with an earring, a knitted cap, and a facemask.
Clearly, you're starting to see a pattern amongst the most expensive NFT artwork that is being purchased by ultra-rich people.
CryptoPunk #7523 is the third rarest Punk in the collection and was sold for a jaw-dropping $11.75m via an auction at Sotheby's in June 2021.
5. CryptoPunk #5822 by Larva Labs – $23.7m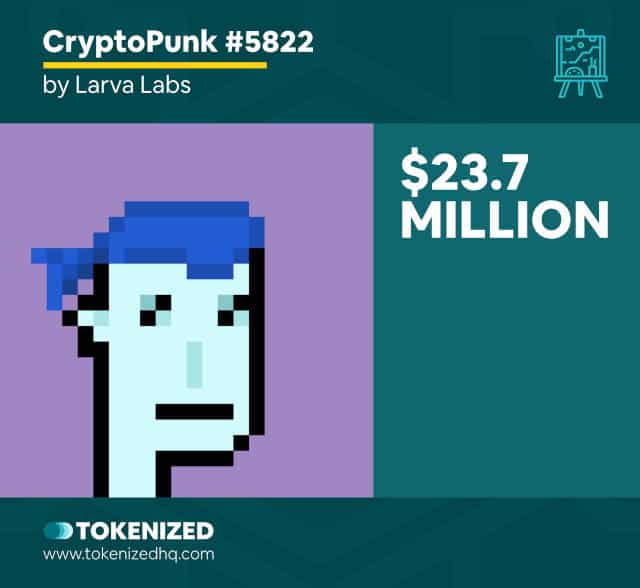 We finish off this series of the most expensive CryptoPunks with a very clean alien character with a blue bandana.
CryptoPunk #5822 was sold on February 12th, 2022 for 8,000 ETH (~$23.7m) to Deepak Thapliyal, the CEO of the blockchain infrastructure company Chain.
4. "Human One" by Beeple – $28.98m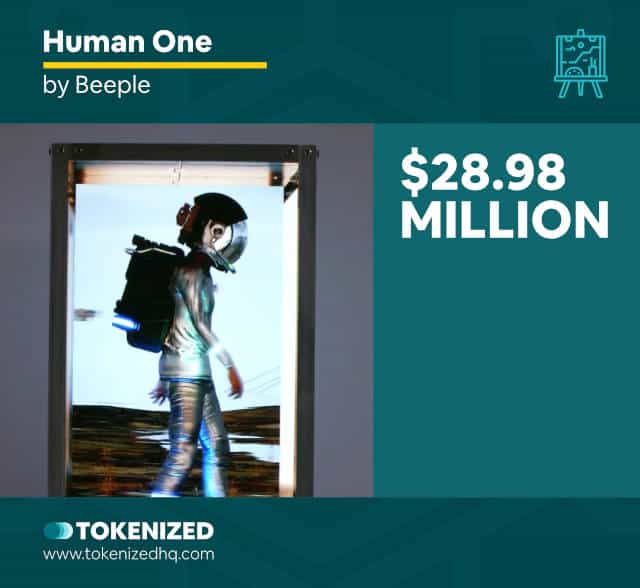 Moving away from 10k collections, we can now start focusing on slightly more unique works of art that still rank amongst the most expensive NFTs in the world.
"Human One" is a dynamic, life-generative sculpture and consists of an astronaut traveling through changing environments.
Beeple, the artist behind the piece, has stated that he will update the Human One throughout his lifetime, so it won't remain static forever.
Human One was eventually auctioned off by Christie's and the winner of the auction was crypto billionaire Ryan Zurrer, who paid an astonishing $29.98m on December 9th, 2021.
3. "Clock" by Pak – $52.7m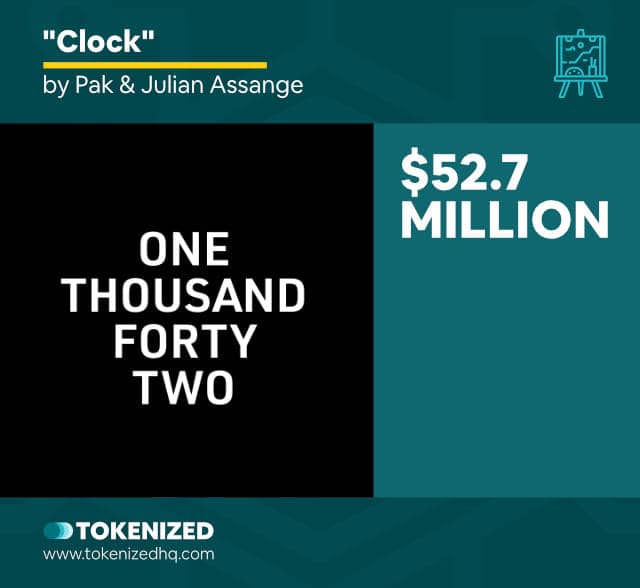 Pak is one of the many anonymous artists in the NFT space and many suspect that Pak isn't actually a single person but a group of people.
"Clock" is a joint project by Pak and Julan Assange.
It literally counts the days that WikiLeaks founder Assange has been imprisoned at Belmarsh maximum-security prison in London (since April 2019).
The objective of the artwork was to raise funds for Assange's legal defense and was purchased by the AssangeDAO on February 9th, 2022 for roughly $52.7m.
So technically this sale is more comparable to a crowdfunding campaign, but it's still one of the most expensive NFTs ever sold.
2. "Everydays" by Beeple – $69.3m
"Everydays" by Beeple, also known as Mike Winkelmann, will probably go down in history as one of the most iconic pieces of NFT artwork.
It was the sale of Beeple's magnum opus on February 21st, 2021 that ultimately paved the way for mainstream adoption of NFTs.
It is a significant piece of art because it literally documents 13 years of daily artwork created by Beeple since 2007.
"Everydays" was auctioned by Christie's and eventually sold to MetaKovan, the pseudo-anonymous founder of Metapurse, for the insane amount of $69 million.
1. "Merge" by Pak – $91.8m
Merge is one of the most complex pieces of art created by Pak to date.
There is also debate around whether it is really a single piece of artwork or rather a collection of nearly 29,000 unique pieces of art.
Merge started off with over 300,000 fractionalized pieces of "mass" distributed to buyers all around the world.
A wallet that already contains "mass" and acquires more mass, will always retain a single piece of the "merge" collection.
They are automatically merged after the transaction to form a new item with the sum of both masses.
It's an intriguing piece of interactive and dynamic NFT artwork that showcases how innovative forms of art are possible with NFTs.
"merge" was sold on December 6th, 2021 for a total of $91.8 million and is currently the most expensive NFT artwork to have ever been sold.
NFTs That No Longer Make the Top 10
The list goes on and many of the sales that we are about to list here were still among the top 10 most expensive NFTs sold in 2021.
Nevertheless, life goes on and prices go up. Here are ranks 11 to 20:
"Crossroad" by Beeple – $6.6m
Ringers #109 by Art Blocks – $6.93m
"A Coin for the Ferryman" by XCOPY – $6.03m
"Ocean Front" by Beeple – $6.0m
CryptoPunk #5217 – $5.59m
"This Changed Everything" by Tim Berners-Lee – $5.4m
"Stay Free" by Edward Snowden – $5.4m
"Save Thousands of Lives" by Noora Health – $5.23m
"Doge" (meme) by Atsuko Sato – $4.4m
CryptoPunk #2338 – $4.37m
Conclusion
It's clear that NFTs have grabbed the attention of many wealthy collectors in the past 2 years.
And it seems like the rarest and most sought-after NFTs will continue to rise in value as the chaff separates from the wheat.
We hope you found this list of the most expensive NFTs informative.
Make sure you also check out more examples of NFTs, to get a better feeling for what this new technology has in store for us.
Here at Tokenized, we want to help you learn as much as possible about the coming NFT revolution. We help you navigate this fascinating new world of non-fungible tokens and show you how you can integrate tokenization into your own business.