Are you trying to get a Midjourney trial account?
Unlike many other online services, Midjourney users interact with the AI software on Discord servers and not via classic web applications.
This often leads to confusion on how to get a trial account and how to find out how many credits you still have.
In this guide, we'll show you everything you need to know about the Midjourney trial, including how long it lasts, how many credits you get, and how you can continue to use it once your trial ends.
Let's dive right in.

Like this content? Then share it!
Midjourney Trial: Everything You Need To Know
Here's the answer. Great article by @ChrisHeidorn right here: https://tokenizedhq.com/midjourney-trial/

www.tokenizedhq.com
How to Start A Free Midjourney Trial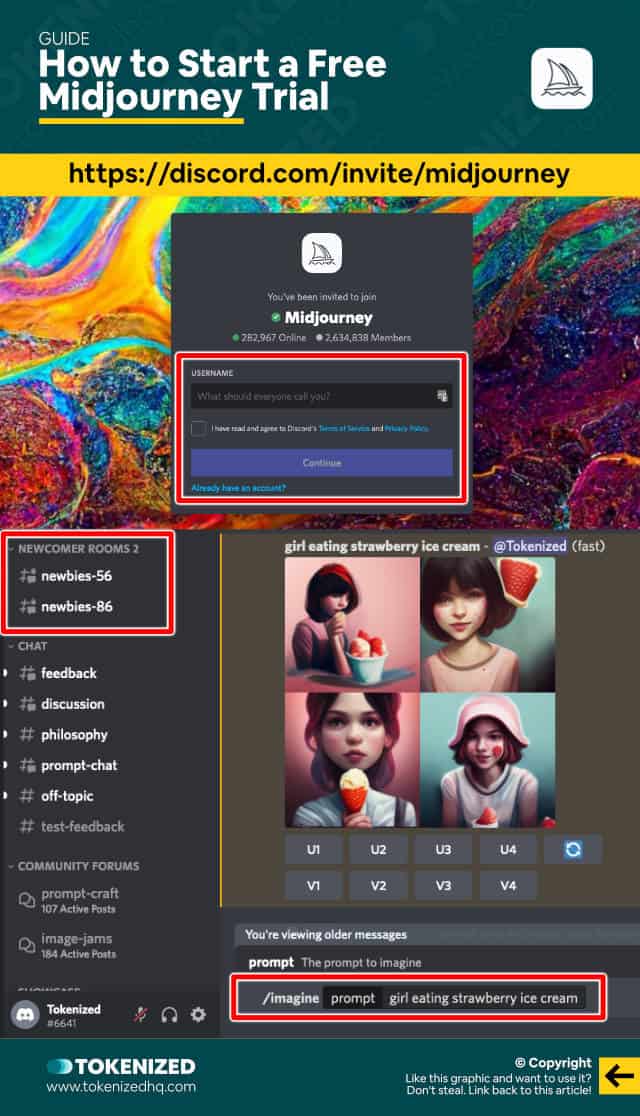 Like most software-as-a-service companies, Midjourney offers a free trial so that you can test the product before purchasing.
However, since Midjourney uses a Discord bot for image generation rather than a web interface, many people seem to be struggling to set up an account.
Midjourney has built a Discord Bot that sits inside Discord chat servers and users interact with it by sending commands to the bot.
While this is obviously an innovative and lean way of building a new product, it's not the most user-friendly approach.
To create a Midjourney trial account, you first need to create a Discord account (unless you already have one).
Here are the specific steps to get access to the Midjounrey trial:
Step 1: Visit the Midjourney Discord server by clicking this link.
Step 2: Log in to your Discord account (or create a new one first). If you are already logged in, click the "Accept Invite" button.
Step 3: Once the Discord server interface has loaded, access one of the #newbies channels from the channel list on the left.
Step 4: Finally, enter your very first prompt by typing /imagine <describe something here> in the chat field at the bottom of the screen.
As you enter your first /imagine command, the Midjourney bot will create a new account for you and link it to your Discord account.
Your Midjourney trial is automatically activated with that very first command and that's all you need to do.
You don't need to add any personal details or enter credit card information.
It's a very frictionless process so you can get started right away.
Key Points (tl;dr)
To start your Midjourney trial, simply create or log in to your Discord account, join the Midjourney Discord server, and enter your first /imagine command.
Your account will automatically be credited with 25 minutes of Fast GPU time which is enough for approximately 25-30 jobs.
Once your trial comes to an end, you can subscribe to a paid plan by simply entering the /subscribe command and following the instructions on the screen.
What You Get During Your Midjourney Trial
UPDATED on 20 December 2022 to reflect the additional of a third "Pro" plan. It gives you 30 hours of Fast GPU time for $60/month and includes "Private Mode". It also looks like the "Corporate" plan may have been removed for good, although this has not been confirmed.
Every Midjourney trial comes with 25 minutes of free Fast GPU time.
I won't go into detail about what Fast GPU time means but if you're curious to find out more, check out our guide on Midjourney's Relax Mode.
Either way, those 25 minutes of Fast GPU time are enough for roughly 25 image variation jobs, in some cases, it can stretch up to 40-50 jobs.
Unlike the paid plans, the free trial allocation has no time limit.
So, if you only use half of it and decide to come back in a year's time, you'll still have the other half that you can continue to use.
That being said, most people burn through their credits within no time, so be careful not to use them up too quickly.
Once you've used up all of your credits/minutes your trial will come to an end.
From here on out you effectively have 2 options:
Subscribe to a paid plan
Start a new Midjourney trial
How to Continue Using Midjourney Afterward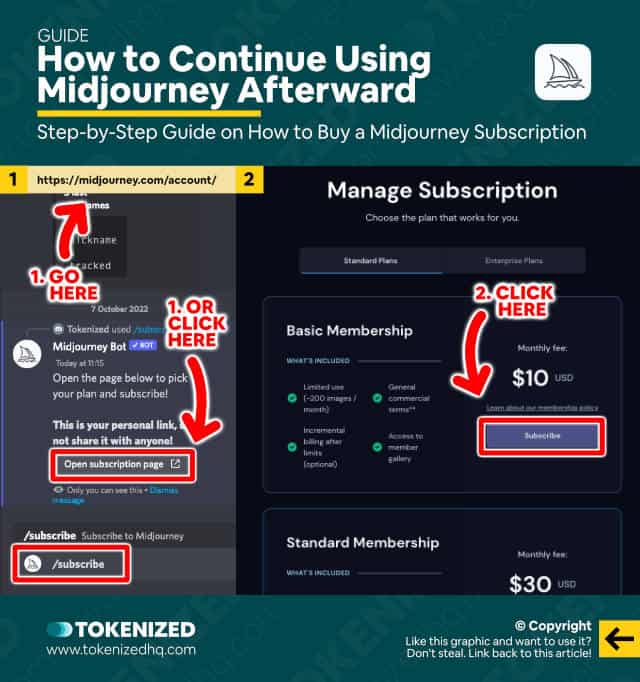 Once your Midjourney trial comes to an end, the most logical next step is to decide whether you want to continue using it or not.
For some people, the 25 minutes of Fast GPU time may not be enough to make an informed decision.
If you'd like to start another trial period, you can use a little trick that will technically allow you to use Midjourney for free.
But since creating dozens of new Discord accounts isn't particularly sustainable nor convenient, subscribing to a paid member really is the only reasonable way forward.
Midjourney offers 3-4 different paid plans:
Basic
Standard
Pro
Corporate (discontinuation not yet confirmed)
The "Corporate" plan is really only relevant if you're part of a business that generates more than $1 million in revenue per year.
For everyone else, the decision comes down to whether "Basic" is just enough for your needs or whether you need considerably more Fast GPU time.
For most people who only need to use Midjourney occasionally, the "Basic" plan at $10 will be enough.
But if you really enjoyed your Midjourney trial and plan on using the software a lot in the future, then the "Standard" membership at $30 per month will buy you peace of mind.
The "Pro" plan only really starts to make sense once you're using A LOT of Fast GPU hours and already know that you need "Private Mode".
Not only do the "Standard" and "Pro" plans include the option to switch to "Relax Mode", but they also come with 5-12x as much Fast GPU time.
In other words, heavy users of Midjourney who want to create a lot of upscales will definitely want to opt for the "Standard" or "Pro" plan as the extra features justify the cost of Midjourney.
Subscribing to a plan is really easy to do.
Simply enter the /subscribe command and follow the prompts on your screen.
For more information on how to subscription process works, all of the features of every single plan, and how to cancel your membership, check out our dedicated guide on how to subscribe to Midjourney.
Frequently Asked Questions (FAQ)
Before we close off this guide, let's quickly address some of the most common questions related to the Midjourney trial.
Does Midjourney cost money?

Every new Midjourney account comes with a free trial of 25 minutes of Fast GPU time. However, once those have been depleted, the only way to continue to use Midjourney is by subscribing to one of the paid plans.

Does Midjourney have a free trial?

Yes, every new Midjourney account (which is linked to a Discord account) receives a free allocation of 25 minutes of Fast GPU time, which is enough for about 25-30 jobs. There is also no time limit on these credits, so you can take as much time as you need to test the software.

Do I need a credit card for the Midjourney trial?

No, the only thing you need in order to start your free Midjourney trial is a Discord account. Once you join the Midjourney Discord server, simply enter your first /imagine command and this will automatically activate your trial account.

How do I get a free Midjourney subscription?

Free Midjourney subscriptions do not exist. Any attempt to gain access to a paid membership without actually paying would also constitute a violation of the terms of service. You can start additional Midjourney trials by simply creating an entirely new Discord account and then activating a new trial period with that account. However, given the limited amount of credits you get, it's not a particularly sustainable strategy.
Conclusion
Midjourney is one of the many AI art generation tools that has gotten people extremely excited about the future of AI.
Seeing all of the images created with Midjourney is one thing but nothing beats giving it a try for yourself.
Luckily, every new account comes with a free Midjourney trial with ample credits to make an informed decision on whether or not it's worth its price tags for you.
Here at Tokenized, we want to help you learn as much as possible about the AI software industry. We help you navigate the world of tech and the digitalization of our society at large, including the tokenization of assets and services.