Are you looking for some beautiful Midjourney examples that also include their text prompt?
Midjourney is possibly one of the easiest AI art tools to get started with but you soon come to realize that some of the most stunning masterpieces require more skill.
Writing creative but also specific text prompts has become an entire skill category of its own and the best way to learn is by looking at examples of how others have done it.
In this guide, we'll show you 15 of the most eye-catching Midjourney examples and also share their full prompts with you.
Let's dive right in.

Like this content? Then share it!
15 Mind-Blowing Midjourney Examples with Prompts
Here's the answer. Great article by @ChrisHeidorn right here: https://tokenizedhq.com/midjourney-examples/

www.tokenizedhq.com
15 Midjourney Examples That Demonstrate Its Power
Key Points (tl;dr)
These examples have all been featured in Midjourney's community showcase and represent the cream of the crop in AI artwork.
Please bear in mind that your own results will vary significantly, even if you use the exact same prompts.
For guidance and assistance in writing prompts, we recommend that you try using a prompt builder.
1. Asian Warrior Chief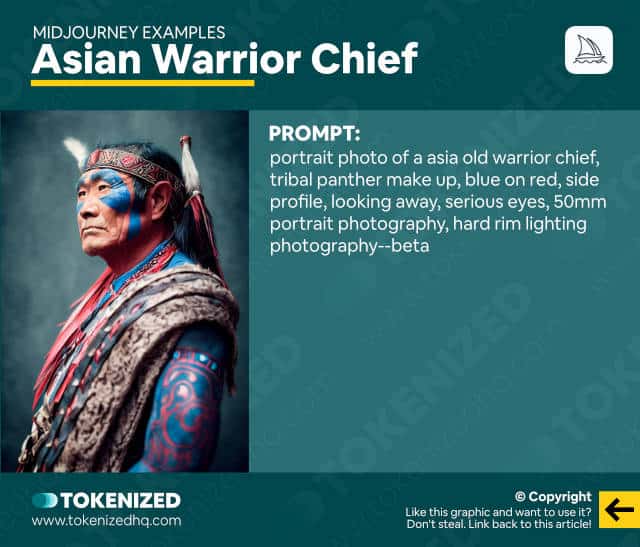 This example of an old Asien warrior Chief showcases just how photo-realistic and detailed some of Midjourney's images can be.
Creator: MantaRay
Prompt:
portrait photo of a asia old warrior chief, tribal panther make up, blue on red, side profile, looking away, serious eyes, 50mm portrait photography, hard rim lighting photography--beta
2. Fish Tank Tower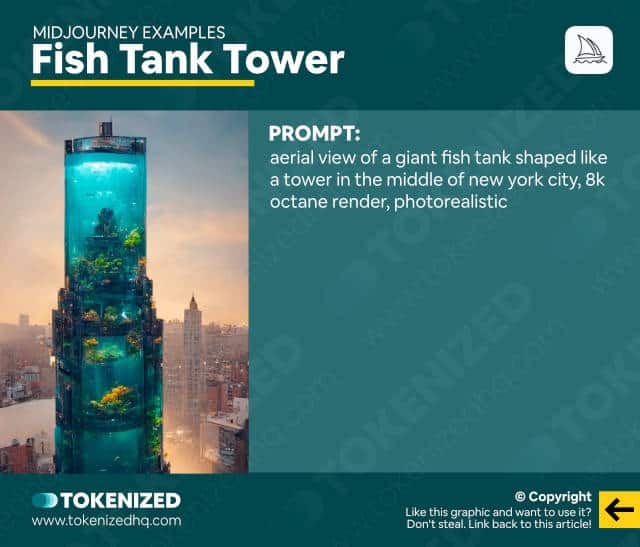 One of the things we love most about Midjourney is how it manages to create things that we never could have imagined ourselves.
Midjourney examples like this one demonstrate how architects stand to benefit greatly when it comes to generating new concept artwork.
Creator: Hanu
Prompt:
aerial view of a giant fish tank shaped like a tower in the middle of new york city, 8k octane render, photorealistic
3. The Fantasy Castle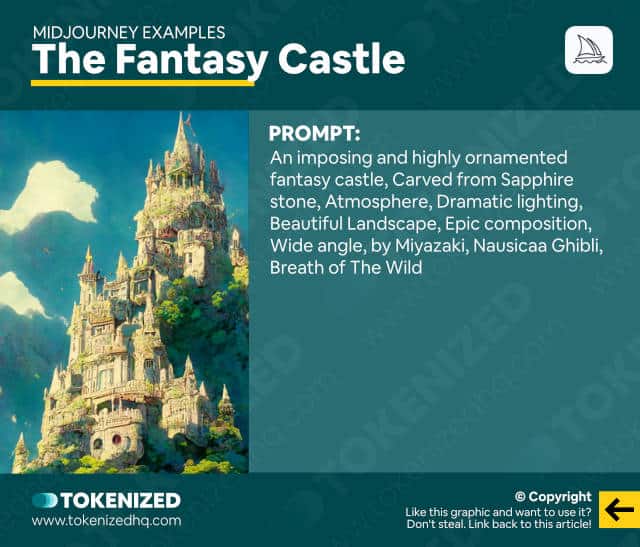 Imagine you're an author of fantasy books and previously you had to hire an illustrator to help create the imagery for your book or comic.
Today, none of that is really necessary anymore because Midjourney is capable of generating everything you need for a fraction of the price and still gives you more control.
Creator: Overit
Prompt:
An imposing and highly ornamented fantasy castle, Carved from Sapphire stone, Atmosphere, Dramatic lighting, Beautiful Landscape, Epic composition, Wide angle, by Miyazaki, Nausicaa Ghibli, Breath of The Wild
4. A Piglet's Adventure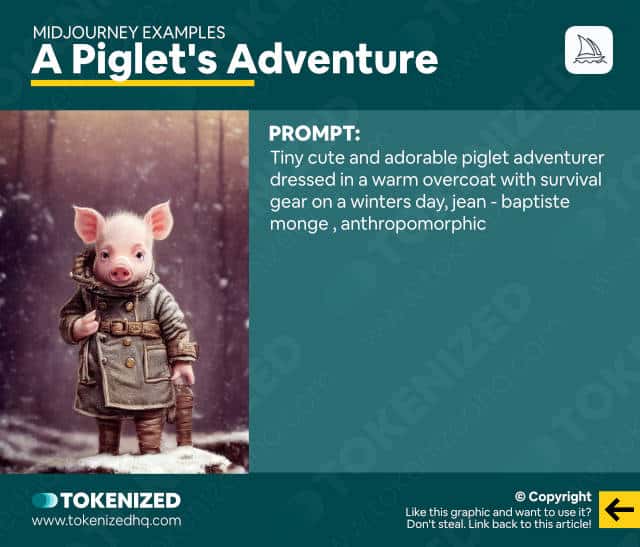 Here's another great Midjourney art example of an illustration that could easily be done for a children's book.
Are you starting to realize just how endless the possibilities of AI artwork are?
Creator: BartonDH
Prompt:
Tiny cute and adorable piglet adventurer dressed in a warm overcoat with survival gear on a winters day, jean - baptiste monge , anthropomorphic
5. The Jacarandas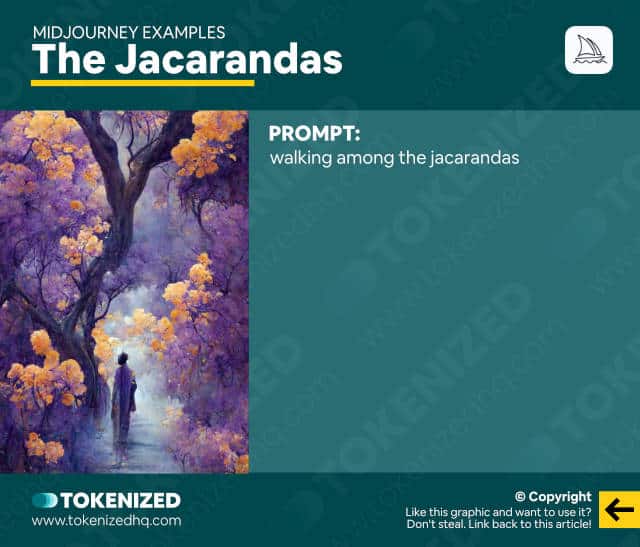 Most people who start to play around with Midjourney want to have more and more control over the output.
But this stunning piece of art is an excellent example of what happens when you leave tons of room for interpretation and let Midjourney decide what looks best.
Creator: Amoroso
Prompt:
walking among the jacarandas
6. Gemstone Sketches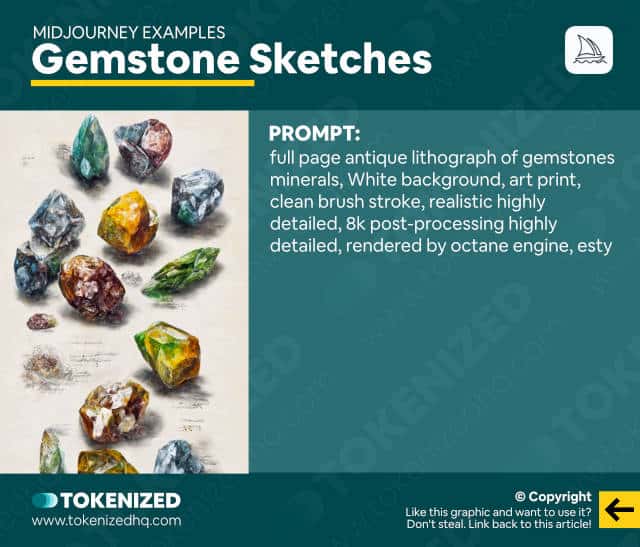 If you thought that Midjourney was only able to create full canvas images and illustrations, think again.
As you can clearly see in this example of Midjourney artwork, you can even replicate sketch styles and create images of standalone objects.
Creator: Julia-chang
Prompt:
full page antique lithograph of gemstones minerals, White background, art print, clean brush stroke, realistic highly detailed, 8k post-processing highly detailed, rendered by octane engine, esty,
7. The Future World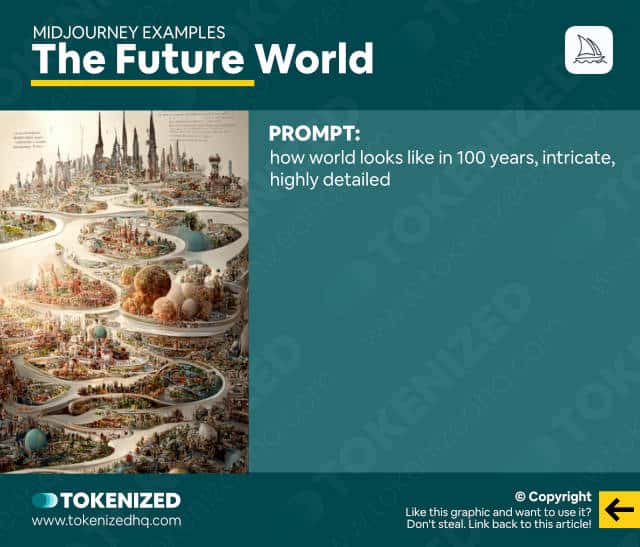 Every now and then we stumble upon one of these intricate designs that looks like they contain immense detail.
We still haven't quite figured out how you can intentionally create one of these masterpieces, but they sure are beautiful to look at.
Creator: GaBri44
Prompt:
how world looks like in 100 years, intricate, highly detailed
8. The Cherry Blossom Treehouse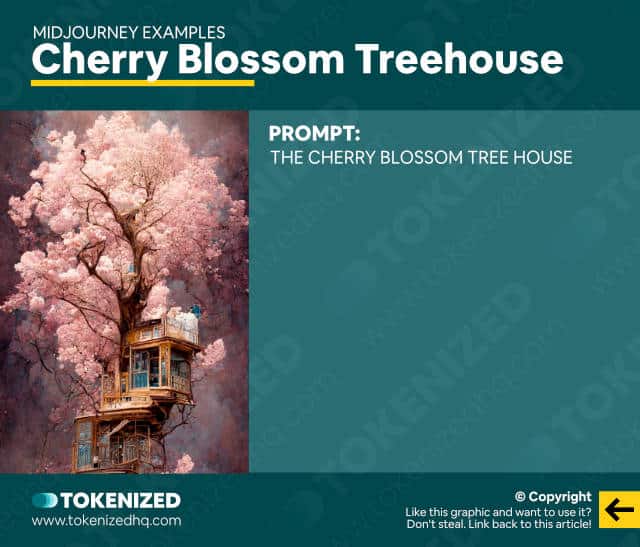 Every time I see one of these Midjourney examples my jaw simply drops because the AI is able to create the type of images that dreams are made of.
And just look at how simple the prompt is.
Creator: BrandonMc
Prompt:
THE CHERRY BLOSSOM TREE HOUSE
9. Library of Dream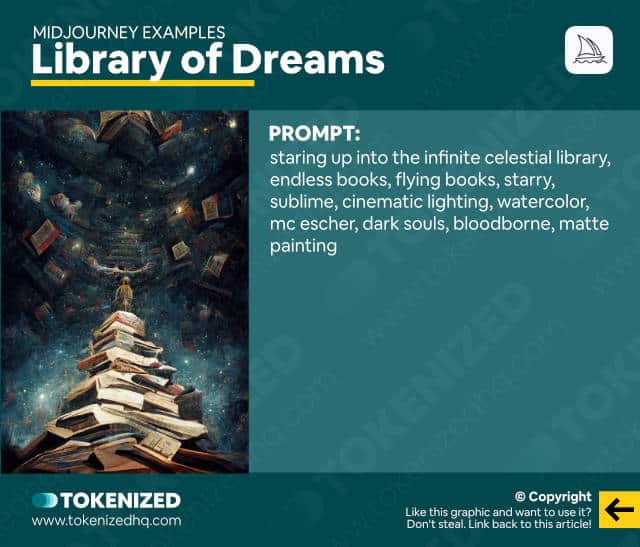 Speaking of dreams, check out this next render that is literally from another world.
It looks like it came straight from a Harry Potter movie or some other type of fantasy story.
Creator: trxllvkvmx
Prompt:
staring up into the infinite celestial library, endless books, flying books, starry, sublime, cinematic lighting, watercolor, mc escher, dark souls, bloodborne, matte painting
10. Evangelion Unit 01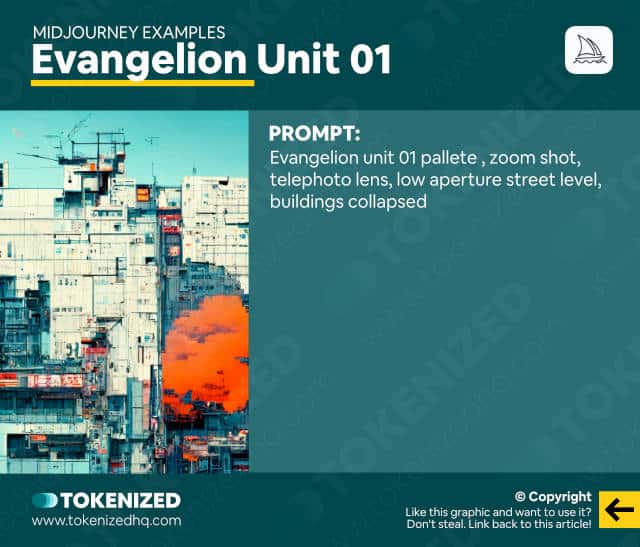 I think anyone who's ever been to a big Asian metropolis such as Hong Kong or Tokyo will probably have thought of either one of those cities when they first saw this image.
This is such a great example of how Midjourney can also recreate the atmosphere and themes of established and branded media content.
Creator: PixelActivist
Prompt:
Evangelion unit 01 pallete , zoom shot, telephoto lens, low aperture street level, buildings collapsed
11. The Rock Pool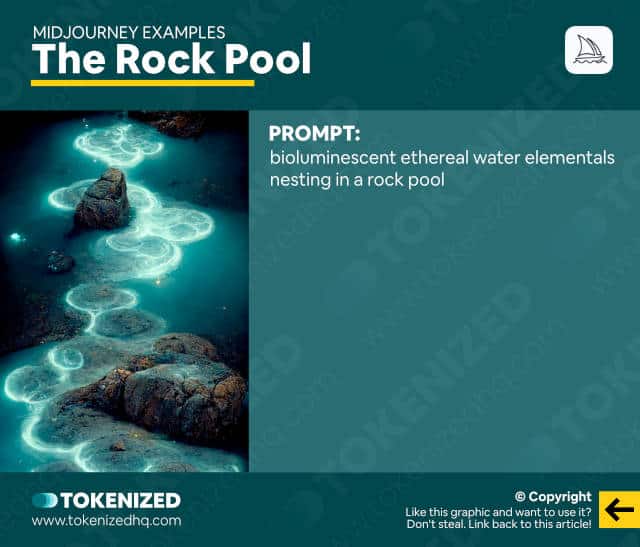 I think the most astonishing thing about some of these Midjourney AI examples is how creative the AI can be when it is given minimal instructions.
Just look at how short this prompt is and it's still able to come up with something that is beyond belief.
Creator: Alexeverywhere
Prompt:
bioluminescent ethereal water elementals nesting in a rock pool
12. Operation Pumpkin Head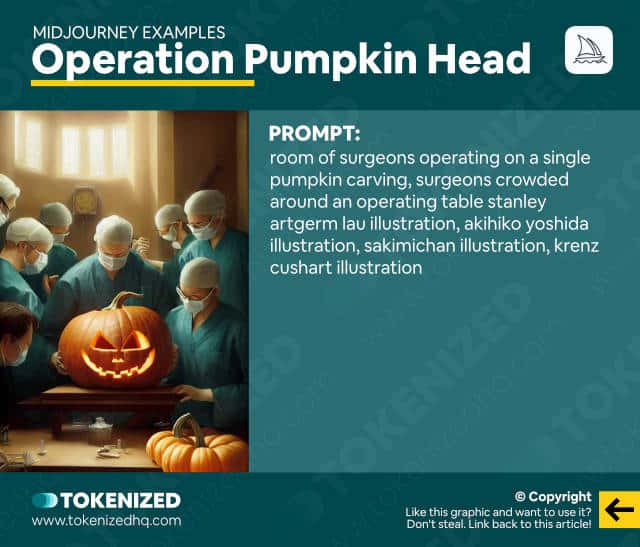 Want to add a splash of humor to your artwork?
Even though Midjourney isn't necessarily able to identify humor yet, this image is an example of how you can even create scenes that seem utterly ridiculous.
Creator: Adam
Prompt:
room of surgeons operating on a single pumpkin carving, surgeons crowded around an operating table stanley artgerm lau illustration, akihiko yoshida illustration, sakimichan illustration, krenz cushart illustration
13. Mice of the Caribbean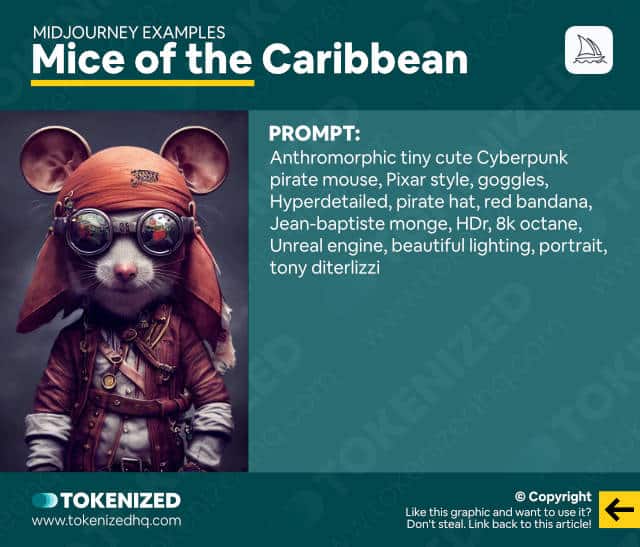 I do have some empathy for all of the character creators out there because what Midjourney is capable of goes far beyond the imaginations of most illustrators.
Just look at how photo-realistic this futuristic mouse pirate is. It's insane!
Creator: Hanzo
Prompt:
Anthromorphic tiny cute Cyberpunk pirate mouse, Pixar style, goggles, Hyperdetailed, pirate hat, red bandana, Jean-baptiste monge, HDr, 8k octane, Unreal engine, beautiful lighting, portrait, tony diterlizzi
14. The Bowling Alley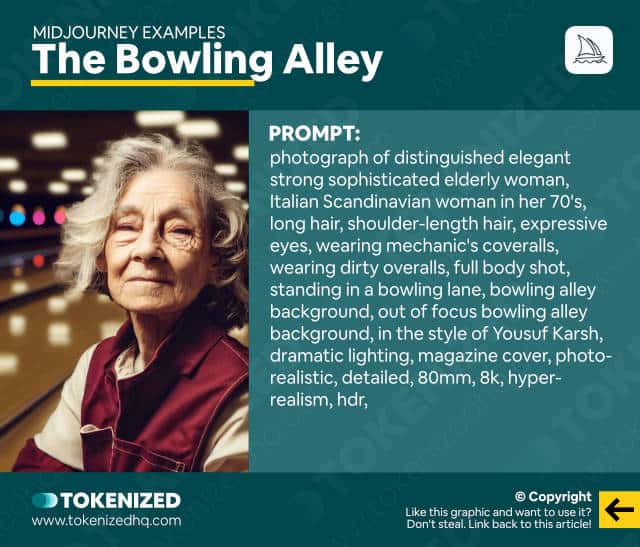 And if you thought Midjourney was only able to do illustration, think again!
This photo-realistic image of an old woman working at a bowling alley looks like it was taken by a real photographer.
Creator: emage
Prompt:
photograph of distinguished elegant strong sophisticated elderly woman, Italian Scandinavian woman in her 70's, long hair, shoulder-length hair, expressive eyes, wearing mechanic's coveralls, wearing dirty overalls, full body shot, standing in a bowling lane, bowling alley background, out of focus bowling alley background, in the style of Yousuf Karsh, dramatic lighting, magazine cover, photo-realistic, detailed, 80mm, 8k, hyper-realism, hdr,
15. Clockwork Black & White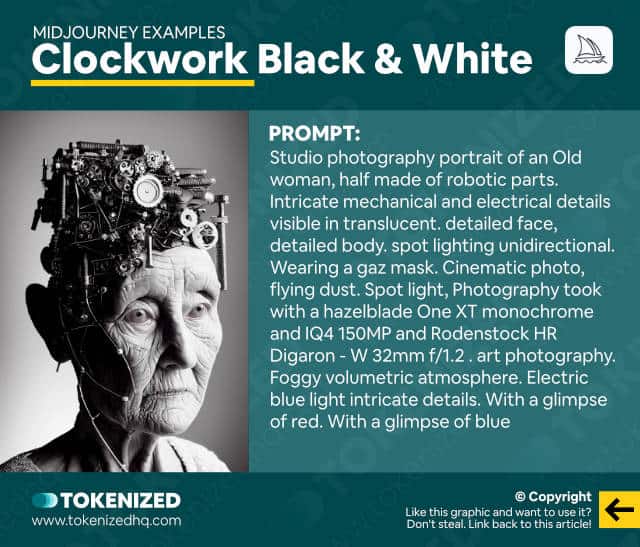 You're probably wondering whether this image was actually created by Midjourney or rather some photo-manipulation artist.
I guarantee you that this is another example of what Midjourney is capable of.
Creator: endemicland
Prompt:
Studio photography portrait of an Old woman, half made of robotic parts. Intricate mechanical and electrical details visible in translucent. detailed face, detailed body. spot lighting unidirectional. Wearing a gaz mask. Cinematic photo, flying dust. Spot light, Photography took with a hazelblade One XT monochrome and IQ4 150MP and Rodenstock HR Digaron - W 32mm f/1.2 . art photography. Foggy volumetric atmosphere. Electric blue light intricate details. With a glimpse of red. With a glimpse of blue
How to Create Beautiful Prompts Like These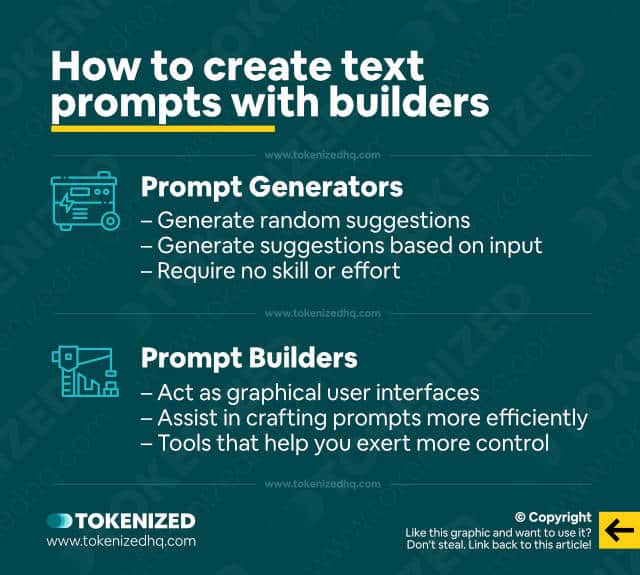 As you may have noticed, there's no clear rule on how you need to create your prompts in order to generate the same type of artwork.
In some cases, all it takes is a creative title and lots of trial and error.
In other cases, you can create extremely specific outcomes by adding dozens of additional variables to your text prompt.
The best way to start learning is by studying the full Midjourney commands list and understanding what each parameter does.
And if you're finding it rather difficult to write really elaborate prompts just by hand, you can also try out one of the popular Midjourney prompt generators.
They are incredibly useful tools that can help you become more productive too.
Frequently Asked Questions (FAQ)
Before we close off this guide, let's quickly address some of the most common questions related to Midjourney AI examples.
Where can I find more examples of Midjourney prompts?

The best place to find and study the text prompts of other people is by visiting the Community Feed. However, you'll need to be a paid member in order to access it. If you're still on the free trial, you can try searching on Google or social media. Many people share their work and prompts with the public.

Why am I getting different results with the same prompt?

Midjourney's AI generates random results every time you send a command. Therefore it is very difficult to re-create an exact copy of a previous image. You can add a little more predictability by using the "seed" parameter to limit the amount of randomness.

How can I follow some of these Midjourney creators?
Conclusion
By now you must have realized just how powerful Midjourney's AI model is.
One of the most fascinating things about the Midjourney examples shown above is just how strikingly different all of the prompts are.
Some are extremely detailed while others are basically nothing more than a title.
Either way, we hope you enjoyed this presentation of what's possible and wish you lots of fun creating your very own artwork with Midjourney.
Here at Tokenized, we want to help you learn as much as possible about the AI software industry. We help you navigate the world of tech and the digitalization of our society at large, including the tokenization of assets and services.