Are you trying to join the Midjourney beta program?
Perhaps you've been hearing a lot about how awesome Midjourney is and now you're curious to find out how it works?
Well, you'll be glad to hear that the Midjourney beta is now in phase 3 and it's completely open to the public.
In this guide, we'll show you exactly how to get started with the Midjourney beta in no time.
Let's dive right in.

Key Points (tl;dr)
Ever since the Midjourney beta opened its doors to the greater public, the world has been consumed by the ever-increasing possibilities of AI-generated artwork and artificial intelligence as a whole.
You too can get access to the Midjourney beta phase by simply hopping onto the Midjourney Discord server and entering your very first /imagine command.
Midjourney is free to use during an initial trial with 25 job credits. If you need more or want to use Midjourney for commercial purposes, you'll have to subscribe to a paid membership plan.
Like this content? Then share it!
How to Get Access to the Midjourney Beta
Here's the answer. Great article by @ChrisHeidorn right here: https://tokenizedhq.com/midjourney-beta/

www.tokenizedhq.com
What is Midjourney AI?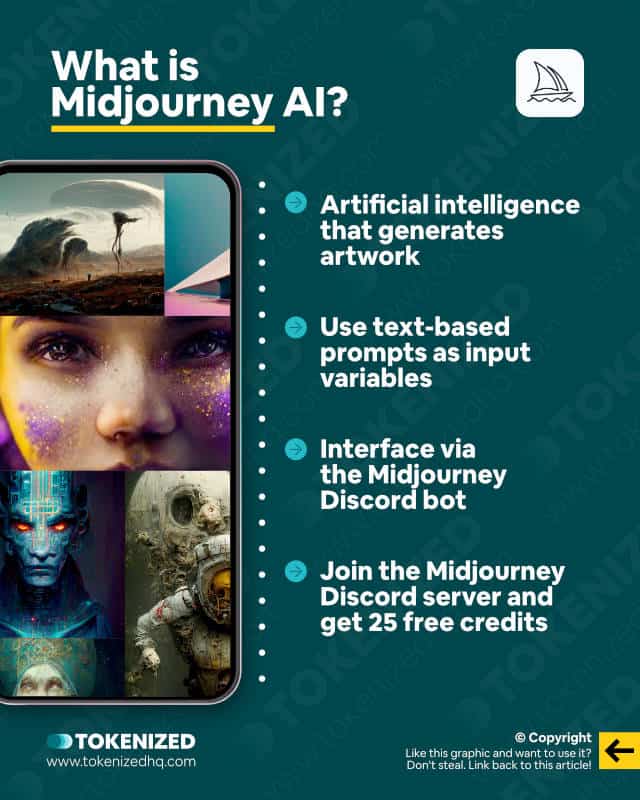 Midjourney AI is an AI art generator that gained significant notoriety in the summer of 2022.
Users interact with Midjourney's AI through a Discord Bot that is able to receive and process requests directly within a Discord channel.
But what is an AI art generator anyway?
Think of an AI art generator as a kind of virtual artist.
It's a computer program that looks at a photo or other input and then creates a new piece of art based on what it sees.
The results can be surprising, often producing images that are more creative and expressive than anything a human would normally come up with.
And because AI art generators are constantly learning from new inputs, they're always evolving and getting better at their craft.
So far, AI art generators have been used to create everything from realistic portraits to abstract landscapes.
In the future, they may even replace human artists altogether for certain types of tasks.
But until then, we can enjoy the unique and fascinating artwork they're able to create.
Midjourney is currently in open beta and you're probably wondering how you can get access to it.
Well, let me show you in the next section of this guide.
How Do I Get Access to the Midjourney Beta?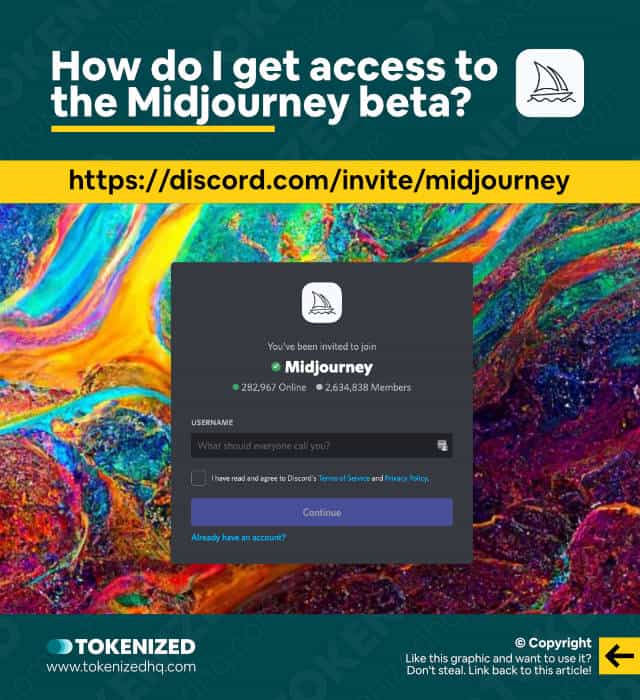 As I already mentioned, Midjourney is currently in an open beta phase.
That means that anyone is free to join and play around with the software.
In order to be able to interact with the Midjourney bot, you'll have to create a Discord account first.
If you already have a Discord account, you can simply click on the Midjourney Discord server link and jump right into the action.
Since this is probably all relatively new to you, I strongly recommend that you check out our dedicated Midjourney guide that explains exactly how to use it.
Can I Use Midjourney for Free?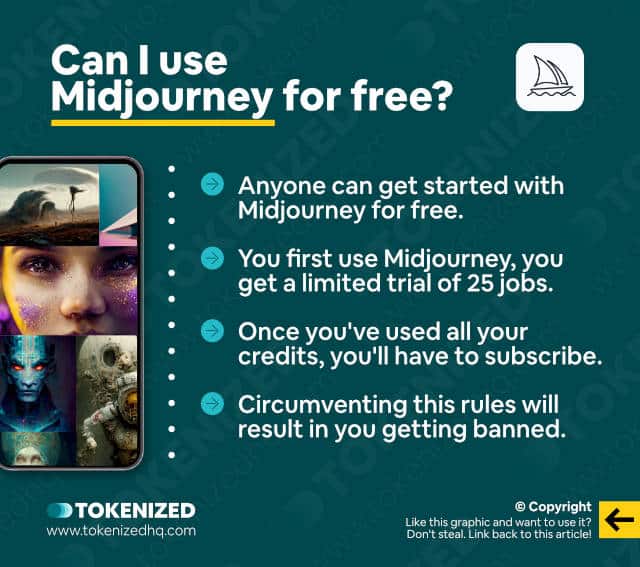 Anyone can try out Midjourney for free, as long as they create a Discord account.
The moment you send your very first command to the Midjourney bot, your account will be initialized and you'll receive a trial credit of 25 jobs.
You can use these 25 jobs in whichever way you like.
In other words, it doesn't matter whether you generate 25 relatively basic design variations or use them to refine existing designs you've already created with the Midjourney beta.
Once you've used all your credits, you'll have to subscribe to Midjourney's paid memberships if you want to continue using the software.
Although you might feel tempted to use Midjourney free of charge for another 25 job credits, we strongly urge you to get a paid subscription if you're going to use it more extensively.
Who's Behind Midjourney?
The Midjourney team describes itself as an independent research lab that is trying to explore new mediums of thought and expand the imaginative power of the human species.
Right, that was quite a mouthful.
Midjourney is a self-funded team of 11 people led by David Holz, Founder of Leap Motion and former researcher at NASA and the German Max Planck institute.
The company is incorporated and based in San Francisco, California, and supported by its board of advisors which include Jim Keller, Nat Friedman, Philip Rosedale, and Bill Warner.
If you're curious to see many more interesting facts and figures about Midjourney, check out our dedicated article on Midjourney statistics.
Frequently Asked Questions (FAQ)
Before we close off this guide, let's quickly address some of the most common questions related to the Midjourney beta.
Can I share images created with Midjourney?

Yes, absolutely. Midjourney encourages the sharing of images created with its AI. It does, however, ask you to mention the official Midjourney social profiles (@midjourney) on Twitter or otherwise link to it. It is important to state that the artwork was created with AI software.

Can I write public reviews of the Midjourney beta?

Yes, you can. However, Midjourney has clearly stated that it asks reviewers to specify the date when the review was done, mainly since the product's experience is constantly changing over time.

How Can I invest in Midjourney?

Midjourney is a private company and not listed on any stock exchange. Furthermore, the team is not taking any equity investment at this time. The company is completely self-funded, including donations and funding from business partnerships.

Can I use images from the Midjourney beta for commercial purposes?

If you have subscribed to a paid plan and created images using your membership, then you are allowed to use the images for commercial purposes. However, any images created with a non-paid Midjourney beta account require you to give attribution to Midjourney. Please consult the Terms of Service for more details.
Conclusion
The Midjourney beta has opened the eyes of so many people in the world with regard to what may be possible with AI tools in the future.
If you're curious to find out more and give it a try yourself, we strongly urge you to hop onto the Discord server and craft your very first text prompt.
You're guaranteed to be blown away!
Here at Tokenized, we want to help you learn as much as possible about the AI software industry. We help you navigate the world of tech and the digitalization of our society at large, including the tokenization of assets and services.