So you want to know how to use Revoke Cash?
Maybe you've heard the recent horror stories of people who lost their Bored Apes because they hadn't revoked the approvals for their NFTs?
Well, we can assure you that it's a real problem and a lot of NFT investors who are new to cryptocurrencies don't understand blockchain technology well enough.
Nothing can be done to your wallet without your approval, but a lot of people underestimate how much control they are giving away when they use dApps.
In this article, you'll not only learn how to use Revoke Cash to protect the NFTs in your wallet but also why it's such an important tool.
So let's get right to it.
Key Points (tl;dr)
Revoke Cash is a tool that helps you monitor and revoked active token approvals for your wallet.
Active and unlimited token allowances are very common when using dApps, however, they can also pose a considerable security risk.
Therefore it is imporant to know how to use Revoke Cash in order to revoke all unnecessary approvels.
Revoke Cash is a very well known and trusted website. Its source code is available on GitHub for anyone to audit if they like.
Like this content? Then share it!
How to Use Revoke Cash to Protect Your NFTs
Here's the answer. Great article by @ChrisHeidorn right here: https://tokenizedhq.com/how-to-use-revoke-cash/

www.tokenizedhq.com
What is Revoke Cash?
Revoke Cash is a tool that helps you monitor and revoke active token allowances that you have approved for any of the tokens inside your cryptocurrency wallet.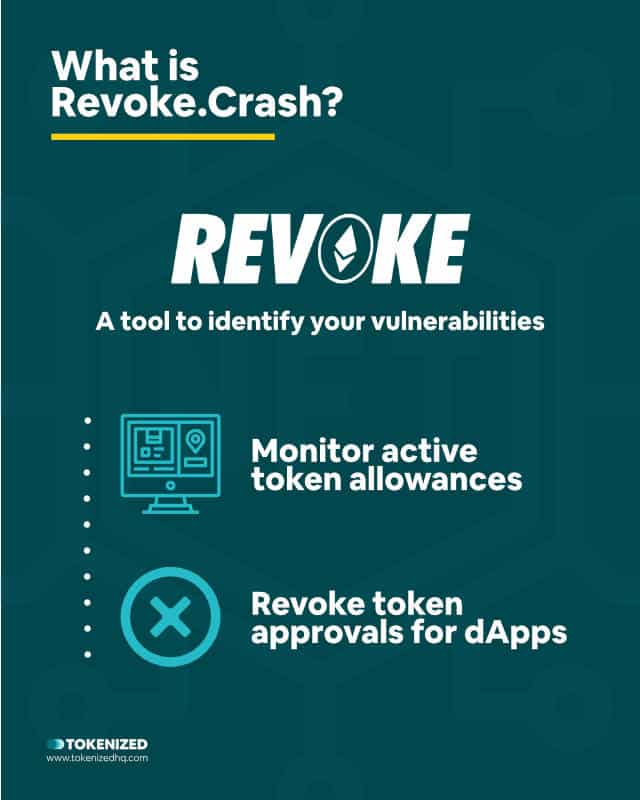 Every time you use a dApp for a popular blockchain and some sort of interaction is required with the contents of your cryptocurrency, you need to give the dApp approval to do so.
So for example, when you want to swap ETH for another cryptocurrency on a decentralized exchange such as UniSwap, you have to give UniSwap access to the ETH in your wallet.
This is usually done by confirming a transaction and it will cost a little bit of gas to do so.
The same thing happens when you list an NFT on a marketplace such as OpenSea.
OpenSea needs access to your NFT collection in order to complete the transfer when someone purchases it.
Once you've given the approval, it remains active indefinitely until you manually revoke it.
Most people will accumulate a lot of these approvals over time and therefore it's important that you know how to use Revoke Cash in order to revoke them.
Why Use Revoke Cash?
As people increasingly use dApps, they accumulate more and more approvals for various tokens. Since these approvals usually come with unlimited permissions, they can pose a significant security risk. It is therefore advisable to revoke approvals that are no longer needed and this can be done with Revoke Cash.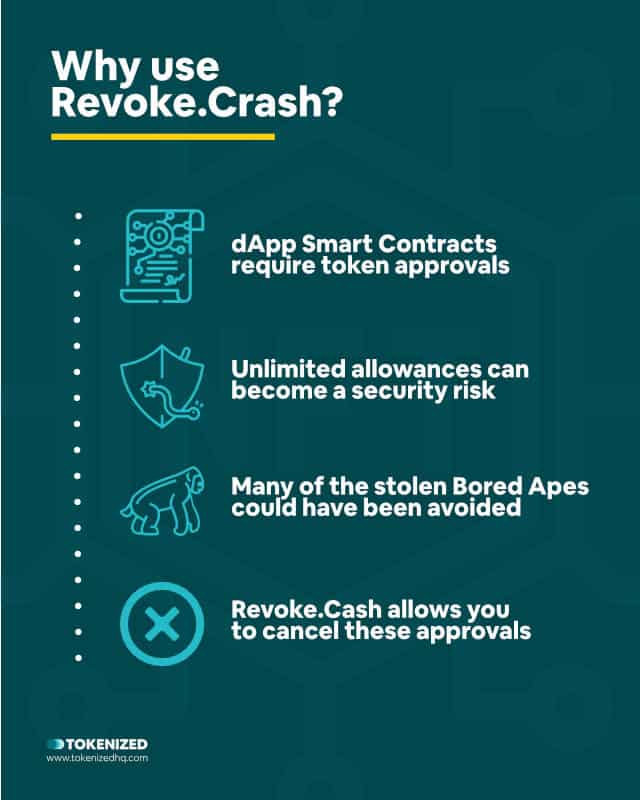 As I already explained, you usually accumulate a lot of these approvals over time by using various dApps.
Newbies usually don't even understand that these approvals are still active, while others are simply too stingy to revoke the approvals because doing so is associated with gas fees.
While an active approval for a given token usually isn't a problem when you use a trusted dApp, it still is a potential vulnerability.
For example, many of the cases of stolen Bored Apes could have been prevented if the owners had known how to use Revoke Cash and kept an eye on the approvals they had granted.
They usually just used the OpenSea transfer NFT feature because it was cheaper or they didn't know how to delist on OpenSea the right way.
Their Apes wouldn't have been stolen and they wouldn't have to worry about OpenSea refund policies or anything like that.
If you know how to use Revoke Cash, you won't just be able to track these approvals, you'll also be able to revoke them completely.
Doing so essentially turns off any access that dApps may have had to your wallet.
Cause it's simply not enough to know how to disconnect wallet from OpenSea.
How to Use Revoke Cash
Revoke Cash is very easy to use. Connect your wallet, identify the token allowances that you want to cancel, and click the "Revoke" button. Then confirm the transaction and wait for the blockchain transaction to be processed.
In the following section, we'll first teach you how to use Revoke Cash to track all of the approvals that you have given to dApps.
We'll also show you how you can identify specific NFT platforms amongst all the different approvals.
Afterward, we'll show you step by step how to revoke these approvals.
Bear in mind that revoking approvals will cost you gas fees, so it's advisable to do so when gas prices are low.
1. How to Use Revoke Cash to Track Approvals
Step 1: Connect your wallet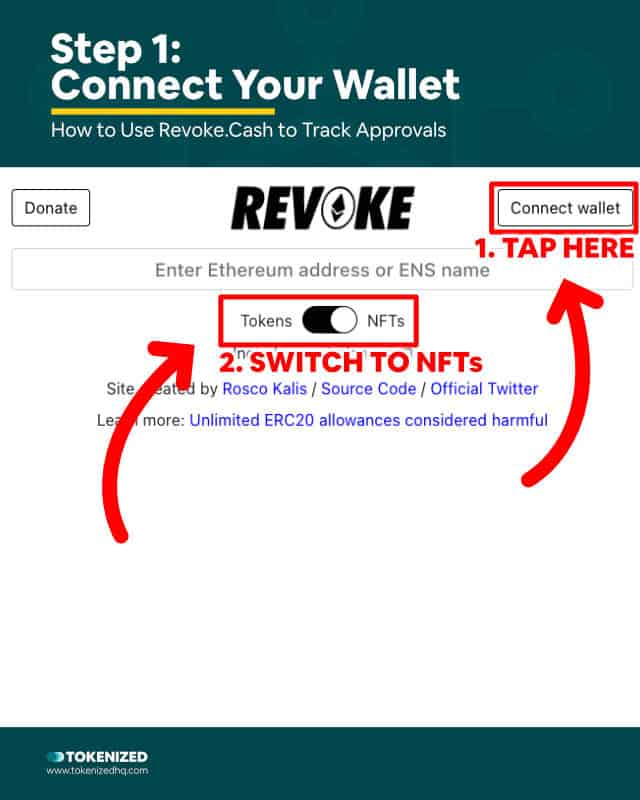 Use your regular browser and navigate to the Revoke Cash website.
Click the "Connect wallet" button in the top right corner and select the correct account within your wallet.
Step 2: Look for unlimited allowances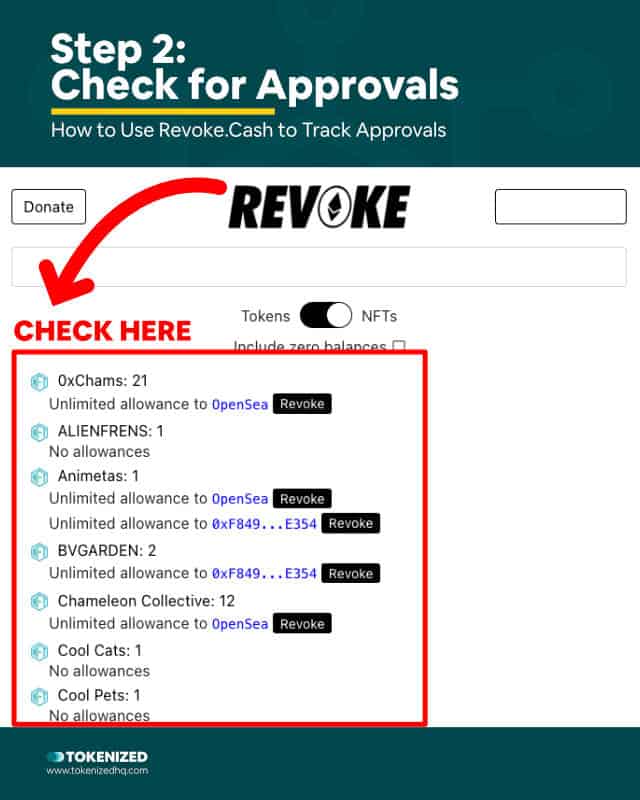 Once you've connected your wallet, make sure you've also changed the switch in the middle of the screen to "NFTs".
The site shows all of the different NFT collections inside your wallet including the number of tokens you own.
Under each collection, you'll either see "No allowances" or specific approvals that you've given to different dApps.
2. How to Use Revoke Cash to Revoke Allowances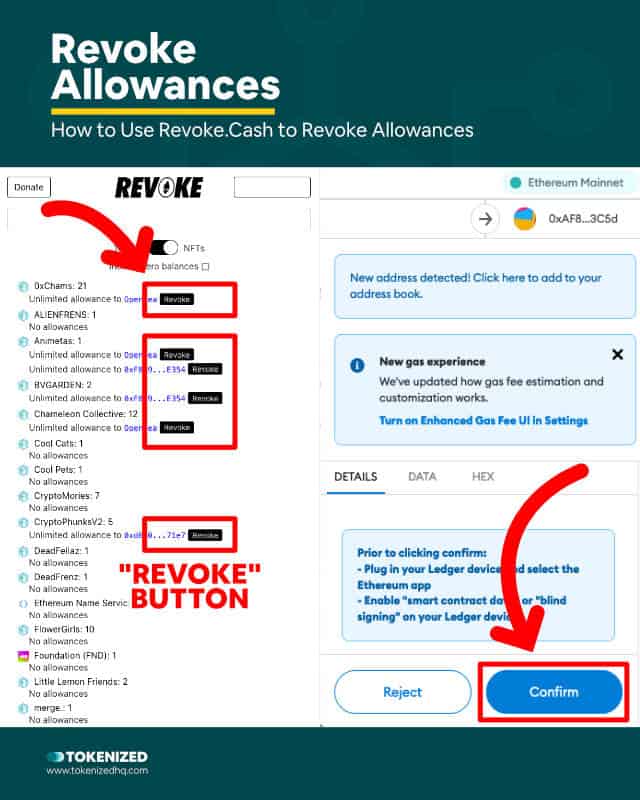 Revoking approvals is actually a very simple process.
Identify the allowance that you would like to revoke and click the "Revoke" button next to it.
This will trigger a transaction in your wallet that you can confirm or reject.
Just remember that revoking an allowance will go you gas fees.
Is Revoke Cash Legit?
Yes, Revoke Cash is a legitimate and trusted website that was created by Rosco Kalis. Its source code is public and the tool has become the de facto standard approach for revoking token approvals.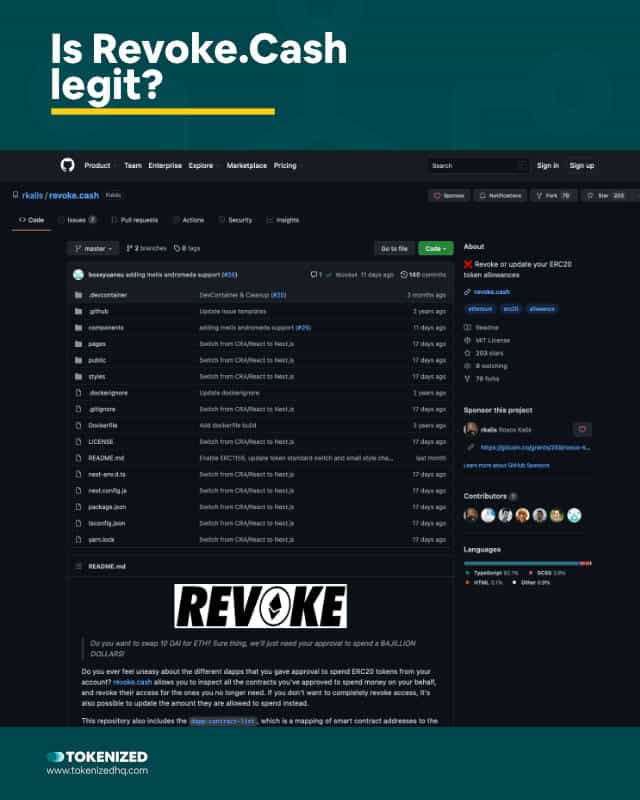 Given how sensitive the topic is and how much money might be involved, it's absolutely fair to ask whether Revoke Cash is actually legit.
It's always considered good practice to first inquire whether a particular dApp is actually safe to use.
If you know how to read code yourself, you can actually have a look at the Revoke Cash source code on GitHub.
Revoke Cash is open-source and was developed by Rosco Kalis after initially discussing the idea at Devcon 5 in Osaka.
Conclusion
While many dApps can be used by simply signing in with your wallet, as soon as any sort of interaction with your tokens is required, approvals are unavoidable.
If you limit yourself to major websites that have been tried and tested many times, your exposure to risks is usually quite limited.
Nevertheless, it's always good practice to keep an eye on your token allowances and remove them if you no longer need them.
That's why we believe that everyone should know how to use Revoke Cash.
It's a simple but effective tool that helps you protect your wallet from unnecessary risks.
Here at Tokenized, we want to help you learn as much as possible about the coming NFT revolution. We help you navigate this fascinating new world of non-fungible tokens and show you how you can integrate tokenization into your own business.