Looking for Instagram Reels hashtags to help grow your Insta account?
Perhaps you recently launched your newest Instagram account about travel, food, or another popular hobby and now you need to find some trending hashtags for Instagram Reels to gain some momentum?
Well, look no further, because even though there are many sites out there that advertise their great lists of viral hashtags, what you really need are hashtags that will work all year round.
In this guide, you'll find a curated list of 250+ evergreen Insta reels hashtags to boost the growth of your followers.
Let's check them out.
Like this content? Then share it!
250+ Evergreen Hashtags for Instagram Reels in 2023
Here's the answer. Great article by @ChrisHeidorn right here: https://tokenizedhq.com/hashtags-for-instagram-reels/

www.tokenizedhq.com
What is Instagram Reels?
Reels is Instagram's carbon copy of the short-form video content format that is at the core of TikTok's massively successful social media platform.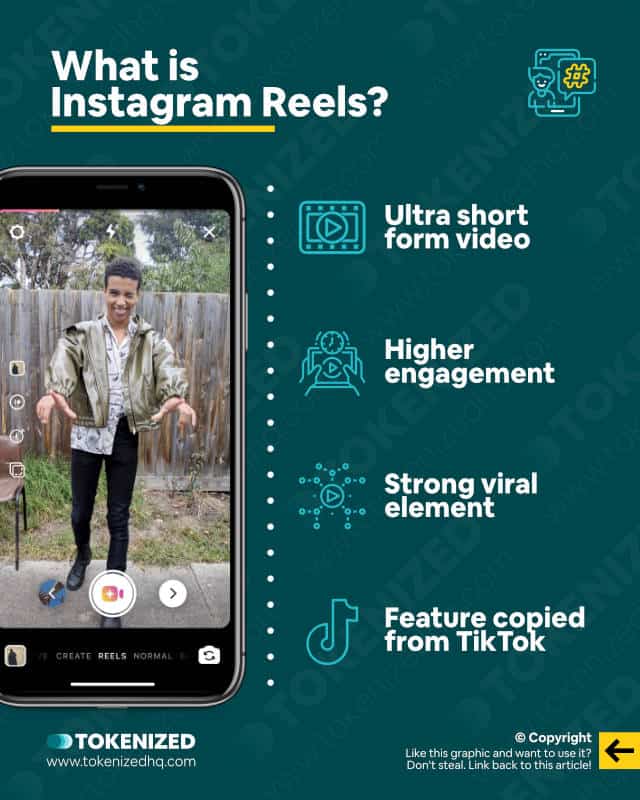 Since you most likely arrived here via Google, we can probably assume that you already know what Instagram Reels is.
But for the avoidance of doubt, let's give you a quick overview anyway.
Nobody really thought that anybody would ever be able to challenge the dominance of Instagram and Facebook.
But then TikTok arrived on the scene with its ultra-short and super-addictive video format.
And Instagram simply being Instagram, it was only a matter of time until they would blatantly copy the feature, just like they did with many of Snapchat's original features as well.
But Reels aren't just short-form videos, they can also be enhanced with stickers, icons, captions, and also trending Reels hashtags.
If you're wondering why all of this matters, check out the next section below.
Key Points (tl;dr)
After TikTok's crazy success with ultra short-form videos and a massively addictive algorithm, it was only a matter of time before Instagram would come out with its very own copy of the same feature.
Reels is Instagram's answer to TikTok videos and it's taken the incumbent's social media platform by storm as marketers race to get an edge over the competition.
Just like with regular Instagram posts, using popular contextual hashtags can boost the reach and exposure of your Reels on the platform and thus help you grow your following.
To make things easier for you, we've curated a list of over 250+ of the most powerful evergreen hashtags that we could find and we've done so for nearly a dozen different niches.
Why Should I Use Special Instagram Reels Hashtags?
Appropriate hashtags can significantly increase the reach and exposure of your Instagram Reels, especially since engaging video content tends to be prioritized in the Instagram feed.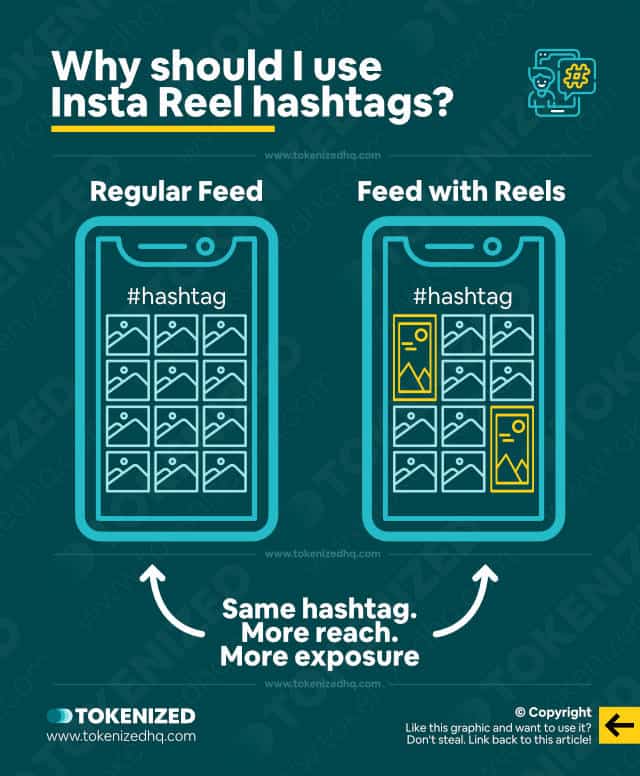 The attention span of most people, and especially kids, are getting shorter and shorter by the year and social media platforms live off the engagement they create.
Instagram Reels are an effective way to do just that since the likelihood of users remaining glued to their screens is much higher.
Most marketers are still struggling to figure out how to best use the TikTok platform and the same is true for Instagram Reels as well.
But that's why it's even more important that you learn how to capitalize on its popularity right now, while the competition is still mostly sleeping.
And one of the best ways to leverage organic reach via Reels is to use trending or viral Reels hashtags.
You see, hashtags used to be a great way to get organic views on your regular Instagram posts, but over time the feed got oversaturated.
Since Reels feature more prominently in the Insta feed, your chances of gettings views with Reels are significantly higher.
So, using the right hashtag for Reels in your niche gives you way more exposure than you would with a regular post.
Also, since many Instagram Hashtags for Reels go through viral loops, getting your brands in front of people can be a lot easier than via traditional methods.
But are trendy and viral Reels hashtags really all there is?
Absolutely not, and we would even argue that it's considerably more difficult to chase trends than to focus on evergreen content.
Some of the very best hashtags for Instagram Reels are evergreens and guess what: You can use most of them as TikTok hashtags as well!
250+ Powerful Evergreen Hashtags for Instagram Reels
Now that we got the basics out of the way, you're probably wondering what sort of Instagram Reels hashtags you should use.
Well, it really depends on the type of niche that you're in.
Some Reels hashtags are so generic that they work in almost any niche while others are tailored towards a specific industry or region.
That's why we've decided to create a specially curated list of hashtags that are grouped by niches.
Here are the niches that we cover:
Fashion
Fitness
Food
Gaming
Pets
Surfing
Travel
Yoga
Funny Hashtags for Instagram Reels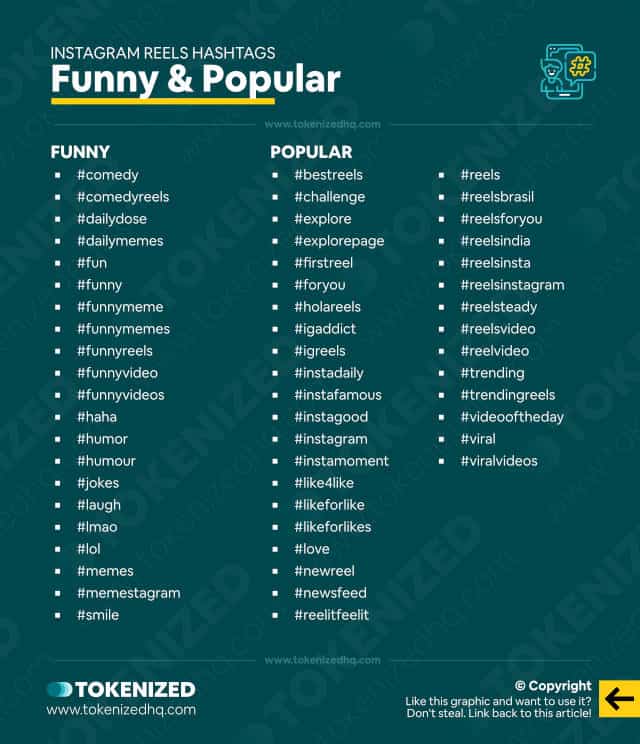 #comedy
#comedyreels
#dailydose
#dailymemes
#fun
#funny
#funnymeme
#funnymemes
#funnyreels
#funnyvideo
#funnyvideos
#haha
#humor
#humour
#jokes
#laugh
#lmao
#lol
#memes
#memestagram
#smile
Popular Hashtags for Instagram Reels
#bestreels
#challenge
#explore
#explorepage
#firstreel
#foryou
#holareels
#igaddict
#igreels
#instadaily
#instafamous
#instagood
#instagram
#instamoment
#like4like
#likeforlike
#likeforlikes
#love
#newreel
#newsfeed
#reelitfeelit
#reels
#reelsbrasil
#reelsforyou
#reelsindia
#reelsinsta
#reelsinstagram
#reelsteady
#reelsvideo
#reelvideo
#trending
#trendingreels
#videooftheday
#viral
#viralvideos
Fashion Hashtags for Instagram Reels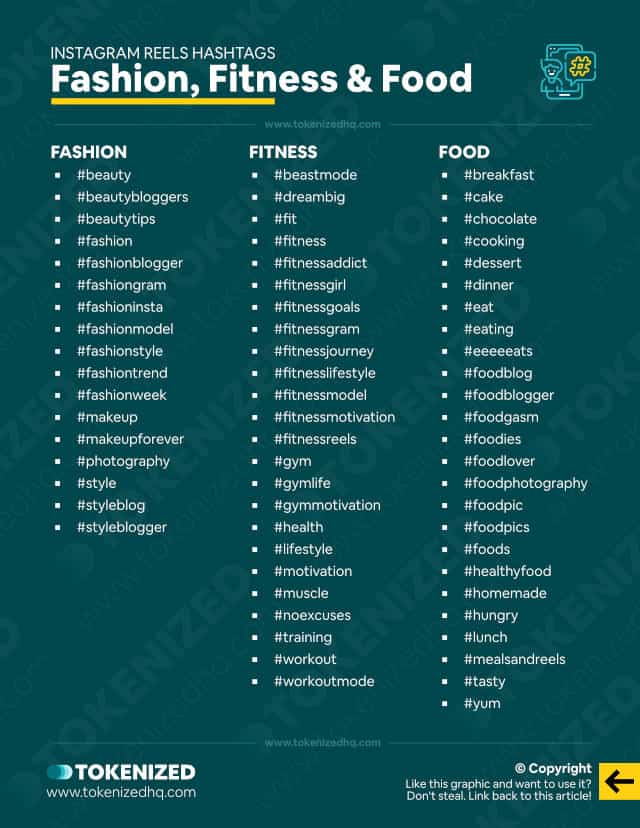 #beauty
#beautybloggers
#beautytips
#fashion
#fashionblogger
#fashiongram
#fashioninsta
#fashionmodel
#fashionstyle
#fashiontrend
#fashionweek
#makeup
#makeupforever
#photography
#style
#styleblog
#styleblogger
Fitness Hashtags for Instagram Reels
Social media platforms that are tailored toward video formats are great places for fitness brands and influencers to post inspiring content for their audience.
The following hashtags for fitness are among the most popular ones in recent years and most of them are not limited to Instagram Reels but can be used on TikTok as well.
#beastmode
#dreambig
#fit
#fitness
#fitnessaddict
#fitnessgirl
#fitnessgoals
#fitnessgram
#fitnessjourney
#fitnesslifestyle
#fitnessmodel
#fitnessmotivation
#fitnessreels
#gym
#gymlife
#gymmotivation
#health
#lifestyle
#motivation
#muscle
#noexcuses
#training
#workout
#workoutmode
Food Hashtags for Instagram Reels
Food is among the most popular niches for content on Instagram as well as other social media platforms that focus on visual content.
If you're a food blogger that shares meal preparation videos on Instagram Reels or Tiktok, then you'll definitely want to use some of the following food hashtags.
#breakfast
#cake
#chocolate
#cooking
#dessert
#dinner
#eat
#eating
#eeeeeats
#foodblog
#foodblogger
#foodgasm
#foodies
#foodlover
#foodphotography
#foodpic
#foodpics
#foods
#healthyfood
#homemade
#hungry
#lunch
#mealsandreels
#tasty
#yum
Gaming Hashtags for Instagram Reels
#callofduty
#esports
#follow
#fortnite
#gamer
#gamergirl
#gamerlife
#gamers
#games
#gaming
#gamingcommunity
#gaminglife
#gamingpc
#gamingsetup
#gta
#instagamer
#instagaming
#nintendo
#pcgaming
#playstation
#pubg
#streamer
#twitch
#twitchstreamer
#videogame
#videogames
#xbox
#xboxone
#youtube
Pets Hashtags for Instagram Reels
#cat
#catlover
#cats
#catsofinstagram
#catstagram
#dog
#doglife
#doglover
#doglovers
#dogoftheday
#dogs
#dogsofinstagram
#dogstagram
#instadog
#instapet
#pet
#petlovers
#pets
#petsofinstagram
#petstagram
#puppy
#puppylove
Surfing Hashtags for Instagram Reels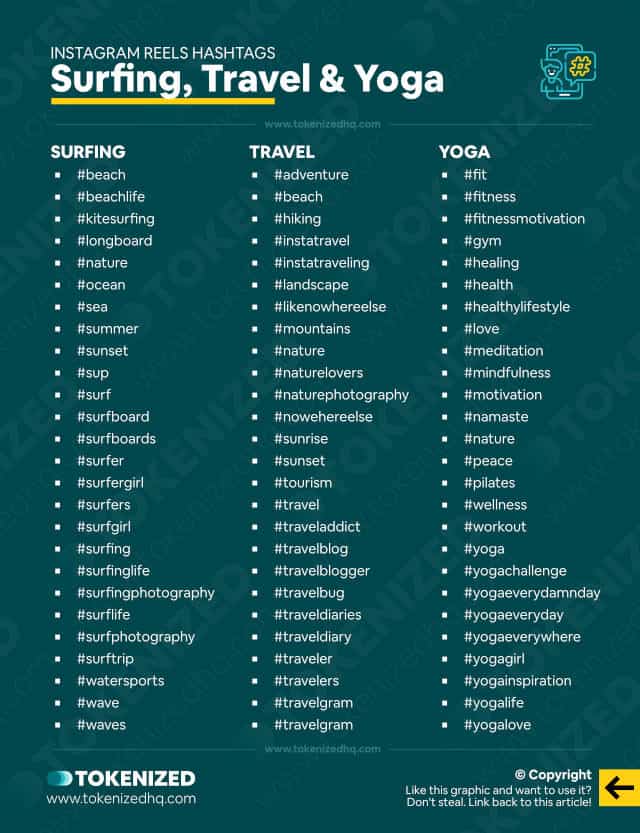 While this is already a great list, just wait until you see our full list of the best beach hashtags, packed with tons of data, including search volume and impact score.
#beach
#beachlife
#kitesurfing
#longboard
#nature
#ocean
#sea
#summer
#sunset
#sup
#surf
#surfboard
#surfboards
#surfer
#surfergirl
#surfers
#surfgirl
#surfing
#surfinglife
#surfingphotography
#surflife
#surfphotography
#surftrip
#watersports
#wave
#waves
Travel Hashtags for Instagram Reels
Although the global pandemic obvious put a dent into the plans of travel bloggers around the world, the revenge travel that resulted from it was even more fierce.
If you're planning to create more travel content for Instagram Reels, we strongly recommend that you consider using less generic hashtags and instead focus on contextual and relevant travel hashtags that are more likely to resonate with the audience.
#adventure
#beach
#hiking
#instatravel
#instatraveling
#landscape
#likenowhereelse
#mountains
#nature
#naturelovers
#naturephotography
#nowehereelse
#sunrise
#sunset
#tourism
#travel
#traveladdict
#travelblog
#travelblogger
#travelbug
#traveldiaries
#traveldiary
#traveler
#travelers
#travelgram
#travelgram
#travelguide
#travelholic
#traveling
#travellife
#travelling
#travelmore
#travelphotography
#travelreels
#wonderlust
Yoga Hashtags for Instagram Reels
#fit
#fitness
#fitnessmotivation
#gym
#healing
#health
#healthylifestyle
#love
#meditation
#mindfulness
#motivation
#namaste
#nature
#peace
#pilates
#wellness
#workout
#yoga
#yogachallenge
#yogaeverydamnday
#yogaeveryday
#yogaeverywhere
#yogagirl
#yogainspiration
#yogalife
#yogalove
#yogapose
#yogapractice
#yogateacher
#yogi
Generate Your Own Instagram Reels Hashtags
If you don't want to use any of the ones we've provided above because you're afraid of using oversaturated hashtags, you can also create your own hashtags.
There are a number of useful hashtag generators out there that will help you get some inspiration for your next Reels video.
They all more or less do the same thing, so it's really up to your personal preference whether you use one or the other.
Frequently Asked Questions (FAQ)
Before we close off this article, let's quickly address some of the most common questions that we've received about hashtags for Instagram Reels.
Do hashtags work on Reels?

Yes, contrary to what many people have claimed, hashtags work very well on Instagram Reels. The problem is that most people do not know how to use hashtags properly and tend to use them excessively. It is generally recommended that you do not use more than 3 and make sure they are actually contextual to your content.

Which hashtags are best for Reels?

Some of the most popular hashtags for Instagram Reels are hashtags that actually contain the word "reels", often just as a suffix, but also frequently as part of a wordplay. While these hashtags may be very popular, they are not necessarily the best ones in the sense that they will get you more attention. The best way to get more views and likes for your Reels is to simply add hashtags that are contextual to the content you are posting.

How many hashtags should I use on Instagram Reels?

It is generally recommended that you do not use more than 3 hashtags for Instagram Reels. This forces you to be more specific about the content of your Reel. A good strategy is to use 1 popular hashtag that is slightly more generic and 2 very specific ones that more likely to generate a response from your viewers.

Why am I not getting any sound on Instagram Reels?

There are a number of reasons why you might not be able to hear any sound on Instagram Reels videos. We strongly suggest that you look at our dedicated guide on how to fix cases of Instagram Reels audio not working for various ways to solve the issue.
Conclusion
No matter what hashtag you eventually choose to use for your next Instagram Reels, the key thing is that you've understood their importance.
Now is the time to capitalize on the fact that most marketers still don't know how to use hashtags for Instagram Reels properly.
Good luck on your journey towards more social reach and thousands of new followers!
Here at Tokenized, we want to help you learn as much as possible about social media. We help you navigate the world of tech and the digitalization of our society at large, including the tokenization of assets and services.