Is your Instagram Reels audio not working anymore?
Perhaps you were about to check out some of the newest Reels created by your favorite Instagram influencers but for some reason, the sound isn't working?
This has been an increasingly common problem ever since Instagram Reels was released to the work and with more people watching videos every day, this issue is bound to come up more frequently.
In this guide, you'll learn about 7 things you can do if your Instagram Reels audio is not working anymore.
Let's dive right in.
Key Points (tl;dr)
With billions of people using Instagram every day, some people are bound to run into issues with the audio on their Instagram Stories and Reels.
There isn't a single solution since there's a myriad of different things that could be causing issues with your Instagram Reels audio. The only way to fix it is by going into troubleshooting mode.
Here are 7 of the most common ways to fix cases of Instagram Reels audio not working:

Solution 1: Check your volume settings
Solution 2: Does the Reel actually contain any sound?
Solution 3: Check for conflicting Bluetooth devices
Solution 4: Force-close the app and restart it
Solution 5: Clear the app's cache
Solution 6: Update the Instagram app
Solution 7: Reboot the device
For a step-by-step guide on how to fix issues of your Instagram Reels audio not working, PLEASE READ THE FULL ARTICLE.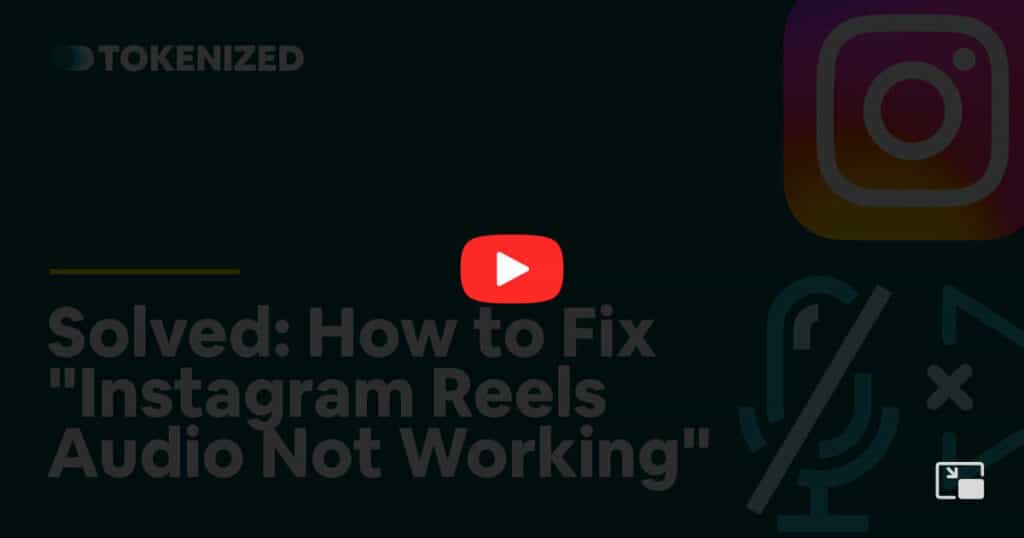 Like this content? Then share it!
Solved: How to Fix "Instagram Reels Audio Not Working"
Here's the answer. Great article by @ChrisHeidorn right here: https://tokenizedhq.com/instagram-reels-audio-not-working/

www.tokenizedhq.com
Why is My Instagram Reels Audio Not Working?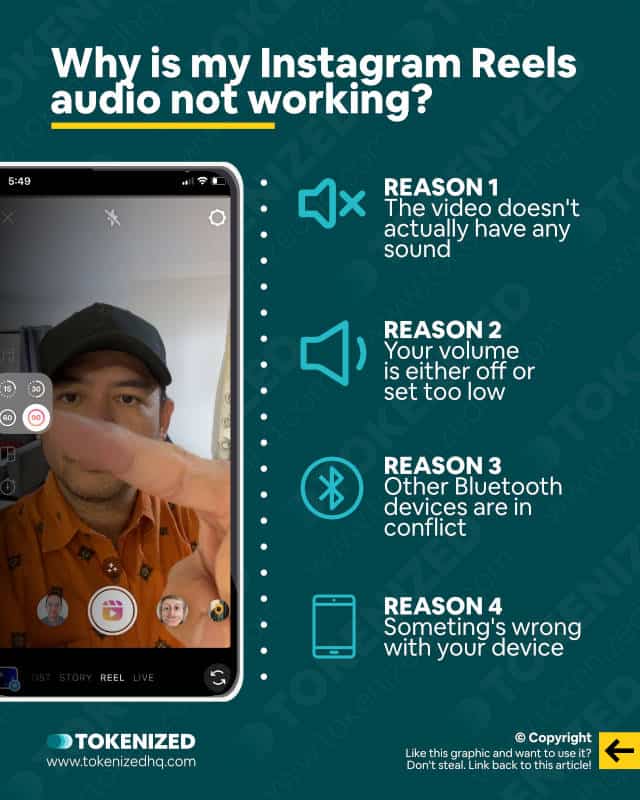 Have you ever been on the receiving end of an Instagram Reel that had no sound?
It's a frustrating experience, especially when there are all these cool effects and music apps available.
If you're having trouble with Instagram Reels audio, you're not alone.
A lot of people are wondering why their Instagram Reels audio isn't working.
There could be a few different reasons for this.
Keep in mind that Instagram Reels is a new feature, so there might still be some bugs that need to be fixed.
In the meantime, you can always use another app to create your Reels.
Here are the most common reasons why your Instagram Reels sound isn't working:
Reason 1: The video doesn't actually have any sound.
Reason 2: Your volume is set too low.
Reason 3: Other Bluetooth devices are creating conflicts.
Reason 4: Something's wrong with your device.
I know some of these reasons sound silly, but you'd be surprised how often they are the root cause.
Obviously, depending on the specific issue, not every solution will work equally well.
Either way, we've put together a list of proven solutions that should normally help you fix cases of Instagram Reels audio not working.
How to Fix Instagram Reels Audio Problems
Remember, not each and every solution on this list is equally suited for your specific problem.
If you have a hunch about what might be causing the problem, then proceed to those solutions first, which you believe might work.
Only then move on to other solutions.
It's generally also a good idea to start off with those fixes that don't require you to restart your phone.
Solution 1: Check the Volume Settings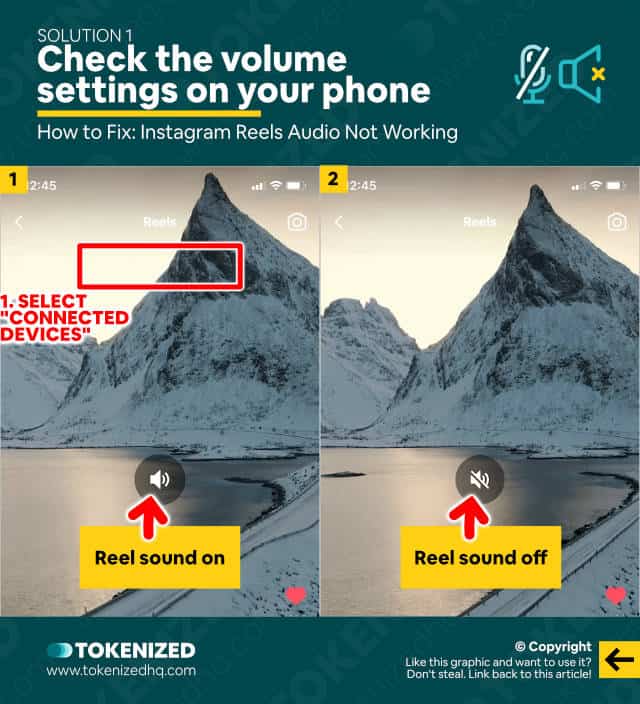 If you're like me, you love Instagram Reels.
They're a great way to pass the time and you can find some really creative content.
But there's one thing that can ruin the experience: bad audio.
If you're having trouble with Instagram Reels audio not working, the first thing you should do is check the volume settings on your phone.
It's possible that the app is muted or that your phone is on silent mode.
Solution 2: Does the Reel Contain Sound?
Have a closer look at the specific Reel.
Is it possible that it's not supposed to have any sound?
Although this is probably rare, given that one of the best parts of Instagram Reels tends to be the background music, it's entirely possible that the video's concept requires silence.
Solution 3: Check for Conflicting Bluetooth Devices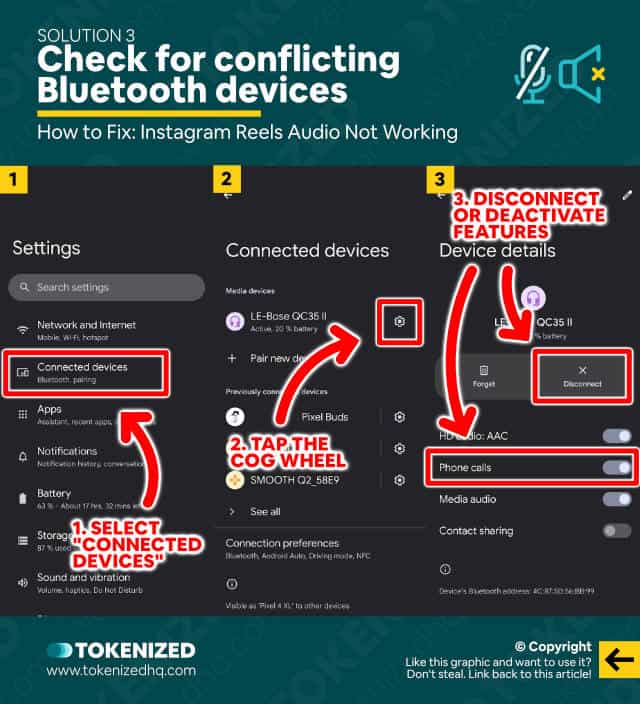 One of the most common causes of this problem is conflicting Bluetooth audio devices.
If you're using Instagram Reels on your phone, make sure that there are no other Bluetooth devices connected to your phone that could be interfering with the audio.
This includes things like wireless headphones and speakers.
Solution 4: Force-Close the App & Restart It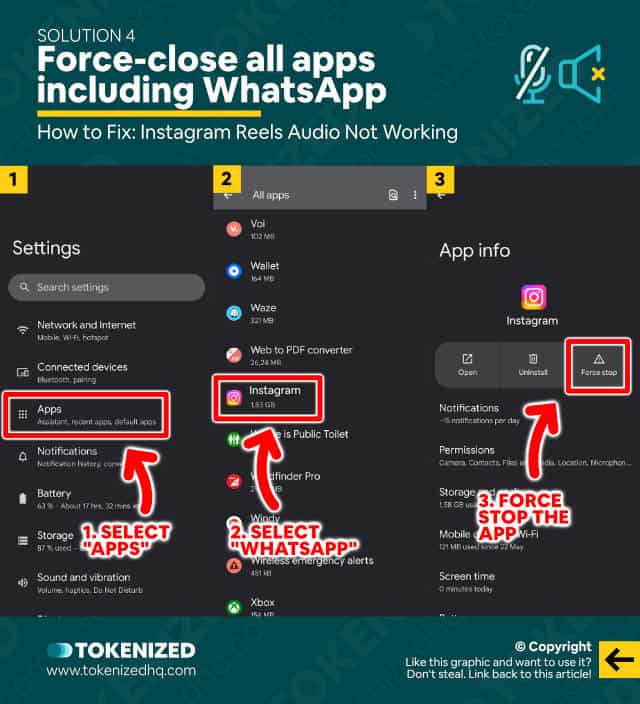 We're moving into the more "generic" solution space. You know, those types of troubleshooting that most tech support people will ask you to do sometimes without really knowing why they work.
But often enough it's because no one knows for sure either way until we start looking at what might be causing our problem!
Let me show you something easy:
Step 1: Force close Instagram and restart it again.
Step 2: If that doesn't fix it, try forcing all other apps to shut down as well
However, if you're still getting no sound on Instagram Reels, move on to solution #5.
Solution 5: Clear the App's Cache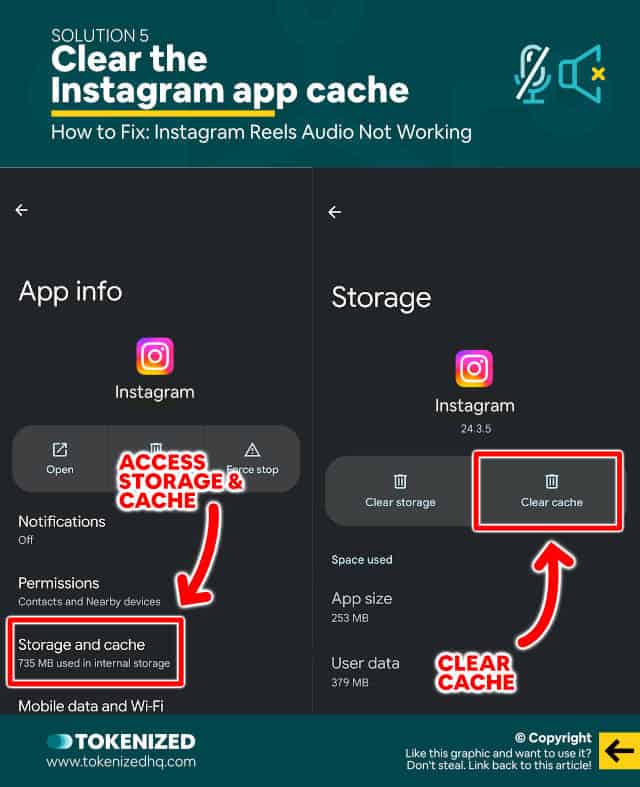 If your Instagram app's cache hasn't been cleared in a while then this could actually be the reason for your Instagram Reels audio not working properly.
Although it's not immediately obvious that there could be a connection between your cache and the app's audio, it's a fairly common cause.
Luckily, you can easily fix this by clearing the app's cache, and here's how to do it on Android:
Step 1: Go to your phone's "Settings".
Step 2: Now select "Apps" and find the Instagram app.
Step 3: Then tap "Storage and cache".
Step 4: Finally, tap "Clear cache".
If you're using an iPhone, then the steps are slightly different:
Step 1: Go to "Settings".
Step 2: Scroll down until you find "General" and select it.
Step 3: Now tap "iPhone Storage".
Step 4: Find the Instagram app in the list and tap it.
Step 5: Tap "Offlaod app".
This frequently solves the issue.
But if it doesn't, move on to Solution #6.
Solution 6: Update the Instagram App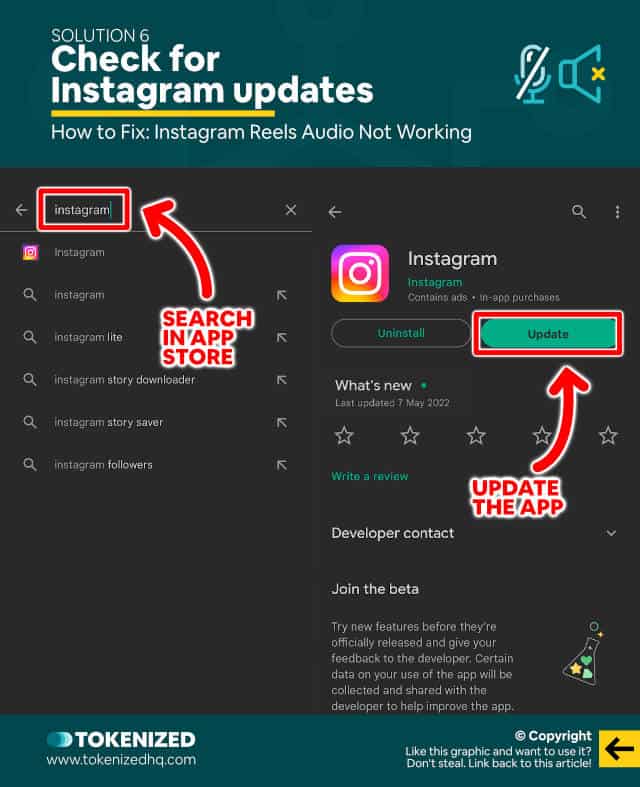 If you're one of the billion people who use Instagram, you might have noticed that the app has undergone a bit of a makeover lately.
Some people prefer not to turn on automatic updates and sometimes that leads to an outdated app.
And believe it or not, that just might be the reason why your Instagram Reels audio isn't working.
Here are the steps on how to update your Instagram app:
Step 1: First, open the Apple App Store or Google Play Store.
Step 2: Then find Instagram in the list of apps.
Step 3: Next, tap the "Update" button if a new update is available.
Solution 7: Reboot the Device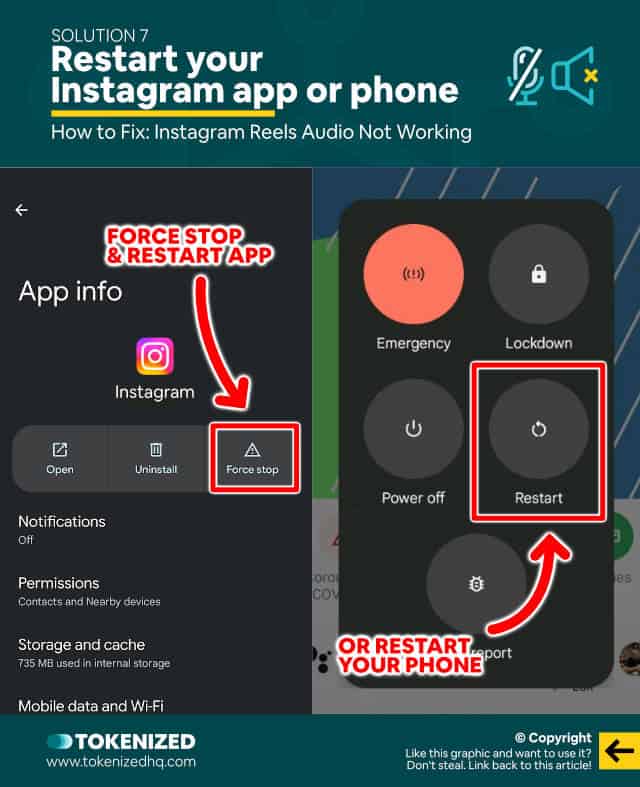 This one is a bit weird, simply because I can't really explain why it works.
I own a Pixel 4 XL and a set of Pixel Buds.
Every now and then the audio of my Pixel Buds will simply stop working for certain apps.
The headphones are working absolutely fine but for some reason, the audio from the app isn't being transmitted to the Pixel Buds.
So what I usually do is simply reboot my phone.
And guess what: That usually solves the problem.
Frequently Asked Questions (FAQ)
Before we close off this guide, let's quickly address some of the most common questions related to audio problems with Instagram Reels.
Why is audio not working on Instagram Reels?

Make sure the audio on your phone is actually turned on and the volume is set high enough. Sometimes the audio is automatically muted on Instagram Reels in order to prevent you from scaring everyone around you with massively loud music. In those cases, all you need to do is turn the audio on and you're ready to go.

How do you get sound on Instagram Reels?

Did you check whether audio might be muted on Instagram Reels? That would explain why your Instagram Reels sound isn't working. Simply tap on the speaker icon to activate the sound. But be careful not to annoy anyone around you.
Conclusion
I know it's incredibly annoying when your Instagram Reels sound isn't working, especially when you don't know why.
But we all encounter these problems from time to time and in most cases, the problem can be fixed in a matter of minutes.
I sincerely hope this article helped you get your Instagram audio working again.
Here at Tokenized, we want to help you learn as much as possible about social media. We help you navigate the world of tech and the digitalization of our society at large, including the tokenization of assets and services.