Looking for TikTok hashtags to help grow your social presence?
Maybe you've recently started a new TikTok account and now you're trying to figure out how you can use trending hashtags on TikTok to gain more followers quickly?
Well, we've got you covered, because rather than just giving you a random list of supposedly popular TikTok hashtags, we've put in the extra work to group them by popular niches.
In this guide, you'll find a curated list of 250+ of the very best hashtags for TikTok in various different consumer and lifestyle niches.
Let's get right to it.
Key Points (tl;dr)
TikTok has been growing at an insanely fast rate and it is primarily due to its immensely powerful AI algorithm that manages to feed its users exactly what they want and keeps them glued to the screen for hours.
If your marketing relies on social media then TikTok is a platform that you simply cannot ignore. Therefore it is critical that you understand how to effectively use TikTok hashtags to maximize the reach and exposure of your brand.
If you're not familiar with how trending hashtags work, it can be difficult to get started. That's why we've put together a curated list of 250+ of the best hashtags for TikTok in various consumer niches.
For a complete list of all 250+ TikTok hashtags that we've curated for you, PLEASE READ THE FULL ARTICLE.
Like this content? Then share it!
250+ Powerful TikTok Hashtags [+ Free PDF]
Here's the answer. Great article by @ChrisHeidorn right here: https://tokenizedhq.com/tiktok-hashtags/

www.tokenizedhq.com
Why is TikTok Becoming So Important?
TikTok is changing the social media game with its innovative ultra short-form video formats. Not only have they been able to harness considerably higher user engagement but they've also changed consumer behaviors in terms of how they find suitable content.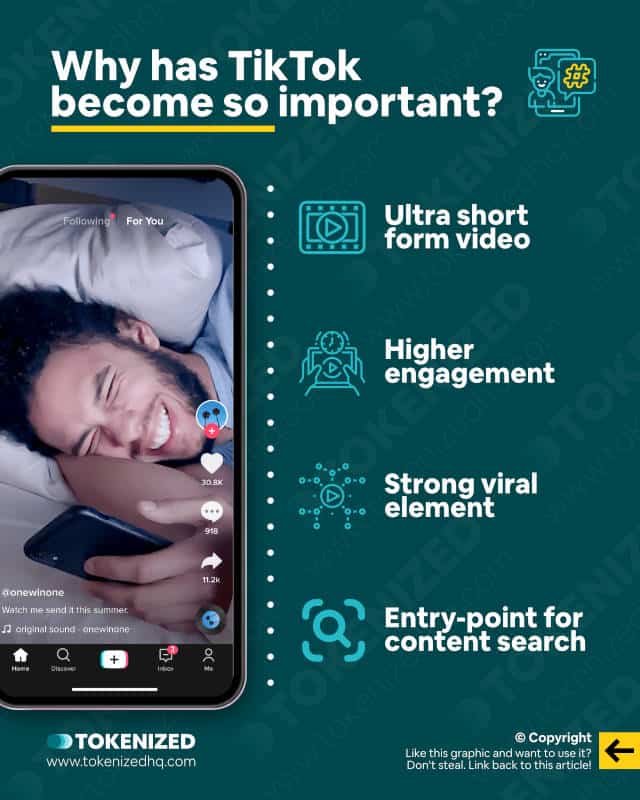 Isn't it funny how TikTok seemingly came out of nowhere and took everyone by surprise?
Perhaps you vaguely remember some of the discussions from a few years back where leading politicians were raising security concerns about TikTok?
Well, we wouldn't necessarily say that those concerns were unwarranted, because they are part of the reason why TikTok has become such a huge deal.
The people at Meta (formerly Facebook) must be truly concerned because it's really quite shocking how powerful TikTok AI has become over the years.
TikTok was the very first social media platform to introduce a new form of ultra short-form video that is now being copied by nearly all leading social media giants (e.g. Instagram & YouTube).
Not only does the shorter format cater to an increasingly shorter attention span of many consumers, but it also allows TikTok to iterate through tons of different variations at an insane speed.
This allows the algorithm to learn incredibly quickly and it becomes better and better at feeding you exactly the right type of content.
You might be wondering what the "right" type of content may be.
Well, pretty much anything that keeps your eyes glued to the screen.
Attention is everything in the world of social media.
But not only are consumers using TikTok to be entertained but they are also beginning to use TikTok as a search engine.
That's right, more and more people are not turning to Google to search for answers to their questions.
Instead, they are opting to search on TikTok, in hopes of finding a video that has the answer.
And very often they will use trending TikTok hashtags to do so.
Why Should I Use Special TikTok Hashtags?
Reach and exposure is key in the social media game and hashtags are an effective way to capitalize on trends to increase your following. Understanding TikTok hashtags is an essential ingredient in maximizing your brand's potential on the platform.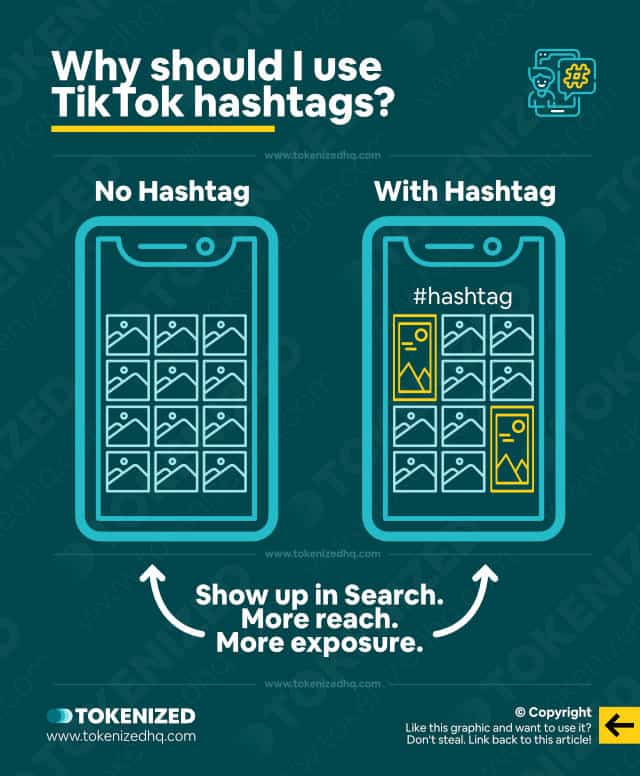 As we already mentioned in the previous section, visual content platforms such as TikTok are becoming increasingly relevant in the search market.
There are many possible reasons for this but the most obvious one is the fact that fewer and fewer people have the discipline to read an article.
That's right, they're basically too lazy.
Now, you can obviously complain about how the younger generations are doomed, but how is that going to help you?
They are the future, so you better pay attention to their habits and behaviors.
Even if you never really understood why trending hashtags on TikTok are even relevant, it's time to figure out how to use them.
TikTok hashtags are one of the primary ways how viewers find content that gives them what they want.
That isn't just the case on TikTok but hashtags for Instagram Reels (Meta's competition feature) are becoming increasingly relevant as well.
You see, shorter attention spans do not just translate into less patience and therefore shorter engagement times.
They also mean that viewers are likely to pick the most popular or trending hashtags on TikTok rather than the most precise ones.
In other words, if you want to win in online marketing, you're going to have to figure out how you can "own" some of the best TikTok hashtags.
Not only will this increase your reach and exposure, but you're also almost guaranteed to generate more business in the long run as well.
So how do you figure out what sort of TikTok hashtags work best for your particular niche?
Well, that's what our curated list of hashtags is for.
The 250+ Best TikTok Hashtags That Give You An Edge
Now that you've understood why the use of trending hashtags on TikTok is so important, it's time to have a look at some of the most effective ones.
An effective TikTok hashtag is not necessarily the one that gets the most search requests.
Remember, shorter attention spans also mean that you have less time to convince the viewer that your content is right for them.
That's why it's particularly important that your context is not just engaging but also contextual to the hashtags you are using.
While the top TikTok hashtags might garner millions of viewers, they are usually not very targeted.
Effective consumer marketing requires highly targeted traffic in order to be profitable.
In this guide we cover X different consumer niches:
Fashion
Fitness
Food
Gaming
Pets
Surfing
Travel
Yoga
However, if you'd like even more TikTok hashtags for tons of other niches, we highly recommend you grab our free PDF download.
Popular Hashtags for TikTok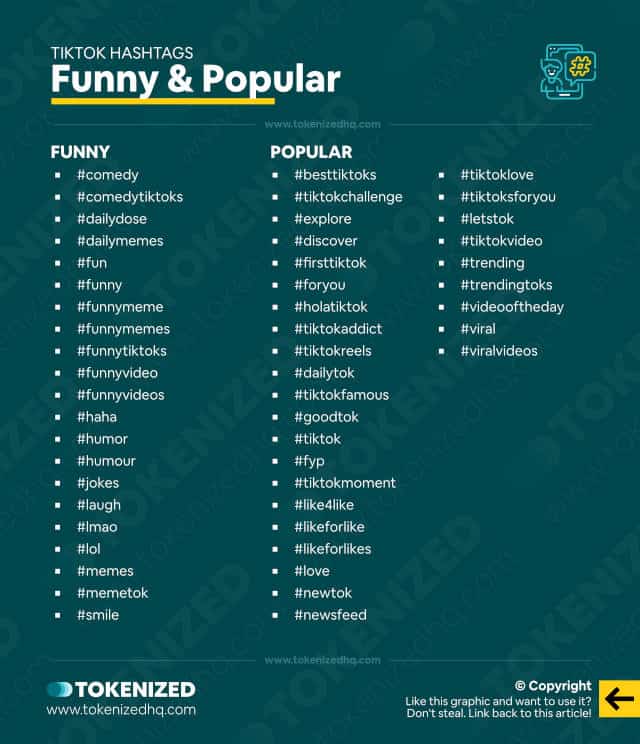 #besttiktoks
#tiktokchallenge
#explore
#discover
#firsttiktok
#foryou
#holatiktok
#tiktokaddict
#tiktokreels
#dailytok
#tiktokfamous
#goodtok
#tiktok
#fyp
#tiktokmoment
#like4like
#likeforlike
#likeforlikes
#love
#newtok
#newsfeed
#tiktoklove
#tiktoksforyou
#letstok
#tiktokvideo
#trending
#trendingtoks
#videooftheday
#viral
#viralvideos
Fashion Hashtags for TikTok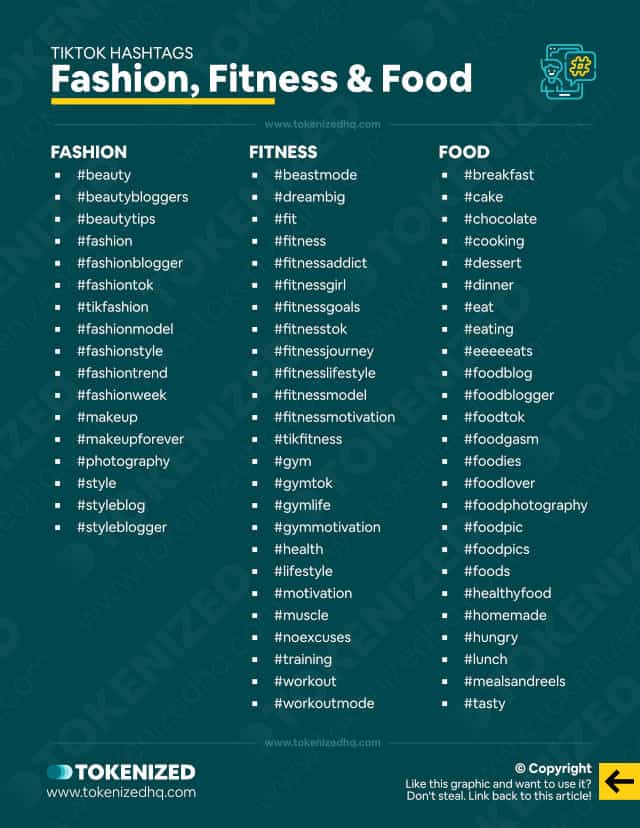 #beauty
#beautybloggers
#beautytips
#fashion
#fashionblogger
#fashiontok
#tikfashion
#fashionmodel
#fashionstyle
#fashiontrend
#fashionweek
#makeup
#makeupforever
#photography
#style
#styleblog
#styleblogger
Fitness Hashtags for TikTok
Below you'll find some of the most popular TikTok hashtags in the Fitness niche.
However, if you'd like to see even more hashtags for fitness, workouts, and gyms, and you really want to harness all of the available data, we highly recommend you check out our dedicated article on fitness hashtags for various social media platforms.
#beastmode
#dreambig
#fit
#fitness
#fitnessaddict
#fitnessgirl
#fitnessgoals
#fitnesstok
#fitnessjourney
#fitnesslifestyle
#fitnessmodel
#fitnessmotivation
#tikfitness
#gym
#gymtok
#gymlife
#gymmotivation
#health
#lifestyle
#motivation
#muscle
#noexcuses
#training
#workout
#workoutmode
Food Hashtags for TikTok
If you're a food blogger, then you're going to want to have a nice selection of food hashtags at your disposal.
Try not to spam your posts with unnecessarily generic and unspecific hashtags and rather focus on those that are actually contextual to what you are posting.
#breakfast
#cake
#chocolate
#cooking
#dessert
#dinner
#eat
#eating
#eeeeeats
#foodblog
#foodblogger
#foodtok
#foodgasm
#foodies
#foodlover
#foodphotography
#foodpic
#foodpics
#foods
#healthyfood
#homemade
#hungry
#lunch
#mealsandreels
#tasty
#yum
Gaming Hashtags for TikTok
#callofduty
#esports
#follow
#fortnite
#gamer
#gamergirl
#gamerlife
#gamers
#games
#gaming
#gamingcommunity
#gaminglife
#gamingpc
#gamingsetup
#gta
#gamertok
#tiktokgaming
#nintendo
#pcgaming
#playstation
#pubg
#streamer
#tiktokgamers
#twitch
#twitchstreamer
#videogame
#videogames
#xbox
#xboxone
Pets Hashtags for TikTok
#cat
#catlover
#cats
#catsoftiktok
#cattok
#dog
#doglife
#doglover
#doglovers
#dogoftheday
#dogs
#dogsoftiktok
#dogtok
#tikokdog
#tikokpet
#pet
#petlovers
#pets
#petsoftiktok
#petstok
#puppy
#puppylove
Surfing Hashtags for TikTok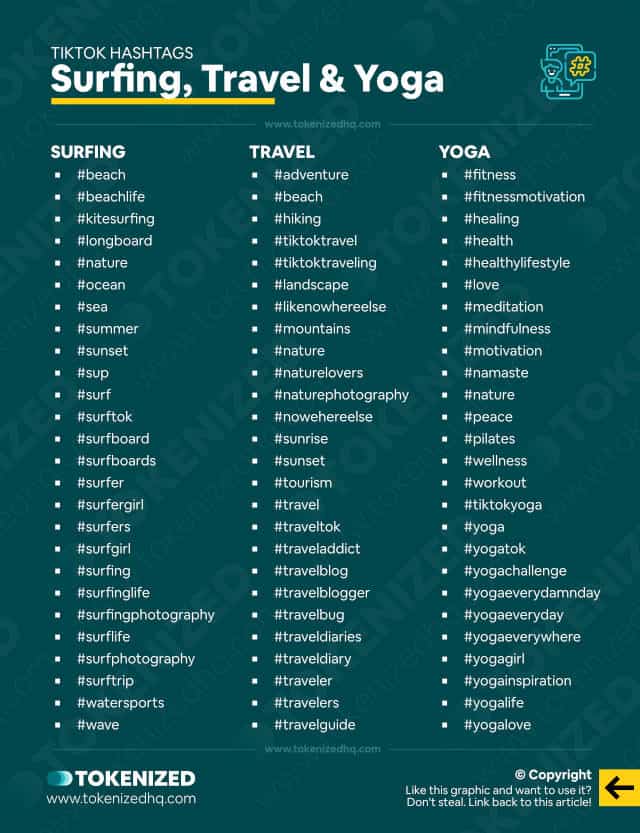 If you already like this list but want to get some more guidance on which ones are the most effective, make sure you check out our dedicated guide on hashtags for beach vacations.
#beach
#beachlife
#kitesurfing
#longboard
#nature
#ocean
#sea
#summer
#sunset
#sup
#surf
#surftok
#surfboard
#surfboards
#surfer
#surfergirl
#surfers
#surfgirl
#surfing
#surfinglife
#surfingphotography
#surflife
#surfphotography
#surftrip
#watersports
#wave
#waves
Travel Hashtags for TikTok
The world is totally flooded with travel bloggers because it's essentially one of the most popular hobbies in the world.
That's also why the competition among social media accounts that focus on travel is so fierce.
If you want to stand a chance of getting noticed, you should really consider niching down a lot further and picking specific travel hashtags that match the right occasion.
#adventure
#beach
#hiking
#tiktoktravel
#tiktoktraveling
#landscape
#likenowhereelse
#mountains
#nature
#naturelovers
#naturephotography
#nowehereelse
#sunrise
#sunset
#tourism
#travel
#traveltok
#traveladdict
#travelblog
#travelblogger
#travelbug
#traveldiaries
#traveldiary
#traveler
#travelers
#travelguide
#travelholic
#traveling
#travellife
#travelling
#travelmore
#travelphotography
#wonderlust
Yoga Hashtags for TikTok
#fitness
#fitnessmotivation
#healing
#health
#healthylifestyle
#love
#meditation
#mindfulness
#motivation
#namaste
#nature
#peace
#pilates
#wellness
#workout
#tiktokyoga
#yoga
#yogatok
#yogachallenge
#yogaeverydamnday
#yogaeveryday
#yogaeverywhere
#yogagirl
#yogainspiration
#yogalife
#yogalove
#yogapose
#yogapractice
#yogateacher
#yogi
Examples of Trending Hashtags on TikTok
To give you a better idea of what sort of videos and hashtags we're talking about, we've put together a list of examples.
These examples cover a number of niches, including Yoga, Fitness, Surfing, and Gaming.
So basically, loads of consumer-focused topics.
Generate Your Own Trending TikTok Hashtags
If you don't like any of the existing TikTok hashtags on the list, you're welcome to create or come up with your own.
There are a number of helpful hashtag generators that are provided free of charge by various websites.
While they cannot guarantee that the hashtags you generate are actually relevant, they do make it a lot easier to see what's already out there.
The following 4 generators have proven quite useful and also work for TikTok hashtags:
Conclusion
Whether you like it or not, if you market consumer-oriented products, you're going to have to take TikTok seriously at some point.
So better try to learn how to use TikTok hashtags now than regret it a few years down the line.
The competition is NOT sleeping and if you act now, you're at least guaranteed to be among the early majority.
Here at Tokenized, we want to help you learn as much as possible about social media. We help you navigate the world of tech and the digitalization of our society at large, including the tokenization of assets and services.