Are you looking for a free version of Stable Diffusion?
Due to its open-source nature, Stable Diffusion's core software is free for anyone to use, implement, or extend as they wish.
However, since most of us aren't actually tech-savvy enough to set up a full local installation, Stable Diffusion free demos and tools have become increasingly popular (especially those that are browser-based).
In this guide, we'll show you how you can get access to Stable Diffusion free of charge, online and offline, and with varying levels of advanced features.
Let's dive right in.
Like this content? Then share it!
Stable Diffusion Free Tools & Demos
Here's the answer. Great article by @ChrisHeidorn right here: https://tokenizedhq.com/stable-diffusion-free/

www.tokenizedhq.com
Stable Diffusion Free Online Tools
So by now, you've probably figured out that Stable Diffusion is open-source software.
And at the most basic level, that means that the software is 100% free and anyone can use it for their own purposes.
However, it is not uncommon for companies to extend or enhance open-source software to a point where they are able to charge money for their work.
So, for example, while you can easily download Stable Diffusion free of charge, installing it can be a rather complicated and frustrating experience.
Furthermore, not everyone knows hows to use software via the command line interface, which is why so many developers are actively working on creating more user-friendly implementations of Stable Diffusion.
The following examples of free Stable Diffusion tools technically aren't 100% free.
However, they all come with free trial credits that are more than enough to experiment with the software, and for some people, they'll even be more than they'll ever need.
So let's have a look at our list of online tools that give you access to Stable Diffusion free of charge.
Key Points (tl;dr)
There are a number of free online tools that use Stable Diffusion under the hood, with the most advanced one being DreamStudio by Stability AI.
However, there are numerous alternatives that use Freemium models and if you just want to experiment a little bit, then one of the many free demos will likely suffice.
For macOS users, the most convenient solution is Diffusion Bee, which lets you get started on your computer in under 10 minutes.
1. DreamStudio by Stability AI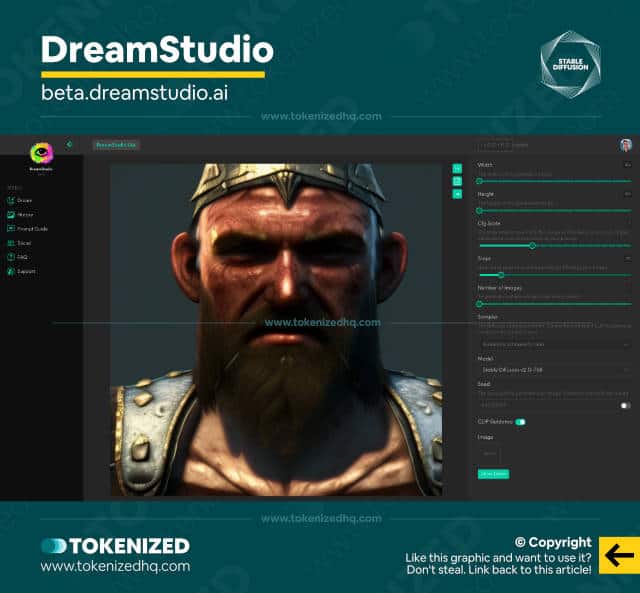 Stability AI is to Stable Diffusion what OpenAI is to DALL-E.
Stable Diffusion was originally developed by the CompViz group at LMU Munich, Stability AI, and Runway.
Despite releasing Stable Diffusion as open-source software, Stability AI plans on building a broad ecosystem of products and services that use its core technology.
Its primary product is DreamStudio, a web-based graphical user interface that makes it considerably easier to use Stable Diffusion.
In a way, it's similar to OpenAI's DALL-E 2 web application, although it chooses a much more technical approach.
So if DALL-E 2 were macOS, DreamStudio would definitely feel like using Windows (I hope that analogy makes sense).
Either way, while DreamStudio isn't actually free, it does come with a trial allowance of 200 credits which allows you to generate roughly 200 images.
2. Stable Diffusion Generator by NightCafé
NightCafé is an online community dedicated to AI art and it also offers a wide array of custom tools that allow its users to generate their own art for free.
The NightCafé platform also uses a credit-based system, however, it doesn't provide a once-off allocation.
Instead, users receive a daily allocation that replenishes every 24 hours.
3. Dezgo
Dezgo is a simple, web-based implementation of Stable Diffusion.
It offers slightly more features than most of the Stable Diffusion demos, including an Image-to-Image generator.
Its core products are 100% free, however, it also offers a Premium API tailored towards developers that are not interested in setting up Stable Diffusion themselves.
Stable Diffusion Free Online Demos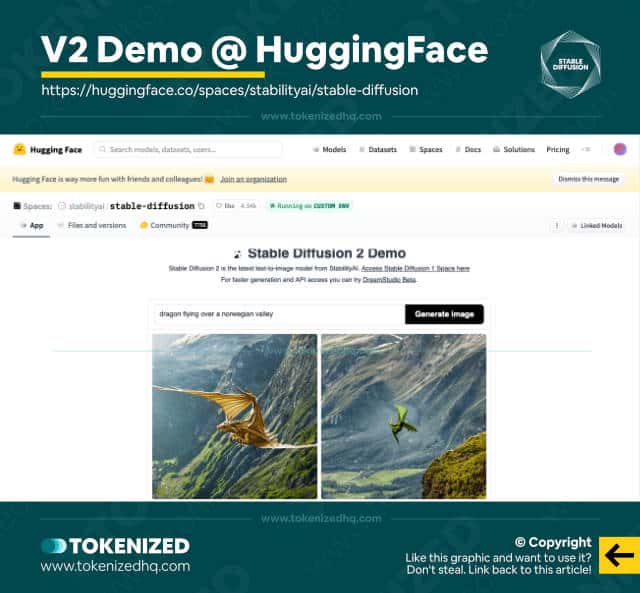 Of course, there are a lot more options to use Stable Diffusion free of charge, however, you'll have to accept the fact that they won't be much more than a simple demo page.
Stability AI and Runway both host separate versions of a simple Stable Diffusion demo for version 1 and version 2 of the algorithm.
There are also independent "copies" of these demo sites that have popped up on all sorts of AI deployment platforms.
For a detailed overview of all your options, make sure you check out our dedicated guide on the top 5 Stable Diffusion demo sites and their respective features.
However, if you just want to know what they are and how to get there, here's a quick list:
Free Stable Diffusion Apps for Mac & Windows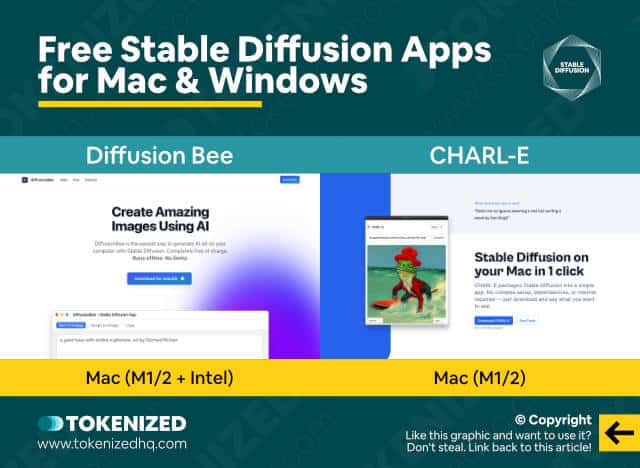 Finally, there's always the option of installing Stable Diffusion locally on your computer.
It's actually the preferred choice among developers who want to get access to Stable Diffusion free of charge.
However, in its most rudimentary form, doing this requires a minimum level of technical experience in working with command-line interfaces and GitHub repositories.
And even somewhat more experienced users can quickly become very frustrated with updating package dependencies and a whole bunch of other errors.
If you absolutely insist on doing it yourself, then I strongly recommend you go for an implementation of Stable Diffusion named InvokeAI.
However, if you simply cannot be bothered with all this complexity, there is a really good alternative for macOS users.
DiffusionBee and CHARL-E are two standalone apps that allow you to install and run Stable Diffusion locally without the need for complicated setups.
And even though they may not give you as much control over your image generations are the command-line interface does, they are more than enough for the vast majority of people.
Unfortunately, both these apps currently only run on macOS and it is strongly advised that you run them on an M1 chip or better.
Check out our guide on how to install Stable Diffusion on macOS for detailed instructions on how to do so.
Don't worry though, Diffusion Bee is currently working on a Windows version as well.
If you're just a casual user and don't need all the bells and whistles, then Diffusion Bee is a great option that will allow you to use Stable Diffusion free of charge and hassle-free.
Frequently Asked Questions (FAQ)
Before we close off this guide, let's quickly address some of the most common questions related to free Stable Diffusion tools and demos.
Is Stable Diffusion free to use?

Yes, Stable Diffusion's source code is classified as open-source. Therefore, anyone with sufficient skills can install and use it for free. However, this does not mean that every single implementation or service that was built with Stable Diffusion will necessarily be free.

Is Stable Diffusion open source?

Yes, Stable Diffusion is licensed under the CreativeML Open RAIL-M license. Anyone can install, copy, or fork the repository and use it to build their own tools and products.

How can I use Stable Diffusion for free?

There are numerous free Stable Diffusion demos available on the web. There are also a number of commercial projects that have built sophisticated online web editors that offer generous free trials. You can also install Stable Diffusion locally if you have the skills to do so.
Conclusion
The Stable Diffusion ecosystem is on track for a Cambrian explosion thanks to the release of the AI model under an open-source license.
Free and commercial projects are popping up all over the internet, some better and some worse.
But the key takeaway is that anyone who wants to use Stable Diffusion free of charge has more than enough options to do so, both online and offline.
Here at Tokenized, we want to help you learn as much as possible about the AI software industry. We help you navigate the world of tech and the digitalization of our society at large, including the tokenization of assets and services.