Are you looking for a hosted Stable Diffusion demo?
It almost seems like new AI models are hitting the market every single day and it's safe to say that the open-source release of Stable Diffusion is one of the reasons for this.
But despite your preference for market leaders like Midjourney and DALL-E, you probably at least want to give Stable Diffusion a chance.
In this guide, we'll introduce you to the top 5 Stable Diffusion demo sites that will offer you a glimpse of what it's capable of.
Let's dive right in.
Like this content? Then share it!
The Top 5 Stable Diffusion Demo Sites
Here's the answer. Great article by @ChrisHeidorn right here: https://tokenizedhq.com/stable-diffusion-demo/

www.tokenizedhq.com
The Top 5 Stable Diffusion Demo Sites
It's only been a few months since Stable Diffusion was introduced to the world and it's already gained massive popularity.
This isn't surprising given the fact that it's been released under an open-source license which is an absolute dream come true to many developers out there.
However, it also means that the current state of the Stable Diffusion ecosystem is very fragmented and in a state of constant flux.
The rapid rate at which new versions of the AI model have been released has only added to this problem.
Although developers stand to gain the most from Stable Diffusion's open-source approach, less tech-savvy users will also want to experiment with it.
But unfortunately, the disorganized nature of its ecosystem is a serious entry barrier to many people.
The complete lack of a holistic branding strategy has made it surprisingly difficult to ascertain who is running the show.
It also makes it nearly impossible for casual users to easily identify a primary location where they can find a Stable Diffusion demo.
Yes, there are many options out there.
However, your average user has no idea which version of Stable Diffusion they are running, nor does he know whether it's for free.
We've gone through the trouble of compiling some of the top Stable Diffusion demo sites in an attempt to provide some guidance to those who simply feel overwhelmed.
Key Points (tl;dr)
Stable Diffusion's open-source ecosystem can sometimes seem confusing to less tech-savvy users.
While there are many demo sites out there, it's not always clear which model version they are running and who is hosting it.
When in doubt, the best place to look is usually the official Stability AI profile page on HuggingFace.
1. Stable Diffusion 2 Demo @ HuggingFace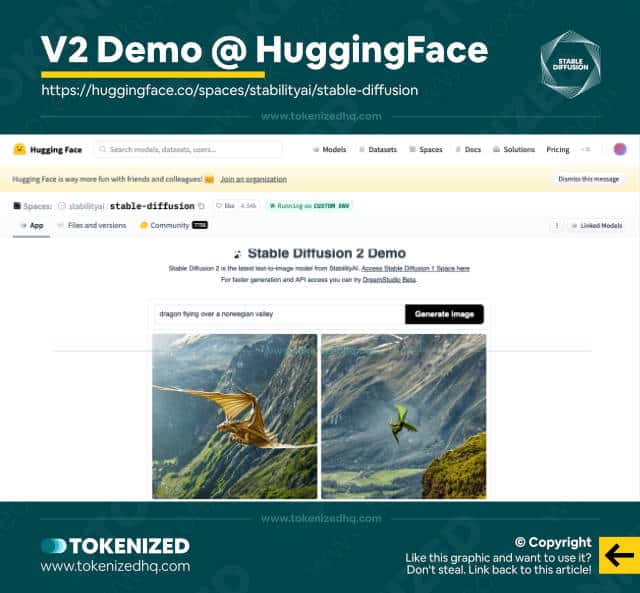 If you're not familiar with HuggingFace, let me give you a quick summary.
It's essentially a data science platform that provides the necessary tools to build, train, and deploy machine learning models using open-source software.
Although it's not really the best analogy, I like to call it the GitHub of AI models.
The primary company behind Stable Diffusion, Stability AI, hosts a number of demo sites on HuggingFace.
In this particular case, it's a Stable Diffusion demo site for version 2 of the AI model.
Features include:
Basic input form for your text-to-image prompt
Text prompt examples
Generates 4 image variations at a time
Requires about 30 seconds to generate a set of images
2. Stable Diffusion 1 Demo @ Replicate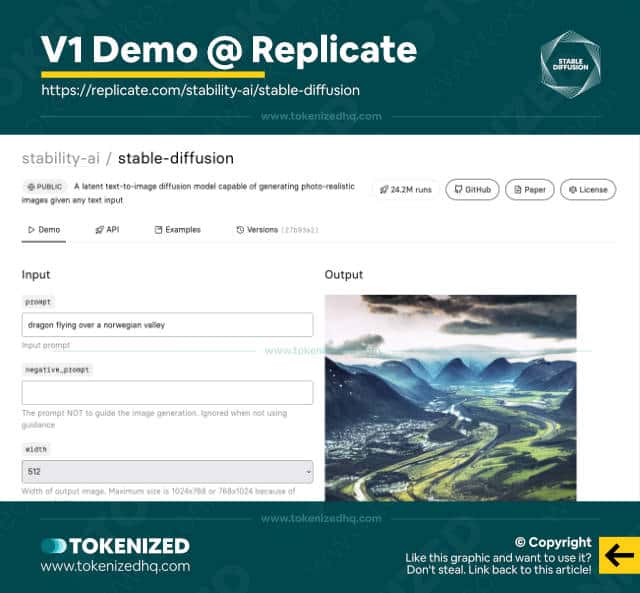 Replicate allows you to run AI models in the cloud, essentially offering a stripped-down version of what HuggingFace does.
Stability AI also hosts a Stable Diffusion demo via its own account, although this particular implementation showcases additional features.
We suspect that it is running v1.0 of the model, although we are not 100% certain.
Features include:
Advanced input form
Negativa prompting
Ability to change image dimensions
Support for an initial image and masks
Various advanced parameter
Generate up to 10 images at a time
A full set of 10 images requires about 30 seconds
3. Stable Diffusion Demo @ Hotpot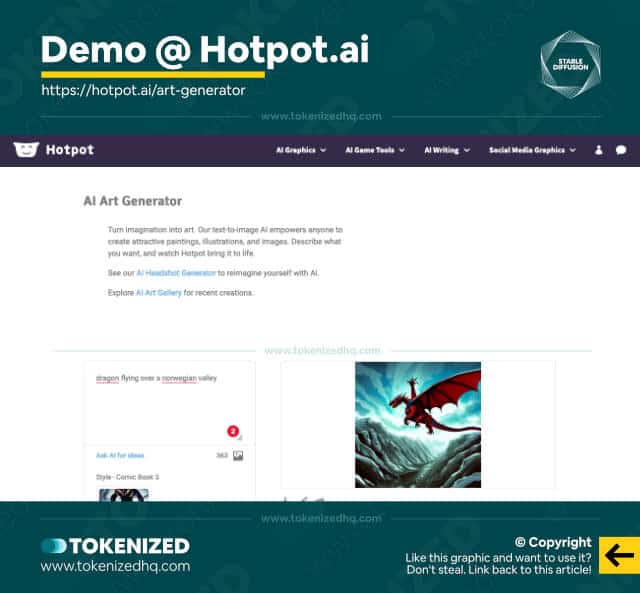 Hotpot offers a wide array of smaller AI-related tool implementations on its website and among them is also an AI art generator.
Judging from the images we've seen, we believe they may be running a Stable Diffusion demo for v2.0.
Although this is a free demo service, Hotpot has integrated paid premium features that will let you generate images faster as well as much larger ones.
That being said, there's really no reason to pay for their service, given that there are much better alternatives out there.
Features include:
Simple input form
Choice of preset styles
Randomize feature (probably uses a random seed value)
Free generations require 1-15 minutes depending on the demand
Paid options for premium features
4. Stable Diffusion 1 Demo @ HuggingFace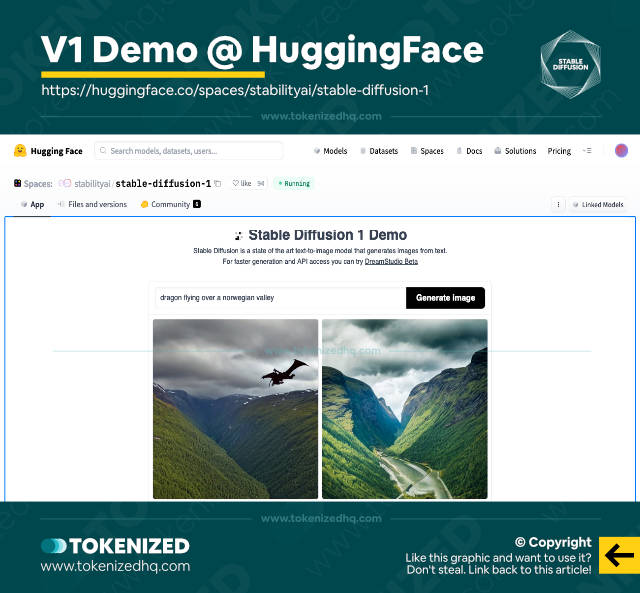 As you might imagine, Stability AI also hosts previous versions of Stable Diffusion on HuggingFace.
We've added the Stable Diffusion demo site for version 1 to this list, simply because we think it's interesting for users to compare how the model improves over time.
Features include:
Same basic input form for your prompt
Text prompt examples
Generate 4 images variations
Images are generated in less than 10 seconds
Considerable less performant AI model
5. Stable Diffusion 1 Demo @ Baseten
Baseten's business model is very similar to that of HuggingFace, so it's no surprise that you'll find Stable Diffusion hosted on their platform.
In this particular case, we're not entirely sure which version of the model was installed, however, judging from the results and speed, we suspect it used version 1.0.
Features include:
Very basic input form for your prompt
Some text prompt examples
Sample output
Images generated in less than 10 seconds
Frequently Asked Questions (FAQ)
Before we close off this guide, let's quickly address some of the most common questions related to Stable Diffusion demos.
Is the Stable Diffusion demo free?

Yes, the vast majority of Stable Diffusion demo sites are for free, although some do offer premium features. That being said, none of these demo sites will give you access to the full spectrum of Stable Diffusion's features. Depending on whoever is hosting the demo site, generation times can vary between a few seconds and up to 15 minutes. Bear in mind that some demos are hosted by members of the community rather than big corporations.

How can I try Stable Diffusion?

You can try Stable Diffusion by simply visiting one of the many hosted demo sites on the web. Stability AI, the creators of Stable Diffusion, host multiple demos on HuggingFace and Replicate. However, bear in mind that none of these demos showcase the advanced capabilities of Stable Diffusion. The best way to test these is by signing up for a free trial account at DreamStudio, which is Stability AI's premium AI art generator.
Conclusion
The summer of 2022 truly sparked the internet's curiosity for the capabilities of AI models in various areas, including artwork.
So it's no surprise that tons of people are searching for ways to test out different AI art generators for free.
Luckily, the Stable Diffusion ecosystem is riddled with free demo sites that are hosted by companies and community members alike.
Here at Tokenized, we want to help you learn as much as possible about the AI software industry. We help you navigate the world of tech and the digitalization of our society at large, including the tokenization of assets and services.