Are you looking for a timeline of all Stable Diffusion release dates?
While Midjourney and DALL-E have been dominating most of the headlines in 2022, one of the most important AI models in the industry has been largely overlooked.
The Stable Diffusion release, being an open-source project, is arguably the most impactful piece of AI software to this date.
In this guide, we'll give you a quick overview of Stable Diffusion's rise to fame from when it was initially revealed to the most recent release of version 2 of its algorithm.
Let's dive right in.
Like this content? Then share it!
Stable Diffusion Release Date & Timeline
Here's the answer. Great article by @ChrisHeidorn right here: https://tokenizedhq.com/stable-diffusion-release-date/

www.tokenizedhq.com
Stable Diffusion Release Date & Timeline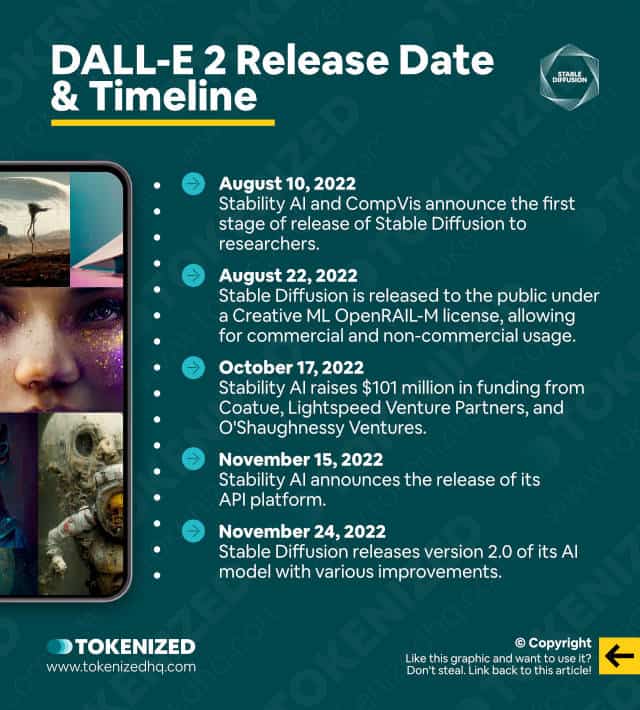 The summer of 2022 was clearly dominated by the emergence of seriously jaw-dropping AI artwork.
Suddenly, the entire tech world was focusing its attention on the fascinating power of text-to-image AI models.
It's safe to say that Midjourney lit the initial fire that got everyone excited.
And soon after, OpenAI felt compelled to finally release DALL-E 2 from the confines of its private beta and make it available to everyone in the early Fall of 2022.
But there's one major candidate for the AI art crown that was largely overlooked by major media outlets and end users.
Stable Diffusion, the open-source alternative to the corporate-driven AI models from the US, also celebrated its release in August 2022.
One of the reasons it didn't gain as much traction in the public's perception is the fact that it is considerably less accessible than its competitors.
While Midjourney and DALL-E 2 can effectively be used straight out of the box thanks to Discord bots or a web interface, Stable Diffusion is effectively just the codebase.
Yes, there's a public demo on HuggingFace, but unless you are relatively tech-savvy, you probably don't even know what that is.
The open-source nature of Stable Diffusion makes it incredibly attractive for developers, but the lack of a "single" centralized and user-friendly web interface makes it challenging for newcomers.
In fact, most people don't even realize that there are dozens of implementations of the Stable Diffusion release.
Of course, you can easily just visit the DreamStudio website to experience the full power of the Stable Diffusion beta.
But unless someone knows that Stability AI is the primary partner and promoter of Stable Diffusion, chances are they will opt for something more straightforward like DALL-E or Midjourney.
Anyway, we decided it was time to put together a nice little timeline from the initial Stable Diffusion release to researchers, up until the most recent announcements about version 2.0.
Here's a short history of Stable Diffusion:
August 10, 2022: Stability AI and CompVis announce the first stage of release of Stable Diffusion to researchers (close beta).
August 22, 2022: Stable Diffusion is released to the public under a Creative ML OpenRAIL-M license, allowing for commercial and non-commercial usage.
October 17, 2022: Stability AI raises $101 million in funding from Coatue, Lightspeed Venture Partners, and O'Shaughnessy Ventures.
November 15, 2022: Stability AI announces the release of its API platform.
November 24, 2022: Stable Diffusion releases version 2.0 of its AI model with various improvements over v1.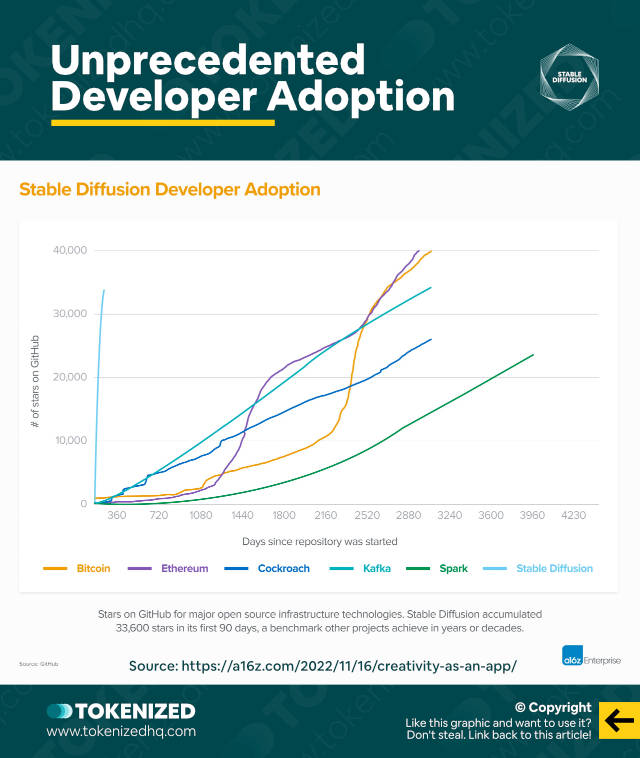 It should be noted that in a recent comparison of developer adoption of various open-source infrastructure technologies done by GitHub and a16z, Stable Diffusion accumulated 33,600 stars within a timeframe of 90 days.
This speed of adoption is unprecedented and has broken records already.
Key Points (tl;dr)
The first Stable Diffusion release was announced on August 10, 2022. Only a few weeks later it was released to the public as open-source software.
Since then, it has seen unprecedented developer adoption, faster than Ethereum or Bitcoin.
More recently, with the release of version 2, Stable Diffusion stands to compete with some of its biggest competitors.
Frequently Asked Questions (FAQ)
Before we close off this guide, let's quickly address some of the most common questions related to the Stable Diffusion release date.
When was Stable Diffusion officially released?

Stable Diffusion was released to the public on 22 August 2022 under an open-source license, permitting the use of its AI model for commercial and non-commercial purposes.

When was Stable Diffusion 2 released?

Version 2 of Stable Diffusion was released on November 24, 2022. It comes with a wide range of improvements, including higher resolution upscaling, better text interpretation, and much more.
Conclusion
Unlike many of the market's incumbents who are working hard to keep the code of their ground-breaking AI technology under wraps, Stable Diffusion is choosing the open-source route.
This instantly propels Stable Diffusion into the spotlight as a beacon of hope in an industry that is dangerously closed off from the public.
Here at Tokenized, we want to help you learn as much as possible about the AI software industry. We help you navigate the world of tech and the digitalization of our society at large, including the tokenization of assets and services.