Looking for an easy-to-use pixel art generator?
Or perhaps you're planning an NFT project and would like to create pixelated art for your very first-pixel art NFTs?
Pixel art has been a thing for a very long time and it comes as no surprise that the advent of NFT and the Metaverse would make pixelated art resurface.
In this guide, we'll introduce you to some of the most popular and easy-to-use pixel art generators so that you can mint your first pixel NFT in no time.
Let's get started.
Key Points (tl;dr)
Pixel art is a type of digital art style that involves creating artwork at the pixel level, similar to using building blocks.
Pixel art generators make the process of creating pixel art for NFTs significantly easier by automating much of the process.
Pixel art NFTs have become particularly popular because they are symbolic of an entire generation that grew up with video games and PCs in the 80s and 90s.
We've put together a list of 5 easy-to-use pixel art generators so you can experiment with them on your next NFT project.
Like this content? Then share it!
5 Easy-to-Use Pixel Art Generators for NFTs
Here's the answer. Great article by @ChrisHeidorn right here: https://tokenizedhq.com/pixel-art-generator/

www.tokenizedhq.com
What is Pixel Art?
Pixel art is a digital art form where images are created at the pixel level using graphics software. The unique visual style of pixel art consists of individual pixels that act as building blocks within a larger image. Pixel art is essentially a digital form of mosaic art.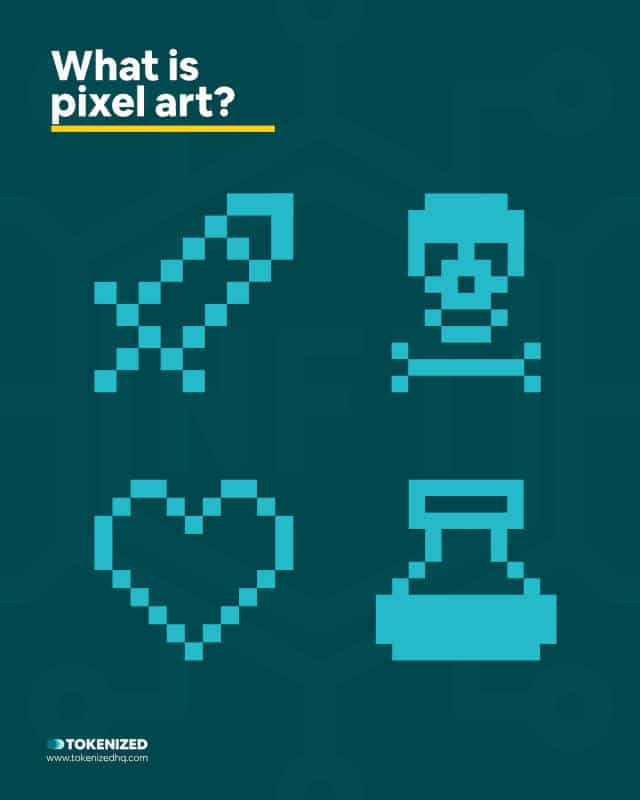 If you were born in the 70s or 80s then you probably grew up with video game consoles and some of the first computers.
Back in those days, it was absolutely normal for video games to look extremely pixelated.
That wasn't just a particular style but it was literally the state of the art at the time.
As these generations have grown older, they've also become quite nostalgic of the "good old days".
And that explains the strange appeal of many pixel NFTs or pixel characters that are used in metaverse games.
One of the most expensive NFT collections in the world is essentially just pixel art: CryptoPunks.
However, nowadays pixel art is more than just a technical limitation.
It has literally become a digital art form that is used with intention and which also transports a subtle message.
What is a Pixel Art Generator?
A pixel art generator is a piece of software that receives any digital image as an input and then transforms the image into pixel art by applying a combination of filters that create a simplified and stylized version of the original image using a style that looks like large pixels.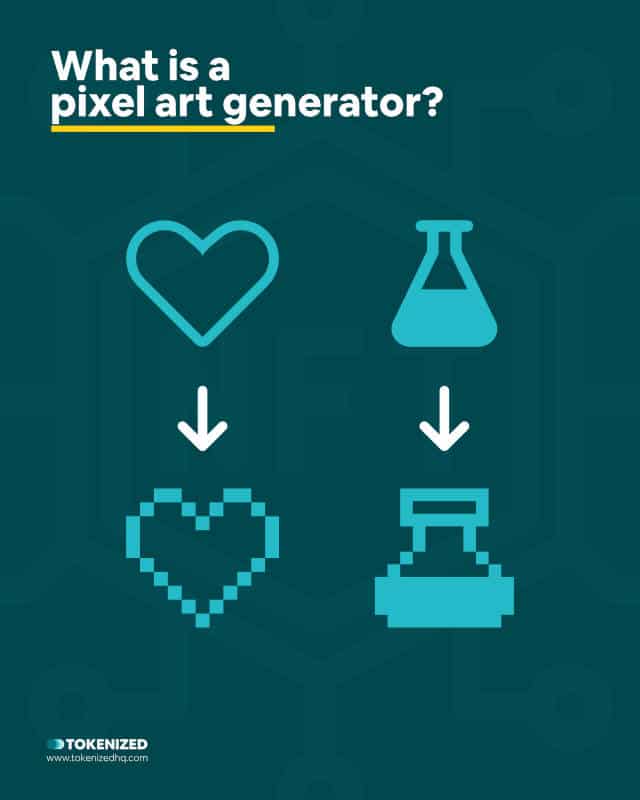 Pixel art generators make it incredibly easy to create your own pixel art.
In a matter of seconds, you can take just about any existing digital image, upload it to a pixel art generator, maybe tweak a few settings and that's it.
In most cases, you need absolutely zero skills to create your own pixel art with these generators.
There are generally two types of pixel art generators.
The first one is able to create isometric pixel art, which is essentially a projection of 3D objects in 2D graphics.
The more common type involves 100% 2-dimensional artwork that is simply reduced to simplified blocks (or pixels) of color.
Pixel art generators are particularly popular due to their ease-of-use, high production rate, and the artwork is usually suitable for all types of devices, irrespective of their processing power.
Why are Pixel Art NFTs so Popular?
Pixel Art NFTs are popular for two reasons. Pixel art appeals to a large audience of people who grew up in the 80s and 90s with video games and computers. A sense of nostalgia brings back memories from their youth. The other reason is that it's incredibly easy to great pixel art from existing images using a pixel art generator. It makes NFT significantly more accessible for the masses.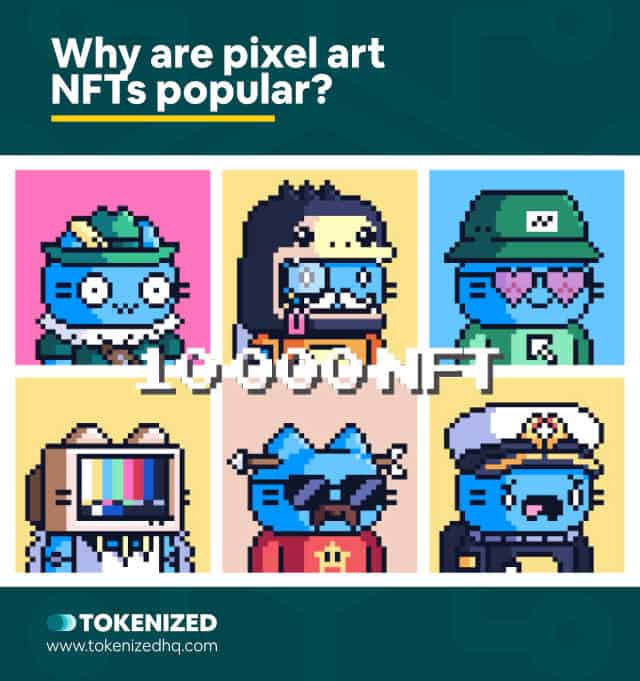 There are two relatively simple answers to this question.
First of all, as stated earlier, pixel art is uniquely embedded within modern digital culture.
It has its roots in the 80s and 90s when pixel art was not necessarily considered an art style, but rather the necessary outcome of graphical limitations of computers.
People from that era tend to feel nostalgically attached to these memories.
The other reason pixel art is so popular in the NFT scene is because it's incredibly easy to create pixelated art.
In fact, creating pixel art from images is as easy as uploading an image of your choosing to an online form and simply hitting the "generate" button.
Since pixel art stylizes the original image, it's also incredibly easy to create pixel art NFT from stolen artwork or imagery.
Unfortunately, for many people, NFTs are just another cash grab and pixel art makes it so much easier for them to launch projects without any artistic skills.
That being said, obviously not all pixel art NFTs are cash grabs.
If you are planning to create your own 10k NFT project and are planning to do so with pixel art, we strongly recommend reading our article on NFT generators as well.
5 Examples of Easy-to-Use Pixel Art Generators
Please note that while none of these pixel art generators requires any coding skills, some of them may require basic knowledge of graphics editing tools.
Most of these tools already come with tutorials or are so simple that they don't require any tutorial at all.
1. PixelMe
The pixel art tool PixelMe is about as simple as it gets.
It's able to convert pretty much any image that you throw at it.
All you need to do is upload the image that you want to convert into pixel art, maybe adjust some of the settings and that's it.
PROS
Automatically converts images into pixel art
Let's you change various settings if you like
Extremely easy to use
CONS
Landscape mode seems to be a bit buggy
Most people don't need pixel art patterns
License does not permit commercial use
2. Pixel It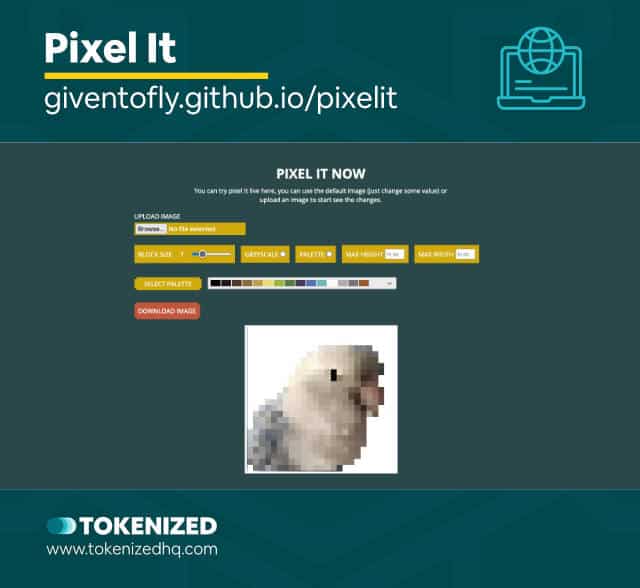 Pixel It is an open-source online pixel art generator that anyone can freely integrate into their own projects.
Just like PixelMe, it's incredibly easy to use and makes it simple to make basic changes to the end result depending on your specific needs.
PROS
Even easier than PixelMe
Allows you to change the block size
Easy-to-adjust color palette
CONS
Potentially to simplistic for some people
The pixelated artwork sometimes looks too abstract
Editing options are limited
3. Pixelator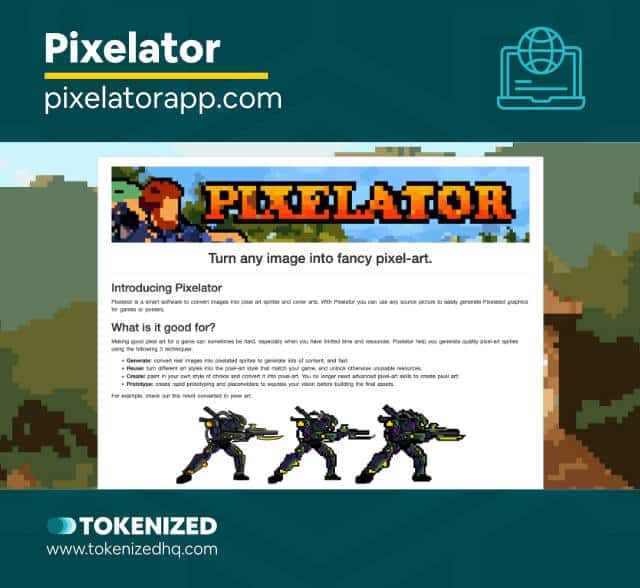 Pixelator is another great option that lets you convert any existing image into pixel art.
However, it's not available as a web app and requires you to download and install it on your system.
The software is also not available for macOS, so unless you're on a Windows operating system, this tool won't help you much.
PROS
Creates great-looking pixel art
Has a ton of settings for those who want control
Includes bulk features that are especially interesting for NFT projects
CONS
Software needs to be downloaded and installed
No macOS version available
Free version only for personal use
The many settings can be overwhelming for some
4. PixilArt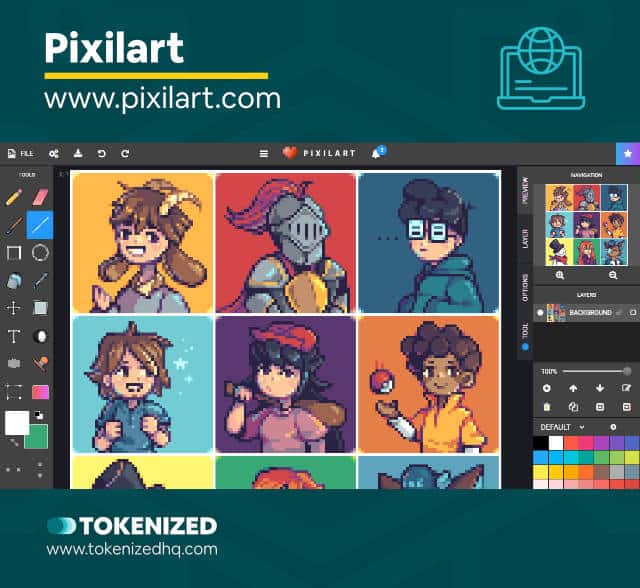 We're now going to move away from the simple point-and-click tools that convert everything for you.
So technically, these aren't really pixel art generators but rather pixel art editors.
However, if you are looking to create high-quality pixel artwork, then PixilArt is an excellent choice.
PROS
Very professional editing tool with tons of features
It comes with very useful tutorials
Also supports GIFs
It's free
CONS
Has a bit of a learning curve
Takes considerably more time
5. Pixel Art Maker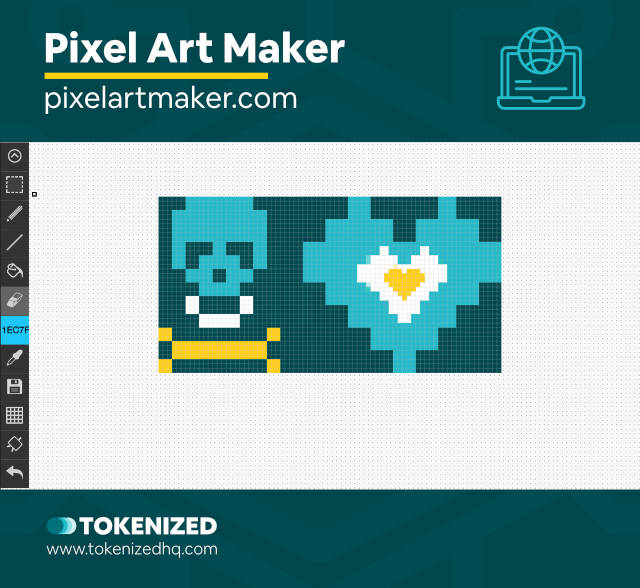 Although Pixel Art Maker is also more of an editing tool than a simple converter, it really makes the process of creating customer pixel art really easy.
At its most basic level, all you need to do is drag and drop your image into the browser and it will immediately convert it into pixel art.
You can then correct errors and make other final touches to the pixel art before finally saving it for download.
PROS
Simple drag and drop conversion
Start artwork from scratch or edit existing art
Super easy to use
CONS
Larger images can become a challenge
Editing and conversion features are a bit limited
Lack of tutorials
Conclusion
If you're looking to create some pixel art NFTs or maybe even launch an entire pixel art NFT collection, then you're going to need to know how to do it.
Creating a few simple pieces of pixel art can be really easy with any of the pixel art generators mentioned in this article.
However, if you're striving for something a little more quality, you're probably better off investing some time and effort into learning how to use the pixel art editors we listed amongst these 5 examples.
The market is already flooded with tons of sloppy NFT projects and standing out in the crowd will require a lot more effort.
Here at Tokenized, we want to help you learn as much as possible about the coming NFT revolution. We help you navigate this fascinating new world of non-fungible tokens and show you how you can integrate tokenization into your own business.