Are you looking for good NFT roadmap examples?
Perhaps you're currently planning your own NFT project and now need some guidance on what your NFT roadmap should contain?
Well, we've got you covered, because we've taken a look at some of the most successful NFT projects and have compiled various NFT roadmap examples for your perusal.
In this article, you'll not only learn what the purpose of an NFT roadmap is, but we'll also show you some of the best NFT roadmaps we could find.
Let's dive right in.
Key Points (tl;dr)
An NFT roadmap is essentially a project team's pitch deck. It not only serves the purpose of marketing the project to prospective investors, it also provide strategic planning and guidance in terms of goals and when to expect their completion.
If you're a solo creator or an artist and just want to use NFT for your artwork or to monetize your products, then you most likely won't need a roadmap. However, anyone using PFP projects to crowdfund should absolutely consider providing some form of roadmap.
A good roadmap has SMART goals that are realistic, achievable and measurable. And it's also important to keep updating your community about its status.
Some of the best roadmaps are embedded into beautiful images that illustrate the journey ahead and stimulate your collectors' imagination.
For beautiful examples of successful NFT roadmaps, PLEASE READ THE FULL ARTICLE.
Like this content? Then share it!
The 10 Best NFT Roadmap Examples in 2023
Here's the answer. Great article by @ChrisHeidorn right here: https://tokenizedhq.com/nft-roadmap-examples/

www.tokenizedhq.com
What is an NFT Roadmap?
Roadmaps are the visually appealing equivalent of a start pitch deck and their strategic plan. NFT roadmaps are effectively a promise to investors that certain outcomes will be achieved by certain dates. This helps manage the expectations of investors but also provides tangible points of accountability for founders.
The best analogy that we've come across so far is from the creator of one of the most successful projects himself: GaryVee.
Over the past year, Gary has consistently provided guidance to the NFT space, not only to new collectors but also to project founders.
He's a big proponent of accountability and has always stressed the point that everyone needs to do their own research before investing in a project.
One of the indicators that a lot of people use to evaluate a new NFT project is their roadmap.
While it makes sense to look at the roadmap NFT founders have set, GaryVee has relentlessly pointed out that roadmaps are nothing but a pitch deck.
And he's right.
Of course, NFT project roadmaps obviously help in planning your strategy, including defining deliverables against which a team can be held accountable.
However, there's absolutely no guarantee that the roadmap will ever be completed.
So, NFT roadmaps are often effectively a graphical version of a pitch deck.
Its purpose is to help create excitement about the future prospects of a project and it also gives investors an idea of when they can expect to see certain outcomes.
NFT roadmaps are an essential tool for project founders, however, they are definitely not the "holy grail" that many investors think they are.
You can have the greatest roadmap of all time, but if you can't execute it, you will still fail.
Does My NFT Project Need a Roadmap?
Most solo artists and creators do not need an NFT roadmap, simply because the scope of the projects is usually limited and quite clear. However, teams that are effectively using a PFP project as a funding mechanism for whatever they planning to build, will definitely need a strong NFT roadmap.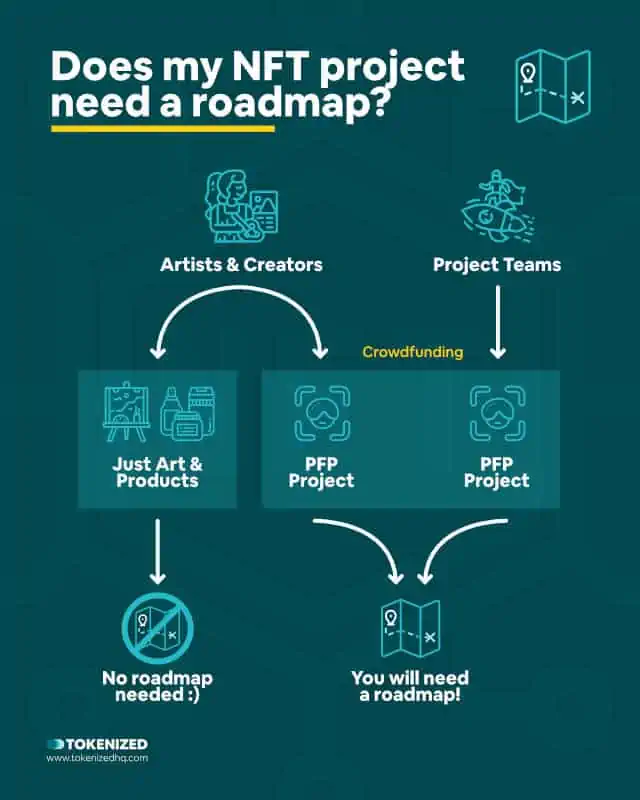 If you're a creator or artist then you might be wondering whether your next NFT project needs a roadmap or not.
The answer to this question is complex yet also simple: It depends.
If you're a solo artist who just wants to release his artwork in the form of NFTs on an ongoing basis, then a roadmap most likely isn't necessary.
However, this could easily change if you plan on creating a bigger NFT drop with potentially thousands of NFTs.
Remember that a big launch comes with a lot more NFT investors with varying degrees of experience and expectations.
You might just be in it for the art and so art your OG collectors.
However, investors will want to know how you plan to deliver a return on their money.
If you're a team of founders who are launching a PFP project mainly as a funding mechanism in order to finance a bigger, overarching goal, then you absolutely MUST have an NFT roadmap.
You're trying to convince people to give you their money.
Of course, you'll need an NFT project roadmap!
Sure, they're getting a pretty little avatar, but they also want to know what you're going to do with their money.
You need to demonstrate to investors that you actually have a vision and at least have ideas on how to create future value for them.
If you think your primary objective is to make as much money as possible on the primary sale, then you're going at this the wrong way.
Short-sighted, greedy teams will fail!
If you want to be successful in this space, you need to be in it for the long haul.
You're going to have to dox yourself for this and the blockchain won't forget who you are and what you did.
It's all about your reputation!
What Makes a Good NFT Roadmap?
A good NFT roadmap focuses on setting SMART goals that are realistic and achievable for the team. This creates accountability and successful completion of the targets eventually building trust in the team's ability to execute. Since an NFT launch is similar to crowdfunding, it's important that founding teams communicate proactively and regularly about the status of their roadmap.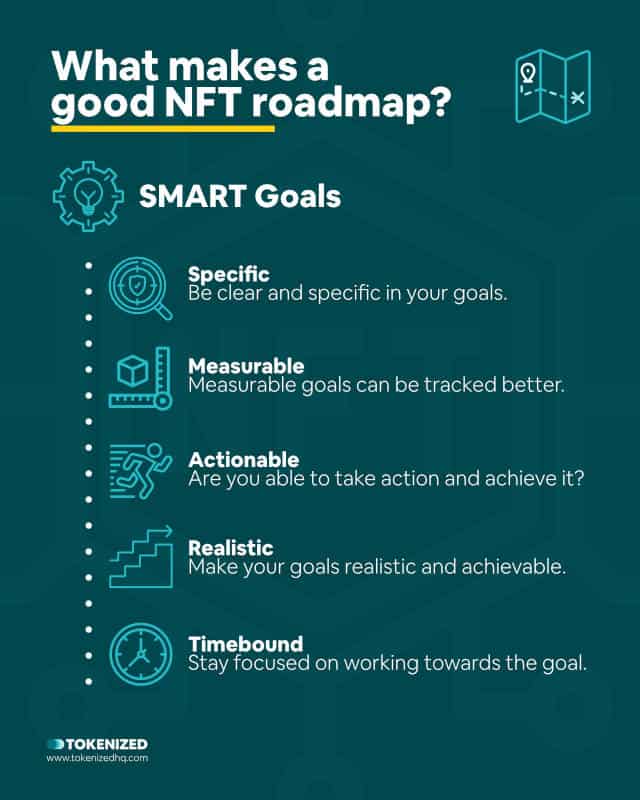 While there's no such thing as a perfect NFT roadmap and each one must be adapted to the specific needs of the project, a good project roadmap covers a number of key points.
Before we go into more detail on what these points are, I'd first like to stress that a good NFT roadmap must contain SMART goals.
SMART stands for:
Specific: Be clear and specific so your goals are easier to achieve. It also helps you know how and where to get started.
Measurable: Measurable goals can be tracked, allowing your to see your progress. They also tell you when a goal is complete.
Actionable: Are you able to take action to achieve the goal? Actionable goals ensure the steps to get there are within your control.
Realistic: Avoid overwhelm and unnecessary stress and frustration by making the goal realistic.
Timebound: A date helps us stay focused and motivated, inspiring us and providing something to work towards.
Setting SMART goals will help ensure that you don't overpromise and underdeliver on your roadmap.
Your ability to execute what you've promised will dictate how much trust investors have in you.
A good reputation takes years to build but losing it only takes an instant.
Your NFT roadmap isn't just for you but also for your investors, so make sure you cover the following points in order to keep them happy:
Public: Your roadmap shouldn't be a secret. Make sure it's publicly accessible and easy to find.
Utility: The utility of your project will drive its long-term value. Explain how your project creates value for NFT holders.
Status: Updating your community on the status of your roadmap demonstrates that you are doing what you said you would and are also making progress.
Depth: Some goals require more explanation that others. Provide more detail on items that require more work and are likely to take longer.
Readable: Patience is a rare trait (pun intended!) nowadays. Don't expect investors to spend more than 1-2 minutes looking at your roadmap. Make sure the roadmap gets your message across and tells a story.
If you're built pitch decks before, a lot of what I've shared above will sound familiar.
However, there are 2 main differences between a classic pitch deck and a roadmap NFT founders must build.
First of all, your roadmap will focus a lot more on telling your story via artwork, and embedding ideas and milestones into a bigger picture.
And the other difference is the audience that you are pitching to because pitching to angel investors and VCs is very different from crowdfunding.
Keep this in mind!
We also recommend checking out our article on what makes a good NFT project.
10 Beautiful NFT Roadmap Examples
Bored Ape Yacht Club
Azuki
Cool Cats
Cool Monkes
Lazy Lions
Top Dog Beach Club
Deadfellaz
Purnelope's Country Club
Robotos
Fishy Fam
We know you're keen to seem great NFT roadmap examples and that's why we've put a lot of work into collecting the very best roadmaps we could find.
Some of these will be familiar since they are from some of the biggest NFT projects in the industry.
However, others might surprise you with their incredibly creative touch.
Let's check them out.
1. Bored Ape Yacht Club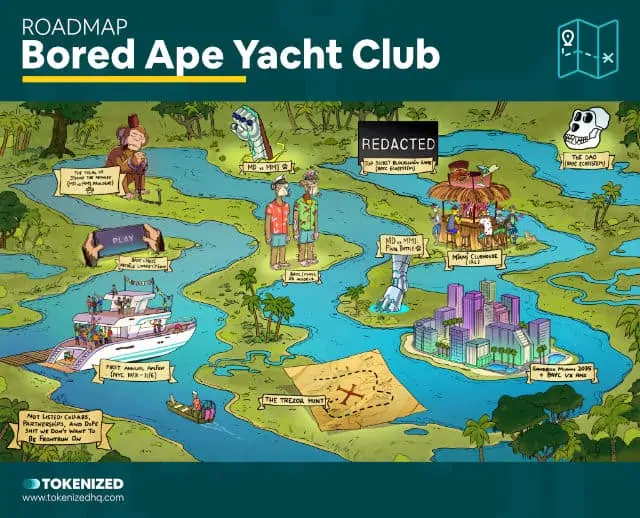 2. Azuki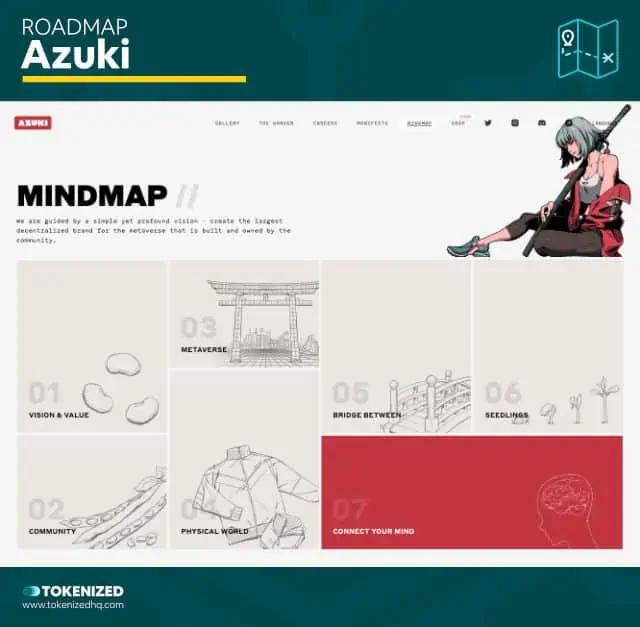 3. Cool Cats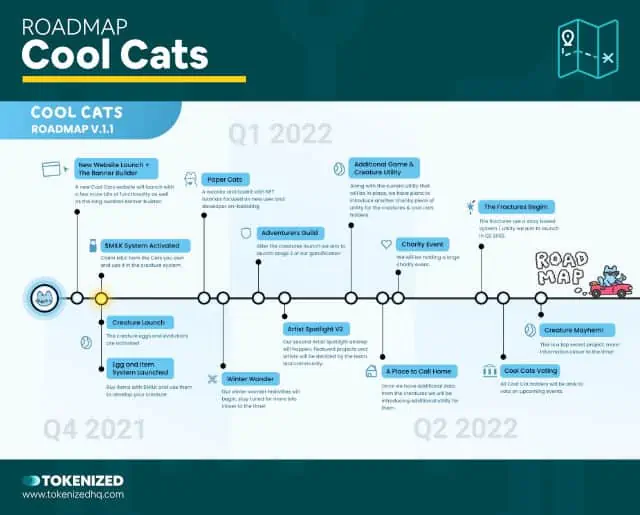 4. Cool Monkes
5. Lazy Lions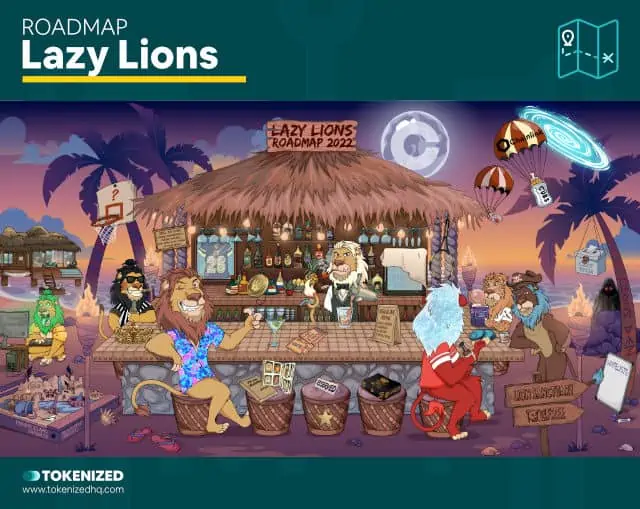 6. Top Dog Beach Club
7. Deadfellaz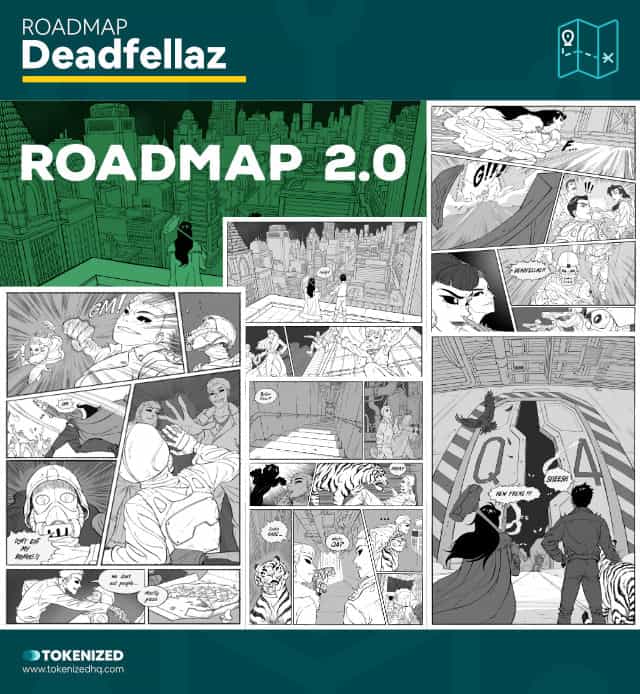 8. Purnelope's Country Club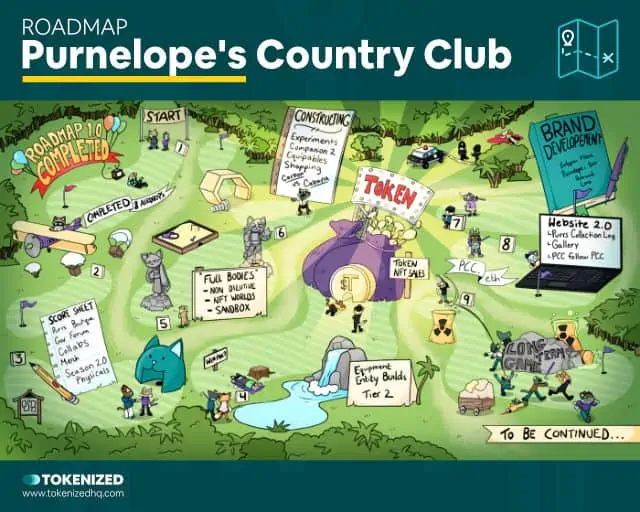 9. Robotos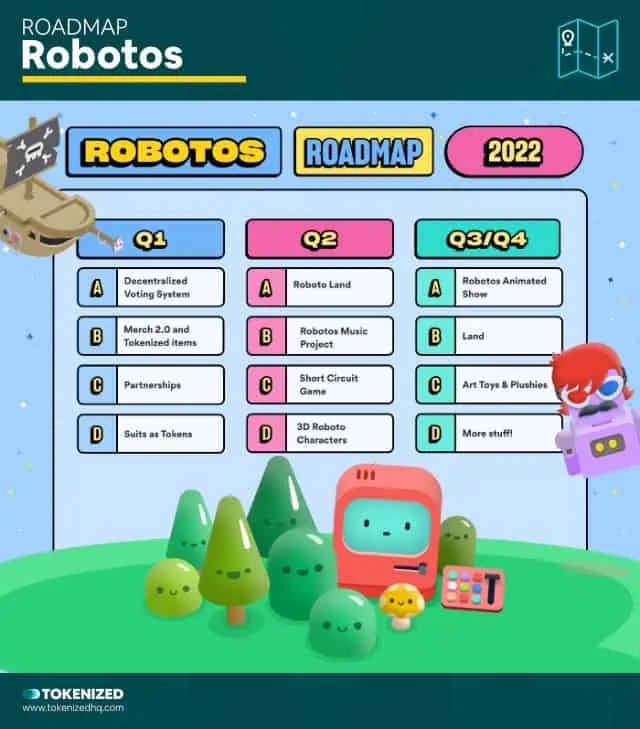 10. Fishy Fam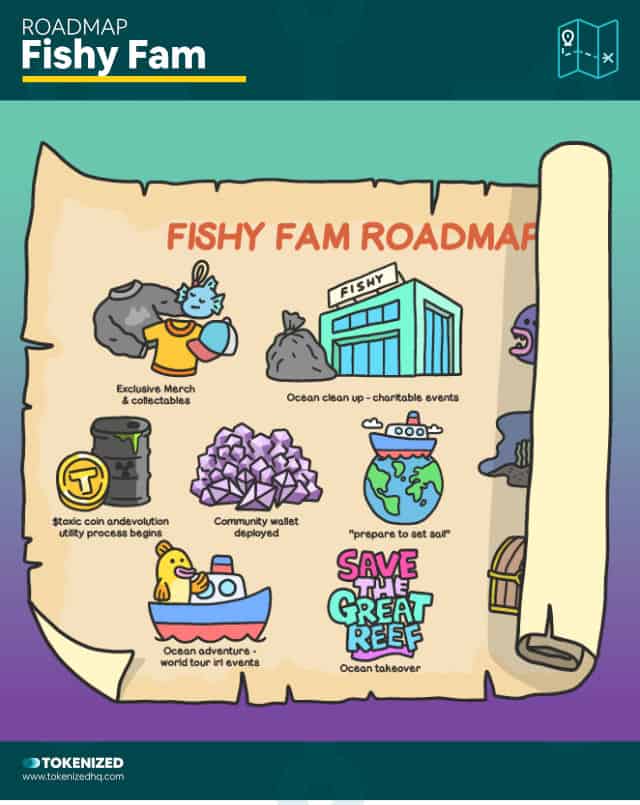 Conclusion
Everyone and their grandma is thinking about launching their own NFT project.
But don't let greed push you towards a hasty project launch with a sub-par NFT roadmap.
Founding teams are putting their reputations on the line, so it's all the more important that they invest time and energy into creating a roadmap that they can deliver on.
The objective of NFT projects is NOT the short-term cash but rather the long-term value they create!
Here at Tokenized, we want to help you learn as much as possible about the coming NFT revolution. We help you navigate this fascinating new world of non-fungible tokens and show you how you can integrate tokenization into your own business.