Want to know how Midjourney weights work?
If you've ever dived deeper into how Midjourney text prompts work, you've probably come across different types of weights before.
But it's important that you clearly distinguish between weights that are applied to image prompts and Midjourney weights that put emphasis on specific words or phrases.
In this guide, we'll show you how Midjourney weights allow you to compose an image just the way you want it.
Let's dive right in.

Like this content? Then share it!
Explained: Midjourney Weights for Text Prompts
Here's the answer. Great article by @ChrisHeidorn right here: https://tokenizedhq.com/midjourney-weights/

www.tokenizedhq.com
How to Use Midjourney Weights for Text Prompts
When you first start experimenting with Midjourney, your primary focus is usually on the text prompt itself.
In other words, you start off by trying to come up with creative ideas that you believe will render an interesting image.
So, for example, your command might look like this:
/imagine prompt:an old wizard in a mysterious forest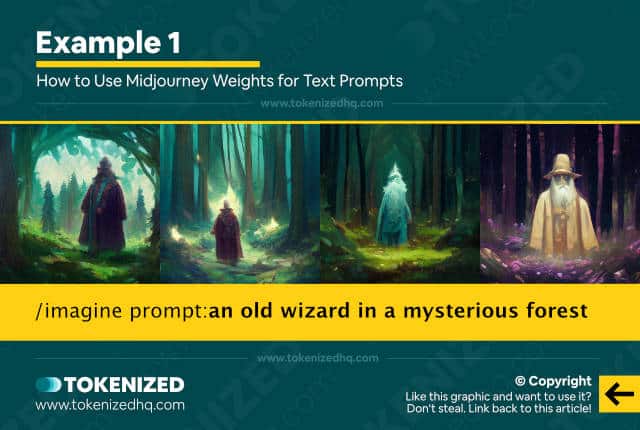 While that might not seem like an overly complex prompt, the results will probably still amaze you.
However, at some point, everyone wants to create images that reflect their own imagination more closely.
In order to achieve that most people tend to write increasingly complex prompts.
Here's an example:
/imagine prompt:an old wizard with a long beard standing in a mysterious forest and holding a magic wand made out of wood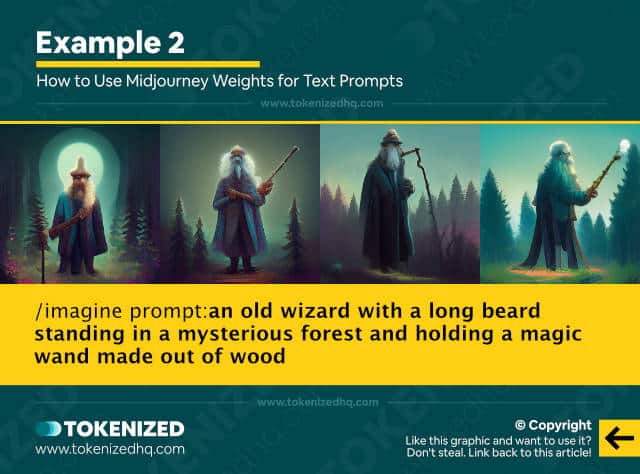 Anyone who reads this will have their very own interpretation in mind but it's fairly clear what the objective is.
Unfortunately, very complex text prompts can sometimes overwhelm the AI and may not deliver the type of results you had hoped for.
That's where Midjourney weights come into play.
No matter what sort of image you're trying to create, some elements will surely be more important than others.
Midjourney weights allow you to "chop" your prompt into multiple components and give them different weightings.
By default, every text prompt component is given an equal weight of 1 unless you state otherwise.
This gives you unprecedented control over how much emphasis should be put on a particular element.
So, our original prompts could be re-written like this:
/imagine prompt:old wizard::1 long beard::1 wooden magic wand::1 mysterious forest::1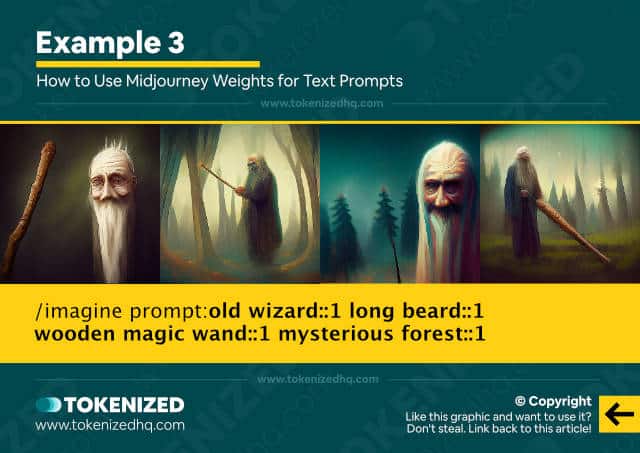 Obviously, the resulting image would already look quite different because the prompt is structured differently.
Technically, the above prompt should be identical to these ones:
/imagine prompt:old wizard:: long beard:: wooden magic wand::
/imagine prompt:old wizard, long beard, wooden magic wand
While commas (,) act as separators much like the double colons do (::), the former defaults to a Midjourney weight of 1 while the latter lets you apply a different value.
So now we have the ability to put emphasis on different parts of the prompt.
You can assign any Midjourney weights you like, as long as the weights add up to an overall positive value.
Let's give it a try by putting a lot of weight on the "forest" part.
/imagine prompt:old wizard::1 long beard::1 wooden magic wand::1 

mysterious forest::5
Notice how the image showcases far more trees and other aspects of the forest?
Now let's see what happens if we focus on the old wizard.
/imagine prompt:

old wizard::4

 long beard::2 wooden magic wand::1 mysterious forest::1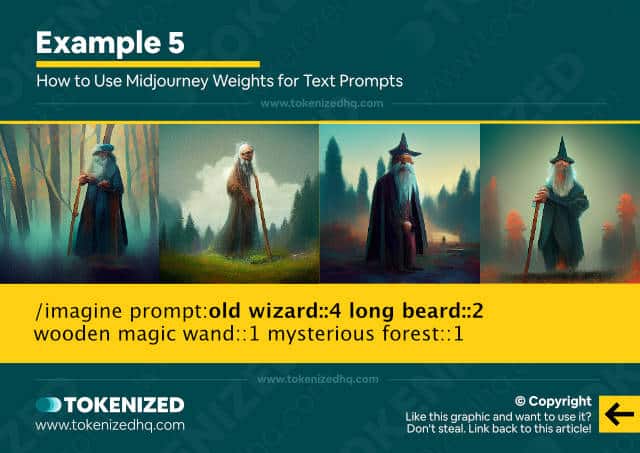 You get an entirely different type of image that still maintains parts of the forest, but it's quite obvious that the wizard is the main element of the image.
You can also set negative Midjourney weights on any of the components of your prompt.
Applying a value of -0.5 is equivalent to using the --no parameter on a specific part of the text prompt.
Both of these methods are usually referred to as negative prompting.
The minus means less of, eg. blur::-2. Similar to the prompt —no blur. The specific reference to word is that some times MJ tries to add a literal word of text to the image.

timbgray on Reddit
Let's see what happens if we try to get rid of the long beard.
/imagine prompt:old wizard::4 

long beard::-1

 wooden magic wand::1 mysterious forest::1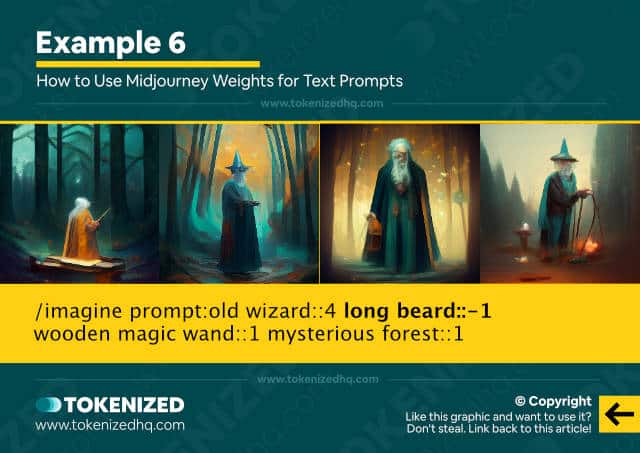 In this image, the beard is obviously still present but it's no longer as prominent as in the other one and all other components automatically get a higher relative weighting.
Although using advanced text weights isn't necessarily easy, it does open up quite a few additional options.
Key Points (tl;dr)
Advanced text weights allow you to assign different levels of importance to each part of your text prompt. It can be used on individual words or partial phrases.
You can use positive and negative values for Midjourney weights, although the aggregate weight must always be positive overall.
Do not confuse text weights with the image weight parameter. The latter is used to control the relative importance of an image prompt (when provided) versus the text prompt.
Text Weights vs. Image Weight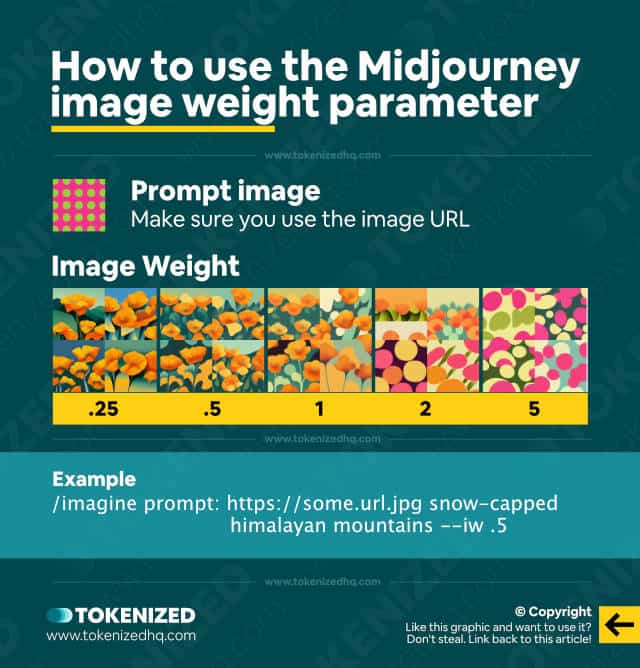 At this stage, you might be wondering what the difference is between all the different types of Midjourney weights.
Midjourney effectively supports 2 types of weighting systems for prompts.
In this article, we've primarily covered advanced text weights that give you more control over the text input you provide.
Midjourney also has an image weight parameter that allows you to add a weighting to an image prompt whenever you provide one.
Using Midjourney weights becomes increasingly important as you add more complexity to your prompts and start combining image and text prompts into one.
Let's have a quick look at an abstract example:
/imagine prompt:https://some.image.jpg text-a::1 text-b::2 text-c::3 --iw 2
In the above example, the importance of each text element within the overall text prompt is as follows:
text-a (17%)
text-b (33%)
text-c (50%)
And the image weight of 2 means that the image prompt is twice as important as the text prompt, which translates into this:
Text prompt (33.3%)
Image prompt (66.3%)
In the end, learning all of the theoretical concepts will only get you so far.
Since nobody really knows what the AI will spit out, lots of practice and experience are the only true way to learn how to use these amazing new tools.
Frequently Asked Questions (FAQ)
Before we close off this guide, let's quickly address some of the most common questions related to Midjourney weights.
What are advanced text weights in Midjourney?

With advanced text weighty you can assign different levels of importance to parts of your text prompt. You can even assign negative values in order to make specific objects "fade out". Whenever you do not provide any weights, Midjourney will assign an equal weight of 1 to each part of the phrase.

Do Midjourney weights impact the image weight of my prompt?

Text weights only control the importance of different words or phrases within the text prompt portion itself. Image weight controls the importance of the image prompt relative to the text prompt.

Can I use text weights and image weights at the same time in Midjourney?

Image weight and advanced text weights can both be used within the same command. However, bear in mind that with every additional variable you are also introducing more complexity and it may become increasingly challenging to achieve the result you are looking for.
Conclusion
The deeper you get into Midjourney, the more complex your prompts start to become.
Unfortunately, adding more and more complexity to your prompts has its limits and can easily overwhelm the AI.
By using Midjourney weights, you can help the AI separate the wheat from the chaff and produce results that are much closer to what you have in mind.
Here at Tokenized, we want to help you learn as much as possible about the AI software industry. We help you navigate the world of tech and the digitalization of our society at large, including the tokenization of assets and services.