Want to get the most out of Midjourney's new Niji mode?
You've probably heard about the recent release of Midjourney Niji mode, a new experimental algorithm that's tailored toward generating anime and manga-style artwork.
And while it may sound like a no-brainer, getting consistent results is actually a lot more difficult than you might think.
In this guide, we'll show how to use Midjourney Niji mode, what it's capable of and why we don't necessarily recommend using it.
Let's dive right in.

Like this content? Then share it!
Explained: Midjourney Niji Mode
Here's the answer. Great article by @ChrisHeidorn right here: https://tokenizedhq.com/midjourney-niji-journey/

www.tokenizedhq.com
How to Use Midjourney Niji Mode
"Niji" (pronounced nee-gee) means rainbow in Japanese and Midjourney Niji Mode is an experimental new algorithm that is supposed to improve Midjourney's anime art capabilities.
"Niji Mode" is largely meant to work like an entirely separate algorithm, similar to how you can use different versions of Midjourney or apply other experimental features.
So it's no surprise that the majority of users actually expect it to be a "plug and play" solution to the world of anime and manga.
However, that couldn't be further from the truth.
While it's true that relatively simple prompts can easily be given an anime-like spin, as soon as you want to create more complex scenes, it tends to get tricky.
I've done a lot of experimentation over the past few days and here's what I learned so far.
Basic Usage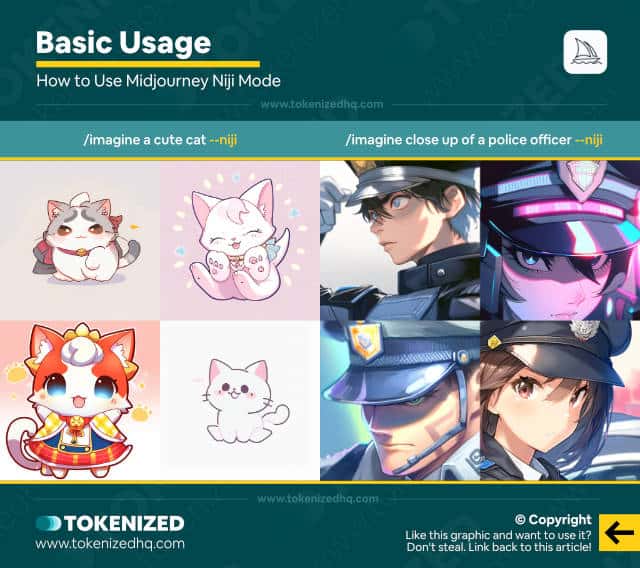 The quickest and easiest way to enable Midjourney Niji mode for a particular prompt is to simply add the --niji parameter at the end.
/imagine a cute cat --niji
This will tell Midjourney to use Niji Mode while generating the image.
You can also make Midjourney Niji mode your default algorithm by opening your settings panel with the /settings command and then activating the "Niji Mode" button.
Based on what I've seen, Midjourney Niji mode works best when it's used for well-defined objects and concepts that are fairly common within the world of anime and manga.
It is also capable of giving an existing image a more anime-like color palette.
However, once you start crafting more complex prompts or try to describe objects and scenes that aren't commonly featured in anime, it fails miserably.
Adding "Anime Style" to the Prompt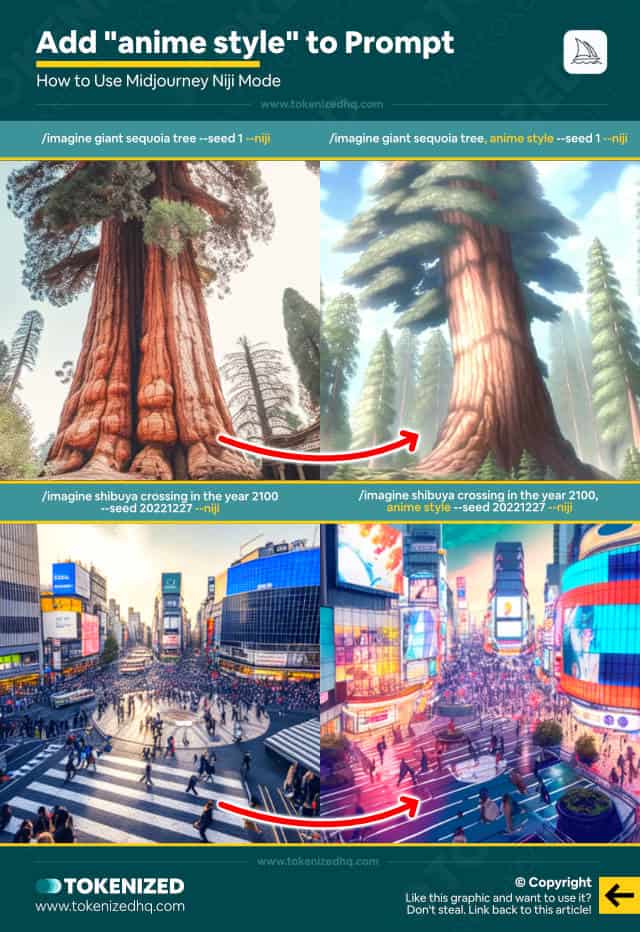 It may sound redundant but I've actually achieved the most convincing results whenever I added "anime style" or "manga-style" to the end of the prompt.
That's right, despite activating Midjounrey Niji mode using the --niji parameter, I still added "anime style" to the prompt.
So, for example:
/imagine giant sequoia tree, anime style --seed 1 --niji
For some reason, --niji by itself simply wasn't enough and the results were often barely different from what they would look like in Midjourney v4.
But once I added "anime style" the image looked a lot more like the typical Japanese animation we've come to love so much.
I also want to emphasize that using the exact same prompt without --niji already gave me decent results, however, it was the combination of both elements that worked the best.
Niji-fy v4 Images with Remix Mode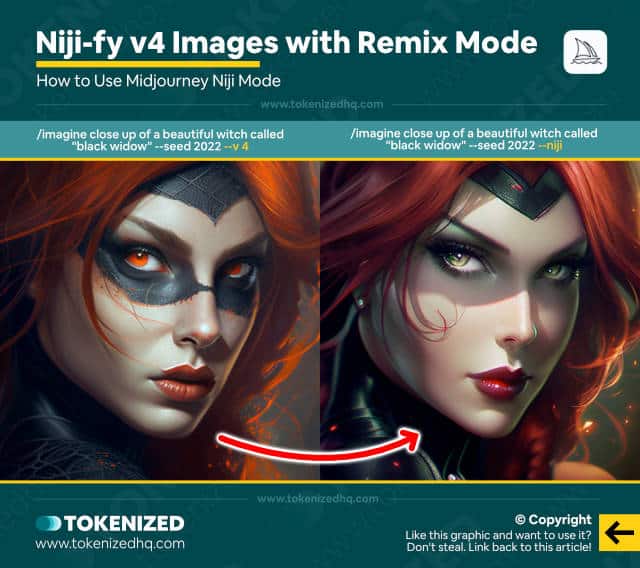 Another use case for Midjourney Niji mode is when you remix an existing image.
Let's say you have a really great image that you've created with Midjourney v4, with excellent composition and lots of detail.
But perhaps you don't like the face and the anatomy of the character in the image because it's too realistic.
With Midjourney Niji mode you can remix the existing image by simply adding --niji to the end of the prompt.
/imagine close up of a beautiful witch called "black window" --seed 2022 --niji
Since you are using Remix Mode, most parts of the original image will stay the same.
It will simply look more like an anime or cartoon character with a more pointy nose, chin, and oversized eyes.
This works quite well most of the time, except when arms and legs are in full view.
For some reason, whenever you apply --niji via a remixed prompt, there's a significantly higher risk of ending up with messed-up anatomy.
The arms and legs are often misplaced and the character just looks weird.
You can "counter" this effect a bit by adding "anime style" into the remixed prompt, but it's far from perfect.
Key Points (tl;dr)
Midjourney Niji Mode is essentially a fully-integrated version of Niji Journey, an alternative Midjourney bot that is popular among anime fans.
To use Niji Mode, you must add the --niji parameter at the end of your prompt and this will override the current Midjourney version.
While Niji Mode works well for simple concepts, we've found it to be severely lacking breadth of styles and creativity. In fact, you can create much better anime art by just using Midjourney v4.
Midjourney Niji Mode vs. Niji Journey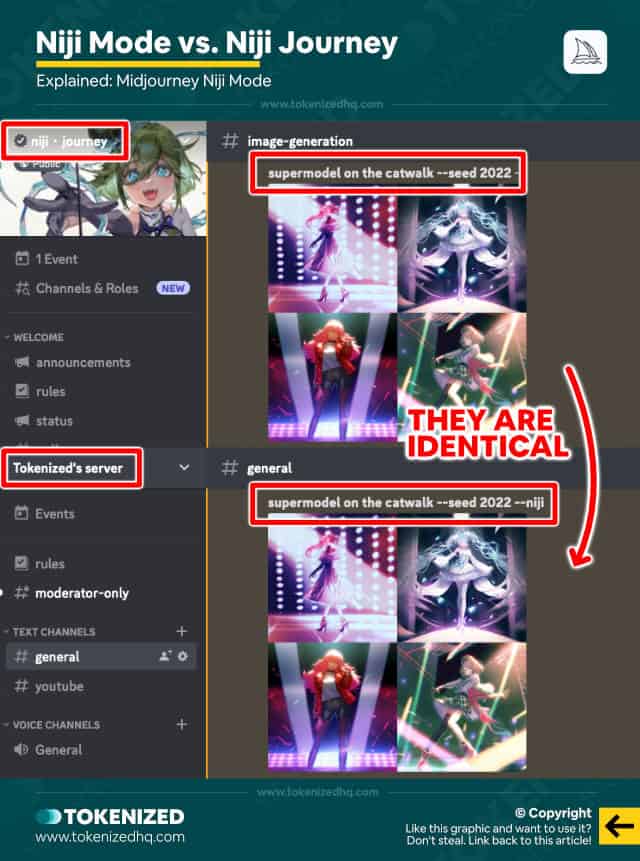 Niji Mode is actually the result of a close collaboration between Midjourney and Spellbrush.
The exact origins are a bit complicated but from what we could find, Spellbrush is affiliated with (or the same as) Sizigi Studios.
And Sizigi Studios is actually a team of mathematicians from MIT who love to create art and games.
Their biggest project so far has been Waifu Labs which originally began as a joke project but eventually spawned a whole set of AI-related activities.
Anyway, Spellbrush eventually decided to build a derivative Midjourney bot called "Niji Journey".
Niji Journey has a dedicated Discord server and its very own bot, however, it is tightly integrated with the Midjourney system and even uses your existing account.
In other words, whenever you use Midjourney Niji mode, you're actually using Niji Journey.
I've tested the exact same prompts using Midjourney with the --niji parameter and Niji Journey, and the results are 100% identical.
So don't worry, you can continue to use the regular Midjourey bot.
Limitations of Niji Mode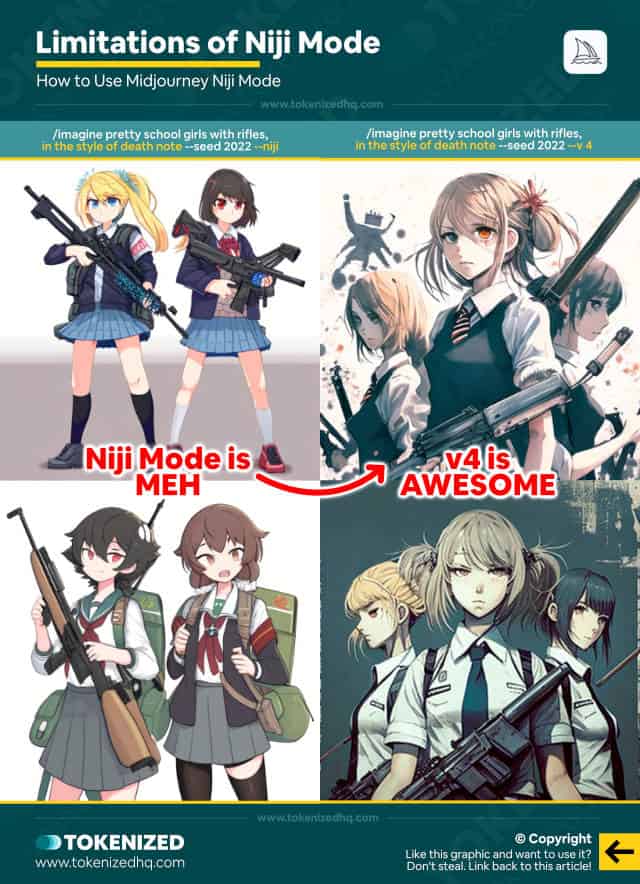 What I personally dislike about Niji Mode is the fact that it's actually not that great at creating anime-style artwork for complex prompts.
If you have little experience with Midjourney and generally use simple prompts for well-defined concepts, then you might find --niji quite useful.
However, anyone with a lot more experience in using Midjourney and deeper knowledge of anime and manga will probably be disappointed.
While Niji Mode is capable of producing images that look like they were taken straight from an anime series or manga comic, it is anything but reliable.
Not only is it very limited in terms of composition and creativity, but it is also entirely incapable of applying the styles of popular anime series.
Midjourney v4 has considerably more breadth when it comes to different styles such as "Death Note", "Dragon Ball Z" or "Pokemon".
Niji mode doesn't know any of them and will simply spit out generic anime images.
Try out these prompts for yourself:
/imagine pretty school girls with rifles, in the style of death note --seed 2022 --niji
/imagine pretty school girls with rifles, in the style of death note --seed 2022 --v 4
If you're good at writing prompts and are looking for a very specific style, you're much better off using Midjourney v4.
Examples of Images Created in Niji Mode
Example 1: School Kids Playing in the Yard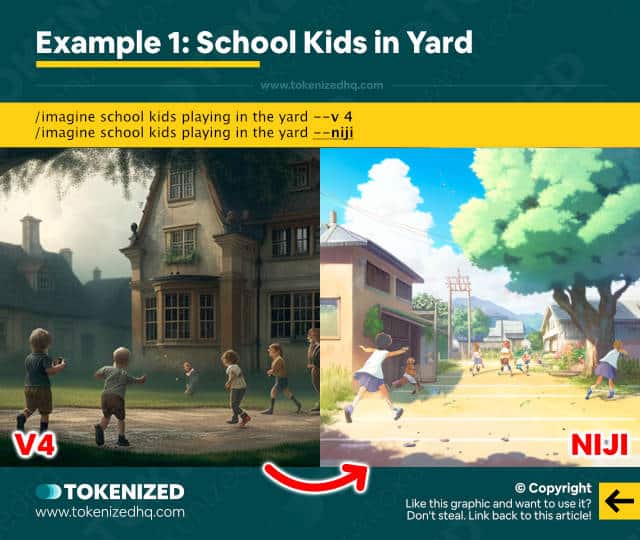 Example 2: Futuristic Police in the Alps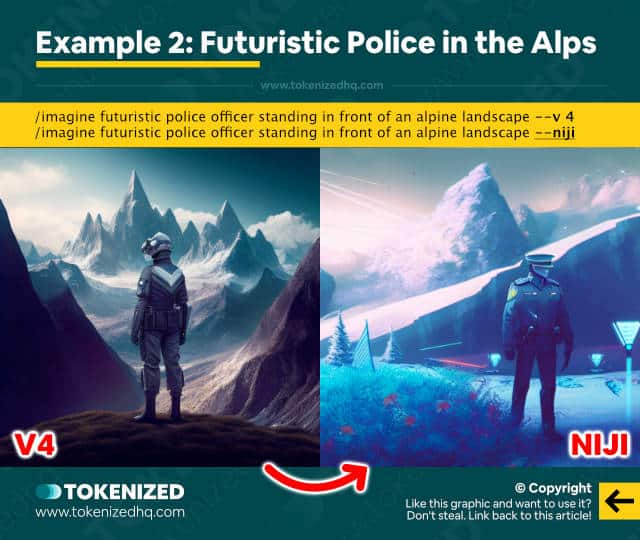 Frequently Asked Questions (FAQ)
Before we close off this guide, let's quickly address some of the most common questions related to Midjourney Niji mode.
Is Midjourney's Niji Mode the same as Niji Journey?

Yes, Niji Mode integrates the exact same functionality as Niji Journey. It doesn't matter whether you enter a prompt in the Niji Journey Discord or use the same prompt in Midjourney with the --niji parameter. Both are identical.

Does Midjourney's Niji mode create good anime artwork?

Niji Mode is relatively good at creating generic anime-style artwork for well-defined objects and concepts that are common in the world of anime and manga. It is also good at creating dynamic compositions that are popular in anime artwork. However, it is not very creative and extremely limited when it comes to replicating the art styles of popular anime series. Midjourney v4 is much better at this.

How do I create anime art with Midjourney?

The easiest way to create anime art in Midjourney is to simply add "anime style" or "in the style of <insert anime series>" to your prompt. Alternatively, you can use Niji Mode to create generic anime-like artwork.
Conclusion
A lot of people in the Midjourney community are quite excited about Midjourney's new Niji Mode.
Unfortunately, I'm far from impressed by the results and actually believe that only novice users will find it useful.
Anyone with advanced Midjourney skills will be able to create much more convincing anime artwork in version 4 as long as they use the right prompts.
Here at Tokenized, we want to help you learn as much as possible about the AI software industry. We help you navigate the world of tech and the digitalization of our society at large, including the tokenization of assets and services.