So you want to design a logo in Midjourney?
You're not the first person to come up with this idea, although previous versions of Midjourney were not particularly good at it.
However, ever since the release of version 4, Midjourney logo design has become a seriously viable option for logo designers and their customers alike.
In this guide, we'll show you how you can use Midjourney to generate logo ideas and also lay the groundwork for faster illustration workflows.
Let's dive right in.

Like this content? Then share it!
Midjourney Logo Design Tutorial
Here's the answer. Great article by @ChrisHeidorn right here: https://tokenizedhq.com/midjourney-logo-design/

www.tokenizedhq.com
How Does Midjourney Logo Design Work?
There have been many attempts at using Midjourney to create all sorts of logos.
Most of the videos or articles that you'll find online come to the conclusion that while Midjourney is really good at creating artwork, logo design isn't necessarily one of its strengths.
For the most part, it can be helpful in identifying the style of the logo you would like to have and thereby reduce the amount of back and forth between a designer and the client.
It's also a great source of inspiration that reduces the risks of sticking too close to an existing reference.
So for many professional logo designers, the initial "panic" seemed more like a false alarm.
However, nearly all of these videos and articles were created at a time when the only Midjourney version available was v3.
We decided to give Midjourney logo design another go with the new and improved version 4.
And even though Midjourney still isn't great at creating accurate typography in its images, we definitely see lots of potential for logo design.
In the next few sections, we'll show you step-by-step how you can create absolutely solid Midjourney logo designs the most common use cases, and all within a matter of minutes.
Key Points (tl;dr)
With the release of version 4, Midjourney is now capable of producing highly effective logos that only require very little editing.
Most of the typography is still complete gibberish, however, in most cases, it can be easily replaced with any standard image editor.
With our prompt template, you can basically create logos for any industry or use case within a matter of minutes.
Step 1: Create Your Prompt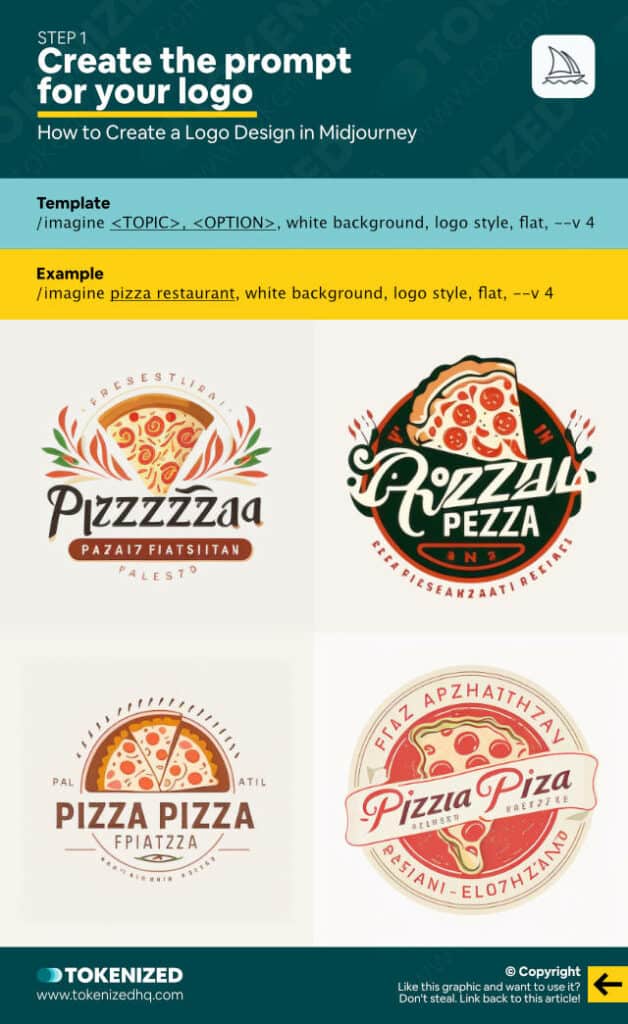 Arguably, the most important part of the process is your prompt design.
In order to get results that not only look like logos but also lend themselves to simple post-editing in Adobe Photoshop, you need to use specific keywords.
Moreover, we believe that we've found a decent "template" that you can use to create your own logo for nearly any topic.
Here's our proposed structure:
/imagine <TOPIC>, <OPTIONAL>, white background, logo style, flat, --v 4
Simply replace <TOPIC> with your industry, business, or a specific object and you should be able to generate a decent set of logos that you can work with.
You can also add additional information if you want to be more specific (see <OPTIONAL>), but it's neither necessary nor guaranteed to be reflected in the images.
Note the keyword "white background".
While you don't really need this for Midjourney logo design, post-editing is considerably easier when the logo is placed on a white background.
Step 2: Remix or Fine-Tune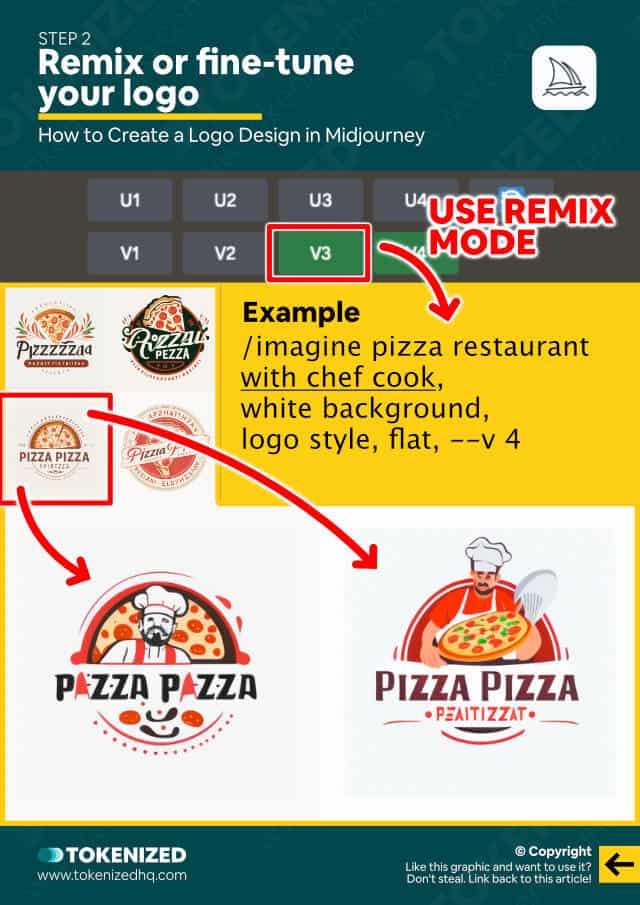 Once you've generated a set of logos that contains a variation that you really like, you have the option of remixing or fine-tuning it.
Bear in mind that any typography generated by Midjourney will usually contain gibberish.
Yes, it might look great in terms of style but the spelling is almost always totally wrong and no matter how hard you try, you won't be able to fix it in Midjourney.
Instead, if you want to make slight adjustments to colors or add details, use Midjourney Remix mode to fine-tune the variations.
Step 3: Post-Editing in Adobe Illustrator
If you only need a quick logo and raster images suffice (e.g. JPG or PNG) then you can skip this step.
However, if you plan to create a proper logo that is versatile enough to be re-colored, scaled, and placed on a transparent background, you will most likely need to edit it in Adobe Illustrator first.
Technically, this could also be done in other image editors, however, Adobe Illustrator has by far the most effective image tracer in the market.
It allows you to convert a pixel image into a more or less clean vector image with just a few clicks.
If your logo should contain a name, you can delete Midjourney's gibberish and quickly replace it with the typography that you prefer.
And that's it, you've successfully used Midjourney logo design to create a professional logo that otherwise would have cost you much more money and time.
Use Cases of Midjourney Logo Design
It's important not to jump to conclusions based on the above.
Midjourney still is not capable of replicating the entire logo design workflow and most clients will still need the services of designers.
True professionals, especially, should not worry at all because the amount of science and work that goes into creating a truly remarkable logo is very different.
However, both logo designers and clients stand to gain a lot from tools such as Midjourney.
Here are some of the obvious advantages.
For Designers:
Generate ideas and inspiration
Reduce the amount of manual illustration work
Produce quick and cost-effective logos for generic use cases (e.g. food delivery, websites, small brands)
For Clients:
Generate ideas and inspiration
Find perfect references for the logo style you want
Reduce the amount of time and cost of revisions
Overall, Midjourney logo design is more likely to increase the productivity of the industry as a whole.
Highly skilled professionals will still be needed for cases where it's worth spending a lot of money.
But for the vast majority of generic use cases, the workload is reduced dramatically and therefore also the cost.
Examples of Midjourney Logo Design
During our research for this guide, we generated a number of examples for various different use cases.
Have a look at how easy it was to create logos that you could probably find on any stock design website.
And yet, instead of having to search through hundreds of designs, Midjourney lets you create something that's highly specific to your brand.
1. Lion Head Logo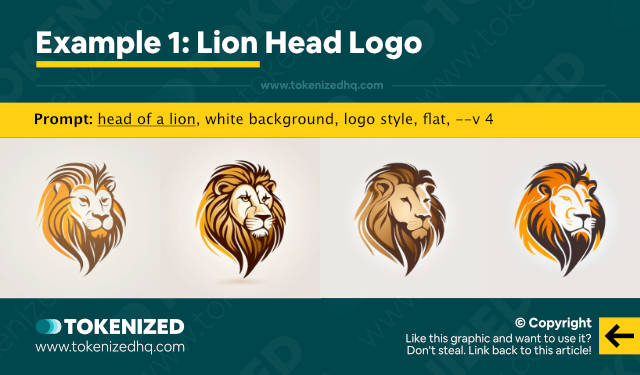 Prompt:
/imagine head of a lion, white background, logo style, flat, --v 4
2. Lion Head Logo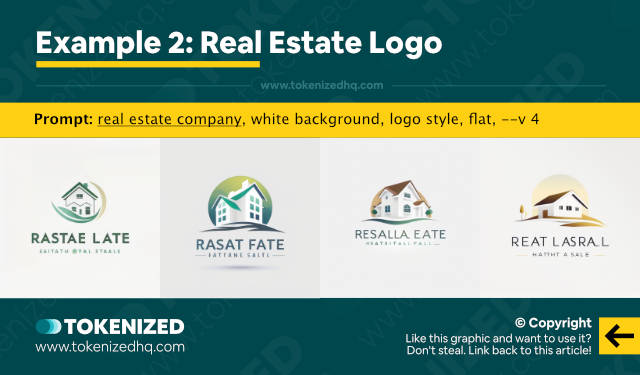 Prompt:
/imagine real estate company, white background, logo style, flat, --v 4
3. Lion Head Logo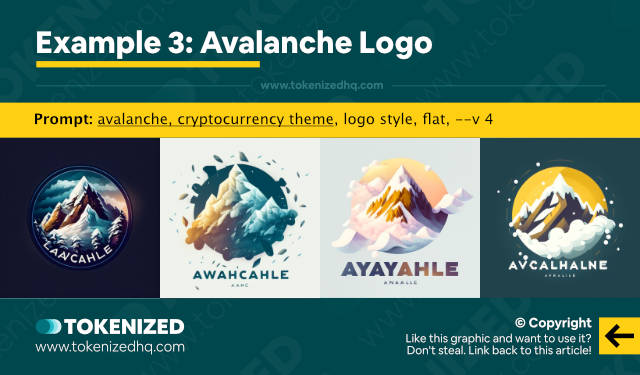 Prompt:
/imagine avalanche, crpytocurrency theme, white background, logo style, flat, --v 4
4. Lion Head Logo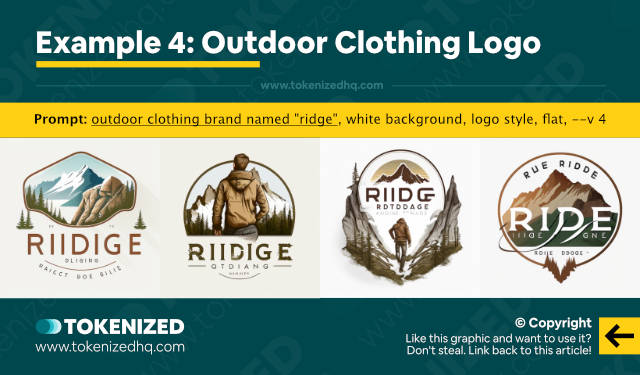 Prompt:
/imagine outdoor clothing brand named "ridge", white background, logo style, flat, --v 4
5. Lion Head Logo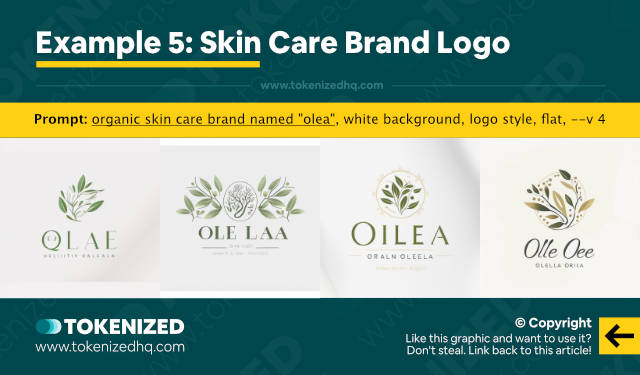 Prompt:
/imagine organic skin care brand named "olea", white background, logo style, flat, --v 4
Frequently Asked Questions (FAQ)
Before we close off this guide, let's quickly address some of the most common questions related to Midjourney logo design.
Can you make logos with Midjourney?

Earlier versions of Midjourney are not particularly effective at creating logos. However, ever since the introduction of version 4, Midjourney is capable of creating highly relevant and professional logos for generic use cases. That being said, additional editing is usually still required.

Can Midjourney create typography in logos?

Midjourney v4 can create logos that incorporate typography in the typical locations where you'd expect it. However, it is still not capable of producing coherent words or sentences. Most text is usually gibberish and full of spelling errors. However, it can easily be replaced in an image editor.
Conclusion
It's truly astounding how Midjourney's AI model keeps getting better and better at astonishing speeds.
While it was still a bit of a challenge to create useful logos in Midjourney with version 3, v4 is a game-changer that transforms it into an incredibly useful tool for any designer.
Here at Tokenized, we want to help you learn as much as possible about the AI software industry. We help you navigate the world of tech and the digitalization of our society at large, including the tokenization of assets and services.