Are you looking for a comprehensive list of DAOs?
Perhaps you recently heard that more and more DAOs are being founded and now you'd like to get a better overview of all of the DAOs that already exist out there?
Well, not to worry, because we've dug into this topic and have put together some crucial information on DAOs as well as some of the most interesting concepts.
In this guide, you'll discover a list of DAOs, including some of the most popular and biggest decentralized autonomous organizations in the world.
So let's get right to it.
Key Points (tl;dr)
Contrary to a traditional top-down hierarchical organization, a decentralized autonomous organization (DAO) does not have any leaders or employment contracts.
There are various different types of DAOs, although the majority of them are interest groups that jointly pursue an objective by pooling together funds and investing them into assets or initiatives.
There are already thousands of different DAOs and nearly 2 million people already hold DAO tokens. However, this number is expected to grow exponentially over the next decade.
Some of the most popular DAOs include PleasrDAO, AngelDAO, RaidGuild, NounsDAO, KlimaDAO and OlympusDAO.
Most of the biggest DAOs by market capitalization are DeFi platforms that obviously attract vast amounts of capital.
For a detailed list of the most popular DAOs in the world, PLEASE READ THE FULL ARTICLE.
Like this content? Then share it!
The Top List of DAOs You Should Know in 2023
Here's the answer. Great article by @ChrisHeidorn right here: https://tokenizedhq.com/list-of-daos/

www.tokenizedhq.com
What Is a DAO?
DAO stands for "decentralized autonomous organization". DAOs are comparable to real-life clubs or associations, except that they are completely leaderless and their entire governance is run on top of a blockchain smart contract that handles member voting and fund management. Many DAOs already manage hundreds of millions of dollars in member funds.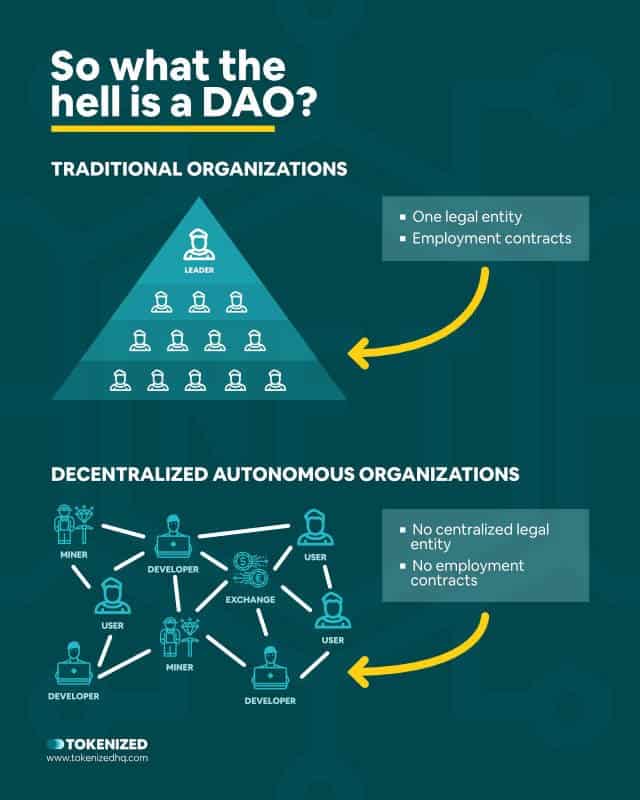 If you're somewhat into crypto and potentially even NFTs then without a doubt you've heard the term "DAO" before.
And although most people seem to have a basic understanding of what decentralized autonomous organizations (DAOs) are supposed to be, very few actually know what it feels like and what they actually do.
But before we get into all that and look at a list of DAOs, let's clarify how the word is even pronounced.
DAO is simply pronounced "dow", so exactly like the chemical company or the Dow Jones Industrial index.
DAOs are essentially a group of people who join forces without any central leader or authority making decisions for the group.
This flat hierarchy is also one of the reasons why DAOs are often perceived as idealistic and sometimes struggle with inefficiency.
They are meant to be self-governing and decentralized organizations and fall into the category of Algocracies (from the term "algorithm").
In order to join a DAO, you must first buy your way in by acquiring one or more governance tokens.
These tokens can be regular ERC-20 tokens or NFTs, and they give you the ability to vote on decisions that are made.
The decisions have real consequences since most DAOs manage considerable sums of money.
While not all DAOs do the same thing, they all represent a group of people working towards a common goal.
What Are the Different Types of DAOs?
All DAOs either use pooling of funds or decentralized governance as a means to achieve a common goal. The potential applications are endless, however, most DAOs can currently be classified into one of the following 6 categories: Protocol DAOs, Collector DAOs, Investment DAOs, Grand DAOs, Media DAOs, and Social DAOs.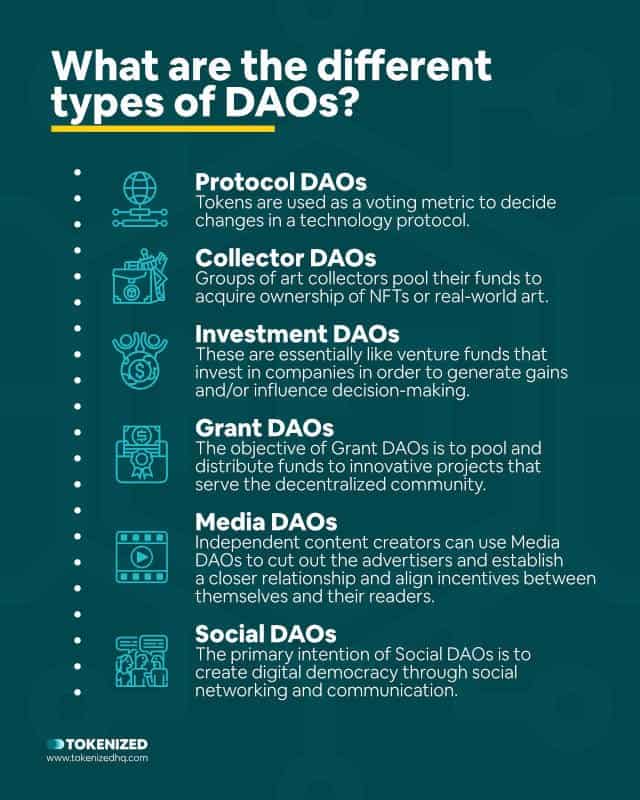 Cryptocurrency is still very young and many of the early examples of DAOs are therefore focused on managing and investing funds.
Although theoretically there aren't any limits to what a DAO can do, a number of popular use cases for DAOs have emerged over time.
They usually differ in how they work, how they are structured, and the underlying technology they use.
However, broadly speaking most of the entities on our list of DAOs can be categorized into 6 different types:
Protocol DAOs: Tokens are used as a voting metric to decide changes in a technology protocol. Prominent cases include MakerDAO or the Uniswap DAO.
Collector DAOs: Groups of art collectors pool their funds to acquire ownership of NFTs or real-world art. Examples include Flamingo DAO or PleasrDAO.
Investment DAOs: These are essentially like venture funds that invest in companies in order to generate gains and/or influence decision-making. A slightly crazy example is Krause House, whose objective is to acquire an NBA team.
Grant DAOs: The objective of Grant DAOs is to pool and distribute funds to innovative projects that serve the decentralized community. A good example would be Aave Protocol, which uses grants to develop its ecosystem.
Media DAOs: Independent content creators can use Media DAOs to cut out the advertisers and establish a closer relationship and align incentives between themselves and their readers.
Social DAOs: The primary intention of Social DAOs is to create digital democracy through social networking and communication. They are less focused on the financial aspect of DAOs.
DAOs also sometimes form around popular NFT communities that emerge as specific projects become bigger and bigger.
As I said earlier already, the possibilities for DAOs are endless and with time we'll see many more different types of DAOs join this list.
How Many DAOs Are There?
The exact number of active DAOs is difficult to pinpoint due to the decentralized nature of these groups. According to DeepDAO, there are already 1.7 million governance token holders amongst the 4,832 organizations listed on their site as of May 2022.
While only the biggest and most prominent DAOs are known to the greater public, the total number of DAOs is probably somewhere in the thousands right now.
As DAO service providers have emerged, creating a DAO has become as simple as creating a Facebook group, and therefore the list of DAOs is growing day by day.
Our lives are set to become increasingly digitized and as cryptocurrency begins to enter the mainstream, we strongly believe that we will see an explosion of DAOs.
Decentralized niche communities and clubs will start to pursue common interests and take action in ways we've never seen before.
The Top 10 Most Popular DAOs
The following list of DAOs is going to concentrate solely on general popularity among a wide variety of communities.
We will intentionally exclude most of the DeFi protocols and deal with them in the next section where we take a look at the biggest DAOs by market cap.
Many of the names you'll find on this list of DAOs will probably sound familiar to you.
PleasrDAO
An art collective that collects and curates NFTs. The objective is to collect culturally significant pieces associated with charitable causes.
AngelDAO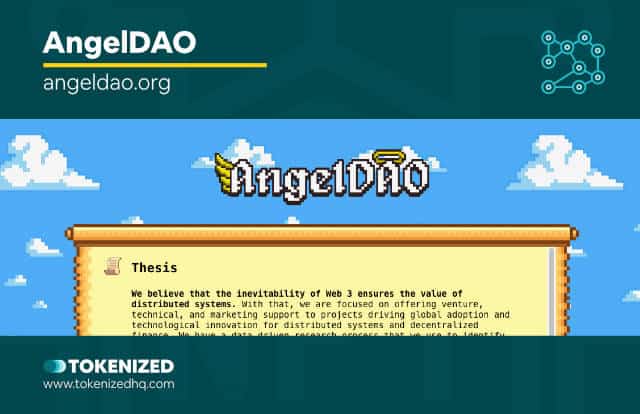 A venture DAO that supports a wide variety of projects with community building and funding.
Raid Guild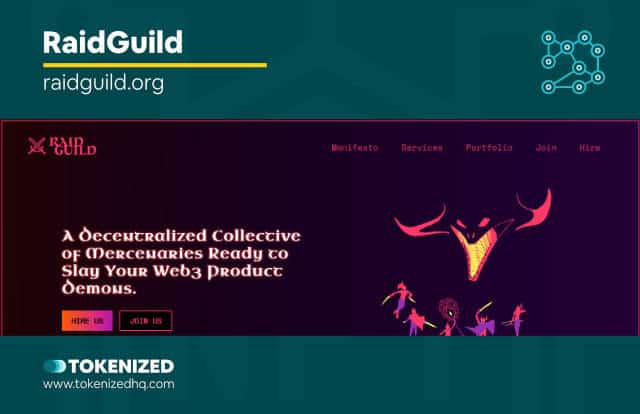 A collective of design and web development professionals for the Web3 ecosystem.
NounsDAO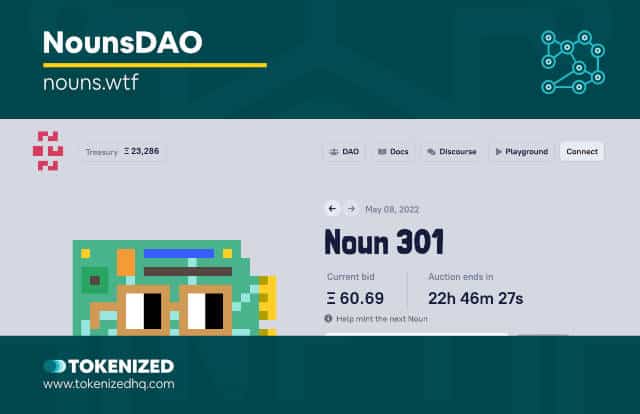 Nouns are an experimental project attempting to improve the formation of on-chain avatar communities.
KlimaDAO
KlimaDAO gives Web3 builders and users the opportunity to participate in the carbon market. $KLIMA It is an algorithmic carbon-backed currency.
OlympusDAO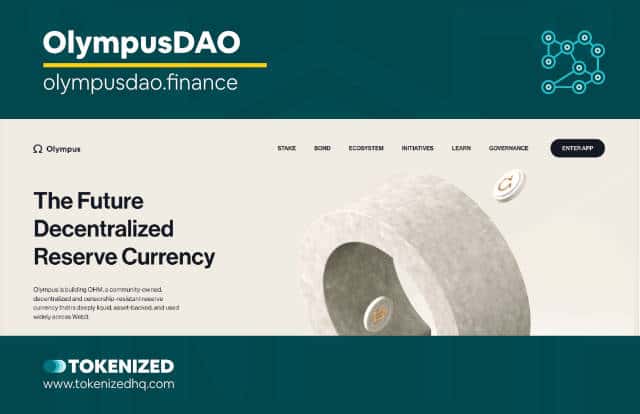 Aims to create a free-floating reserve currency backed by a basket of assets.
The Krause House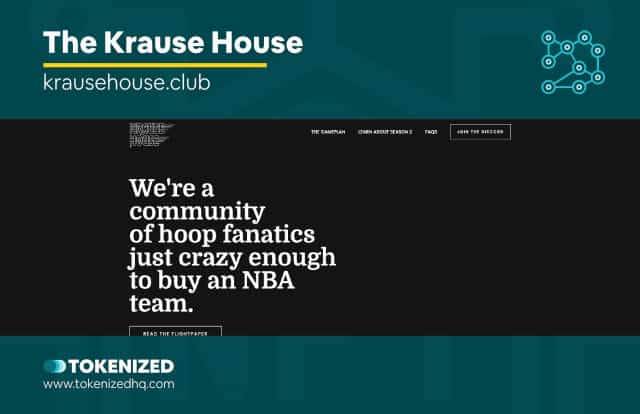 A community of basketball fanatics that want to buy and manage an NBA team via their DAO.
FlamingoDAO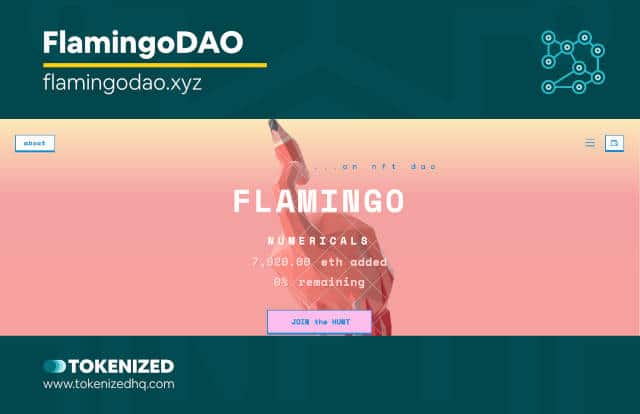 A collective that invests in emerging digital artists and early NFTs.
Ready Player DAO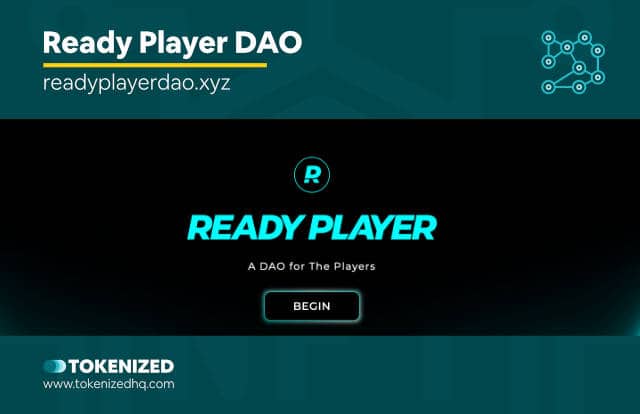 A group of gaming fanatics aiming to help grow the digital gaming ecosystem.
Friends with Benefits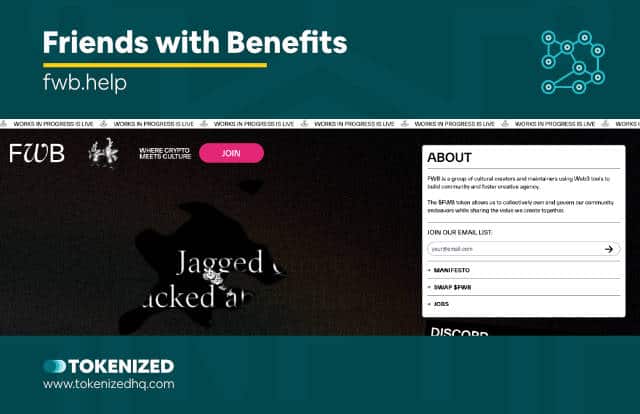 A group of cultural creators and maintainers using Web3 tools to build community.
Bankless DAO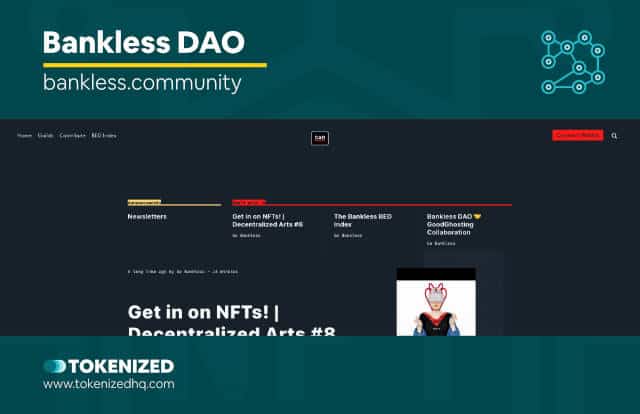 Supporters of the popular Bankless Movement, including the Bankless podcast and newsletter.
The Top 10 Biggest DAOs by Market Capitalization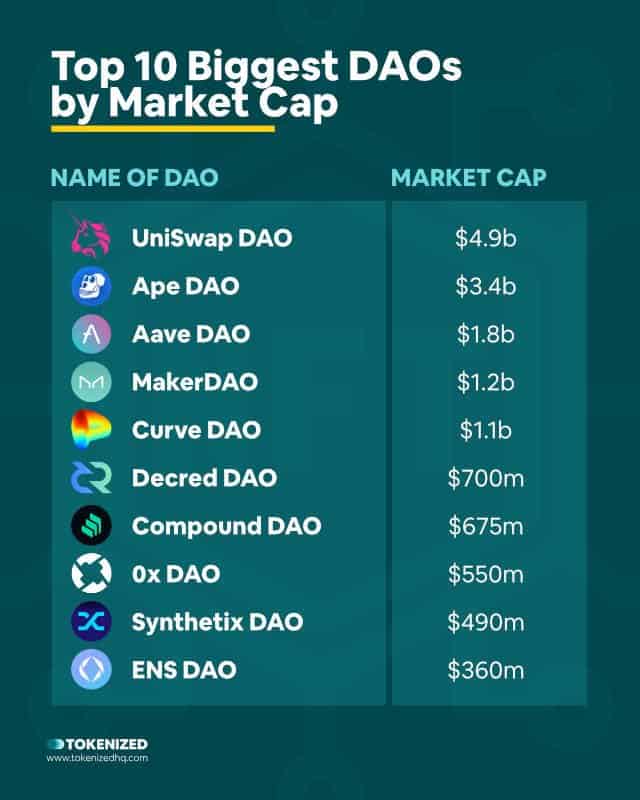 The most honest metric in order to determine a DAO's relevance is its market capitalization.
A bigger market cap means that a DAO has significant financial influence.
According to stats from CoinMarketCap, the list of DAOs with the biggest market cap is (as of May 2022):
UniSwap DAO ($4.9b): UniSwap is a popular trading protocol that facilitates the automated trading of tokens.
Ape DAO ($3.4b): ApeCoin is the ERC-20 governance and utility token used within the Bored Ape Yacht Club ecosystem.
Aave DAO ($1.8b): Aave is a DeFi protocol that allows users to lend and borrow crypto from each other.
MakerDAO ($1.2b): The Maker protocol allows users to issue and manage the DAI stablecoin.
Curve DAO ($1.1b): Curve is a decentralized exchange for stablecoins that uses automated market making to manage liquidity.
Decred DAO ($700m): Decred is a blockchain-based cryptocurrency.
Compound DAO ($675m): Compound is yet another DeFi lending protocol that allows users to earn interest on their crypto.
0x DAO ($550m): 0x is an infrastructure protocol that allows users to easily trade ERC-20 tokens and other assets on Ethereum.
Synthetix DAO ($490m): Synthetix is also a DeFi protocol providing on-chain exposure to crypto and non-crypto assets.
ENS DAO ($360m): Ethereum Name Service is a distributed and open naming system based on the Ethereum blockchain.
Obviously, this is not the full list of DAOs that are out there.
And this is mostly just a list of DAOs that has attracted the most liquidity thanks to the massive size of DeFi protocols.
Given their heavy focus on crypto and DeFi, it's probably more apt to call this a DAO crypto list.
Conclusion
While DAOs might still seem somewhat esoteric and idealistic to some people, we believe that they should be taken very seriously.
Do not underestimate the power of some of the collectives on this list of DAOs.
Not only are they large in size but they also wield quite a bit of financial influence with the vast sums of money that they manage.
DAOs will evolve over time, only to become bigger and more influential than you might think.
Here at Tokenized, we want to help you learn as much as possible about DAOs and decentralization. We help you navigate the world of tech and the digitalization of our society at large, including the tokenization of assets and services.