Want an awesome Anime Discord banner GIF for your profile?
Maybe you've finally subscribed to Discord Nitro and want to join the exclusive club of users that can boast an animated GIF as their profile banner?
Well, we've got you covered, because we've done the hard work of curating and optimizing a list of the most original and eye-catching Anime Discord banner GIFs on the web.
In this guide, you're guaranteed to find a Discord banner GIF Anime fans will envy you for.
Let's dive right in.
Key Points (tl;dr)
Animated GIFs are very popular in the 90s when the internet was slowly being adopted by the general public. Since then, they've mostly been replaced as a regular image format. However, they made a huge comeback on social media and are usually used to create animated memes now.
You can add an animated GIF as your profile banner on Discord, however, you'll need to have a Nitro membership to do so. If you run a Discord server and want it to have an animated GIF as a banner, you'll have to reach Level 3 before you can use GIFs.
In this guide, you'll find 25 of the most eye-catching Anime Discord banner GIFs we could find on the web. We've carefully curated the list so that it only contains banners that are actually relevant to an Anime fan.
For a detailed overview of all 25 Anime Discord banner GIFs, PLEASE READ THE FULL ARTICLE.
Like this content? Then share it!
The 25+ Most Eye-Catching Anime Discord Banner GIFs
Here's the answer. Great article by @ChrisHeidorn right here: https://tokenizedhq.com/anime-discord-banner-gif/

www.tokenizedhq.com
What is an Animated GIF?
An animated GIF is an image format that is able to display a sequence of frames similar to how a video file does. Due to their file size, most animated GIFs are very short and run in a constant loop. They are very popular on social media, messaging platforms, and are often used as profile banners on Discord.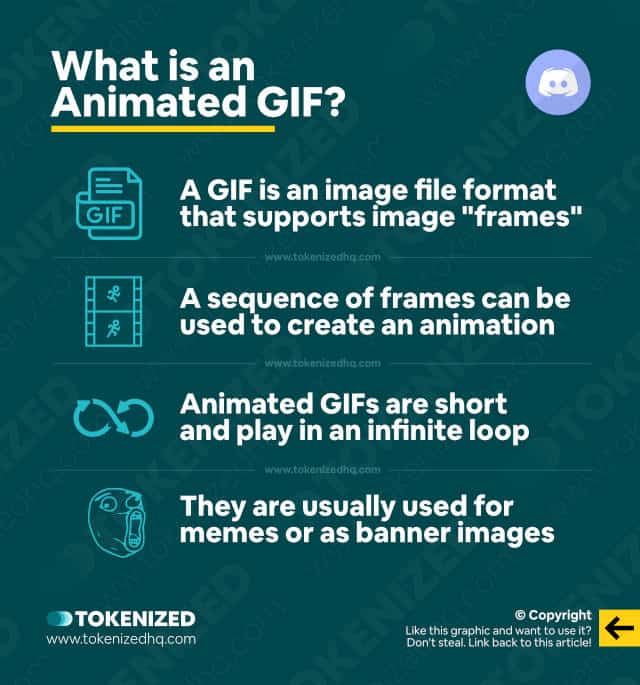 It's funny everything goes through cycles and even old technology eventually makes a comeback.
Back in the 90s, animated GIFs were all the rage because they were effectively the only way to bring otherwise static web pages to life.
Hobbyists would plaster their personal websites with all sorts of animated logos and other exciting graphics.
Unlike JPG or PNG files, GIFs are not limited to static images.
Instead, they support so-called "frames" that allow you to create moving images by combining multiple frames into a single animation.
Video files are effectively the exact same thing and are much more effective as a file format because they allow you to pause, play and even skip through the timeline.
With animated GIFs, you can't do that and they simply play in an eternal loop.
So it makes sense that animated GIFs eventually mostly disappeared from websites nowadays.
However, GIFs have made an enormous comeback, especially on social media.
And now you can even add them to your Discord profile as a banner.
That's right, not only can Nitro members add Discord Anime banners to their profile.
They can even add Anime Discord banner GIFs that'll make them the talk of the town.
If you'd like to find out more, make sure you check out the next section of this article.
How to Get an Animated Discord Banner?
In order to set an animated GIF as your Discord profile banner, you'll need to subscribe to a Discord Nitro membership. Discord servers that want to use an animated server banner need to have at least Level 3.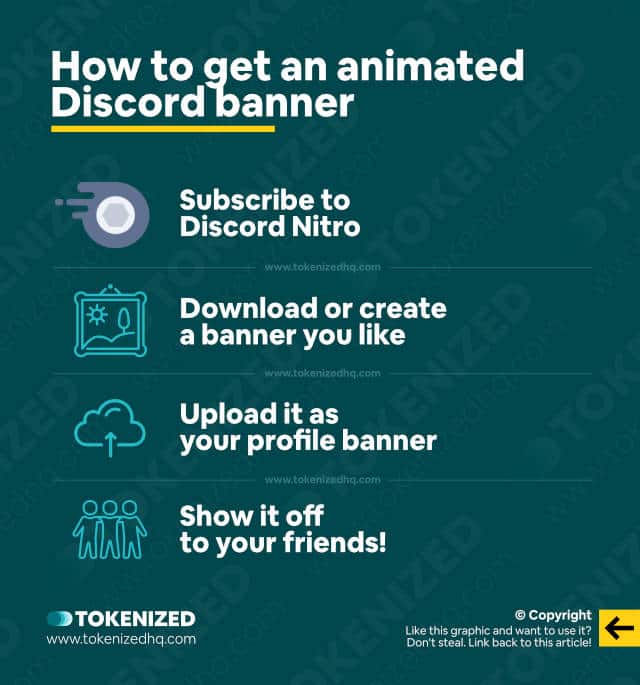 As you may have already realized, there's always a catch with these things.
Unfortunately, animated Discord banners are only available to Nitro members.
And a Nitro membership will cost you a monthly or yearly fee.
In other words, if you're not paying for Discord, you won't be able to set an Anime Discord banner GIF as your profile image.
Now, before you call it quits, it's worth considering getting a Nitro subscription.
Nitro actually comes with many more features that will make your Discord experiences a lot more fun.
If you can afford it, you should definitely try it out.
Those of you who run your own Discord server can also use animated GIFs to spice things up.
However, as you may have guessed, there are limitations as well.
While your server only needs to reach Level 2 for you to be able to add a custom Discord server banner, it's still not enough for an animated banner.
In fact, your server needs at least Level 3.
But once it does, you'll be able to enjoy the extra perks that come with it, including being able to add an Anime Discord banner GIF.
You might be wondering whether there are any specific file requirements for animated banners, especially since animated GIFs can be quite large in size.
Well, for profile banners Discord generally recommends a minimum size of 600×240 pixels and for server banners, the optimal dimensions are 960×540 pixels.
However, even if your GIF is smaller, you can still upload it and Discord will rescale or crop it to fit accordingly.
Just be aware that Discord's image compression is not very strong and you might exceed the file size limitation.
For more details on this topic, make sure you check out our guide on Discord banner sizes.
25 Eye-Catching Anime Discord Banner GIFs
Now that we've gotten most of the technical stuff out of the way, it's time to go through our list of animated Discord banners for Anime fans.
The key thing with animated Discord banners is that they need to be engaging without becoming too distracting.
Animations that are too busy and fast can easily become an eye sore for many people.
The best Anime Discord banner GIFs are subtle, but still lively enough to catch people's attention.
This list contains animated GIFs from various Anime series including One Piece, Dragon Ball, My Hero Academia, and more.
1. Goku from Dargon Ball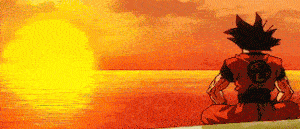 2. Couple in the Sunset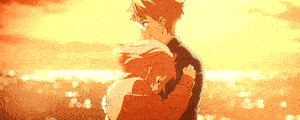 3. Girl from Serei Gensouki: Spirit Chronicles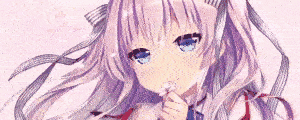 4. Eye Closeup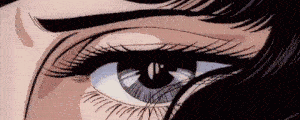 5. LoFi Girl on Motorcycle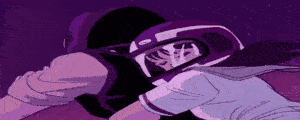 6. Slowly Falling Cherry Blossoms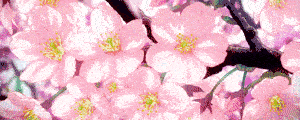 7. LoFi Car on Highway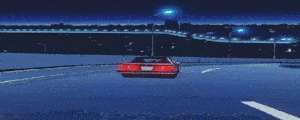 8. Shooting Stars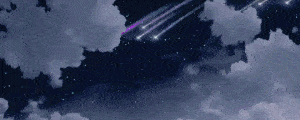 9. Waterfall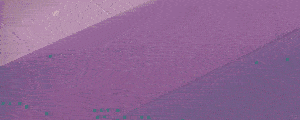 10. Cherry Blossom Petals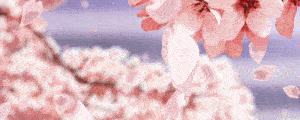 11. Calma from One Piece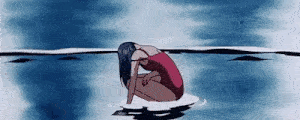 12. Roronoa Zoro with Sword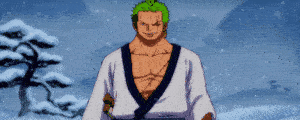 13. Sakuya Izayoi from Touhou Project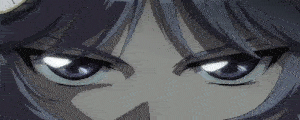 14. Miss Nagatoro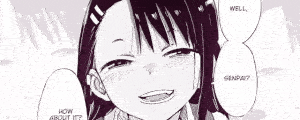 15. Jiggling Thighs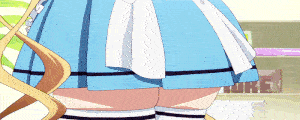 16. Luffy from One Piece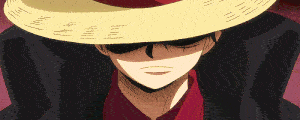 17. End of Evangelion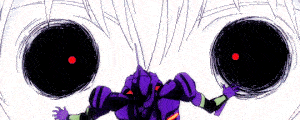 18. Smoking Man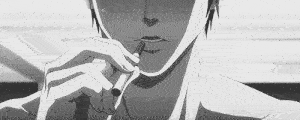 19. Tsuchigomori from Jibaku Shounen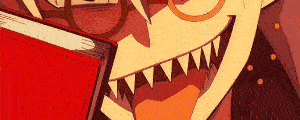 20. Death the Kid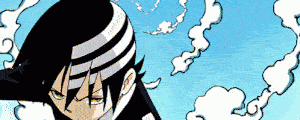 21. Denki from My Hero Academia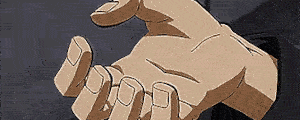 22. Roronoa Zoro Fighting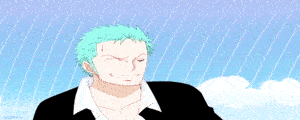 23. Vaporwave Style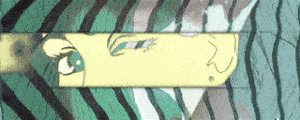 24. Tanjiro Kamado from Kimetsu No Yaiba

25. Mob Psycho 100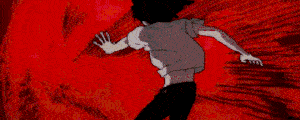 Conclusion
If you've got an Anime Discord banner GIF in your profile then you're almost guaranteed to be cooler than most people on Discord.
Unfortunately, using animated GIFs on Discord is restricted to those who are willing to pay the small fee for a Nitro membership.
That being said, we strongly recommend you take it under consideration because it's absolutely worth it.
Here at Tokenized, we want to help you learn as much as possible about social media. We help you navigate the world of tech and the digitalization of our society at large, including the tokenization of assets and services.