Looking for the exact Discord banner size?
Or perhaps you've already followed Discord's recommendations on the ideal Discord banner dimensions but your server's banner still looks ugly and cropped?
You're definitely not alone and tons of people continue to struggle with the way Discord handles the server banners you upload.
But there's no need to worry because we've done some digging in the official Discord documentation and have experimented with different Discord server banner sizes.
In this guide, we'll show you exactly what banner dimensions you need to choose in order to get the most out of your server's banner and we've even created a Discord banner size template for you to use.
Let's dive right in!
Key Points (tl;dr)
The official recommended Discord server banner size is at least 960×540 pixels and has an aspect ratio of 16:9. Larger dimensions are also fine, as long as the aspect ratio is maintained. Images will be automatically resized to the required size.
The upper section (about 28%) of the server banner should not contain any text or other important elements. This area is commonly used to overlay user interface elements such as the server's name and its public/private access status.
For Discord profile banners the recommended dimensions are slightly different. Your profile's custom banner should be at least 600×240 pixels and have a maximum file size of 10 MB.
If you're encountering file size problems while uploading an animated GIF that you crop inside the Discord application, it is very likely that Discord hasn't sufficiently compressed the cropped file. Crop and compress your animated GIF in an outside application and then upload the file again.
For a free template on how to get your Discord server banner size right, PLEASE READ THE FULL ARTICLE.
Like this content? Then share it!
Solved: Discord Banner Size + Template
Here's the answer. Great article by @ChrisHeidorn right here: https://tokenizedhq.com/discord-banner-size/

www.tokenizedhq.com
What is the Recommended Discord Server Banner Size?
Discord recommends using a server banner size of at least 960×540 and an aspect ratio of 16:9. Bigger images are acceptable as well and will be scaled accordingly, as long they do not exceed 8 MB. Level 2 servers may upload static images and Level 3 servers can even upload animated banner in GIF format.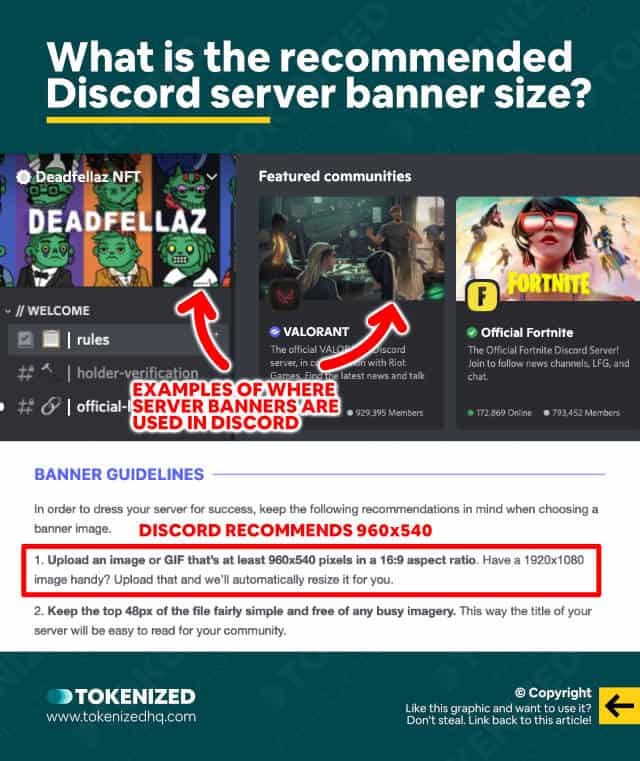 Alright, so according to the official Discord support documentation, there's a clear-cut recommendation for the ideal Discord banner size.
First of all, the Discord server banner uses an aspect ratio of 16:9, which is very common amongst widescreen TV displays as well.
In other words, no matter how big the final dimensions of your banner are, the width and height of the image file should have a relative ratio of 16:9.
The minimum size of your banner image should be 960×540 pixels.
However, you're welcome to upload something that's much bigger than that (e.g. 1920×1080 pixels), as long as its aspect ratio is 16:9.
Once you upload the image file, Discord's servers will resize the image so that it meets the exact criteria.
It's generally recommended that you keep the upper 28% (usually 48px) of your Discord server free of busy imagery or text.
You might be wondering why that's relevant since you stuck to the recommended Discord banner size.
Well, your banner is used in multiple locations within Discord and sometimes user interface elements are overlayed on top of it.
Therefore, in order to ensure that everything can be read properly, keep the top section clear of unnecessary stuff.
By the way, all of the above also applies to Discord server banners that are animated GIFs.
Another thing to look out for is the banner's file size.
Discord server banners are limited to roughly 8 MB and they take this limit very seriously.
What is the Best Discord Profile Banner Size?
The optimal dimensions for Discord profile banners, as per the official recommendation, are 600×240 pixels and maximum file size of 10 MB. Images that do not fit the correct dimensions can be cropped during the upload process.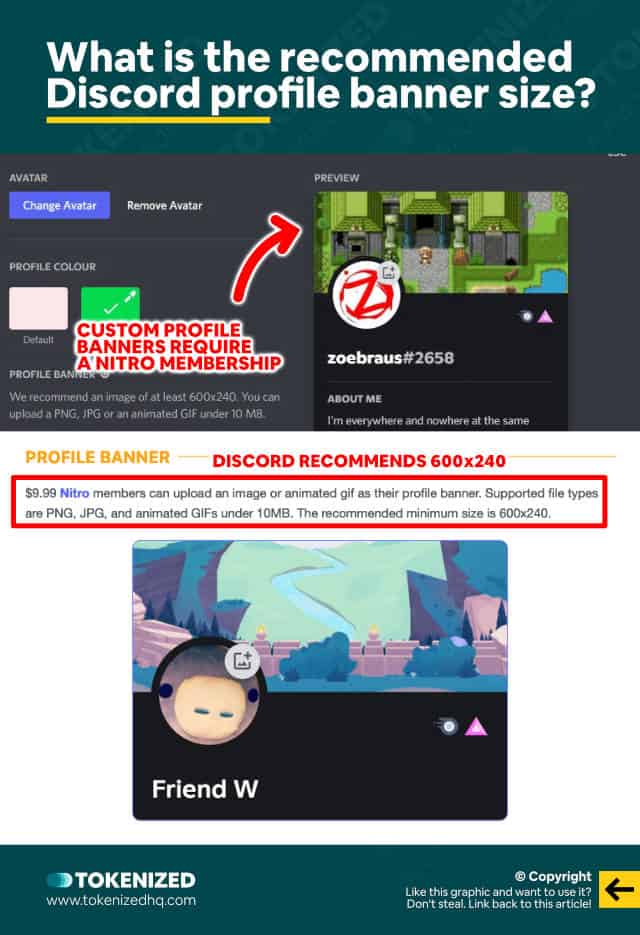 If you ended up here because you were actually looking for the right dimensions for your Discord profile banner, then things look a bit different.
People often confuse the server banner and the banner of their personal Discord profile.
Personally, I think that's because custom profile banners are restricted to users that have a Nitro membership, and let's face it: Most people aren't paying members.
And this is quite important because the recommended sizes are completely different for each one of them.
You can still upload PNG files, JPEG files as well as animated GIFs, however, the file size limit and dimensions are slightly different.
The recommended Discord profile banner image size is 600×240 pixels and the file size is limited to 10 MB.
If you don't know what to use as a profile banner but know that you're a big Anime fan, we've actually put together an awesome list of more than 50 beautiful Discord Anime banners that you can download for free.
The Perfect Discord Banner Size Template
Your Discord server banner size can have any dimensions above 960×540 pixels as long as the aspect ratio of 16:9 is maintained, while Discord profile banners should be about 600×240 pixels. We've provided a FREE Discord banner size template for both types of banners.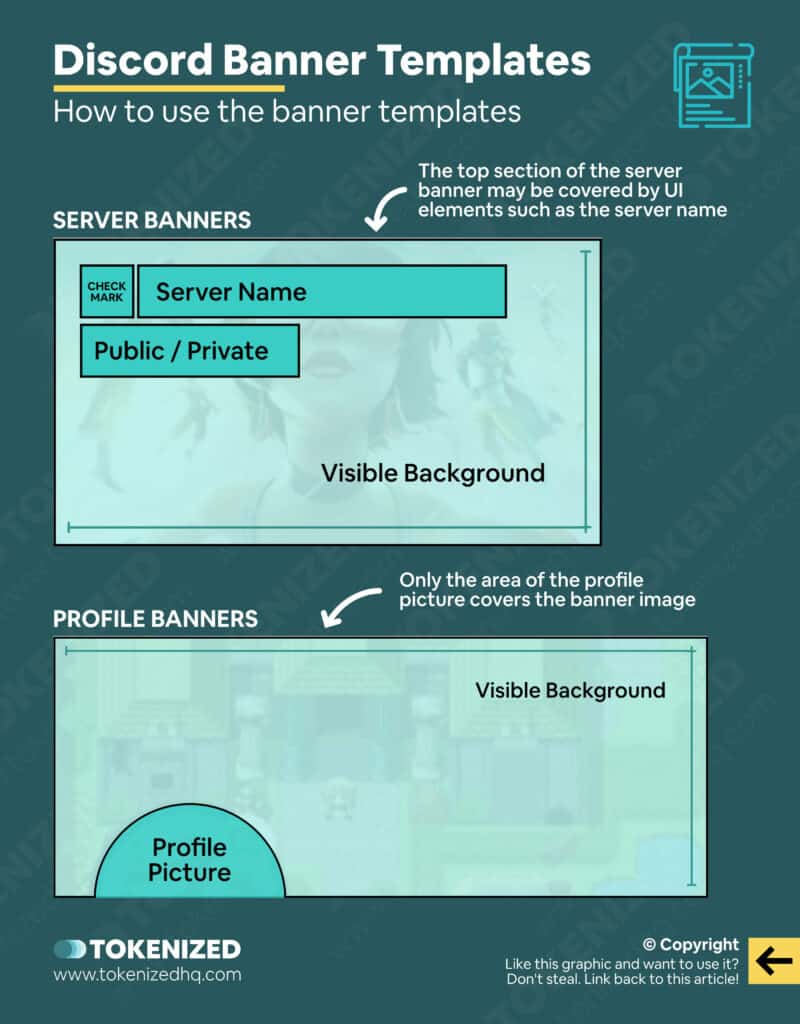 There seems to be some general confusion as to what the ideal Discord banner dimensions are.
This is a common problem among many other social media platforms as well and responsive web design has made this considerably more difficult too.
That being said, Discord mostly uses fixed dimensions in its user interface and therefore it's quite easy to provide an easy-to-use template.
In this particular case, we've created a Discord banner size template for server banners as well as profile banners.
We have also integrated placeholders for typical user interface elements so that you know exactly which area of the Discord banner should be kept free of text or other important content.
This Discord banner size template is available in 5 different file formats:
PNG format
SVG format
Adobe Illustrator
Adobe Photoshop
Affinity Designer
You can download our template by clicking here or the big red button below.
How to Fix File Size Errors with Animated Discord Banners
When uploading animated Discord banners, try to avoid cropping them within Discord because the resulting file is often not sufficiently compressed. Instead, use a separate tool to crop the animation and make sure the file you upload is already compressed.
There have been reports of people who compressed their animated banners to just under 7 MB, but after cropping it inside Discord, they received a file size error.
It's not entirely clear why, but it appears that Discord does not properly compress animated GIFs that have been cropped inside the application.
The only way to fix this is if you crop the GIF in a separate tool and then compress that file to below 8 MB.
If you do that then you shouldn't run into any problems with the file size limit.
What are other Discord Image Sizes?
Discord has 6 different types of image customizations: Profile Photos, Server Logos, Server Banners/Covers, Server Invite Splash Images, and Custom Emojis.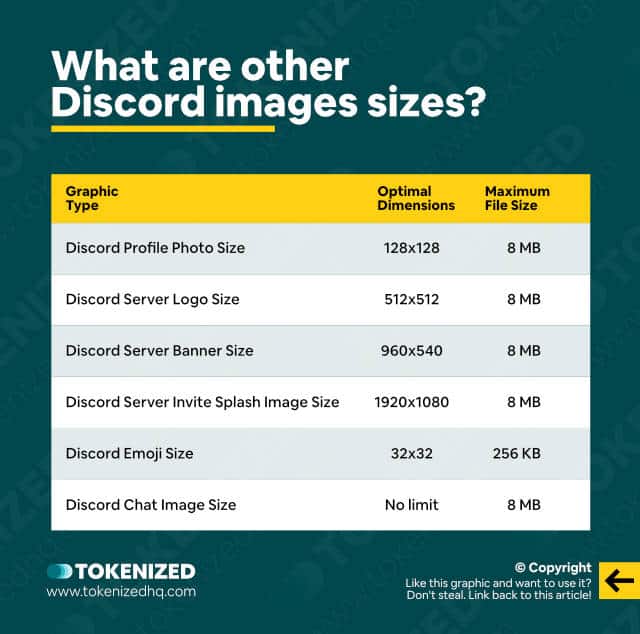 Obviously, the server banner isn't the only place inside Discord where you can upload banners and avatars.
In fact, Discord actually has quite a few places where you can customize the look and feel of the application, including adding custom Emojis.
Here's a quick and easy overview of the various optimal Discord image sizes and their file size limitations:
| Graphic Type | Optimal Dimensions | Maximum File Size |
| --- | --- | --- |
| Discord Profile Photo Size | 128×128 pixels | 8 MB |
| Discord Server Logo Size | 512×512 pixels | 8 MB |
| Discord Server Banner Size | 960×540 pixels | 8 MB |
| Discord Server Invite Splash Image Size | 1920×1080 pixels | 8 MB |
| Discord Emoji Size | 32×32 pixels (up to 128×128) | 256 KB |
| Discord Chat Image Size | No Limit | 8 MB |
Table showing the optimal sizes and maximum file sizes for various different custom Discord images.
Frequently Asked Questions (FAQ)
Before we wrap up, let's quickly address a few frequently asked questions that many people have in relation to Discord server banners and profile banners.
What is a Discord server banner?

Discord server banners are cover images that are displayed in Discord's overview of public Discord servers as well as in the top left corner of each server itself.

How big is a Discord banner?

You can any size image you want for your Discord banner, however, when you upload the file you will have to crop it to an aspect ratio of 16:9. The final banner size is 960×540 pixels.

How can I add a banner to my Discord server?

In order to add a server banner to your Discord server, you first need to upgrade your server to at least Level 2. If you want to use animated GIFs for your banner, you will need to upgrade to Level 3.

What happens to my animate banner if our server downgrades to Level 2?

When a server that previously had an animated banner goes from Level 3 to 2, the animated banner will become a static image. You can then replace it with something else if you prefer.

How do I get a profile banner on Discord?

Custom profile banners are restricted to paying users with a Nitro membership.
Conclusion
Unlike many other social platforms that use responsive web design to make their website fit many different screen sizes, Discord uses fixed dimensions for key parts of its user interface.
This makes it relatively easy to stick within the recommended Discord banner size.
For those of you who need a little more guidance, we hope you find our free Discord banner size template useful and encourage you to share it with others as well.
Here at Tokenized, we want to help you learn as much as possible about social media. We help you navigate the world of tech and the digitalization of our society at large, including the tokenization of assets and services.