Are you trying to get a bigger version of someone's profile picture on TikTok?
Perhaps you want to take a closer look at an account's profile pic but don't know how to download a higher resolution?
Well, don't worry, because we've tested a whole bunch of different TikTok profile picture viewers online and put together a list of the best TikTok profile photo viewers on the web.
In this guide, you'll learn how you can easily view and download TikTok profile images from any account and we'll show exactly which viewers work and which don't.
Let's get started.
Key Points (tl;dr)
Profile pictures (PFP) are sometimes also referred to as display pictures (DP) on TikTok and other social media platforms, although the majority of people usually say PFP.
The correct size for a TikTok profile picture is 200 x 200 pixels.
You can't download other users' profile pictures in full resolution straight from the TikTok app. However, there is a workaround that involves using so-called "TikTok Profile Picture Viewers" that tap into TikTok's API and fetch the full URL to the file.
The top 5+ TikTok profile photo viewers are hosted by:

HowToTechies
TTSave
TikTok Downloaders
TikFuel
InstaFollowers
SociFan
For a detailed list of all TikTok profile picture downloaders, PLEASE READ THE FULL ARTICLE.
Like this content? Then share it!
The 5+ Best TikTok Profile Picture Viewers in 2023
Here's the answer. Great article by @ChrisHeidorn right here: https://tokenizedhq.com/tiktok-profile-picture-viewer/

www.tokenizedhq.com
What is a DP on TikTok?
On TikTok, profile pictures are often referred to as "display pictures" and are abbreviated as "DP" for short. However, most of the world tends to refer to them as "profile pictures" (PFP).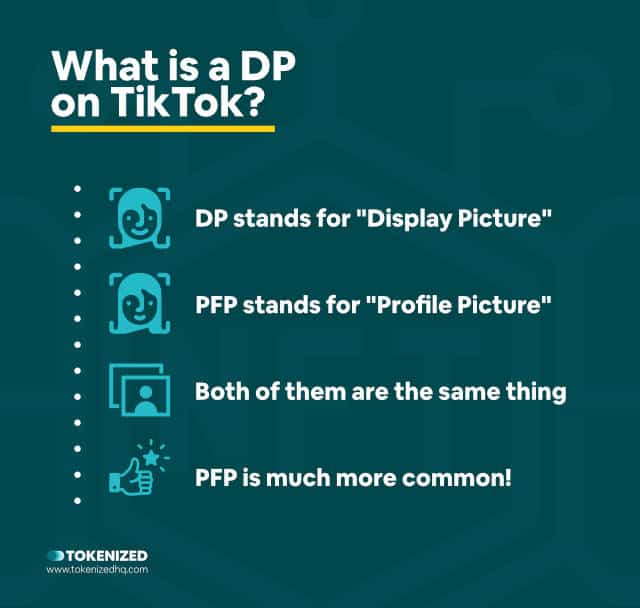 You may have come across the abbreviation "DP" a couple of times on TikTok already.
DP stands for "display picture" or "display photo" and it's just another name for what most of the world calls a profile picture (PFP) on social media and other platforms.
We're not really sure who originally came up with the word TikTok DP, but it's safe to say that it's rather uncommon amongst native English speakers.
The correct TikTok profile picture size is 200 x 200 pixels, although other sizes will usually work as well.
The TikTok app can easily adjust the size of the photo you've uploaded, so don't worry about that too much.
Can You Download TikTok Profile Pictures in Full Size?
You cannot download account profile pictures directly within the TikTok app. You can only take a screenshot and then crop it to size. However, there are web-based tools, commonly referred to as TikTok Profile Picture Viewers, that allow you to download the images to your device.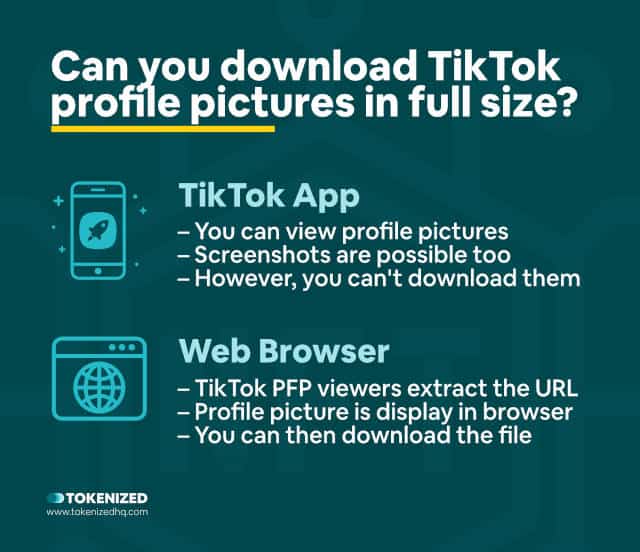 We often get asked whether you can download TikTok profile pictures of other accounts in full resolution.
It's not entirely clear why someone might want to do that unless it's their own account or they just really like someone else's TikTok profile picture.
TikTok doesn't allow you to do that directly from the app.
All you can do is get a full view of the PFF on your phone's screen and then potentially grab a screenshot.
If you literally want to download the full-size image then you're going to need a TikTok profile picture viewer to do that.
TikTok DP viewers are browser-based tools that can extract any account's profile picture and then let you download the file onto your phone or computer.
There are a whole bunch of these available on the web, although not all of them always work.
That's why we've put together a list of the best TikTok profile picture viewers we could find.
5+ TikTok Profile Picture Viewers That You Should Know
HowToTechies
TTSave
TikTok Downloaders
TikFuel
InstaFollowers
SociFan
Before we go through the full list of tools, please bear in mind that most of them are only offering these free tools in order to attract you to their paid services.
I also cannot guarantee that they will all always work, especially since TikTok frequently makes changes to its API.
Update: 3 out of the 5 TikTok profile photo viewers below currently do not work and we have marked them accordingly.
1. HowToTechies
Status: Verified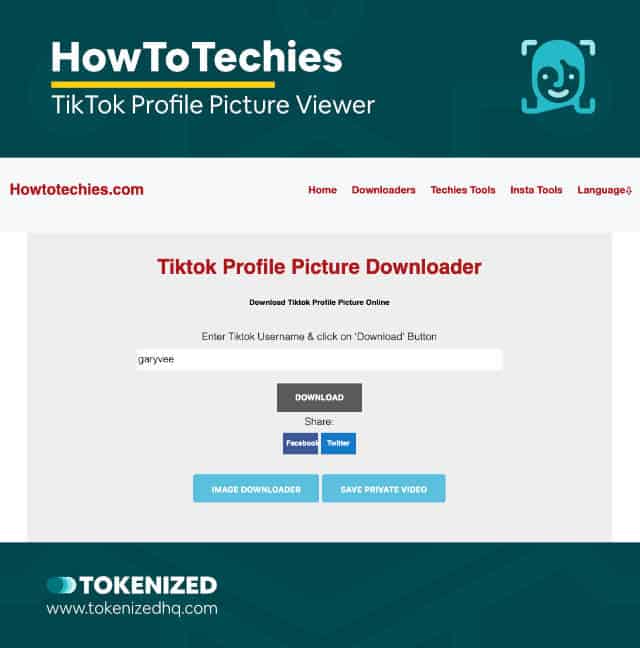 The first TikTok profile picture viewer on our list is hosted by HowToTechies.
It's not exactly the prettiest site on the web, but it gets the job done.
Just enter the username of the account whose PFP you want and hit the "Download" button.
You'll have to go through a quick browser verification step and then it'll display the profile photo in full size.
Then you can simply download the image like you usually do.
2. TTSave
Status: Verified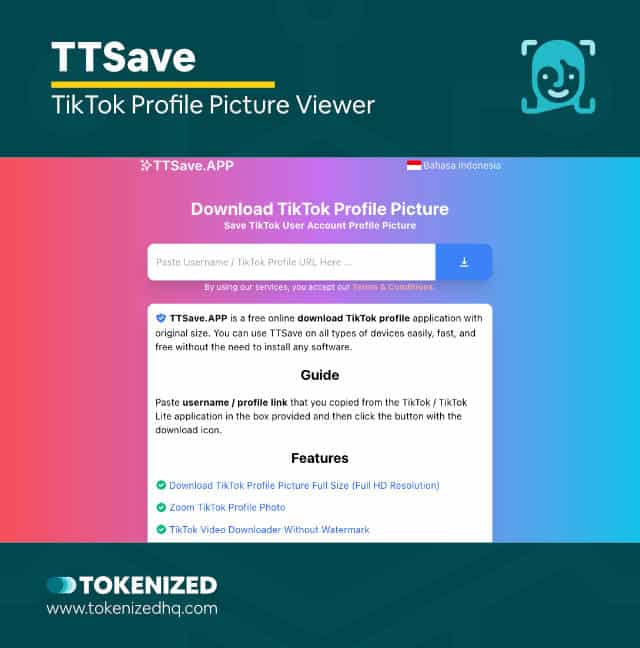 TTSave is another TikTok DP viewer that is completely free to use.
The process is more or less the same as on HowToTechies.
Just enter the account's username and submit the form.
After a few seconds, a blue "Download Profile Picture" button will appear and once you click it, you'll download the image straight from TikTok's CDN.
3. TikTok Downloaders
Status: No longer works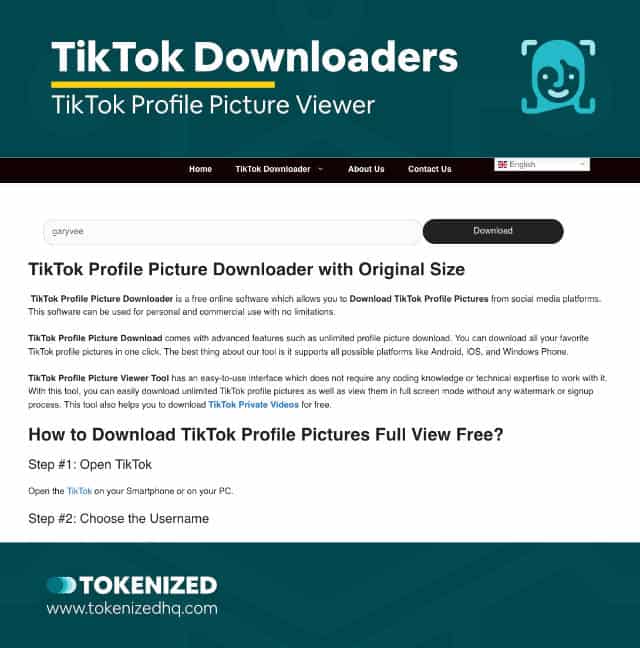 The next TikTok profile picture viewer isn't super pretty.
Unfortunately, it also seems like the tool doesn't really work anymore.
We're not entirely sure why, but it's possible that TikTok changed something in their API.
4. TikFuel
Status: No longer works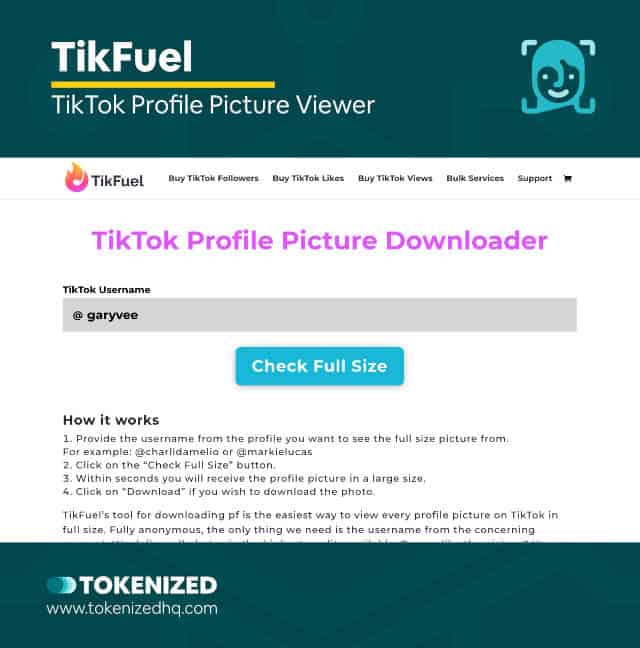 TikFuel is another site that offers all sorts of TikTok-related services.
They also have a TikTok profile picture viewer that allows you to download PFPs from any account.
However, they seem to be dealing with the same issues as the previous site and their tool doesn't work anymore either.
5. InstaFollowers & SociFan
Status: No longer works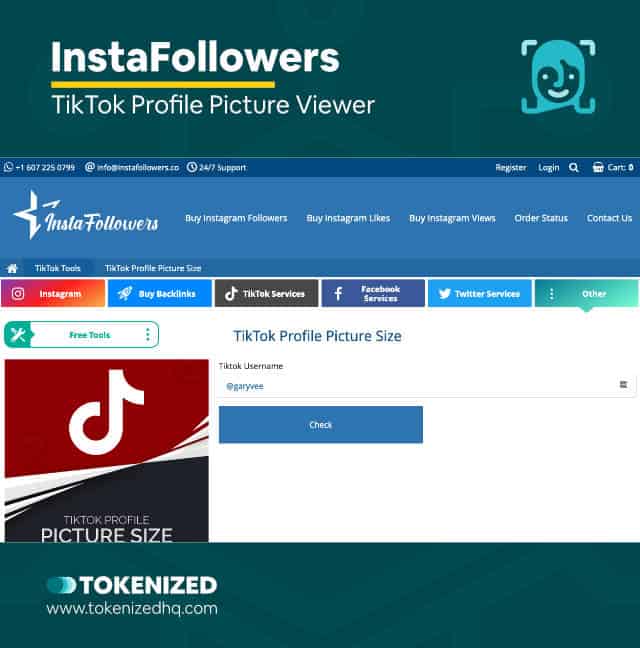 And finally, we have the InstaFollowers and SociFan websites.
The reason I list them together is that I'm pretty sure they are run by one and the same company.
That's also why their TikTok profile picture viewers not only look the same but also return the same error.
So, I'm afraid you can't use these anymore either.
Conclusion
If you're only trying to download a higher resolution version of your own TikTok profile picture, then these TikTok profile photo viewers are helpful tools to get the job done.
However, if you plan on grabbing someone else's profile picture on TikTok, please make sure you've asked the person for permission first.
After all, wouldn't you want others to respect your privacy as well?
Here at Tokenized, we want to help you learn as much as possible about social media. We help you navigate the world of tech and the digitalization of our society at large, including the tokenization of assets and services.