Are you looking for a list of funny NFT quotes?
Maybe you recently got into NFTs and now want to spread the word in a humorous way by posting NFT captions on social media or wearing an NFT quote on a t-shirt?
Well, look no further because we've put together one of the best lists with shareable NFT quotes that everyone in the scene will immediately understand.
In this guide, you'll not only discover tons of funny quotes about NFTs but also what celebrities are saying about them.
Let's dive right in.
Key Points (tl;dr)
Quotes and captioned images are a popular way of spreading the word about a topic, stirring up a discussion, and communicating amongst people from the same scene.
They are most common on social media but are also frequently used for text-based t-shirt designs that are meant as statement pieces.
Like this content? Then share it!
50+ Hilarious NFT Quotes That Will Make You Chuckle
Here's the answer. Great article by @ChrisHeidorn right here: https://tokenizedhq.com/nft-quotes/

www.tokenizedhq.com
How You Can Use These NFT Quotes
The following list of NFT quotes can be used in any type of content that you create for social media or even printed on merchandise that you plan to sell.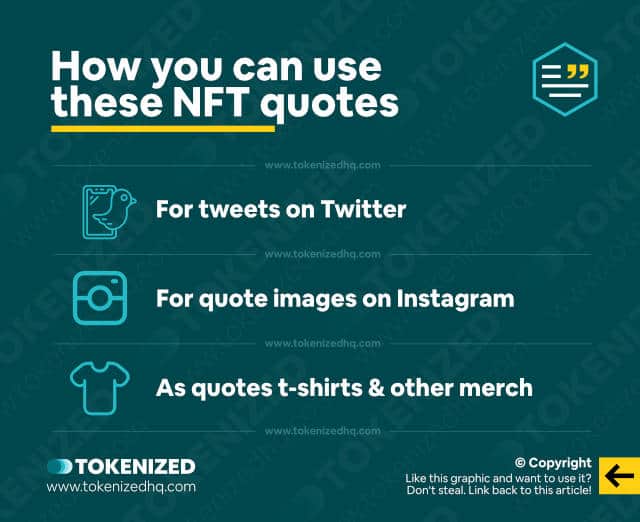 Nowadays it's fairly common for people to share all sorts of quotes on social media.
Depending on your preferred platform, you may want to post them as text (e.g. Twitter) or as a captioned image on more visual social media platforms such as Instagram.
We've even compiled lists with some of the most hilariously funny WhatsApp status messages that people like to add to their profiles.
Quotes are immensely popular because they tend to be short, easy to understand, and usually also quite funny.
So if you're looking to share some inspirational or humorous quotes about NFTs with your followers, you can definitely use the list in this article.
What's also become increasingly popular over the years is to create a custom t-shirt with funny quotes.
Not only will they brighten up someone's day, but they also say something about your personality and your interests.
If you browse any of the bigger print-on-demand platforms, you're almost guaranteed to find a wide selection of t-shirts with funny NFT quotes.
And if you can't seem to find one that you like, you can simply take one from our list and create your very own printed t-shirt on sites like Spreadshirt.
None of the NFT quotes listed in this article have been trademarked so far, so you can use them free for personal and commercial purposes.
50+ Hilarious NFT Quotes for Insiders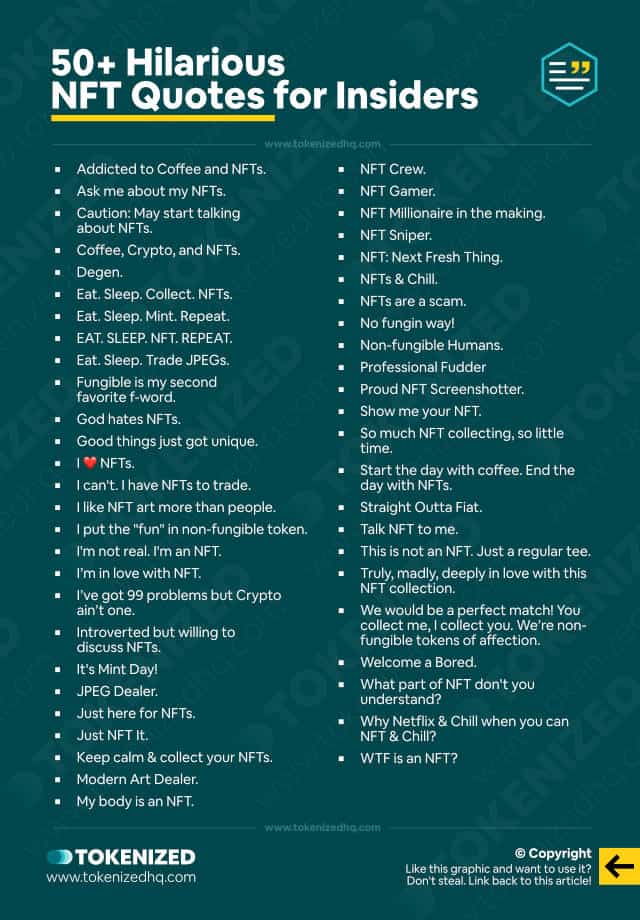 Below you'll an extensive list of more than 50 funny NFT quotes.
We've had a look at many of the other sites that claim to have extensive lists of quotes about NFTs, but we've found that most of them are quite dull.
Not only is our list sorted in alphabetical order, but we've also made sure to include quotes that have proven to be very popular for merchandise as well.
Addicted to Coffee and NFTs.
Ask me about my NFTs.
Caution: May start talking about NFTs.
Coffee, Crypto, and NFTs.
Degen.
Eat. Sleep. Collect. NFTs.
Eat. Sleep. Mint. Repeat.
EAT. SLEEP. NFT. REPEAT.
Eat. Sleep. Trade JPEGs.
Fungible is my second favorite f-word.
God hates NFTs.
Good things just got unique.
I ❤️ NFTs.
I can't. I have NFTs to trade.
I like NFT art more than people.
I put the "fun" in non-fungible token.
I'm not real. I'm an NFT.
I'm in love with NFT.
I've got 99 problems but Crypto ain't one.
Introverted but willing to discuss NFTs.
It's Mint Day!
JPEG Dealer.
Just here for NFTs.
Just NFT It.
Keep calm & collect your NFTs.
Modern Art Dealer.
My body is an NFT.
NFT Crew.
NFT Gamer.
NFT Millionaire in the making.
NFT Sniper.
NFT: Next Fresh Thing.
NFTs & Chill.
NFTs are a scam.
No fungin way!
Non-fungible Humans.
Professional Fudder
Proud NFT Screenshotter.
Show me your NFT.
So much NFT collecting, so little time.
Start the day with coffee. End the day with NFTs.
Straight Outta Fiat.
Talk NFT to me.
This is not an NFT. Just a regular tee.
Truly, madly, deeply in love with this NFT collection.
We would be a perfect match! You collect me, I collect you. We're non-fungible tokens of affection.
Welcome a Bored.
What part of NFT don't you understand?
Why Netflix & Chill when you can NFT & Chill?
WTF is an NFT?
Quotes About NFTs by Celebrities
Finally, we'd like to close off this article with a number of quotes that aren't supposed to be funny.
Instead, you'll find some very insightful statements made by notorious business people and famous celebrities from the entertainment industry.
These quotes are not meant to be printed on merchandise but you might find they are worth sharing with friends and followers.
"I think the collectible side of it is going to completely turn the [art], music and movie industry upside down."

Mark Cuban
"Eventually, we will all interact with NFTs because they will be our airline tickets, membership cards, and more."

Gary Vaynerchuck
"I see NFTs as a way to innovate, empower others and push the boundaries of how artists interact with their fans."

Paris Hilton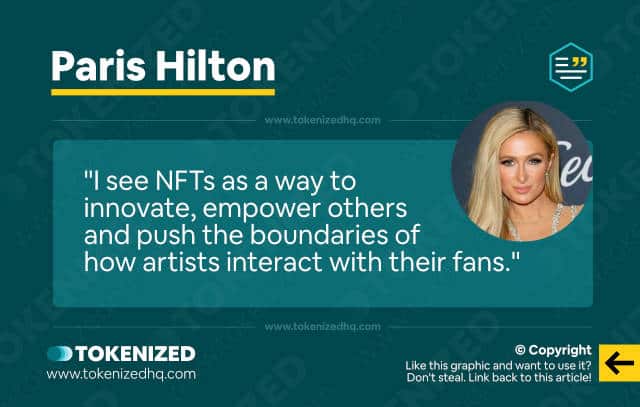 "Tokenization through NFTs can help content creators and musicians actually own the property rights for what they create, and allow them to profit accordingly."

Lindsay Lohan
"Everyone's going to own a digital wallet, and everyone's going to flex and show what they think is valuable to them in their wallet."

Steve Aoki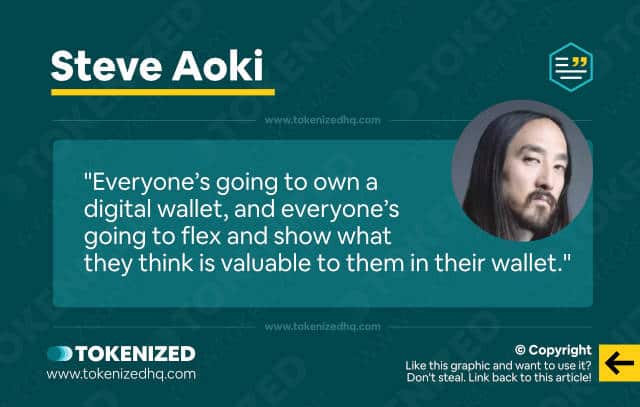 "NFTs are really art as money, art as currency, which means there's more accessibility for artists and for people who want to buy art. It's great just to have more eyeballs on the work."

Nicole Buffet
"I'm selling this song about NFTs as an NFT."

Elon Musk
"NFTs represent the building blocks for brand new peer to peer economies, where users have greater freedom and ownership over their data, and developers can build powerful, interoperable applications to provide real economic value to users."

Devin Finzer
Conclusion
Whenever people get excited about a new topic or hobby, they look for clever ways to show their passion.
Some people post on social media while others prefer to wear short and funny NFT quotes on a shirt.
Here at Tokenized, we want to help you learn as much as possible about the coming NFT revolution. We help you navigate this fascinating new world of non-fungible tokens and show you how you can integrate tokenization into your own business.