Want to know how the new "Zoom Out" feature works?
Outpainting has been one of the most requested features for Midjourney for a very long time now.
And while this latest feature drop isn't exactly the same thing, it's still a huge step forward and guaranteed to get users excited.
In this guide, I'll show you exactly how to use the new Midjourney Zoom Out feature.
Let's dive right in.

Like this content? Then share it!
Explained: Midjourney Zoom Out (with Examples)
Here's the answer. Great article by @ChrisHeidorn right here: https://tokenizedhq.com/midjourney-zoom-out/

www.tokenizedhq.com
Key Points (tl;dr)
Midjourney's "Zoom Out" feature allows you to take an existing upscaled image and "widen" its field of view by a factor of 1.5x or 2x.
This is not the same thing as full-fledged Outpainting but it offers similar capabilities within the limited user interface of Discord.
Note that "Zoom Out" will not actually increase the resolution of the image so you will most likely still need an external upscaler for the time being.
How to Use Midjourney Zoom Out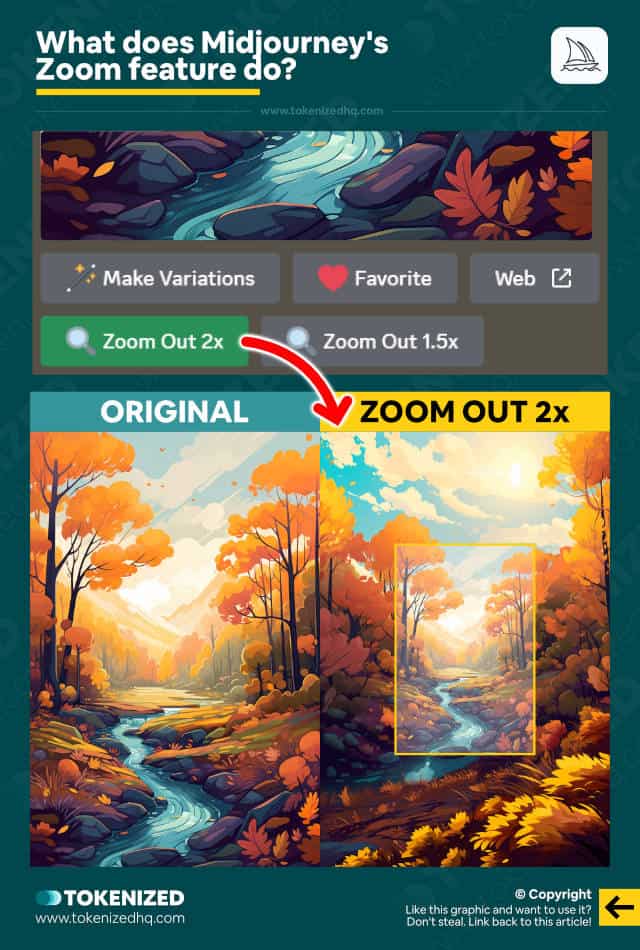 With the latest release of the Midjourney Zoom Out feature, Midjourney is slowly taking steps towards what is widely referred to as Outpainting.
While the implementation is still very rudimentary, this is largely due to the fact that the possibilities within Discord are very limited.
So let me quickly explain how this new feature works.
Midjourney Zoom Out comes in 3 different flavors:
As you might imagine, "Zoom Out 2x" will literally zoom out by 2x, and "Zoom Out 1.5x" will do so by 1.5x.
Here's the basic workflow:
Step 1: You enter your initial prompt to get a 4-image grid.
Step 2: Pick one of the 4 images and upscale it.
Step 3: This will display a "Zoom Out 2x" and a "Zoom Out 1.5x" button below the image. Pick one and click it.
Step 4: Midjourney will take your existing upscale and enlarge the context of the image, essentially "zooming out".
It's important to note that this will not increase the resolution of the image.
So, Midjourney Zoom Out isn't exactly like Outpainting in the strictest sense.
It just allows you to take a shot that you really like and basically widen the camera angle.
How to Use Custom Zoom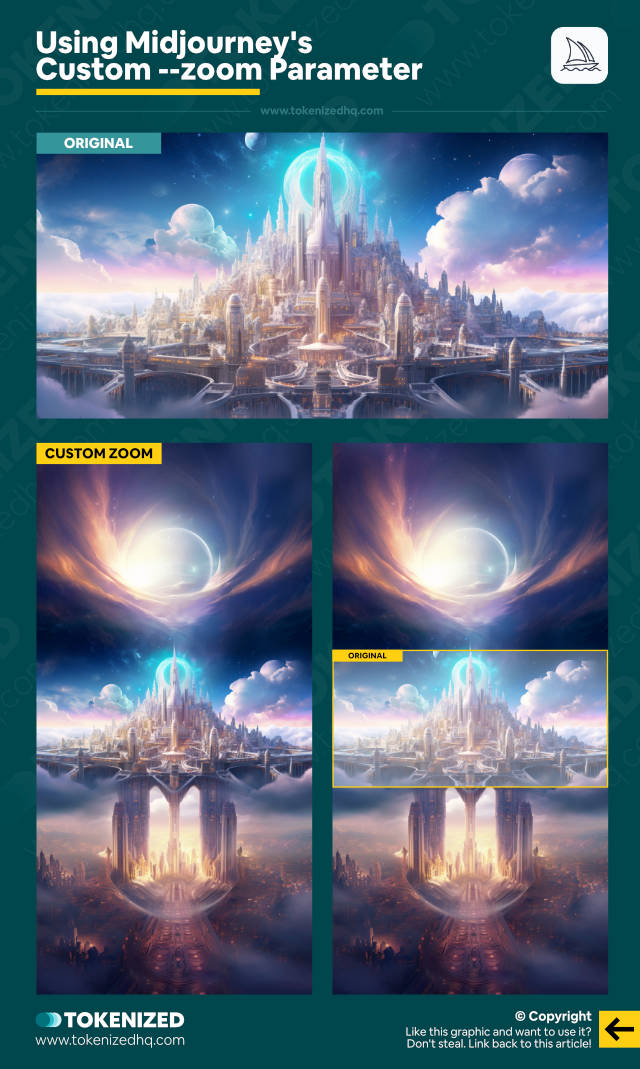 For the tech-savvy users among you, Midjourney has included an advanced zoom function.
It gives you the ability to determine a specific --zoom level, accepting decimal values between 1 and 2.
This doesn't get applied to your standard /imagine command as you haven't selected a particular upscaled image at this point.
Rather, you'd select the "Custom Zoom" button which enables you to tailor your prompt manually.
To illustrate, suppose your initial prompt for the upscaled image read as follows:
/imagine red house in the mountains
Upon clicking "Custom Zoom", you would modify the prompt in this way:
/imagine red house in the mountains 

--zoom 1.8
This action mimics the effect of the standard Midjourney Zoom buttons, except you're using a custom value.
And there's more you can alter too.
The custom zoom also permits you to set a completely distinct aspect ratio.
/imagine red house in the mountains --zoom 1.8 

--ar 16:9
This action doesn't just zoom out the image but modifies the aspect ratio as well (switching from a square to 16:9 in this case).
This is significant, as it essentially gives you the ability to emulate numerous features typically associated with Outpainting.
It might not "feel" quite as much like "painting" anymore.
Bear in mind, however, this doesn't elevate the maximum resolution of the image.
Zoom Out vs. Make Square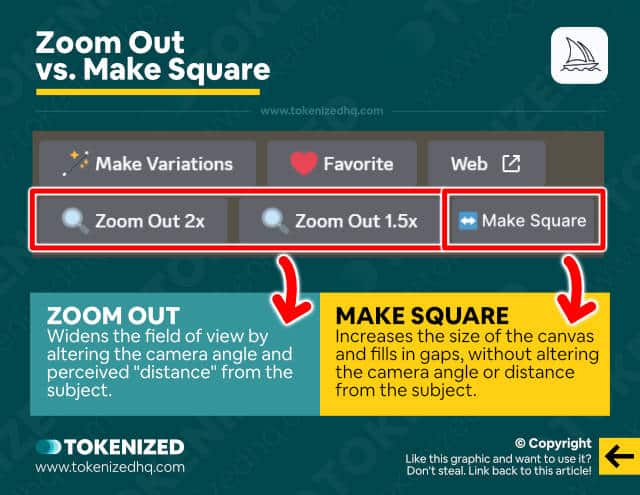 Midjourney also released another new feature that falls into the same category.
The feature is called "Make Square" and while it's a lot more similar to Outpainting than Zoom Out is, it's still not the same thing.
I suspect they specifically wanted a name that's different from Adobe's new Generative Fill feature.
So, for example, it still doesn't increase the resolution of the image.
It just takes a different approach to "widening the view".
While Midjourney Zoom Out will increase the distance or widen the camera angle, Make Square simply fills in a gap.
For more details on how Make Square works, check out my dedicated article on the Midjourney Make Square feature.
More Examples of Midjourney Zoom Out
Here are some more examples of how the Midjourney Zoom Out feature works in action.
Example 1: Zoom Out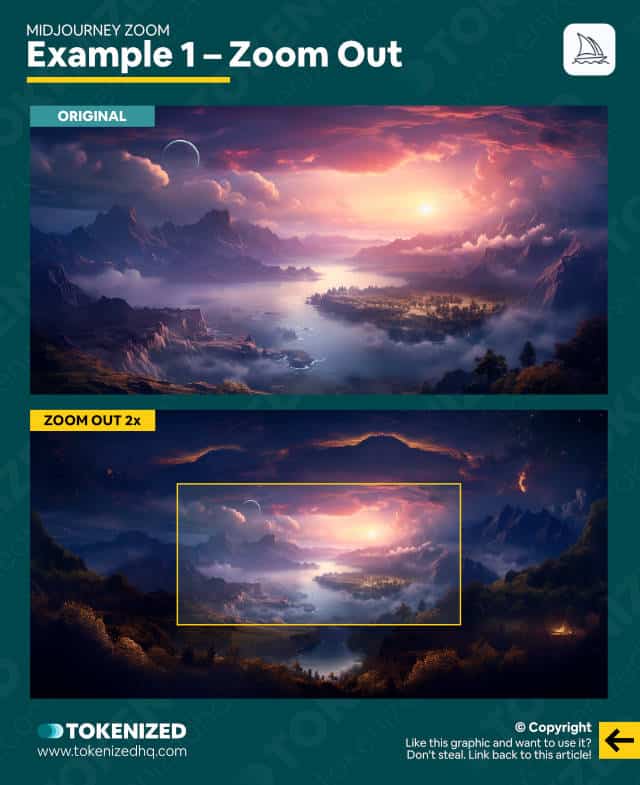 Example 2: Zoom Out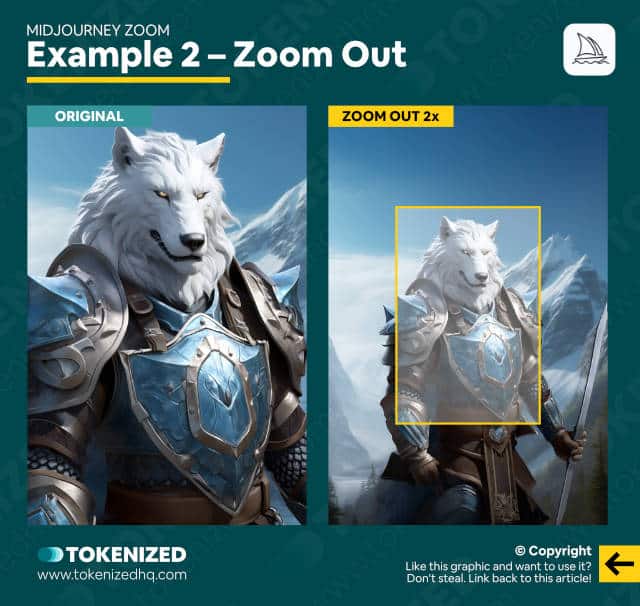 Example 3: Custom Zoom + Ratio Change

Example 4: Custom Ratio + Ratio Change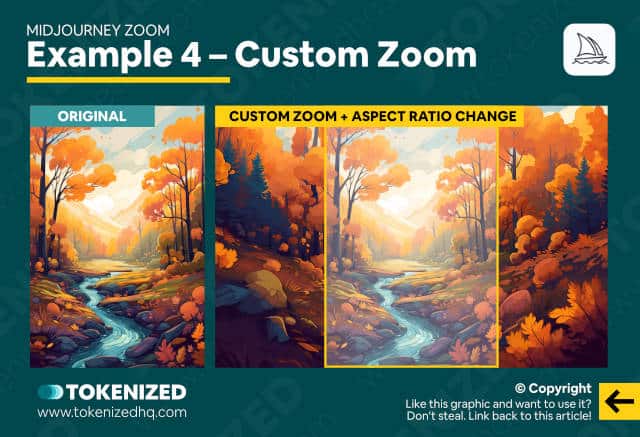 Frequently Asked Questions (FAQ)
Before we close off this guide, let's quickly address some of the most common questions related to the Midjourney Zoom Out feature.
Does Midjoureny have Outpainting?

Midjourney does not support outpainting in the same way that Stable Diffusion does. It currently offers features such as "Zoom Out" or "Make Square" which are rudimentary implementations of Outpainting. It's important to note that Midjourney's capabilities are actually greater than this but primarily limited by the fact that it runs on top of Discord.

Does Zoom Out increase the resolution in Midjourney?

No. Midjourney Zoom Out will only widen the context or the camera angle of your shot. It does not, however, increase the resolution of the image. In other words, you are simply displaying more in the same area. To increase the resolution you can use an external upscaler.

Does Midjourney have a "Zoom In" feature?

Midjourney currently does not have a Zoom In feature. To enlarge a certain area of an image, simply open it up in an image editor and crop it to the area that you need.
Conclusion
Midjourney fans have been waiting for Outpainting features for a very long time.
And while these new features still aren't the same thing as a full-fledged Outpainting implementation, they're at least a start.
Midjourney Zoom Out extends the feature set to a point where you can finally take an existing image and add more information to it.
Here at Tokenized, we want to help you learn as much as possible about the AI software industry. We help you navigate the world of tech and the digitalization of our society at large, including the tokenization of assets and services.