Are you looking for a comprehensive reference of Midjourney styles?
Getting started with Mitjourney is really easy, but the more you play around with the more you want to control the final image that you are creating.
Learning to craft prompts is one thing, but sometimes you need to nail down a very distinct art style and the easiest way to achieve that is by adding a specific artist to your prompt.
In this guide, we'll show you how to get access to the biggest collective Midjourney styles reference with over 2,000 famous artists from around the world.
Let's dive right in.

Like this content? Then share it!
List of 2,000+ Midjourney Styles with Prompts
Here's the answer. Great article by @ChrisHeidorn right here: https://tokenizedhq.com/midjourney-styles-reference/

www.tokenizedhq.com
Over 2,000 Artist Styles for Midjourney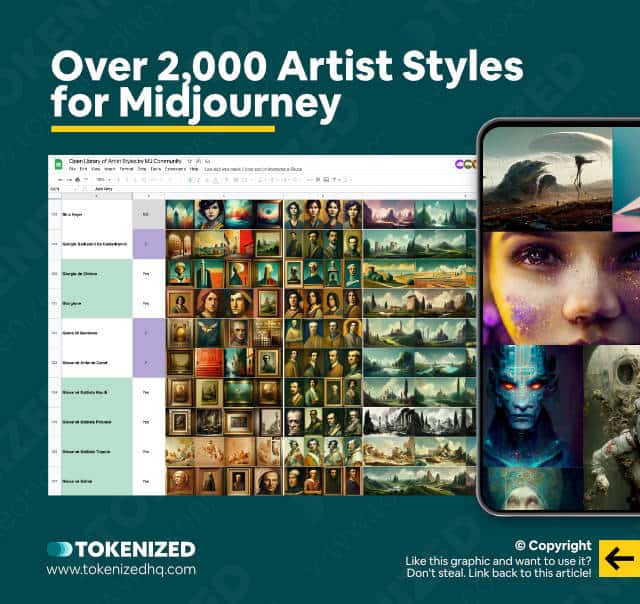 When you start creating your first images in Midjourney, the learning curve is quite steep.
Within a relatively short period of time, you figure out what Midjourney's AI is capable of and where it has its limitations.
One of the most difficult parts of crafting Midjourney prompts is nailing down the exact style that you want.
If you check out the Midjourney web app, you'll see that there are various sections that provide references for certain Midjourney art styles.
Unfortunately, we never found this section of the site to be particularly user-friendly since it's difficult to navigate.
Luckily, the Midjourney community is extremely vibrant and collaborative and they've done an excellent job of putting together an absolutely massive list of Midjourney styles for over 2,000 artists.
For each artist, the list provides 3 different types of sample images:
Artwork by the artists
Portrait of a person by the artist
Landscape or environment design by the artist
For each one of these categories, it gives you 4 examples to look at.
Bear in mind, this isn't actual artwork by the artist but rather the Midjourney AI's interpretation of what it would look like if the artist created these.
Key Points (tl;dr)
The Midjourney community has compiled one of the largest and most comprehensive databases of artist styles that can be used in your Midjourney prompts.
You can access the list of over 2,000 artists by clicking this link.
Further down in this article we've included some beautiful examples of what Midjourney styles are actually capable of.
Examples of Midjourney Styles for Famous Artists
Below you'll find some examples of what to expect if you ask Midjourney to create images in the style of some of the most famous artists in history.
As you can see, these Midjourney styles are incredibly accurate and could easily have been done by the original artist.
Our list includes the following famous artists:
Leonardo da Vinci
Pablo Picasso
Rembrandt
Vermeer
Frida Kahlo
Salvador Dali
Claude Monet
Andy Warhol
Vincent van Gogh
Edvard Munch
Leonardo da Vinci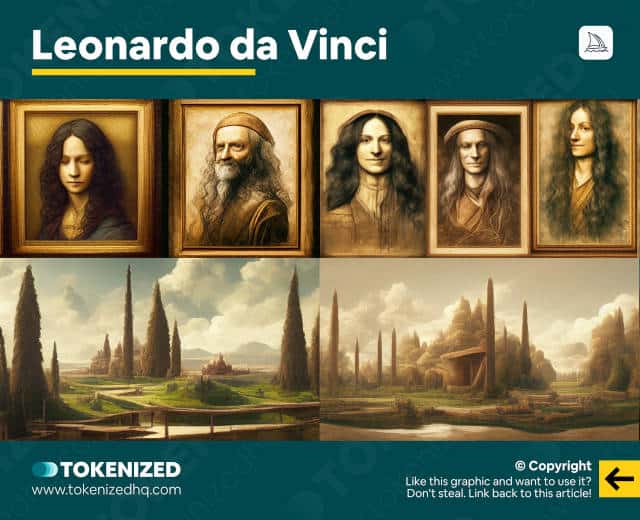 Pablo Picasso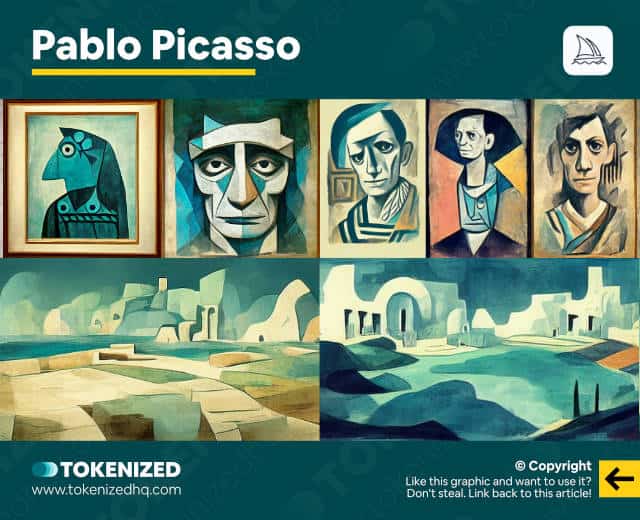 Rembrandt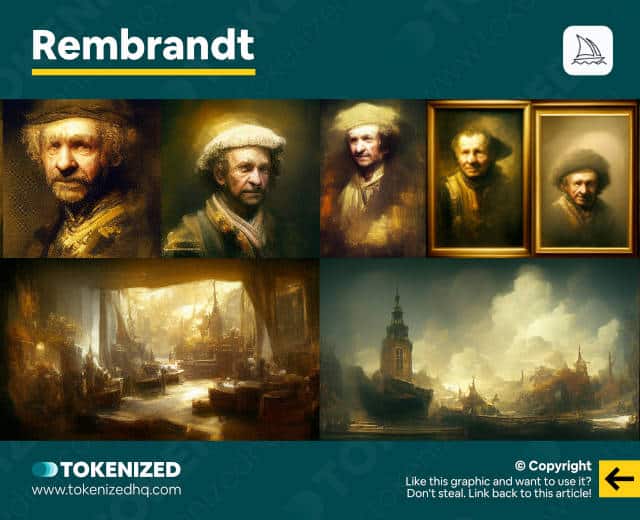 Vermeer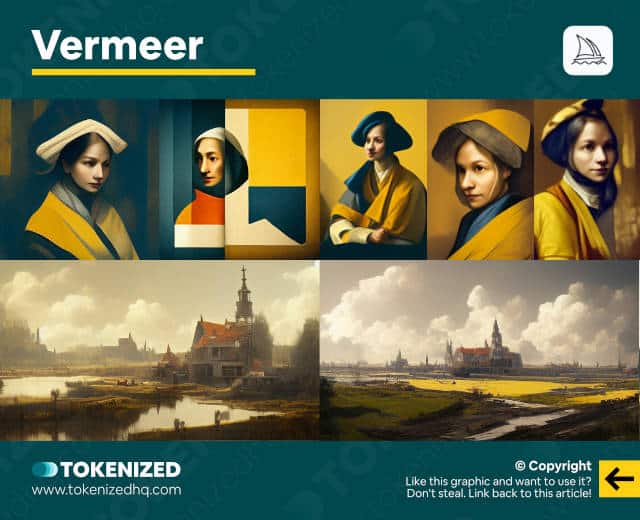 Frida Kahlo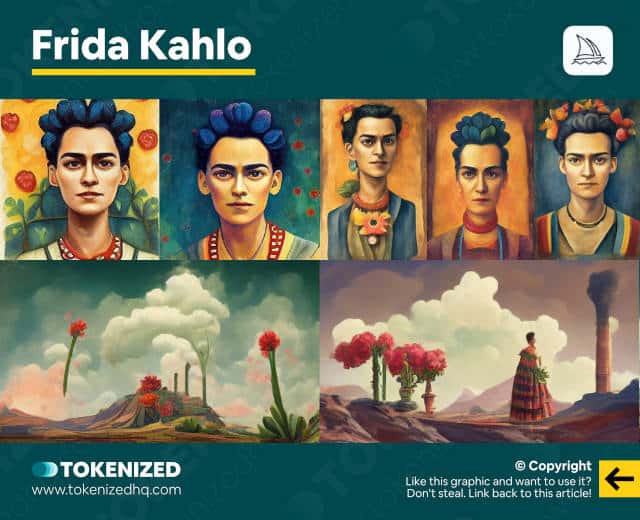 Salvador Dali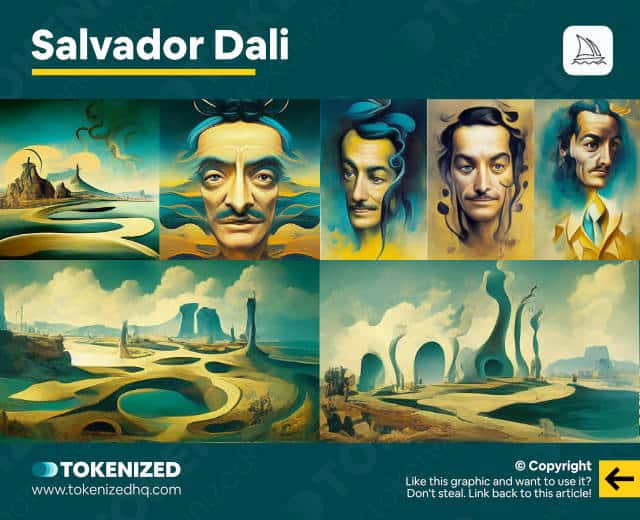 Claude Monet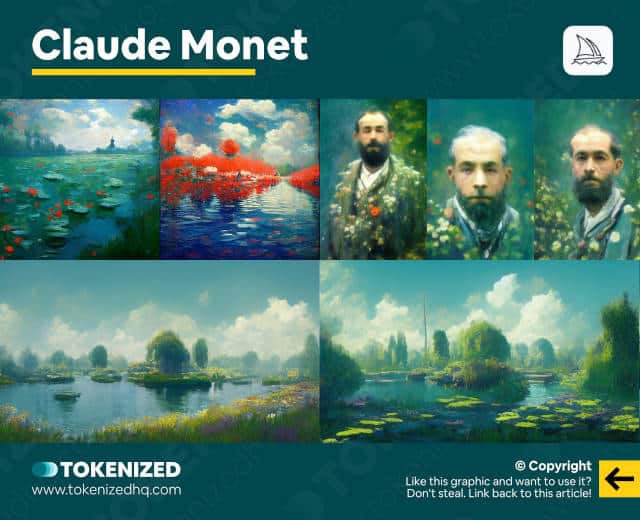 Andy Warhol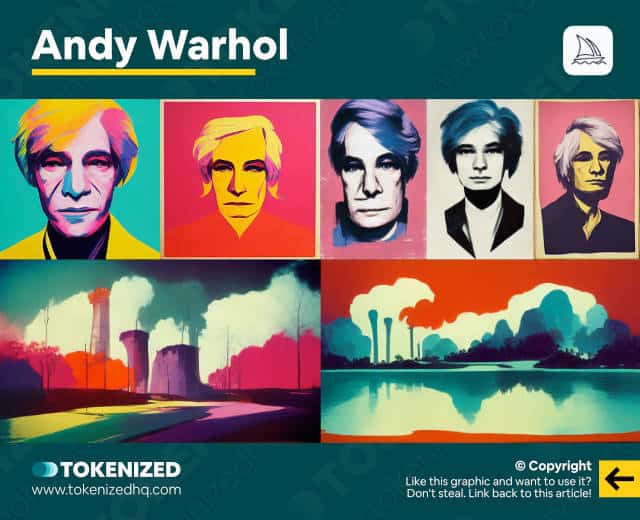 Vincent van Gogh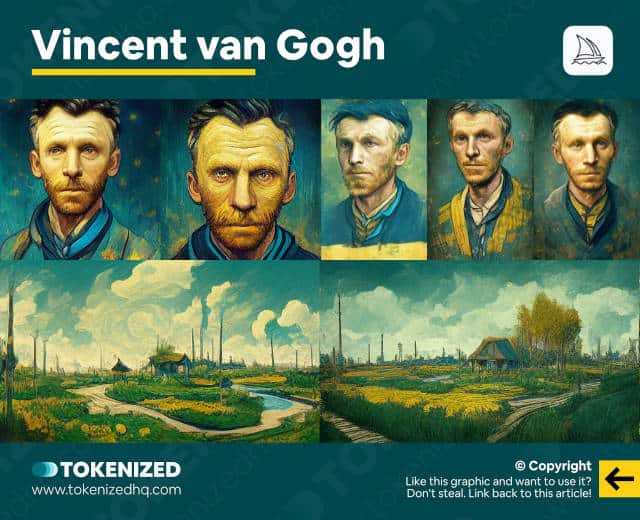 Edvard Munch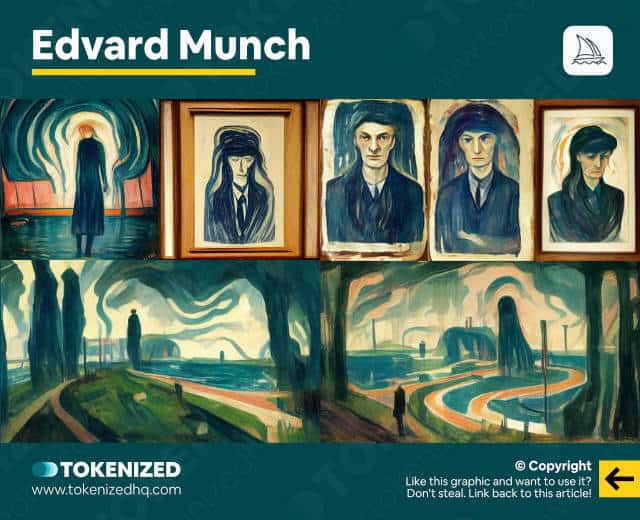 Examples of Very Distinct Artist Styles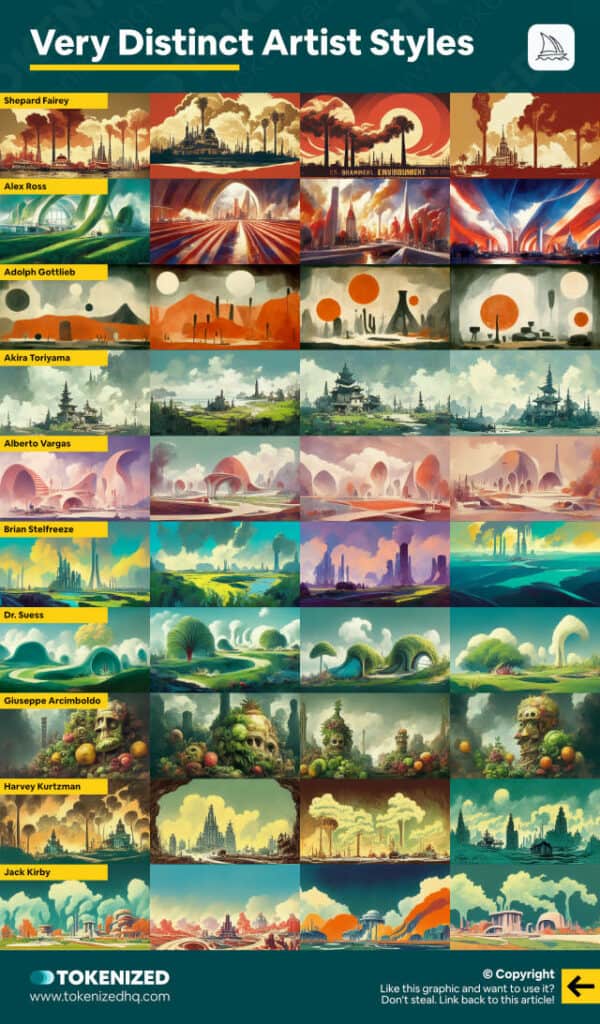 Although it's always cool to see Midjourney styles from some of the famous classics, there are many lesser-known artists who have far more distinct styles.
That's why we've decided to include the following 10 artists, designers, and architects whose Midjourney styles produce astonishing results as well.
Shepard Fairey
Alex Ross
Adolph Gottlieb
Akira Toriyama
Alberto Vargas
Brian Stelfreeze
Dr. Suess
Giuseppe Arcimboldo
Harvey Kurtzman
Jack Kirby
Frequently Asked Questions (FAQ)
Before we close off this guide, let's quickly address some of the most common questions related to Midjourney styles.
Where can I find the Midjourney styles library?

The Midjourney style library is located in the Midjourney web app and can be accessed by clicking the relevant button in the left sidebar menu or by clicking this link.

Why can't I access the Midjourney style library?

You must have an active paid membership in order to access Midjourney's style library. If your subscription has expired, your access will be restricted. Alternatively, you can check out the Midjourney styles reference that we've included in this article.

Are art styles protected by copyright?

While you obviously cannot legally pretend to be another artist, most copyright laws around the world do not allow you to protect a particular style of art. You can protect characters, composition, and certain design elements, but not an art style in general. Make sure you check out our article on Midjourney's copyright terms for more information.
Conclusion
Midjourney is already a very powerful tool on its own and will generate beautiful artwork based on whatever you tell it to do.
However, you can take your control and style to the next level by mixing in art styles of famous and less famous artists from around the world.
Want to create artwork that looks like it was made by Pablo Picasso? No problem.
Here at Tokenized, we want to help you learn as much as possible about the AI software industry. We help you navigate the world of tech and the digitalization of our society at large, including the tokenization of assets and services.